The Virgin Suicides is a tale of antithesis, of light and dark, of repression and liberation. One of our guest editors' favourite films for this issue's theme of Dark Romance, the movie itself is almost a replica of its original book by Jeffrey Eugenides, a story woven through the intricacies of a simple yet evocative narrative. It follows the Lisbon family in 1970s midwestern-America, comprised of a teacher father, a strong, pious, stay-at-home, matriarchal mother, and five teenage girls.
Director Sofia Coppola is known for her very specific aesthetic, and her 1999 filmmaking debut with The Virgin Suicides sets the tone for her succeeding films. Hers is cinema through a dreamy, hazy lens, intimately capturing the light, the innocence, and the shadows, with the tones as ethereal as a fallen angel.
The plot reveals these girls to be obsessively sheltered by their mother from the outside world, who eventually pulls them out of school and forces them into isolation in a total house lockdown. The girls descend into a spiral of permanent detachment from the community and their parents and, eventually, into a suicide pact.
A strong-willed sisterhood is formed, their blonde hair, pale femininity, and pastel wardrobe making them seem like a flurry of ghosts, yet, apparent even from the first few minutes of the film, they each go their own way in their growth from girls to women. Each sister is at different stages of adolescence, seeming to represent a certain archetype of the female persona.
The Dreamer | Cecilia, 13, is the youngest of her sisters, and is considered to be the Mystic, with her mind locked in Dreamland. She invokes the Virgin Mary, wears a 1920s wedding gown a few sizes too
large for her small frame, and spends time listening to mournful Celtic music. Prior to the beginning of the film, she has left the purity of childhood behind, having recently hit puberty. Being the first sister to commit suicide, it is easy to suppose she was never there to begin with: her dreamer self seemed almost like an apparition, as if her life was an illusion. This is appropriate as her death hangs over the family and her sisters, haunting them and the lost mundanity of their lives.
The Sensual | Lux, 14, is the second youngest, and she personifies every woman's natural sexuality. What begins as playfully tantalising gradually becomes more serious, as if the outpouring of her physicality will give her freedom; it is she that loses her virginity, the only one out of the five to do so. Though, in her, this schoolgirl passion is far more concentrated, perhaps to make up for her sisters' nonexistent boyfriends and unfulfilled love lives. She most embodies the restlessness that her sisters also, in part, exhibit. When her younger sister, Cecilia, dies, she reverts back to her 'baby of the family' self, displaying an overly rebellious streak.
The Introvert | Bonnie, 15, the middle sister, is seen as the shy one, the most inward-looking. She comes across as docile and quiet, a whisper in the cry-for-help throng that is her family. Influenced most by her Catholic mother, she owns a set of rosary beads, finding comfort in her spirituality when times become difficult.
The Beauty | Mary, 16, is the second eldest. She is seen to represent vanity, hoarding make-up and maintaining her appearance even when times become desperate. After her death, a classmate said Mary wanted to become a cheerleader at their school, but her mother never allowed it. But rather than her vanity being pure narcissism, it is
her inherent self-consciousness and slight social awkwardness that influence her.
The Intellectual | Therese, 17, the eldest, is the brain of her body of sisters. She has a scientific-geared mind, is thoroughly studious, and wanted to attend an Ivy League college, applying just three days before her death.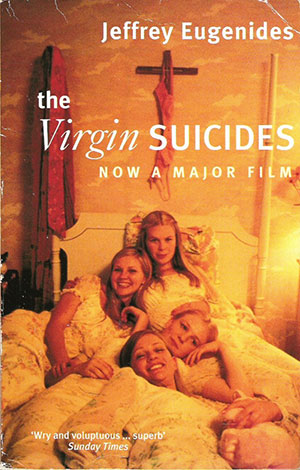 Original book by Jeffrey Eugenides
From the ethereal and the innocent, to the dark and provocative, this film is forever relevant; Coppola paints an almost idolised, idealised picture of the Modern Woman, yet she also holds up a mirror to the constant push and pull of the being.
Written by Najla Hamadeh