Walter Van Beirendonck has been inspiring us for many years with his energetic, bold and colourful approach to fashion, we love the mix up of sporty realness and fanciful play. Below he shares with us a little of his world. PE
Walter Van Beirendonck, a Belgium menswear fashion designer, is synonymous with his use of colour and humour and subtle political messages immersed through his clothes. Once a member of the prominent group "Antwerp Six" Beirendonck has influenced the fashion industry for years. "Antwerp six" consisted of a group of six graduates who labelled themselves as a fashion collective taking Belgium fashion worldwide. He has gone onto to showcase his graphic and innovative designs on the catwalk. As well as his catwalk shows his talents have been expressed through his playful designs. From 1983 Beirendonck has issued his own collections including designing the costumes for the U2 "PopMart Tour" in 1997.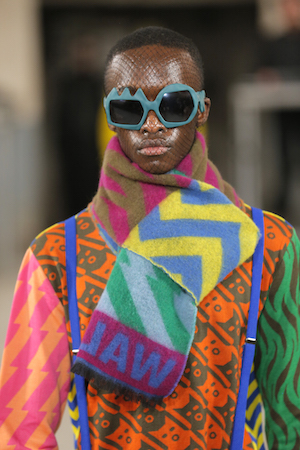 WINTER 2018 2019 'WORLDS OF SUN AND MOON'
Being apart of the Antwerp six group was a rollercoaster of a journey. Starting in the eighties in an "isolated" Belgium with a lot of ambition and energy in our group. Our group needed some time and money saved up in order to make it to London 
and then Paris. I am proud to have been a member of the Antwerp six and being a teacher since 1983 in the fashion department at the Antwerp Royal Academy. I am proud to say that I have been a great influence to Belgium fashion. I am also proud to have worked with so many successful students who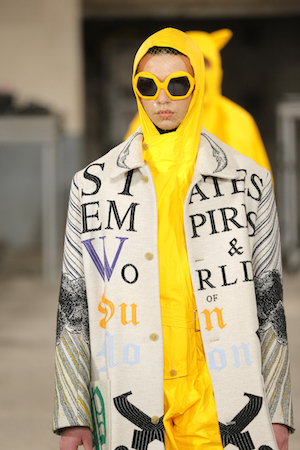 WINTER 2018 2019 'WORLDS OF SUN AND MOON'
have gone onto graduate and made a huge impact on the international fashion world.
Even from his earliest days he speaks of being in school and finding that he was the most colourful in comparison to the rest of the students.
I worked from the beginning with bright coloured fabrics, print and knit from my earlier collections and I felt that with a touch of humour, fun and a positive overall feeling, it was and is still much easier to communicate the world's current problems and raise questions and debates based on the political messages I would incorporate in my work.
I have always championed the LGBT community as I have always deemed it necessary to support diversity. I find that this is what makes the world interesting. For my first shows I made use of 
different colours, body types and sexual visions. All my decisions are spontaneous as I tend not to overthink a topic. I feel that is the right way to present my collections to the world. I get an array of reactions from diverse groups of people such as children who liked my ZulupapuWa children's collection to straight youngsters who have discovered me through my old W&LT-work. The straight community also seem to like my WVB- collections as they are unique. The bear community have also embraced be as their "daddy" I am never bored at work!
I have never used political statements as a "trend" or as a reason to sell more clothes, I use political statements as a message because as an artist this is my voice and this is the way I can reach out to people. I believe that my audience can also attest to the fact that I use political statements to spread a message and not to be "in"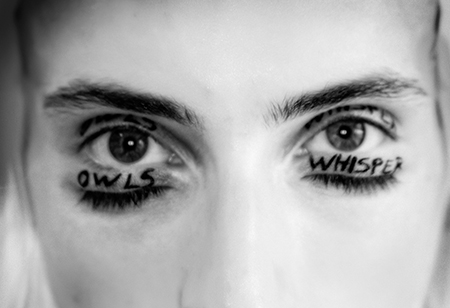 Spring Summer 2018 OWLS WHISPER. Photography Ronald Stoops
I have found that a loaded object is much easier to digest in a colourful package with a playful touch. I have acknowledged that some people may only like or purchase my clothes based on my use of colours. I however have no problem with this. Folk and ethnic tribes are a constant inspiration for me. I use different countries themes of colour, patterns and shapes and then translate them into my own contemporary "Walter language".Despite the fact that I am not walking down a straightforward path I am happy with my independent way of working. I am able to do things  my own way and get respect from the press and buyers. I know that I still have many things to tell and I am excited to start up my new collection.
waltervanbeirendonck.com
Instagram: waltervanbeirendonck
Slider Images
Picture 1: Walter Van Beirendonck . Spring Summer 2015 . WHAMBAM! . Photography Ronald Stoops
Picture 2: Walter Van Beirendonck . Spring Summer 2015 . WHAMBAM! . Photography Ronald Stoops
Picture 3
1st art installation by Walter Van Beirendonck at Galerie Polaris, Paris. 10 January 2009 – 21 February 2009- Flags
Picture 4
1st art installation by Walter Van Beirendonck at Galerie Polaris, Paris. 10 January 2009 – 21 February 2009- Overview
Picture 5
1st art installation by Walter Van Beirendonck at Galerie Polaris, Paris. 10 January 2009 – 21 February 2009- Overview 
Picture 6
Walter Van Beirendonck . Winter 2017/2018 ZWART . Photography Ronald Stoops
Picture 7
Walter Van Beirendonck . Winter 2017/2018 ZWART . Photography Ronald Stoops
Picture 8:
Walter Van Beirendonck . Winter 2017/2018 ZWART . Photography Ronald Stoops
Picture 9:
Walter Van Beirendonck . Winter 2017/2018 ZWART . Photography Ronald Stoops
Picture 10: Walter Van Beirendonck . Spring Summer 2018  OWLS WHISPER. Photography Ronald Stoops
Picture 11: Walter Van Beirendonck . Spring Summer 2018  OWLS WHISPER. Photography Ronald Stoops