Konstantin Grcic is a true design legend: he is a cabinet maker, industrial designer, founder of the "Konstantin Grcic Industrial Design" practice, and his designs form parts of the permanent collections of the world's most important design museums such as MoMa – New York and Centre Georges Pompidou – Paris. SB
The globally recognised watch brand Rado was inspired by Grcic's unique approach towards design and materials and therefore decided to collaborate with him on the redesign of one of their iconic timepieces, the "Rado Ceramica". It is a timepiece known for its striking linear shape and visionary use of high-tech ceramic. In this new design, Grcic has given it a contemporary interpretation, while retaining the strong geometric shape that made the original such a classic. Furthermore, he has envolved the linear bracelet silhouette of the original into a more classic watch shape with gently curved edges. The new Ceramica is for both men and women, who appreciate purist, modern aesthetics. The collection is made up of eleven models.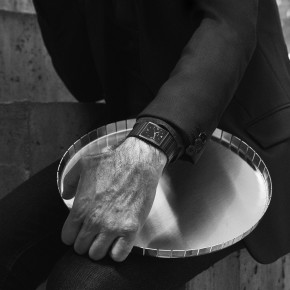 For men there are two models offering a matt take on the Ceramica, which are limited to just 701 pieces. This model stands out through its velvety matt finish, but also through the creative use of typography on the dial. Grcic says that "the matt finish brings out the form of the watch much stronger" and that he "took inspiration from pilot watches".
For women there are several models to chose from in this collection, including two diamond-studded pieces in a choice of either glossy black or white high-tech ceramic.
The Ceramica collection is obviously made of ceramic, and Gricic says that "materials are definitely key. The intelligent and economical use of material forms an important part of my understanding of good design. Ceramic is one of the most high-tech materials I know. The material is lighter than stainless steel, it has a much more pleasant temperature when you wear it, and it is scratch resistant".
Apart from his collaboration with Rado, he is presenting a new exhibition format called "Konstantin Grcic: The Good, The Bad, The Ugly" at the design museum "Die Neue Sammlung" in Munich.
The curator of the museum, Xenia Riemann, gives us an overview of Konstantin Grcic in an exclusive interview. She says that for her, "he is a designer who works very rationally, not to say scientifically, deliberate and gently. His designs may seem angular, folded, and even bulky. With other words, they may not transport the aesthetics of coziness. However, they are pleasing you slowly. Not in terms of functionality, this is a requirement. But how our eyes adopt to their form, color, material and overall presence. The new aesthetic we accept as common sense. His designs, which generally concern our daily lives, become elegant companions. Maybe you even find a humorous twist".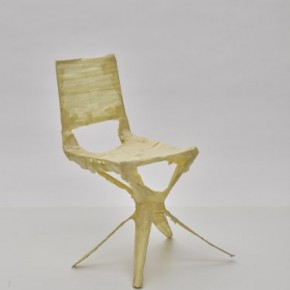 The reason why she wanted to do the exhibition is that "Konstantin Grcic generously donated over 20 models and prototypes capturing the design process of Chair_ONE to Die Neue Sammlung. Linked to a new format at our house, namely to present a contemporary designer in our paternoster hall for attractive ten months, we wanted him to start this new exhibition series: a leading figure in industrial design with a strong connection to Munich".
Each year, "Die Neue Sammlung" invites leading figures in design to devise a characteristic and site-specific presentation for the special architecture of their Paternoster Hall of the museum. This format expands on the idea of the temporary exhibition, because the Paternoster Hall will showcase how the designers tackle the museum's display for ten months.
In Grcic's exhibition, he is devoting himself in three different areas. One project is the "chair_ONE" project, which is presented in the form of the multi-year development process (2000-2004), from first model to final product. His collection at Die Neue Sammlung features almost all of the design phases of the project to show how Grcic approaches design. Furthermore, Grcic is presenting over 30 of his key current items. He primarily designs furniture, and works with a variety of materials such as plastic, wood, steel, marble or carbon. The third part is presented at the exhibition hall 'Temporary 2'; a scenographic installation of its accessible TT pavilion, which was conceived as a test stand for Audi in 2014.
From doing the exhibition, Riemann says that she is "a fan of the product names KGID chooses. A product name is only one of many different messages that design can communicate. Yet, the vocabulary tells you a lot about a studio".
We also asked her what difficulties she had when putting together the exhibition, and she said that "Konstantin Grcic developed open vitrines for our exhibition space. The objects placed in them were the fragile models, documenting the different mind steps of Chair_ONE. We were concerned that our visitors would be tempted to touch them. But we went for Konstantin Grcic's idea and it worked. We offered our visitors a direct access to the objects and they acknowledged it by showing their respect. I think this was a win-win situation".
Grcic's designs stand out for their exceptional technological innovativeness, precision, efficient use of materials, and perfect forms. Process, furniture and architecture are the key themes in the exhibition. He studied at the Royal College of Art in London and started to design furniture, lighting and accessories for numerous manufacturers. His designs found attention, because they used materials and production techniques in a new way. Each of his products is characterised by a careful research into the history of design and architecture, and his passion for technology and materials. He is often called a minimalist, due to his pared-down pieces, but he himself prefers to speak of simplicity.
Riemann says that "His works are sophisticated, stimulating in an functional and aesthetic sense, at the same time they have a serving character. They can be part of a messy household, as well as a bourgeois home, and they will always look good".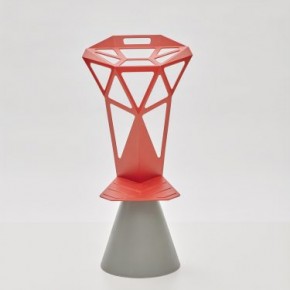 When asked about his most important work, Riemann says that "Grcic and his team produce a wide range of outstanding solutions. I can say Mayday or 360, at the end, these are personal favourites. The next generation will be able to answer".
Words By Dr. Xenia Riemann
KONSTANTIN GRCIC: THE GOOD, THE BAD, THE UGLY was a show in November as part of an on going schedule of design shows at Die Neue Sammlung – The Design Museum