A Conversation with my Father the Watch Collector
When I was a little girl, I spent a significant amount of time during lazy summer afternoons utterly hypnotised by my father's forever revolving watch-winders. What was it about these watches that deserved such a special and almost exalted place in our home? Why did they need to be in a constant state of motion? These were the questions that plagued my young six-year-old mind back then, when afternoons could be spent watching the world and these revolving time-pieces go by.
As I grew older, these questions were slowly answered, and my relationship with watches also began to change. In the close-knit social circles of Manila's Chinese community, watches served a purpose beyond just telling the time; they also served as a symbol of wealth, social status, and the ability to provide. People wore them like badges of honour, and having a good watch meant that you were not only successful but also important. My first watch was a Tag Heuer, a gift to celebrate my high school graduation. When I got my first job, I upgraded to a classic ladies Rolex, which I've worn almost every day since. When I got married earlier this year, my father and I chose a watch to give to my husband. Choosing the watch was a little secret that we shared over months of scrutinising every little detail, deciding which brand, diameter, and also the watch's longevity. We eventually ended up with a Rolex with a dark grey face and in a stainless steel finish. On our wedding day, this watch became a kind of symbol of the trust between my father and the man who would now become his son-in-law, and the faith that he had in everything that we would achieve together as man and wife.
And so, as an adult, I have this conversation with my father the watch collector, much like all those sunny afternoons spent looking at watch complications on the weeks leading up to my big day. A conversation rarely shared between father and daughter, and one that illuminates a passion that, for him, began more than twenty years ago. Now, with a collection of twenty-four watches, each one more rare and valuable than the one before, my father shares his love for the quietly whizzing mechanisms that keep these small but infinitely complex pieces of history working. Time-pieces that accompany us throughout every milestone in life, and passed down from one generation to the next, perpetually ticking until the end of time.
What would you recommend as your first watch?
For me, you can never go wrong with a classic watch. I highly recommend getting a Rolex as a first watch. It is well-designed, very reliable, sturdy and retains its value for decades to come.
How about an investment watch?
Rolex and Patek Philippe are really the best watches you can get as investment watches, especially if it's the first time you are buying one. It is important to look beyond trends and really think about the value of what you are buying. These brands not only retain their value, they even appreciate through the years.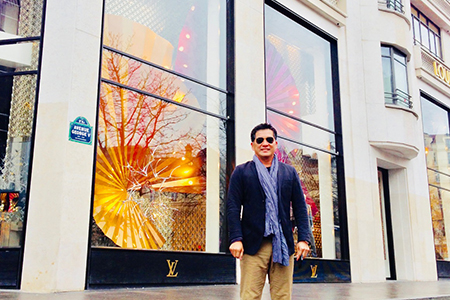 If watch-collecting interests you, those in the selection below are certainly worth investing in:

Patek Philippe Men's Nautilus Travel Time Chronograph Ref. 5990/1A-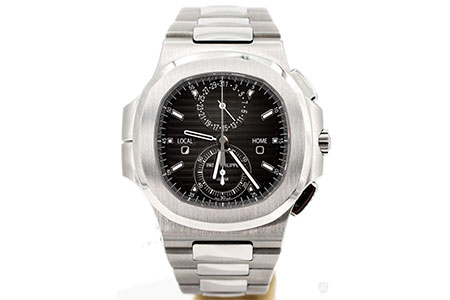 This model is part of the iconic Nautilus collection which has established itself as the classic, elegant sports watch, inspired by the universal shape of a porthole found on maritime vessels. The Nautilus collection was introduced in 1976.001 in steel with a black gradated dial and gold applied hour markers. Includes features such as mechanical self-winding movement, chronograph with 60-minute counter, dual time-zone mechanism indicating local and home time, local date by hand, sweep seconds hand (chronograph hand), steel bracelet with fold-over clasp, screw-down crown, sapphire crystal case back, and water-resistant to 120 m.
Fifty Fathoms Bathyscaphe Quantième Annuel – 5071 Blancpain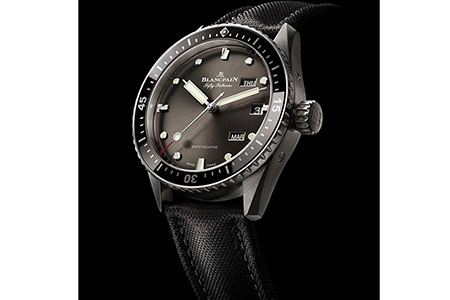 The Bathyscaphe is a pillar of the Fifty Fathoms collection, and pairs for the first time sport with a useful complication in a new annual calendar model. Unidirectional satin-brushed steel bezel with ceramic inserts and Liquidmetal® hour-markers. It has all of the diving watch DNA to be expected from the brand who have made a commitment to sustaining the worlds oceans.
What made you fall in love with watches?
Imagine an automatic mechanical watch that was made to run almost forever without the need for any batteries, or a perpetual calendar watch complication that can tell you the time, day, date, year, moon-phase, and even consider the leap year, which will keep ticking up to the year 3000 and even beyond! Having a good watch is like wearing a part of history. My curiosity and eagerness to learn more about horology, its movements and the innovators behind my favourite timepieces had started when I first started seeing the fruits of my construction business.
I bought my first watch when I was thirty, and I became fascinated with keeping in time with the industry. I paid close attention to which watch houses won awards for their movements and complication watches. Those were really the reasons that I fell in love with watch collecting. Besides, I think watches are the best pieces of jewellery than a man can buy for himself, so I thought that it was only right that I learned more about them.
For you, how important is the long-term investment value of a watch?
If you are buying a watch, you have to love it first. Never buy a watch with a return of investment at the forefront of your decision. Sticking to big watch house brands can more or less assure a safer return of investment as compared to younger brands.
What are the qualities that affect the value and longevity of a watch?
Factors that affect the longevity and value of a watch are its brand history and heritage, the rarity of the timepiece itself, whether it is a limited edition piece wherein there were only small quantities manufactured in the world, the strength of the demand, and, of course, its special complications such as perpetual calendars, tourbillons, etc.
What makes you decide which watch to wear on certain occasions? For example, a watch for special occasions, an evening watch, a watch to wear during an important meeting, or even a round of golf?
There are watches for every occasion. Wear a dress watch if you are going to a formal affair, a sport watch for doing outdoor activities, a dive watch if you are going scuba diving, or a chronograph if you are driving long distances. Sport watches also work well during casual gatherings, family weekends, or a round of drinks with old friends.
What was your first watch?
The first watch that I bought for myself was a Tag Heuer Automatic Chronograph. I always buy mechanical watches and not their rose quartz counterparts because the mechanical pieces retain their value more. People buy watches because of the complexity and beauty of their mechanical movements. As I became more successful, I bought a Rolex Submariner, as I was an avid scuba diver at the time.
What was your first investment watch?
My first investment watch was a Patek Philippe Nautilus 5980 Chronograph. It has now been discontinued and has become a rare find in the watch-collecting world, which is why its value has been constantly appreciating, so that was a great first investment watch. Another investment watch that I have is a Rolex Daytona with a Zenith movement. It is a highly coveted watch in the community, because Rolex no longer manufactures them.
Fifty Fathoms' heritage dates from 1953, when it debuted as the world's first modern diving watch, fulfilling the needs of professional divers in underwater conditions. Its set of features and signature design have defined the dive watch genre for the entire industry ever since. The Bathyscaphe first joined the Fifty Fathoms collection in 1956 as a civilian version, the size of which would be adaptable to daily wear. That formula continues today with Blancpain's modern Bathyscaphe models. Powering the Bathyscaphe Quantième Annuel is a new calibre, the 6054.P, based upon Blancpain's in-house twin-barrel 1150 movement, which has been modified with extended bridges creating a wider opening on the calibre. The black ceramic unidirectional rotating bezel of the new Bathyscaphe with its Liquidmetal® markings dramatically accents the meteor grey dial. The 43mm satin-finished steel case can be fitted with a sail-canvas or NATO strap, as well as a metal bracelet.
Rolex Cosmograph Daytona In Oystersteel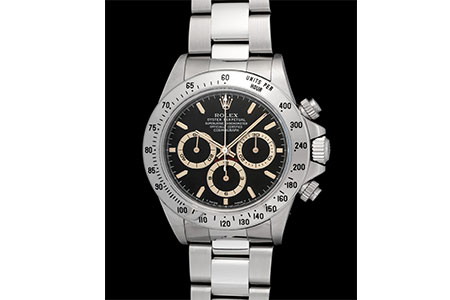 The Rolex Cosmograph Daytona, introduced in 1963, was designed to meet the demands of professional racing drivers. With its highly reliable chronograph and bezel with tachymetric scale, it allows drivers to perfectly measure average speeds up to 400 kilometres or miles per hour as they choose. An icon eternally joined in name and function to the high-performance world of motorsport.
What do both of these watches mean to you?
I feel that these watches are my trophies; and I wear them with pride. They are symbols of what I have achieved as an architect and as a businessman. As I have progressed in my career, I got a watch to celebrate each milestone, both in my profession and in life. It's a great way to immortalise life's special moments, and a great reminder of all the hard work it took to get to where I am today.
Which brands do you really respect and why?
The watch brands that I respect the most are the brands that have a rich watchmaking history and heritage. I also have a lot of respect for innovative watch houses that create their own movements. These houses are Patek Philippe, Vacheron Constantine, Audermars Piguet, and of course Rolex, just to name a few.
Which house do you think is currently breaking new boundaries in the watchmaking industry?
I think Richard Mille is a brand that is breaking boundaries and which stands out from the rest. They are constantly innovating with watch complications and movements, the design is modern and contemporary, and the materials they use are really technologically advanced. They use high-tech titanium, carbon and ceramics (for the cap jewel of the tourbillon) and ARCAP, which is an alloy with amazing mechanical properties of endurance and distortion to resistance.
For you, what features matter most on a watch? What are your opinions on watch thinness, material, and coloured faces?
I personally prefer big watches that are usually chronographs. In my collection, the minimum diameter should be 40 mm with a maximum diameter of 47 mm. I'm not really a fan of thin watches, personally they are not for me like, say, Blancpain, even though they are very good watches. I buy watches because of their brand history, the movements, and then the complications. I don't buy watches because of the gold in them. In fact, I usually prefer steel-cased watches, but I do have a few in white and rose gold. I don't really mind a coloured face, but it really depends on the watch.
What do you prefer: automatics, manuals, or quartz?
As I have mentioned above, I always buy mechanical watches and will never buy a quartz watch. Mechanical watches hold their value much more; and because I buy watches based on their mechanical movements, it doesn't make any sense to buy quartz timepieces. My personal opinion is that quartz watches defeat the purpose of owning something that's mechanically complex. Mechanical watches have such an interesting network of gears, wheels, and springs, all contained in a small casing that runs automatically without a battery and can last you a lifetime.
What is your next watch conquest?
As of today, I'm trying to acquire a Patek Philippe Nautilus 5990, but there's a long queue for it. This specific watch is a chronograph with a dual time zone; and it will be a very great collector's item for me, for my next career milestone.
Hannah Tan-Gillies, thanks to Wilbert Tan

The Rado HyperChrome Skeleton Automatic Chronograph Nothing to hide 
Rado are the masters of materials, design know-how and an understanding of modern manly style.  The HyperChrome Skeleton Automatic Chronograph is crafted from matte-black high-tech ceramic. Created by firing ceramic components with black pigment at 1450°C in a high-tech oven, the super-hard ceramic develops its matte-black finish via an extensive sandblasting and finishing process. The skeletonised or 'open worked' movement has had its plate and bridges cut away to expose the inner design elements of the movement within. Encased in matte-black high-tech ceramic and offset by a polished black bezel, this is as far as you can push transparency and still retain a high level of readability.  Light and scratch-resistant and comfortable to wear, this is an all-day everyday timepiece that is eye-catching and impactful.
Special engraving on case back: LIMITED EDITION ONE OUT OF 600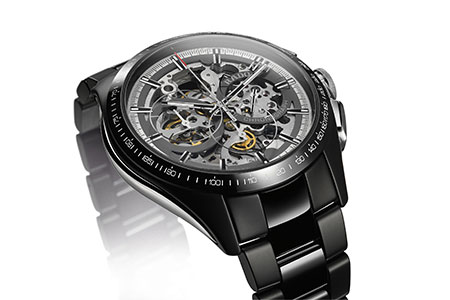 Tag Heuer Carrera Calibre 16 CV201AR
This stainless steelTAG Heuer Carrera Calibre 16 automatic men's watch takes inspiration from the exciting world of motor racing. Presented on an alternately polished and matte-finished steel bracelet with a folding clasp and double safety push buttons, this watch features a 41mm steel case with a polished blue ceramic tachymeter bezel.