Never make a sweeping statement about a perfume ingredient; it can so easily be misunderstood. Tuberose is one such element.  She has a reputation, probably not deserved, as a big blousy busty boom of a scent.   But like any ingredient, it's about how it melds with the other elements around her and not about her own scent. She (the tuberose)  is even slightly misunderstood in Floriography (the meaning of flowers) where she represents Dangerous Pleasure
Kally Ellis, founder of McQueens: says this of tuberose, 
"The Tuberose flower has the most intense and powerful scent which is both sweet and heady at the same time. I personally feel it's appearance (long thin spike-like flower) doesn't quite live up to the fragrance it produces. However, when you look more closely, the clusters of creamy white florets are indeed beautiful and often used in bridal headdresses and garlands.  It is definitely one of my most favourite flowers for its unique aroma (often used as a major note in floral perfumes), and en mass, they can provide a very impressive display".
Let's give an example of another scent to highlight the quandary.  Patchouli another 'marmite' ingredients.  Personally, I cannot stand the smell of him on his own, it's all that horrid sticky faux hippy India smell. Yet every single perfume I adore, and I mean adore all contain, of course, patchouli.
I truly gifted perfumer knows it's about how each facet of an aa scent fits with another facet of a scent.  The best noses are those who almost make their own 'puzzle pieces' and create perfumes where even the most expected or unexpected components come together in a magical coalition.
Ultimately it's about balance,  a  ying yang  and a tremendous skill of blending to know a reaction of one ingredient set against a myriad of others.
As for Tuberose it has been a classic constitute of perfumery for many many years, but it is having somewhat of a revival, some choosing to use its classic notes others to totally turn it on its head and give this heady rich mistress a whole new outfit.
All that is left to say is 'sniff 'em and see;'
The real flowers in this shoot are Tuberose from McQueens Flowers.  This iconic luxury brand has been creating beautiful and memorable floral designs since 1991.  When Kally Ellis founded McQueens, her dream was to own a small flower shop in Shoreditch.  She didn't imagine in her wildest dreams that she would go on to create a global business. 
Known all over the world for colourful and creative floral creations perfectly matching to every occasion and setting. Now in its 21st year – McQueens flower School in London teaches its philosophy based on founding principles: style, simplicity, and skill.  The School offers a range of programs from vocational professional courses to one-day experiences for enthusiastic beginners.  With Schools now in New York and Soeul,  with China expected next year the brand is spreading its wings further across the globe. 
Kally still credits her love of flowers to her mother, who could grow anything in her garden.  her mother inspired by her Greek roots and therefore included a Mediterranean section in her own garden.  Probably part of the good reason why Kally of McQueens has such a variety and knowledge of all things floral.
Shot one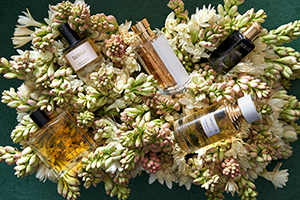 Noix de Tubéreuse EDP by Miller Harris Noix de Tubereuse; an oriental floral fragrance that draws inspiration from the gorgeous French fields of Grasse. Sensual tuberose is at the heart of its compelling scent, with a delicate sweet twist of violet, almond-like mimosa and green clover. A mysterious and exotic smell.
Durga by EDP D.S & Durga; Let yourself be romantically transformed by this beautiful green floral fragrance. Filled with rich doses of the finest floral scents – tuberose, orris butter, orange blossom, sambac jasmine, chrysanthemum and ylang. Extraordinarily addictive.
Haûto Extrait by Jeroboam Paris; A charming floral fragrance that opens with an explosion of succulent citrus and pineapple. It then delves into the alluring notes of carnal tuberose, lavish rose petals and a touch of innocent spice. A sexy scent.
La Femme Classic EDP by Prada; A Prada classic. A hyper-sensual signature fragrance that takes its wearer on a sultry journey. The beginning note is feminine floral interwoven with ylang-ylang, its spice made smooth with Beeswax, Vanilla and Tuberose. To finish, an infused Vetiver, rounding off the beautiful scent. 
Tubéreuse de Madras EDP by Boucheron; A mesmerising white floral perfume that centres on the rich, sensual tuberose. Opening with the fresh and sunny notes of orange blossom and passion fruit balanced with the delightful notes of ylang-ylang, vanilla and sandalwood. A graceful scent.
Shot three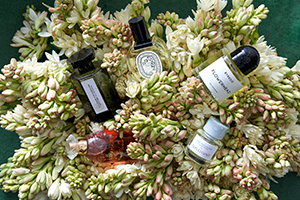 La Chasse aux Papillons extrême EDP by L'artisan parfumeur; A soft and seductive fragrance, a medley of fresh-cut spring flowers. Each flower is perfectly balanced so that no single flower overwhelms. It encapsulates the delicate floral notes of linden blossom, lemon tree blossom and orange blossom. Then to finish, a hint of jasmine and sensual tuberose.
Rose Tubéreuse EDT by E. Coudray;  A fragrance full of sensuality. An oriental floral that awakens our senses with its fruity variety. Bergamot, Rhubarb, Mandarin and Guava a flavourful fruit salad that is then taken over by the creamy and voluptuous notes of Bulgarian Rose, Tuberose and Ylang. An enchanting floral fragrance.
Do Son EDT by Diptyque; A fresh white floral fragrance perfectly blended and steeped in mystery with its magical hints of iris, rose, African orange flower, pink pepper, musk and benzoin. This fragrance will leave you feeling refreshed and energised.
Flowerhead EDP by Byredo; Lose yourself in the beautiful blend of floral scents in this gorgeous fragrance inspired by the smells of traditional Indian wedding ceremonies. It starts with the delightful smells of angelica, lingonberry and bright Sicilian lemon to be united with wild Jasmine and the compelling romance of rose. This will put you in the mood to celebrate.
Los Angeles EDP by Gallivant; An airy and aromatic Eau de Parfum which opens with gentle notes of eucalyptus, clary sage, exotic mandarin and juicy pineapple. Its floral heart opens with the scents of narcissus and tuberose, and its smoky woody base nods to the Mexican flavour of the American city.
Shot two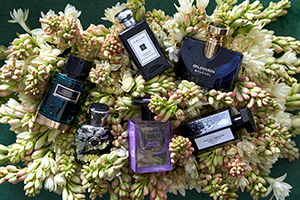 Herrera Tuberose EDP by Carolina Herrera; Floral, sensual and intense, Indian tuberose is at the heart of this fragrance. Infused with the blend of the warmest orange flowers and deliciously topped off with the sweet scent of vanilla.
Re Nero EDP by Moresque; A rich and passionate composition, an ode to history and architecture. With pleasing fruity top notes of juicy mandarin and peach followed by deeper notes of spiced vanilla and cardamom, the rich fragrance explores the sensory palette.
Tuberose Angelica by Jo Malone; A regal and sensual smell that again combines the queen of white florals, tuberose, with the green spiciness of Angelica and ylang ylang. Topped off with the warming scent of vanilla. Intoxicating. 
Feather Supreme by Jusbox; An impressively flirtatious and sensual perfume inspired by the 'Queen of Soul': Aretha Franklin. A feminine scent which opens with Mandarin, Bergamot and Apple that later reveals the deep floral heart of Rose, Ylang-Ylang, Jasmine and Tuberose. Patchouli heart, Labdanum and Musk give a sophisticated touch. 
Splendida by Bvlgari; Luminous and mysterious, elegant and addictive. This fragrance initially brings a pure and opulent floral quality to be united with a very dry woodiness. This scent has an intense charisma, unpredictable and unashamed.
Nuit de Tubéreuse EDP by L'artisan Parfumeur; A scent that explores all the beautiful facets of the mysterious Tuberose.  The scent of Parisian summer nights, narcotic and unexpected, romantic and compulsive. Cooled by the notes of pink pepper and spicy green mango. A gentle tuberose never smelt before.
Shot four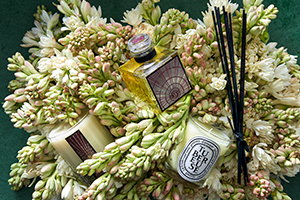 The Gypsy by Jonathan Ward, A Candle; A rich innovative and complex fragrance that allows tuberose to bloom. The addition of the delightful amber and cedar drive the floral's buttery resonance to new depths, and the touch of mimosa is irresistibly divine.
The Gypsy by Jonathan Ward, A Diffuser; Sensual and deep with divine notes of tuberose, jasmine and violet. Bergamot, cedar and amber breathes around the heart notes resulting in a lush deep floral scent.
Tubereuse by Diptyque, A Candle; A sensual, generous and luscious fragrance that enhances the atmosphere of any room. Full of the heady and intoxicating fragrance derived from the Mexican white flower that overall creates an addictive and elegant ambiance.
Jaipur Chant EDP by Sana Jardin; Arousing Indian tuberose fragrance embraced with Moroccan jasmine, Narcisse and musk to create an irresistibly divine feminine scent. This is one you don't want to miss.
Creative director Jo Phillips.  Flower from McQueens.co.uk  Photography Jason Yates.com