There is absolutely no reason why we shouldn't explore scent to the fullest; lets explore scent in a new way here, rather than the familiar, and more about mood, or how you can use scent to enhance it
Our sense of smell, one of our five senses, is actually one we know very little about but not only that, it's not a sense we learn much about either, sadly.
OK let me clarify: we understand the basics of smell; we breathe in, let's say for simplicity, a cup of fresh coffee. It sends out tiny molecules that enter our nose and go into our olfactory system. Once inside our nose these tiny molecules land on a tissue covered in mucus that lines the nasal cavity, which contains millions of olfactory receptors that bind with specific odour molecules. Think of it as a set of building bricks that slot together when one shape meets its corresponding receptor, a nice little plug that slots perfectly snugly together.
So for our cup of coffee an odour molecule floating up into your nose, will find and bind to an olfactory receptor that's specifically designed to identify the smell, (or shape) of coffee. Once the binding process has happened electrical impulses are sent to the brain, where the odours are interpreted and so in this case interpreted as coffee.
This 'action' is located in the part of the brain which is often associated with memory and emotions, hence the reason why smell provides such strong memories and emotions in us all. It's a guttural reaction, not something we can intellectually dissect. It's a raw emotive response. So that is a very simplified explanation of what we know factually about how our sense of smell works (there is SO much more research and information but this is neither the time nor the place).
But what do I mean when I say we don't really learn about our sense of smell?  Ok, so once we have built up a set of memories associated with specific smells we don't really take it any further. We don't explore smell in, say the same way we explore say, taste.  For example, the more we explore food the more our tastes become refined.  Think of the first time you engaged with something bitter like an olive. It may have seemed rather an odd sensation, may be disagreeable but the more you are exposed to these 'bitter' tastes the more you are able to engage and enjoy the sensation and taste.
The same with music, maybe the first time you hear discordant music it seems odd, difficult, a bunch of sounds, rather than a pretty and logical melody. But more exposure to varied types of music that play, for example, on the radio at work, the more you are exposed to more subtle yet sublime sounds, which of course, opens up your experiences.
All of the above are pretty everyday experiences. But when are we encouraged to go about sniffing things? Sulfur or resin? Tarmac, leaves or moss? The rain and the sun? We are not: and that is a point worth thinking about.
We play safe with smell, we get caught up in our comfort zone, why spray yourself with tobacco and jasmine if you know you love rosy vanilla smells?  You have your signature fragrance; you feel emotionally connected with it. It's safe and comforting and it's known to you.
Images Jason Yates
Creative director Jo Phillips @ DavidArtists

Shot one

4160 Tuesdays London; Eau My Soul (Amber Woods with heart notes of Rose, Sandalwood, Orris, Cognac and base notes of Tobacco, Myrrh, Musk and vanilla),
Carolina Herrera; Good Girl (Almond with heart notes of Sandalwood, Tuberose, Iris, Jasmine and base notes consisting of Cacao, Tonka Bean, Vanilla and Coffee),
Floral Street; Ylang Ylang Expresso (Blend of Red Rose, Ylang-Ylang and Jasmine crossed with Coffee, Cream and Pepper),
Floris London; Grapefruit and Rosemary (Notes of Grapefruit with Rosemary combine with a heart of jasmine and melon, enriched with a base of sandalwood and musks),
Floral Street; Fireplace (A blend of Tuscan Leather, Birch Leaf, with a touch of Raspberry),
Xerjoff; Coffee Break in Golden Moka (Italian Citrus, Blood Oranges, Mandarin, Lemons with heart notes of Coffee Absolute, Rose Absolute, Incense, Cambodian Oud, Amber followed by the base notes of Incense, Labdanum and Green Accord),
 4160 Tuesdays London; The Lion Cupboard (Victorian Oak sideboard made up of  Herbs, Citrus Fruit and Woods),
Robert Graham; Valour (Top notes are a mixture of Clary, Sage, Coffee, Santos and Amber Wood, accompanied by secondary notes of Amber and Sage),
Cloon Keen; Autograph Tree (Top notes of Saffron, Cardamom, Black Pepper, with middle notes of Beech, Sandalwood, Gaiac Wood, Agar Oud, blended with base notes of Patchouli Leaves, Birch Tar and Styrax Gum),
Baobab Collection; Marble in Stones (Blend of leather and Tuberose),
D.S and Durga; Cowboy Grass (Blend of American Sagebrush, Flowering White Thyme with Prairie Switchgrass),
Maison Francis Kurkdjian; Amyris Homme (Encounter between Rosemary from Morocco, Mandarin from Sicily, Amyris from Jamaica, Iris from Florence, Tonka bean from Brazil, Modern Woods),
XerJoff; Coffee Break in Golden Dallah (Top notes of Fresh Exotics Spices, with heart notes of Coffee Absolute, Rose Absolute, Incense, Cambodian Oud, Amber and base notes of Hazelnut, Cocoa and Tonka Hyperessence),
Matthew Williamson; Jaipur Jewel (A heady mix of Incense, Spices and Woods with natural ascents of Juniper and Cinnamon),
Juliette Has a Gun; Moscow Mule (Old Factory trail with a twist of Ginger and zest of Lemon),
Byredo; Bohemia (Top notes of Opoponax and Rum, followed by the heart notes of Germanium, Labdanum Rosemary, and the base notes of Moss Sandalwood and Vanilla).
Shot four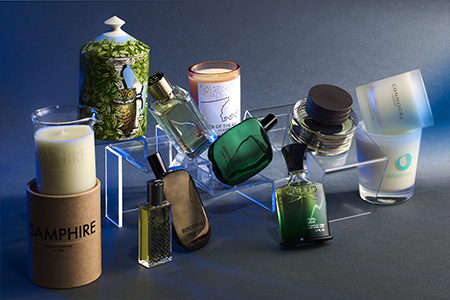 Laboratory perfumes; Samphire (Mixture of Spicy Juniper Berries, Citrus Oil, Lavender, Rosemary and Basil, joined with Verbena to layer over White amber and Oakmoss),
Fornasetti; Giardino Segreto (Herbal scent with notes of Maquis and Thyme, entwined with the Vetiver and Cistus Labdanum),
4160 Tuesdays London; Doe in the Snow (Top Notes of Grapefruit, Cedrat, Yuzu, Peach Aldehyde and Snow blend with heart notes of Cedarwood, Rose, Jasmine and Oak, and base notes of Opoponax, Oakmoss, Leather, Green Tea Absolute),
Comme Des Garcons; Wonderwood (Woody scent with notes of Oud, Cedarwood, Sandalwood, Cypress Wood and Gaiac Wood with Patchouli, Vetiver and Javanol, Cashmeran and Pachiminol.),
Ex Nihilo; Rose Hubris (Fusion of top notes of Lychee and Fenugreek, accompanied by heart notes of Rose of May, and Labdanum, and base notes of Oak Moss, Patchouli and Musk),
D.S. and Durga; Tomb of the Eagles (Consists of top notes of Clover and Cold sea, blended with heart notes of Sea Pinks, and Sweet Cicely, and base notes of Island Moss, Bones and Grass),
Comme des Garcons; Amazing Green (Notes consists of Verdant, Flint, Coriander and White musk),
Creed; Original Vetiver (Infuses all three parts of the plant: the earthy root, the verdant leaves, and the rich heart),
Linari; Mare Pacifico (Top notes of Lemon, Mate, Birch and Cypress Layered over middle notes of Rose, Calone, Seagrass and Sea Notes, and base notes of Sandalwood, Musk, Patchouli, Kephalis),
Connock; Andiroba Oil (Marries notes of Lemon, Bergamot and Brazilian Orange blend into a deep, warm, earthy base),
Anima Vinci: Corsican Soul (Entwining Corsican with caramelised leaves of immortelle, fig and ciste).
Shot Seven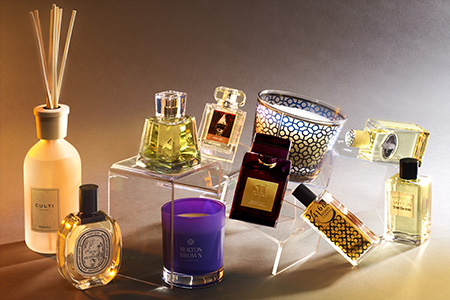 Culti; Tessuto (Starting with top notes of Bergamot, Cassis Flowers and Cotton Leaves, leading to a heart of Olive, Jasmine and Geranium and closing with a background of  Incense, Cashmere Wood and White Musk),
Diptyque; L'eau des Hesperides (Citrusy scent made of Bitter Orange, Lemon, Peppermint and Immortelle),
Connock; Vittaveli (Top notes of Frankincense, Geranium, spicy Pepper Berries and Bergamot blend into a leafy green note reminiscent of the fruit of the Banyan Tree., with a floral heart of Jasmine, Pink Rose, Frangipani and Hibiscus, and a base of Sandalwood, Vanilla Orchid and delicate Oud notes),
Molton brown; Ylang Ylang(Blend of top notes of Ylang-Ylang and Bergamot with heart notes of Sweet Cardamom and Orris, and Base notes of  Musk and Amber.),
Carthusia; Terra Mia (The sweetness of Coffee is combined with Hazelnut, Vanilla, Neroli and Pink Pepper.),
1460 Tuesdays London; Pillow Talk (Top notes consist of Orange Flower, Pink Peppercorn and Yuzu, heart notes of Jasmine, Ylang Ylang, Black Pepper and Bergamot, with base notes of Sandalwood, Vanilla and Amber),
SRI London; Scarlet in Amber Jasmine (The top notes of Aniseed, Red Fruit and Grapefruit Fuse with the middle notes of Neroli, Jasmine, Cardamom, Muguet, Orris, and base notes of Amber, Cedarwood and Vetiver),
Baobab Collection; Gentlemen (Its perfume combines notes of rum and saffron),
Prada Milano; Mimosa (Fusion of top notes of Mandarin, Anise with heart notes of Rose and Mimosa, and base notes of Woods),
Tom Daxon; Midnight Saffron (Saffron is infused with Lavender, Jasmine, Suede and Amber Woods).
But what if we throw the idea of that on its head.  Let's think about teaching ourselves that just like pushing the boundaries with what we eat and what we listen to do the same with our sense of smell.
We expose ourselves, we open ourselves up to more than just a familiar comforting perfume, we go past our 'signature' bottle of scent. We allow ourselves a whole wardrobe of emotive fragrances. We allow ourselves to fully indulge in that connection of emotion and memory to smell, we allow new memories, new connections, and new emotional scent experiences.
We learn to lavish in smell, we joyously engage in the idea that for any mood I can wear any fragrance that pleases me, that comforts me, that makes me want to dance, that holds me when I feel melancholic, that lifts me when I feel worn out or gives me a sense of power when I walk into a room. Let's stop saving that signature scent for special occasions.
How amazing would that be?
Why not have a look at our shoot above and start your own indulgent journey towards living, loving, and owning your very own bottle of perfume to suit each and any mood. And if you have already started then why not have a look to see what else may just be an essential mood enhancer you never thought of before? Allow yourself to truly sink in, indulge, and heighten your experience.
After all, scent, if nothing else is the simplest way to feel something and you don't have to work at it …it 's magic that happens when your nose engages with the whiff of pure joy!
A lovely melancholic mood
There are times we feel sad, where we miss the people we have loved; it's not the depth of despair that we initially feel at loss but the feeling once we come to terms with loss. There is that wonderful melancholic nostalgia we can actually almost revel in; we can indulge in it, feel safe, but add a significant scent to it and dive into the feeling wrapped in the warmth of the smell.  Maybe for you it is the classic rose fragrance, worn from daughter to mother to grandmother, always an arrow straight in the heart. Or maybe it's floral with a hint of spice that is almost an ethereal whiff of days gone by.
Working, concentrating and creative thinking 
Rosemary has actually been proven to heighten our powers of concentration, so what about burning a candle with rosemary when trying to write the novel you always knew you had in you, or what about a fragrance with coffee in it?  If coffee isn't about being alert then what is? Spray, sniff, burn, smell (divide clauses with dash let your mind come alive and let that novel pour from your fingers onto the keyboard as if you were playing the perfect rendition of Beethoven Piano Concerto No 5).
The powerful person: for work, or power meetings
We have all experienced those meeting we have to attend when we know, not only do we have to be on 'top form' but we need the very air around us to
Jo Loves; Pomelo (Grapefruit-infused citrus is Jo's signature scent),
Jo Loves; Pomelo (Made up of Pink Pomelo, Vetiver and Suede, with aromas of fresh grass and grapefruit),
Byredo; Sunday Cologne (Top notes of Bergamot, Cardamom and Star Anise  mixed with heart notes of Geranium, Incense and Lavender, with base notes of  Moss, Patchouli and Vetiver),
Able; Green Cedar (marries a duo of Cedars from forests in Texas and mountains of Morocco. Combined with notes of natural Magnolia, Cypriol, Cardamom, and Smoky Guaiac Wood),
Acqua Di Parma; Colonia (top notes consist of Lemon, Sweet Orange, Calabrian and Bergamot, followed by heart notes made up of Lavender, Bulgarian Rose, Verbena and Rosemary, and base notes of Vetiver, Sandalwood and Patchouli),
Prada; Infusion Mandarine (Blend of top notes of Orange, green mandarin, mandarin leaf and orange peel, with heart notes of Orange blossom and neroli, and base notes of Opoponax),
Bvlgari; Au Thé Vert  (Citrus Aromatic Floral containing top notes of Italian Bergamot and base notes of Pepper and Green Tea),
Molton Brown; Orange and Bergamot (Formed of top notes containing fragrant Bergamot, Mandarin and Lemon, alongside with heart notes of Orange and Ginger, and base notes of Delicate Orange Flower and Musk.),
Creed; Neroli Sauvage ( Neroli Sauvage features top notes of Lemon, Bergamot and Petit Grain which expand into a heart of Verbena and Orange flower on a base of Ambergris and Sandalwood),
Acqua Di Parma; Colonia (Releases the aroma of the subtle Colonia scent into the air ),
Guerlain; Mon Guerlain (The fresh fragrance enhances raw materials of Carla Lavender from Provence, Sambac Jasmine from India, Album Sandalwood from Australia and Vanilla Tahitensis from Papua New Guinea.),
4160 Tuesdays London; Invisible Ben (Fusion of top notes of Orange, Lime and Cognac, and middle notes of Sandalwood, Cashmere Wood and Coffee, with base notes of Opoponax and Resins),
Cire Trudon; Baal (Contains an Oud scent),
Creed; Green Irish Tweed ( A woody green floral scent combining Verbena, Violet Leaves, Iris, Sandalwood and Ambergris),
Bvlgari; Man wood Essence (Neo Woody scent comprised of  top notes of Italian Citrus Zests and Essence of Coriander, along with hearty notes of Cypress Wood, Haitian Vetiver Essence, and Base notes of Cedar Wood, Ambergris Accords and Benzoin Siam),
Diptyque; Tempo (Woody perfume containing Patchouli, Maté, Clary Sage, Violet),
Fresh; Life Eau De perfume (Velvet Bergamot, Vanilla Grass, Dreamy Cypress Air infused with Grapefruit, Lilac Leaves, Amber, Warm Orange, Tonka Flowers, Sweet Cucumber and Moss),
Atelier Cologne; Orange Positano (Notes are of Orange from Brazil, Bitter Orange from Italy, Elemi from the Philippines),
Lalique; L'insoumis in Ma Force ( Top notes consisting of Cardamon and Green Apple, followed by heart notes of Rosemary and Violet Leave, alongside base notes of Woody Amber Notes),
86 L'Occitane en Provence; Pierre Hermé in Orange Leaves and Flowers (Top notes of Mandarine, Bitter Orange and Ginger join together harmoniously with middle notes of Immortelle, Honey and Lavender, along with base notes of Vanilla and Cedar Ambrox),
Anya smells; Coffee (The Coffee candle blends notes of Café Abs, Galbanum from Iran, Cardamom from India, Vetiver, Patchouli, Virginia Cedar Wood, Tonka Bean, Frankincense and Amber with Birdsong and Waiting taxis to create a Woody scent),
Dunhill; Century (Refreshing top notes of Bergamot, Grapefruit and Mandarin. A base of sandalwood, Earming Olibanum and Fragrant neroli).
Shot five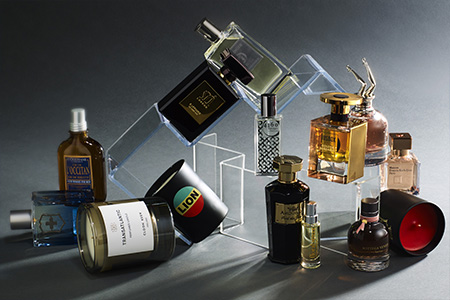 Victorinox Swiss Army; Steel (Fusion of top notes of Viola Leaves and lavender, heart notes of Sea Breeze and Lichen and base notes of Cedarwood) ,
l'Occitane; Pour Homme for Men (Consisting of top notes made of Black pepper and Lavender, middle notes made of Nutmeg and Cinnamon and base note made of Tonka Bean),
Cloon Keen; Transatlantic (Top notes contain a blend of Mastic and Cistus, with Middle notes of Cypress and Cement, followed by base notes of Leather),
Bella freud; lion (A fiery fragrance with notes of Poivre and Cedarwood. Infused with sharp Cedarwood and spicy Poivre. A  subtle touch of Star Anise and Nutmeg for sweetness, and base notes of Vetiver, Oakmoss and Amber),
SRI London; Sapphire in Leather Oud (Top notes of  armoise, grapefruit, cypress, with middle notes consisting of  lavender, cardamom and a base of oud, leather, amber, patchouli, sandalwood and saffron),
Mizensir; Eau De Gingembre (Top notes comprised of Calabrian bergamot, Ginger, Tunisian neroli and Petitgrain, middle notes of Fig, cypress and base note of White woods),
4160 Tuesdays London; Eat flowers (Floral perfume formed of top notes of Linden blossom, Neroli, Lemon Flower, heart notes of Rose, iris, tuberose, lily, geranium, and base notes of Musks, White Woods and Cabrueva),
Amouroud; Oud Du Jour (Blend of Top notes of Pink Pepper, Wild Raspberry, Persian Saffron, and  middle notes of Olibanum, Rose Absolute, Purne JE, Muguet du Bois and base notes of Indonesian Oud, Black Amber, Patchouli and Gaiac Wood),
Floral street; Chypre Sublime (Combination of Incense, Pink Pepper, Wild Geranium, Damask Rose Absolute, Midnight Violets, Patchouli, Labdanum, Benzoin and Olibanum),
Jusbox; Golden Serenade (Mixture of top notes consisting of Saffron and clove bud, with heart notes of Incense, Patchouli and base notes of Oud Oil, Vanilla, Opoponax and Amber),
Jean Paul Gaultier; Scandal (Woody scent that is a blend of  top notes of Honey Accord, Blood Orange, middle notes of Gardenia and base notes of Patchouli, Black Vanilla and Ambrox),
Maison Francis Kurkdjian; Pluriel (Mingling of Iris from Florence, Violet, Rose from Grasse, Jasmine from Egypt, Lily of the valley, Orange, blossom, Vetiver and Patchouli from Indonesia),
Bottega Veneta; l'Absolu (Warm scent that blends together top notes of Jasmine, heart notes of Vanilla and Base notes of Leather),
Sisley; Soir D'orient  ( Contains Top Notes made of  Saffron, Bergamot and Mandarin, with heart notes made of  Clove, Rose and  Amber, with base notes of  Patchouli, Sandalwood, Musk).
Tom Daxon; Crushing bloom (Saffron awakens Lavender, Jasmine and suede, with a base of Amber Woods),
Jewellery Box by Lola Rose (Marble print),
Art de parfum; Sensual Oud (Top notes of clove, geranium leaf, date blend together with heart notes of Saffron, Rose and Suede, finished off with base notes of Patchouli, Oud, Cypriol, Jasmin Abs, Clove),
Elegantes London; Cashmere (This stylish scent is a blend of Bergamot, Apple and Linden Blossom, leading with Dewy Lily of the Valley and Elegant Rose at the Heart and finishes with notes of Amber, Patchouli and Sandalwood.),
Ex Nihilo; Devil Tender (Balance of Pink grapefruit, CO2 Pink Pepper, Peach Juice Accord with a heart of  Rose Water, Bulgarian Rose, Peony, and a base of Suede Accord, White Cedar and Sandalwood),
Curionoir; Purotu Rose (Notes made up of Rose Otto, Bitter Orange, Cumin, Rose De Mai, Pink  De Mai, Pink  Pepper,  Teakwood, Haiti and Java Vetyver),
Shot 8 continued next column
exude power, confidence and trust. What better way to enhance this than a shot of fragrance that just says power, something sophisticated, alluring, sensual yet strong.  Chypre, chypre, chypre. Although a very traditional style of fragrance it is still one of the most sophisticated. Unlike many a popular modern fragrance that has a very quick say fruity initial hit that says love me, love me (like a cheap tart) and bores you half an hour later, a chypre seduces. It doesn't need to lift its skirt to show off its wares. It's Katherine Hepburn, it's Marlene Dietrich, it's beyond chic.  A good chypre intrigues, it unfurls, eludes glamour, style and confident sexuality, leaves a trail, a silage and whiff of you once you have left the room…
Get up, get going
When we have days where we need a kick, a lift and little bit of help to muster a real spring in our step, the go for fragrance must be a citrus. Interestingly, we have been sold citrus scents as 'Clean" ever since citrus smells arrived in our home cleaning products.  Washing up and toilet cleaners no longer smell of beach and chemicals, they smell of fresh lemons, limes and mandarins. As much as we have been sold citrus as clean, it is actually more of a buzzy, fizzy vital scent; an 'alive' smell.  Also think green fragrances think pine needles, basil, cedar leaf which all lift our spirits, refresh us and are great at giving a real get-up-and-go feeling, making us feel alive and ready to go!
A walk on a winter's day in the wood or by the sea.
Another indulgent need is a walk in fresh air, whether after a heavy Christmas meal or before a long winter holiday spent within the slightly too claustrophobic confines of a relative's home. Want to be free in your mind even if you are not? Then why not spritz a wood or sea fragrance and capture the 'emotions of being outdoor' or even wear it and go out and double up the experience. Marine notes, woody moss, notes think mulch and moss, think dark green and brown. Set your mind free.
Getting into bed by yourself, for yourself
One of the most wonderful moments of the day is the end of the day, maybe you like a hot shower before bed or a soak in the bath before climbing into the clean sheets of a freshly made bed.  Maybe you are a naturally good sleeper, or maybe not, but you indulge yourself in your favourite night-time treat (no not that smoky peaty whiskey) but a musky skin effect scent or white cotton? Jasmine, or you could go down the lavender root or what about cedarwood, which is a very grounding scent. This is about indulgence for the self (this is not about your lover). Spray on somewhere easy for you to sniff and spend a few moments alone with a wonderful fragrance and you are absolutely going to fall asleep with one big ol' smile on your face.
Now is the time, never have there been more honestly wonderful perfumes available in the marketplace.  This is the time to 'dress yourself' in a fragrance for you; one that is another facet of you today, now, something to please yourself with. That final facet that completes your daily outfit.
Floral Street; Vanilla Orchid (Fusion of Cassis, Lemon, Vanilla Blossom, Bamboo, Jasmine, Vanilla Beans, Sandalwood, Patchouli Fraction and Red Orchid),
Curionoir; Pablo (Mixture of Lemon, Frankincense, Freesia, Mimosa, Cubam Tobacc Leaves, Coriander, Vanilla Absolute and Tonka Beans),
Diptyque 34 (Olfactory collection made of Woody Scent, Amber/Patchouli Accord, Rose, Cinnamon and Blackcurrant Buds),
4160 Tuesdays London; Inevitable Crimes of Passion (Top notes formed of Cepes and Grapefruit,  with the middle notes consisting of Coffee, followed by the Woody base notes),
Cire Trudon; Empire (Head notes marry together Laurel, Lavender and Marjoram, followed by heart notes of Rosemary and Thyme, finishing off with base note of Hay, Pine, Sage and Wild Juniper),
Joop; Wow (Top notes consist of violet Leaves, Bergamot, Cardamon Essence, heart Notes are made of Vetiver and GeraniumBase, followed by base notes made of Cashmeran Wood, Tonka Bean and Vanilla),
Carolina Herrera; Burning Rose (Top notes comprised of Fresh Spicy Black Pepper Madagascar, Nutmeg Indonesia, Ginger, with middle notes of Floral Spicy: Rose Damascena and Cinnamon Laos, and bottom notes of Woody Oriental Amber: Patchouli, Myrrh, Olibanum Somalie, Cistus Labdanum),
Thameen; Diadem (Blend intimately with top notes of Lavender, Omani Frankincense, Cardamom, Middle notes of Rose, Saffron and Base notes of Vanilla Absolute, Amber, Patchouli and Serge),
Lutens; Fleurs D'oranger (Notes consisting of Orange blossom, Rose, Hibiscus, Tuberose, Jasmine, Caraway, Nutmeg),
Floral Street; Black Lotus (Fusion of Black Cherry, Red Reppercorn, Saffron Centifolia Rose, Black Violet Accord, Narcotic Musk Flower, Patchouli Fraction, Labdanum, Black Leather),
Moresque; Rand (Blend of top  notes of lemon from Amalfi, bergamot from Calabria, with heart notes of Bulgarian rose, Caribbean ylang-ylang, jasmine sambac, geranium pantelleria  and base notes of patchouli from Indonesia, oud, leather and amber),
From Beauty Pie; Petals heliotrope & Ambrette ( Fragrance triangle of top notes consisting of Tuberose petals, Dewy Greens, middle notes of Cyclamen, Golden Gardenia NP, Jasmin Sambac, Heliotrope, and base notes of Ambrette Seeds, Vanilla, Musk and  Coconut Shells).
Lalique; Les Compositions Parfumees in Pink Paradise (Radiates Calone, Lemon, Bergamot and Bitter Orange, layered over hearty notes of Jasmine, Heliotrope, Pepper and Cedarwood, with a base of ISO-E Super, Ambroxan, Sandalwood, Amber, Musk),
Mini New York; Plush (Made up of top notes of Almond, Galbanum, Clove Bud, with middle notes of Jasmine, Iris, Orange Blossom, and a base of Vanilla Bean, Ambergris and Musk),
Bella Freud; Pyschoanalysis (The delicate top notes of Neroli and Petitgrain are lifted by Tobacco Flower, and a base of Cedarwood, dry Amber and dark Musk),
Diptyque; Baume D'Ambre (Strikes an accord between vanilla and benzoin resin, enhanced by lavender.),
Jeroboam; Insulo (Blend of top to bottom notes of Vanilla, Jasmine and Musk),
Urban Apothecary; Tuberose Petals ( Aroma of top notes of Blackberry, Cassis and Bay Leaf, layered by heart notes Pum Geranium and Rose Bud, followed by base notes of Sandalwood and Caramel).
Shot nine
Jewellery Box by Lola Rose (Marble Print),
Fresh; Rose Morning (Marrying of top notes of Rose, violet leaf and blackcurrant, combined with middle notes of Bulgarian rose, Peach flower and Freesia, and base notes of White Tea, Velvet Musk and Warm Amber),
Floral Street; Rose Provence (Fusion of Artemisia, Tagette, Patchouli, White Burch, Rose Absolute, Violet, Raspberry and Artemisia),
Molton Brown; Rosa Absolute (Top notes consist of  Blackcurrant, Pink Pepper and Raspberry, with, heart notes of Rose, Violet Leaf and Geranium, and base notes of Patchouli, Labdanum and Vanilla.),
Floral street; Neon Street (Blend of Bergamot, Cassis Kir, Apple Blossom, Sichuan Pepper, Cyclamen, Juniper Berry, Jasmine Egypt, Angelica, White Cedarwood, Peach Nectar and Crisp Amber),
Parterre; Tribute to Edith (Geranium, Rhubarb Rose Geraium and Whisky, form with heart notes of Centifolia, Rose, Davana, Rose De Mai and Yarrow, with base notes of Benzoin, Patchouli and Sandalwood),
Prada; Les Infusions in Rose Eau De Parfum (includes notes of Turkish and Bulgarian Rose, Italian Mandarin, Peppery Mint, Brazilian Maté, and Honeycomb from Laos),
Gallivant; London (Cucumber and Violet leaves. are met with a heart of Rose de Mai Absolute, Rose Oil and OrrisRoot,  and base notes of Leather, Sandalwood, Patchouli and Cedarwood),
Byredo; Rose of No Man's Land (Infused with top notes of  Pink Pepper and Turkish Rose Petals, heart notes of Raspberry Blossom and Turkish Rose Absolute, and a base of Papyrus and White Amber),
Jo Loves; White Rose and Lemon Leaves (Scent notes of White Rose Oil, Lemon Peel, Rose Absolute, Petitgrain, Honey and Amber),
L'amour; Lalique (Freshness of Bergamot, followed by Rosebud and Neroli. The heart notes enriched with Tuberose, Gardenia and Jasmine Petals, with a base of  Cedar Wood and  Sandalwood),
Diptyque; Pomander (Spicy scent with essential oils including a fusion of Orange, Cloves and Cinnamon),
Buly; Eau Triple Rose De Damas (Water-based fragrance where a bouquet of Roses is punctuated with Ginger and Vetiver),
Ex Nihilo; Ultra Rose (Top scent notes are a culmination of Lychee and Fenugreek, along with heart notes of Rose of May an Labdanum, Ending with an Oak Moss, Patchouli and Musk base),
Ostens; Impression Rose Oil Isparta (The key fragrance notes are Pink Pepper CO2 LMR, Rose Essential LMR, Patchouli Oil LMR, Labdanum Resinoid LMR and Cashmeran),
Viktor & Rolf; Flowerbomb (Top Notes consist of Bergamot, and Tea, heart notes are made of Jasmine, Freesia and Orchid, followed by base notes of Centiflora Rose and Patchouli),
Chloé; Chloé Absolu de Parfum (Damascena rose is combined with an absolute of Centifolia Rose from Grasse, along with Vanilla Absolute and a touch of patchouli),
Urban Apothecary; Rose Voile (Top notes of rose open out into a heart of cherry-like Heliotrope and floral lily of the valley, the base consists of iris and vanilla creates beautiful),
Armani; Si (Top Notes blend together Sicilian Bergamot, Mandarin Oil and Liquer de Cassis, which opens out into  heart Notes of Rose de Mai Absolute, Neroli Absolute, and Egyptian Jasmine Absolute, with a base of Patchouli Oil, Blond Woods, Amber, Orcanox™ and Vanille Absolute),
Jo Loves; White Rose and Lemon Leaves (The scent of white Norma Jean Rose laced with Peppered Citrus and Cedarwood).
Shot 8 continued
Atkinsons; White Rose De Alix (Raspberry and Litchi fuse together with
Rose, Peony, Freesia, Jasmine and Saffron, along with Patchouli, Musk, Vanilla and Labdanum),
Jovoy; Pavillon Rouge (Top notes start of with Whiskey, entwined with Leather, with an Ebony Wood base),
Van Cleef & Arpels; Rose Rouge ( Cocoa, Patchouli and Vetiver lead on from Turkish rose, pink pepper and blackcurrant),
Floris London; A Rose For (Top Notes consists of Darjeeling Tea, Incense and Cassis, with Heart Notes of Red Rose, Orris and Oud, along with base Notes of Sandalwood, Patchouli, Vanilla),
Ex Nihilo; Ultra Rose ( Top notes made of Lychee, Fenugreek, with heart notes of Rose of May, Labdanum, and base notes of Oak Moss, Patchouli and Musk),
Maison Françoise Kurkdjian; Á La Rose (A Mixture of Damascena Rose from Bulgaria , Centifolia Rose from Grasse, Bergamot from Calabria, Orange from California, Violet Flower Accord, Magnolia blossom and Woody Cedar Musky Accord),
Lumira; Persian Rose (Combination of top notes of  Sparkling Mandarin, Bergamot Zest and Sweet Orange, with
middle notes of  Budding Persian Rose and Geranium Essence, and base: Soft Musk, Patchouli and Dark Amber).