The Road Less Travelled
We fill our lives with journeys, both literal and metaphorical. From the tedious: a daily commute / the supermarket, to the transcendental: an adventure / the escape. When we wear a fragrance, we're taken on a journey too, each molecule heating with the skin and releasing little rushes of delight and great gusts of memories, at times almost overwhelming, in which to be transported to a past moment. 
Shot One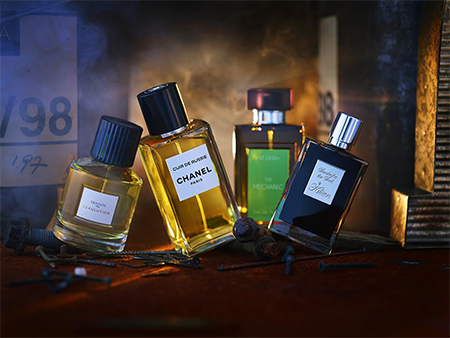 Revolution, Cire Trudon
Onwards through mist and mountains, cleared clouds revealing cedar treetops. Swoopingly woody with a gentle hum of quiet determination. A smile through gritted teeth, a silk neckerchief used to wipe the dipstick, windswept hair imbued with smoke and air cold as steel blades. 
Les Exclusifs Cuir de Russie, Chanel
Lacquered nails drum a wooden dashboard, a fur collar pulled high against frosty air. A curl of smoke from a gold-tipped cigarette, a bundle of lipstick-kissed letters thrown from a car window, an engine purring approvingly. 
 The Mechanic (back), St Giles

'A celebration of the physical', the unexpected geranium and patchouli quickly dives into dirty overalls, emitting a potent, animalistic leather scent underlaid with rubber and musk. Think a smear of engine oil on hot skin, curse words, shared laughter, stolen kisses on the backseat and hastily rolled cigarettes.
Smoke For The Soul, Kilian

Fruity eucalyptus drips stickily on a tobacco-rich background, hints of the hookah weaving through crowded alleyways, the hubbub of the city drowning out rock on the radio. Another party, a plate of sweetmeats baked with cardamom, a swig of something bitter, another appetite to satisfy.  
Shot Four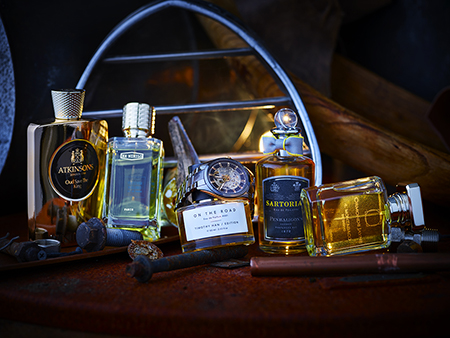 HyperChrome Automatic Open Heart, Rado
On a polished brown high-tech ceramic case, the dial is brown and has rose gold coloured indexes with black veneer and white Super-LumiNova®. New for Rado this year is the smoked anti-reflective coated sapphire crystal. The movement is automatic and has up to 30 hours of power reserve.
Oud Save the King, Atkinson

Aristocrat meets exoticism, a classic motor blinged-out with violet velvet seats and woodwork inlaid with mother of pearl. It's earl grey tea sipped from priceless china teacups as you drive (no travel mugs here, thank you) and it's a royal wave followed by a cheeky wink.
 Vetiver Moloko, Ex Nihilo

A winding, wet forest road. Stillness surrounds you, every noise an act of transgression. Cut the engine, roll the top down, fill your lungs. Chalky pastel dawn-tinted rose, sappy wood, vetiver lapped by milk, a slowly sipped latte (long since cold) while you contemplate what's to come.
On the Road On The Road, Timothy Han

Melted tarmac, burning oil and a road trip in more ways than one. The searing heat haze of an endless ride on leather seats that stick to your thighs, a blur of green in your smoking trail. Turn up the jazz, dangle your arm out the window and light that cigarette.
Sartorial (back), Penhaligons

Inspired by the workshop of Saville Row's Norton & Son, impeccable tailoring meets metallic reflections with lavender, cyclamen and linden blossom against softly draped leather, folds of fine cloth and honeyed tonka beans. Dashingly dapper and just the thing for chaps who love getting out of the smoke with champagne picnics in their nifty British sports cars.
Montabaco (front), Ormond Jayne

Unashamedly seductive with armfuls of flora for men who dare to swivel their hips as they dance and for women not afraid to take the lead. Drive to the party with the roof down, smoking hand-rolled cigars and laughing uproariously. In fact, screw the others, let's have the party in the car.  
Shot Seven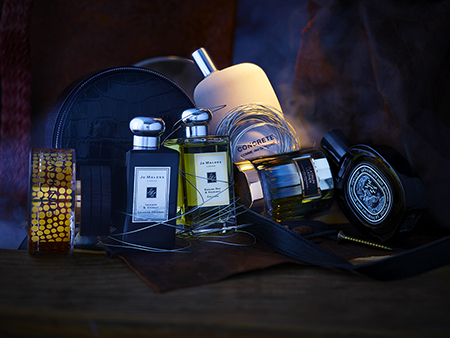 Stella Cadente, Linari

Driving home for Christmas, those long lonely journeys can be looked at as a silent revery you'll long for soon enough. Memories of plum pudding and cinnamon-infused hot punch punctuate the endless rumble of rubber tires on tarmac, a hush of snowflakes settling.
Incense & Cedrat, Jo Malone English Oak & Hazelnut, Jo Malone

Fresh out of church with sins cleansed, Sunday best and prayer books stacked in the footwells, or a quick drive to the meadow, fumbled embraces in piles of hay with freckles and grass-stains, a total giveaway as to why you really missed the service… Two roads, two choices, which way will you turn…?
Concrete (back), Comme des Garcons
The pristine, freshly-poured surface of unctuous grey proves irresistible. Footprints, a half-buried bouquet of white roses, two sets of initials engraving a heart forever, now. Dusty streets at the break of day, the glassy light of reflected dawn, the icy green of a carwash's cleaning fluid, an awakening restaurant's heating ducts billowing steam as you glide past, gleaming, full of the joy of a city rarely glimpsed.
Platinum Leather (front), Coralina Herrera

A chilly elegance of cypriol and firm leather, chic jasmine pepped up by pink pepper and a subtle plunge into the shadows of patchouli, vanilla and airy musk. It calls for something modern but sophisticated to drive, platinum-coated of course, with opera on the radio turned up loudly, announcing your arrival with melodious screams.
Volutes, Diptyque

An inherited car full of secrets and memories, the scent of dried spices, a violet perfume and the sticky, dried-fruit sweetness of pipe tobacco. Endless surprises abound: stray strands of hay in the boot, cracked leather baked by sun-filled journeys, days long gone but to be relived again now that the wheel's in your hands.
Round Trinket Tray, Smythson

Smythson has proudly been one of the masters of luxurious British design since 1887. Mara is one of Smythson's most iconic collections. Each Mara piece is instantly identifiable by its crocodile-print calf leather.  
The car is a sanctuary, a scented airlock, a fetishised dream, a time-capsule of your life forever in motion. That 'new car smell' is synonymous with success, a promise of excitement to come, and a plethora of perfume companies have been influenced by the components that make it unique. Leather or vinyl, wood or plastic, tarmac and petrol, hot metal and oil. But think outside the tin box and imagine your 
Shot Two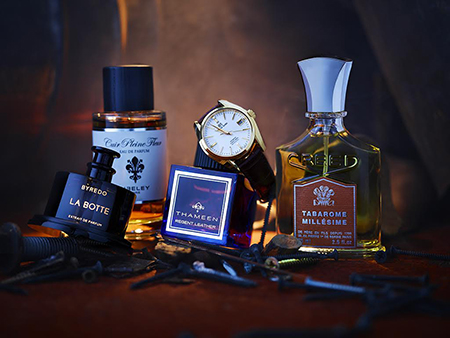 Hi Beat 36000 20th Anniversary Yellow Limited Editions SBGh266J, Grand Seiko

To celebrate the 20th anniversary of the famous 9S calibre, Grand Seiko has designed the Grand Seiko Hi-Beat 36000 Limited Edition Yellow 18-carat Gold watch with a brand new movement based on the original 1998 9S calibre. This limited edition watch with a brand new movement is based on the original 1998 9S calibre. The 9S85 Hi Beat Special is a movement which delivers extraordinary precision of +4 to -2 seconds per day. This level of accuracy is achieved by a 34-day testing programme.
La Botte (front), Byredo

A satisfaction in the perfection of little things, the details noticed. Gleaming leather, freshly buffed, the gentle thunk of an expensive door closing, a second skin of buttery kid gloves sensuously removed. A sigh of jasmine and violet still lingers for hours after you've driven away.
Cuir Pleine Fleur (back), Heeley
Chamois leather and soft suede beckon a backseat to swoon on at the drive-in, vintage cars affording a make-out space unhampered by the restrictions of seatbelts. Violet cremes stored in the glovebox to devour in secret, later, on your own. They needn't know.
Regent Leather (front), Thameen

Made in association with the Rolls Royce Enthusiasts Club, escape to a world of beeswaxed wood and lemon drops, a rumble of power with drifts of saffron-spiced roses amidst furled umbrellas and the glint of sapphires. Reassuringly resinous, reliably smooth.
Tabarome Millésime, Creed

Silver foxes who still favour driving gloves and young bucks in vintage sports cars alike will fall for the gentle fug of ginger-tinged tobacco, with wisps of sandalwood and the comforting, manly hug of ambergris.  
DiaMaster Automatic Chronograph, Rado

Rado Diamaster Automatic features a Chronograph Automatic Movement with a 45-hour power reserve. Made from plasma-high tech ceramic, the bezel is fixed ceramic and features on scratch-resistant sapphire crystal. The dial is grey and also features on a grey leather strap.
Pace, Jaguar

The snarl of a beast tamed to a pussycat's purr beneath the gleaming metallic hood, the knowledge of power barely restrained as wafts of crisp apple and aromatic rosemary lift the spirits, lavender dusted with orris soothes the soul and the long drive home is the best bit of the day.
Icon Racing (front), Dunhill

A blur of scenery, individual notes seamlessly melding to chords that take you from the zippiness of citrus through cardamom and pepper-speckled orange blossom and swathes of woody lavender musk.
Platinum (back), Coach

Swoon over James Franco, the face of this perfume, the image of him standing by his car, the all-American road trip man, who smells of Black Pepper Oil, Pineapple, Juniper Berries moving onto Cashmeran, Clary Sage, Geranium and a sunset of Vanilla Leather, Patchouli, Sandalwood with hints of Bergamot pear and kumquat followed by coriander, cardamon and geranium which flows into a sunset of vetiver ambergris and suede.
Momentum Intense, Bentley
The embodiment of freedom, an imposing grille that manages to be cheerful somehow, the refinement of classic lavender and geranium with a background thrum of Oriental Woods. A golden glow lurks way beneath, the warmth of amber subtly making its presence known, like heated seats cupping cold buttocks on an early Autumn's misty drive.
Riflesso Trussardi
Reminiscent of lithe Italians in trousers that leave little to the imagination, there's an energy about the bergamot and grapefruit opening that calls for a 'modern dude' on a vintage motorbike. Classic Cologne meets super smooth wood, for an encounter you'll want to repeat on a daily basis. 
Shot Eight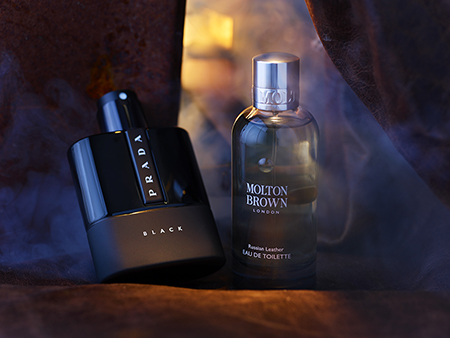 Luna Rosa Black, Prada

Slink to the clubhouse in a neat little black sports car, nothing too showy or vulgar. Park it and rub shoulders with the rich and famous if you will, but doubtless you'll decide to switch the open road for the wide blue yonder. Borrow a yacht while they prop up the bar with boring tales; your journey is out there, bourne aloft on zesty waves of bergamot, a breeze of lusciously powdered coumarin and the medicinal, port-like sweetness of angelica.
Russian Leather, Molton Brown

The juxtaposition of glacial air and a campfire's glow will always remind you of this moment. A snapshot of you in the car, carefree, just arriving or leaving, it doesn't matter. The curls of smoke seep through to infuse the leather, your hair, your dreams, forever.
surroundings, the places it takes you, those endless possibilities. A ribbon of a road through a moonlit forest or a neon concrete urban jungle, the road is calling and it's always open. Sometimes it's not about the arriving, but the journey you take to get there…
Shot Three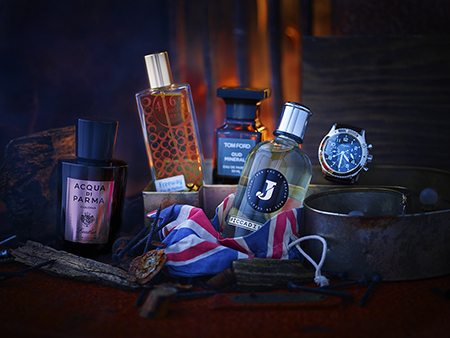 Breguet Type xx – Aeronavale Fly Back Chrono Steel 39mm (black face, brown crocodile strap) 
The Type XX watch embodies the original features of the Breguet, it features unwavering technology with beautiful detailing. The Breguet Type XX 3800 Aeronavale Fly Back Chrono in Steel, features winding movement and a subdial for the seconds, 30 minute and 12-hour totalizers. Water resistant to 10 bar. It is finished with a classic alligator strap.
Colonia Leather, Acqua Di Parma
Dusk at the orange grove as a vehicle's piled high with boxes of fruits still warm from the sun, citrus and leather becoming one as red stains the sky and tendrils of woodsmoke drift like fragrant signals. 

Oud Minerale, Tom Ford
A tang of sea air, tasting the water on the tip of your tongue several minutes before you glimpse that blue swathe stretching to nothingness. Haring down steep roads, suddenly desperate to be there, the mineral greyness of salt-licked rocks, seaweed and pepper, the freedom of not caring.
Piccadilly '69, Jack London
"Wide-eyed in wonderment", Richard E Grant described himself, as he gazed at 60′s London in full swing. Illicit joints, traffic jams, loud music, petrol fumes, bell-bottomed revellers mixing with the bowler-hat brigade and even the smell of expensive wood and leather chairs at Fortnums.
Freeway 4160, Tuesday

Buxom orange blossom laced with crystallised brown sugar, a quick swing of rum and perhaps a nip of brandy while you're at it. "If anyone can show just cause, why this couple cannot lawfully be joined…" A bridal bouquet crushed beneath the smoking wheels of a getaway car for one. Cue big hair, cheap dates and no regrets.

Shot Six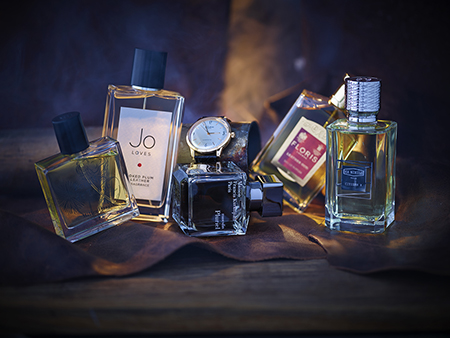 Senator Sixties Glashutte Original, (grey dial, gold case, black alligator)
The Glashutte Orginal Senator-Sixties collection is based on the caliber 70.1 and 70.3 watches that were produced in the 1960′s. Made up of 18ct rose cold and a crown with the double G-logo, specially shaped sapphire crystal bottom for a wide view into the movement. It is also made with a screwed case back and is waterproof up to 3 bar.
Galvanised silver fine matt, domed dial, Arabic numerals printed, chapter ring milled, hands inlaid with Super-LumiNova. Altogether creating a nice presence on the wrist.
Feuilles de Tabac, Miller Harris
The deep, dark mystery of a pine forest at midnight, a velvet sky sprinkled with stars, a tot of hot gin awaiting your final arrival home. Before you get there, linger awhile and enjoy the journey; pipe smoke scented with allspice, the embers of a bonfire many miles away, silky air alive with the trees you drive past, savouring every second.
Smoked Plum Leather (back), Jo Loves

Homemade plum liqueur with a hefty kick, so just the one, then a cuddle of cashmere blankets and warm leather, interior dark but for the comfort of blinking lights, the whir of an ancient but trusty heater and soft crackles on a dusty radio.
Masculin Pluriel, Maison Francis Kurkdijan

Softly softly, tendrils of cologne still lingering, a memory of a leather jacket softly draped on the seat, soapy freshness clinging to wet hair, cool pooling as the air con whispers into life, the morning already steamy.
Leather Oud (back), Floris

Sturdy leather cases carrying precious oils, a fragrant cargo gathered from around the world. Rich rose entwined with smoky oud, warm amber swirled with the creaminess of sandalwood. A noble history without the mustiness of museum pieces, a hushed grandeur that defies dating. Is that a classic car or a modern reproduction? Who cares, it's bloody gorgeous.
Citizen X (clear bottle), Ex Nihilo

So sleek, a silvered flash of electric that slips by so silently you'll shiver slightly as it passes. A gasp of spicy mastic on a hush of incense, like liquid mercury or a flash of lightning without the macho chest-thumping thunder of pointlessly revved engines. A ghost of a car, a spectre of a scent.
Shot Nine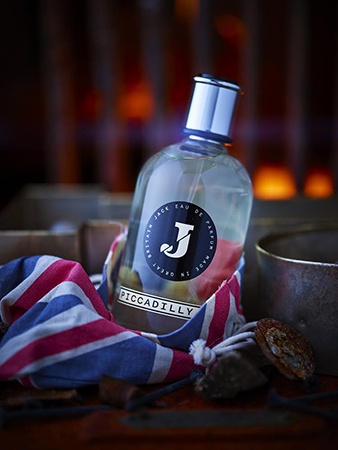 Piccadilly 69 by Jack London
As before.
Jo Philips, Creative Director
Photography by Myles New.com  Insta @mylesnewphotoagraphy

Words  Suzy Nightingale
Assistants to Jo: Andrea Kiss & Poppy Bates