In the context of popular Jamaican culture the sound system is usually a collection of musicians made up of DJ's engineers and MC's along with of course the decks and turntables. They have been part of UK culture since the 1950's arriving here with an influx of Jamaicans who bought the philosophy with them. A group of DJ's MC's, engineers  play ska, rocksteady or reggae music. My first important musical step was going to listen to Jah Shaka's sound system whilst growing up in the 1970′s in Battersea where there was real fierce competition between the sound systems. Here Lloyd Bradley fills us in on a little of the history behind the movement and its influence still today. – SB
No sound systems, no Skepta. No sound systems no Soul II Soul. No sound systems, no Bob Marley. No sound systems no Rinse FM …
Always more than simply super-sized mobile discos, sound systems, as imported from Jamaica in the 1950s, are the ultimate indie: a below-the-radar music business that encourages constant musical development, gives opportunity to the unconventional and responds instantly to a paying public. A self-regulating, audience-driven, culturally reflective state of affairs, side-stepping the regular music industry with such swagger, sound systems have dictated so much recent UK pop music.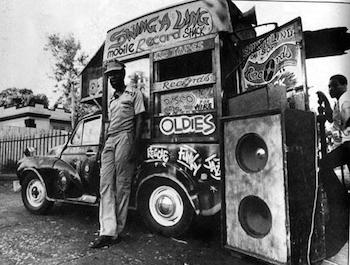 As a teenager, growing up in North London in the 1970s, going to a sound system on a Saturday night merely what you did. The idea we were making a cultural statement or prompting the capital's musical evolution never occurred to us. It could be a pay-on-the-door blues party in somebody's house, a community centre dance, a room above a pub; or even in an actual club, it might be a wedding, a christening or a 21st birthday bash, but it seemed as if, every weekend, there was a sound system playing in every street. For whatever your black music mood, too: roots reggae – Jah Shaka or Sufferah; lovers rock – Sir George, Neville the Enchanter or Fat Man HiFi; soul and funk TWJ, Black Caesar or Six-By-Six; or mix of all styles with Coxsone Outernational. Everybody had their favourite sound system, just like they supported a football team.
As the 1970s rolled into the 1980s and beyond, the big names changed – Saxon Studio, where Maxi Priest and Smiley Culture started; Norman Jay's Good Times; Trevor Nelson's Madhatter; and Jazzie B's Soul II Soul sound system tearing it up at the Africa Centre every Sunday. The crowds were different too, as what had previously been an almost exclusively black state of affairs, was now far more reflective of urban life in the UK. Black kids,Greek kids had been all the way through school together and couldn't see too much wrong with raving alongside each other come the weekend. In general, sound system operators encouraged this shift, out of sheer pragmatism if nothing else. Just so
long as they stayed in charge. Which was, of course, exactly what the newcomers were looking for – an unfiltered presentation of whatever the music.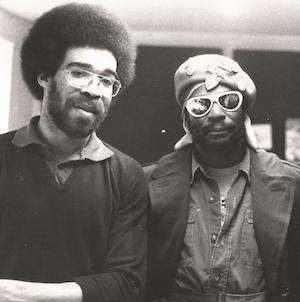 Lloyd & George Clinton from about 1978
With a bigger audience came a bigger responsibility, not that this should cause concern – sound systems thrive on competition that has never been less than intense. From their inception in Jamaica some sixty years ago, sound systems were measured directly by audience appreciation, indeed Kingston's original Big Three of Prince Buster, Sir Coxsone and Duke Reid applied a simple ethos: "The people had worked hard all week for their money, so if you're charging three dollars to get in you'd better give them a five dollar dance. Or they'll let you know about it."
Which is what lies at the heart of sound system operators' bond with their audiences – they were the same people, from the same environments, subject to the same pressures. A sense of community that's never been broken or replicated by the mainstream record industry.
It was this constant competition that drove the musical development. Who had the freshest, the best, the wildest, the most exclusive tunes has always been the deciding factor, and the best way for the big sound systems to get it was to hire studios, musicians and singers and record their own. Continually pushing things forward their turntables would debut twists or shifts in the beat or drop completely new styles, just to keep the crowds
His aforementioned spirituality can be additionally attributed to his connection with people. With the Rastafari faith holding great importance in his image, Shaka has used his music to further the message of his religion and has subsequently drawn in crowds from different countries and races. Whilst sounds system musicians traditionally did not address socio-political issues, the responsibility over spreading messages through music increased during the integration of Jamaican immigrants in England. coming back. In Jamaica, the sound systems were the beating heart of a nascent recording industry that invented ska, roots reggae, dub and dancehall.
A musical evolution that continues relentlessly – grime's myriad of sub-styles is such a sound system state of affairs, with deejays and emcees looking to gain an edge. To sustain these stylistic developments it didn't take a series of marketing meetings to decide to press up the more popular anthems and sell them to an audience already sold on them. Distribution has always been strictly DIY – the boot of your car and independent retailers – creating a low overhead, relatively high profit,
speedily reactive, totally underground record industry, serving legions of music fans not recognised by the major labels. With sound systems as their foundation, the likes of lovers rock reggae, jungle, grime and garage had all flourished for years before the mainstream even noticed them.
Today, sound systems have had a massive effect on the evolution of youth culture in the UK, as they've allowed access to alternative music, in exactly the way the people who made it wanted it presented. It was sound systems that powered the warehouse party scene of the 1990s, establishing rave culture. It was sound system culture and nothing else that informed the current pirate radio scene, with stations run exactly like the dances from back in the day, promoting unique tunes, breaking artists and marketing raves. Such is the power of this way of doing things, the BBC was forced into launching Radio IXtra, a quasi-pirate. When there were pop charts, they were top heavy with independently-produced "urban" music, totally bamboozling record executives as to how it actually got there. And for this bypassing of the industry's traditional gatekeepers – A&R men, the BBC, the music media, etc – and opening up popular music into the fast-evolving, often surprising, sometimes quite nuts meritocracy it appears to have become, sound systems are owed a huge debt.  Lloyd Bradley
For Steve Bicknell one star of 1970s sound systems is Jah Shaka, a former youth worker who has gained a large following since his debut. In his musical beginnings, he was a well-known name in Battersea, which was also the heart of other sound system operators, including the likes of Soferno B AKA Soprano B, Lloyd Coxsone etc. Shaka's spiritual lyrics and high-energy performances have earned him the reputation of being of the most dynamic sound system operators. Shaka is also highly regarded for his deep connection with humanity; his philanthropic efforts and Shaka Foundation have, for example, resulted in the distribution of medical supplies, education materials and wheelchairs to providences in Ghana. Lloyd Bradley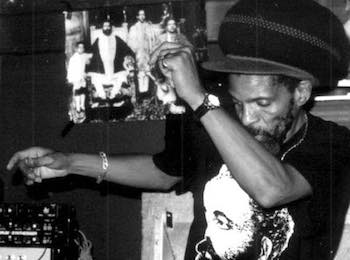 Jah Shaka has a devoted sense of black consciousness and spirituality, from which his sound was built. His strong sense Jamaican identity influenced the way he worked in the 70s; amongst the dance hall craze that was emerging, Shaka decided to focus his artistry on the roots of the sound system and pointedly attempted to revive the Rastafari, reggae-inspired roots of the music. He recognises his roots in Africa and, although of course proudly Jamaican, African diaspora can be said to have played a part in his career.
Bass Culture: When Reggae Was King (Penguin) and Sounds Like London:100 Years of Black Music In the Capital both by Lloyd Bradley (Serpents Tail)
lloydbradley.net
Info@culturepromotions.com
Photos Image one First Choice Sound System Tottenham London 1984, Image two Social Dread
With thanks to Betty