Staf is a product designer who delights in everyday objects, repurposing or noticing the subtleties and strangeness of everything. He is an old friend who we turn to when we have a 3D problem to solve. PE
Staf Schmool, designer of products, furniture, interiors and small buildings is a creative genius and founder of Queer Tools. Working in East London, there are endless creative opportunities and a fountain of weird and wonderful items to add to the collection of Queer Tools. Stafford Schmool has been collecting rare and bizarre objects since he was a kid and in 1989 the growing collection became a catalogued sensation, being put in a cardboard box. Still life photographer, welder and fisherman, Nigel Haynes has not only photograohed Schmools's collection, but has also donated a few queer objects to the assortment of objects. Over the years this collection has become weirder, more wonderful and a large part of Schmool's life, discussing with us some of the staple pieces in his collection of absurd articles.
QT007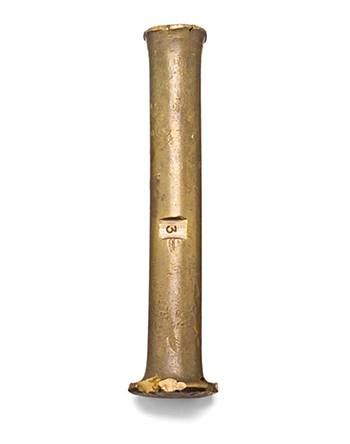 This battered brass sceptre lay heavy among rusting wet spanners on Bell Street, a Saturday morning 80s/90s favourite. The market was already in decline and sometimes sparse, but usually provided a bacon sandwich with half an hour of sweet local social anthropology and on a good day On Kawara or Sol Lewitt at the Lisson Gallery. Drift #3 is rather nobel and not so dumb as it looks…the soft brass sacrificially takes the punishment and protects your steel axle, bearing, or whatever needs seating or removing. Drifts available in all sizes , and bespoke versions are common for regularly serviced items. Possibly this one is military issue RE or REME?Over time our deformed drift should be re-machined to keep the mating surfaces in good order.
 Brass, 200mm, 900g.
"My milk shake brings all the boys to the yard"…
These twin peaks from Luang Prabang are purportedly an ancient Lotion massage tool though from a practical point of view they don't seem to be particularly suited to this task? I'm inclined to believe they're just beautiful boob-motifs for the Boob Worshiping community. Happy Easter.
The bus to Luang Prabang from Vientiane chugs without fear along some treacherous mountain tracks which are frequently washed away during the rainy season. The poorly maintained vehicles tiptoe around muddy hairpin bends inducing what Sir Alex Ferguson calls 'Squeaky Bum Time' & you'll welcome a massage or some form of therapy if you ever get off that bus.
Carved hardwood, 120mm across.
QT 005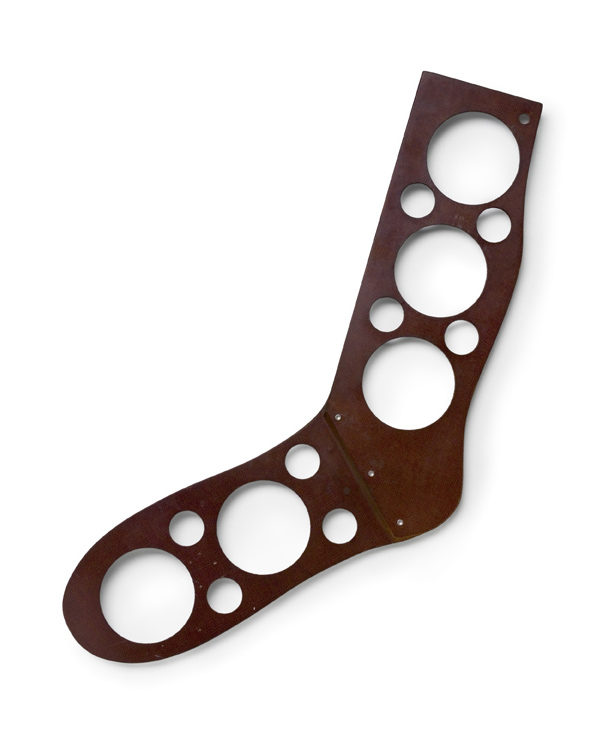 This is one of a pair. I gave the companion to my old friend & inspirational mentor, the brilliant Andy Martin, whose career is underpinned by his ability America. I make the claim that they are the finest you'll ever see – the Lincoln Continental of sock dryers. Over the years these formers – for pushing inside wet wool socks to prevent them shrinking
into a strange and uncomfortable shapes and have been made from timber, plywood, metal and plastic. These are made from an engineering composite called Tufnol [a cotton textile impregnated with phenolic resin – Novotext in USA]. A super tough, waterproof & wear resistant insulator, it is commonly used by industry and military in mechanical situations, gearboxes etc, as it has very low friction and does not require lubrication. It's also the substrate for almost all of the world's printed/electrical circuit boards.to find and utilise objets d'oh in all dimensions. Happy Birthday Andy! I gleefully paid top dollar for them in a Berkeley antique shop after an inspiring visit to Creative Growth, en route to my '91 sabbatical in Central
William Henry Rowley, my maternal grandfather, served with the Royal Electrical and Mechanical Engineers during WW2, and in the aftermath was stationed in Lubeck, Germany. He returned on leave with dolls furniture he'd made for my Mum, aged 6. When I was a kid, Action Man and I played with this dark, heavy, old fashioned furniture, and my daughters now enjoy the table, chairs and sideboard. Recently I was looking more closely at them and discovered they were made not from some exotic hardwood reclaimed from the ruins of Lubeck as I'd always supposed….but offcuts of Tufnol. Grandad's 1946 recycled flatpack furniture was my selection for Source Material, Salone del Mobile, Milan, Aprile 2014.
Sock drying form.
Tufnol phenolic composite, aluminium rivets. Manufactured in USA c1960?
I was given this peculiar thing and am still confused by it and how to respond…it seems to share DNA with crochet toilet seat covers, nylon bedsheets and Boris Johnson, universally revolting and probably smelling of wee. It has regal pretensions and is cheap but nicely made to fit the ubiquitous GPO 700 series telephone.
The 700 series was introduced in 1959 was the mainstay of British telecommunications for over 25 years – quite phenomenal – my mother-in-law still has one plumbed in at home. Five billion people now have a mobile phone and although its perfectly normal & acceptable to have a case or cover [yes, exactly, why?]. Few will have gone full Versailles like this…
Injection moulded ABS shells, fabric trims.