How is it that we would know the body is real, unless we hurl it into the air, into other things,
into other people, to test its physical limits; the strength it requires to be this elegant cannot be underestimated. Nubile flexible bodies dressed in glittery garments; here we see the caught reality of these delicate young dancers incongruent to the muscular bodies of the sportsmen on the field. Through the lenses of Nancy Newberry and
Brian Finke, we can observe behind the
surface of the glitter and pom-poms. AM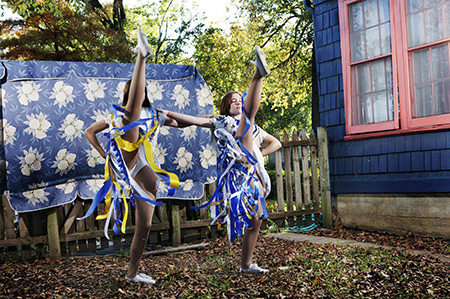 Mum by Nancy Newberry
The notion of cheerleading is often considered strange to the rest of the world. But for Americans, cheerleading is considered as a integral part of life. The perfect combination of glamour and sport, there is nothing else quite like it.
In the 1860's, students in Great Britain started the trend of cheering in unison at sporting events. The idea soon crossed the pond to the US, and the first ever organised cheer was performed at Princeton University in 1884. From there, it took off in colleges across the US.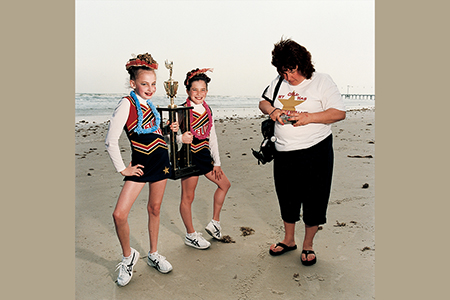 Untitled, Cheerleading by Brian Finke
When we think of cheerleading today, we imagine small girls in short skirts, but cheerleading was originally a men's sport. It wasn't until 1923 that women joined the cheer world, and with the demographic change came other changes as well. Tumbling and acrobatics were added to routines, and by the 1940's, women had dominated the sport. Within the next decade, cheer squads had spread to nearly every high school and college in the US.
Football and all the hype that comes with it is a real community hub in America. Especially in small towns, where it brings people together and takes up most Friday nights. Cheerleaders come to all home games in their matching outfits, sparkly bows, and vinyl pom-poms ready to cheer the boys on. But behind all that 'glitz and glamour' is so much more.
Over the past several years, photographer Brian Finke has travelled across the US photographing high school and college cheerleaders and football players. Spending a period of a few days to an entire week with particular squads and teams, the subjects eventually become quite comfortable with the presence of the camera, allowing Finke to capture a variety of candid moments – on and off the field.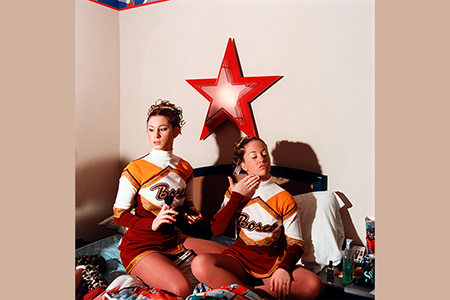 Untitled, Cheerleading by Brain Finke
Finke explained, "In my photos, these teens struggle between being part of a group and defining themselves." His work functions on a number of levels. In one sense, these are highly ambivalent images, revealing diversity in uniformity, while also underscoring aspects of extreme conformity, as manifested by the construction of individual identities in the image of the team.
.
.
.
.
.
.
.
.
.
.
.
.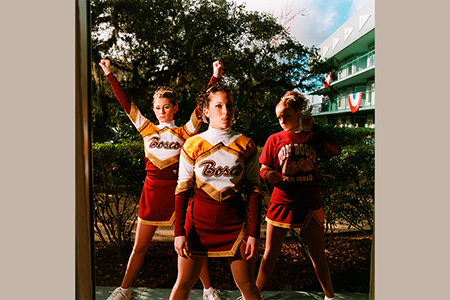 Untitled, Cheerleading by Brian Finke
Finke's photos  address  social behaviours, self-definition,  and sexuality, and  with that, Finke documents the  rocky  trail of adolescence. He  avoids casting a  judgemental  eye, choosing  rather  light-hearted  stories  told with  respect  and good-natural hilarity.
Nancy Newberry's Mum series is survey of her own past, exploring themes of self-representation and strange rituals of the everyday. Mum is a tableau in and around her subject's homes whilst wearing giant corsages called a 'Mum' (short for chrysanthemum – the flower on which the corsage is based). Artificial, shiny, and virtually unknown outside of Texas, the Mum is an elaborate corsage, exchanged between friends and lovers as part of an annual tradition which takes place at Homecoming time (typically in October). Ritually worn and subsequently immortalized, tacked to bedroom walls as trophies, the Mum constitutes both a unique act of cultural immersion and a specific brand of folk art.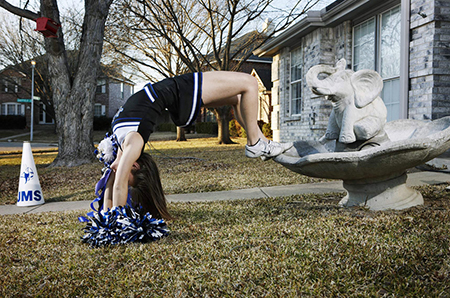 Mum by Nancy Newberry
Halfway to Midland serves as Newberry's metaphor for the psychological space that connects people to a place. Photographed in Texas, this investigation of iconologies questions the relationship between the past and the present. Integrating Newberry's ongoing fascination with insignia, each semi-autobiographical reality consists of connected scenes from her own elaborate internalized myths.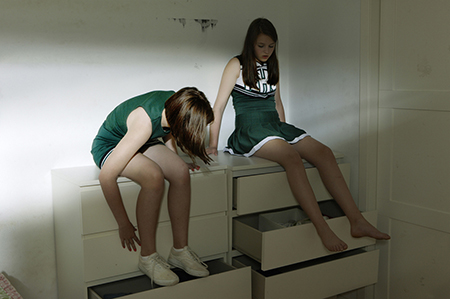 Halfway to Midland by Nancy Newberry
Through the examination of everyday rituals, and the complexities between self and culture, Newberry's photographs inhabit the same quotidian space of the aspirational and the actual.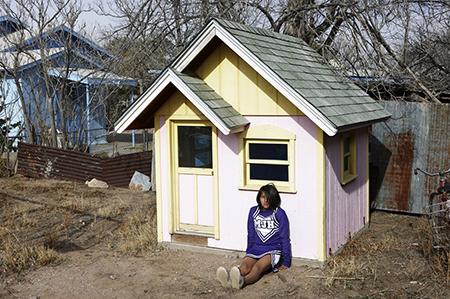 Halfway to Midland by Nancy Newberry
.
.
.
.
.
.
.
.
.
.
.
.
Here Newberry expresses what made her want to go behind the veneer of the glitz and glamour of such communities in rural America:
For many towns in America, the football team is a real community hub, I grew up in Texas into a Catholic family with a strong military background where football is commonplace. My desire to photograph came from my interest in different social groups, costumes, and insignia's etc. As much as I am intrigued by it as a spectacle, my real interest lies in the psychology of these groups and customs, the struggle between self and culture, and the real and the perceived.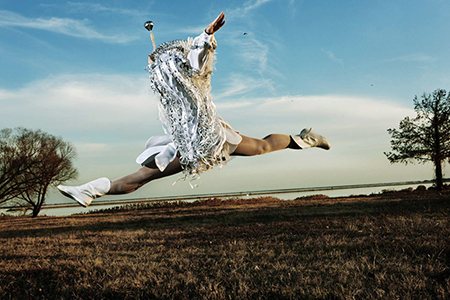 Mum by Nancy Newberry
With the extravagance of adornment my work continues to explore ceremony and commonplace. Cheerleaders are one of the contemporary social groups I started using in my photo projects about Texas. First with my project Mum followed by Halfway to Midland. Both works are about a sense of place, internalized myths, drawing upon memory and the complex idea of self-identity and culture. 
For me, the photographs are far more complicated as they draw upon personal life experience where glitter hovers around the top layer. There is a dichotomy between the big, bulky football players and the small, dainty cheerleaders in their sparkly outfits. I certainly play off these stereotypes as there is truth to the clichés. I am interested in a specific space between strength and fragility. The cheerleaders, drill team, and other dance troops fit within these constructs and allow me to examine the American Myth in our constantly changing society.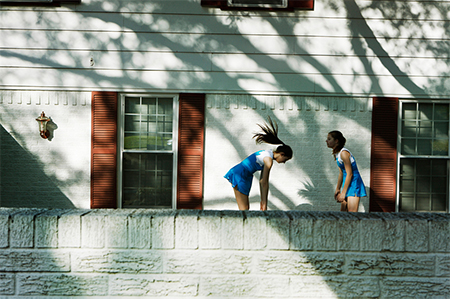 Mum by Nancy Newberry
Although primarily thought of as a female activity, it is common for men to participate in cheerleading in the US. In High School, male cheerleaders may be more common in more densely populated cities but I think it depends if you are in a small or a large town, but opportunities are certainly available.
Contemporary cheerleaders are not the dainty versions of the past. The bar has been raised quite high and most of the young girls I have worked with are trained gymnasts and dancers. The athletic and acrobatic requirements are intense with seasonal training, especially in competitive cheerleading where practice can sometimes exceed 5 hours a day.
Brian Finke
Instagram Website
Nancy Newberry
Instagram Facebook Website