'London is the hub of creative talent. It has a diverse range of people from all cultures and walks of life, which is what makes it so interesting'.  Unit Gallery
The United Kingdom's intrinsic nature as a 'lonely' and 'little' island geographically removes it from its neighbours, which may well aid its original thinking from others and their ideas. With the potential to be drowned out and overpowered by its surrounding larger countries, the United Kingdom defies its restrictions, instead, becoming a magnet enticing thinkers, artists and creatives from Europe and around the world to discover and create, with London (apologies to the rest of the UK) being the epicentre. London's modest proportions have yet to hinder the creative limits it attracts, making it a global hub of innovative thinkers through the ages.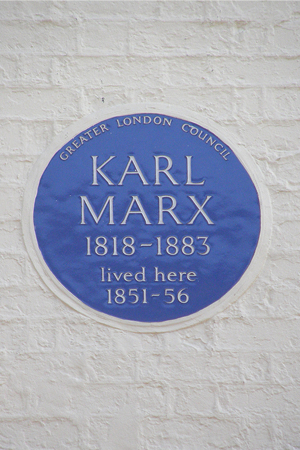 London's elevated status as a major capital city is not a recent phenomenon though, as archaeologists have discovered remains of a Roman Britain which suggest that a military fort was built in modern-day London, which attracted great leaders and troops and was dotted with leisure and pleasure sites like baths and amphitheatres.
London's renowned institutions, academic or cultural, have provided prolific creatives throughout history to break boundaries and inspire generations. Simply strolling through a single street in South Kensington one passes the Natural History Museum and The Science Museum, which is hidden behind the Royal College of Music and neighbours the world-class university, Imperial College London. Yet, London is not restricted to just its inner city, as creatives flock to the furthest-reaching parts of London from their neighbouring Europeans to rural Americas.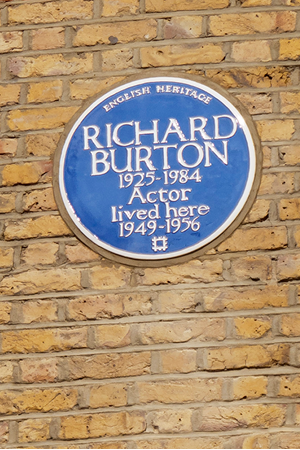 Have you ever glanced upwards and noticed an azure ceramic plaque attached to certain buildings around London? With such a multitude of talented, forward-thinking residents, the London blue plaque scheme began in 1867 and aimed to commemorate renowned figures and the houses of historical interest.  In recent years, the scheme has aimed to broaden its geographical locations and also in the people
recognised. Figures commemorated range from tennis champion Fred Perry and architect Sir Christopher Wren, to musician Jimi Hendrix and philosopher Arthur Schopenhauer.John Donne famously quoted that 'no man is an island' and that humans prosper from the help of their neighbours. London continually keeps it the neighbour everyone wants to talk to. Get on a bus or tube and travel your way around, never forgetting to crane your neck a little in order not to miss out on these precious azure landmarks.
Richard Burton, actor (1925-1984)
Stepping off the tube, follow the hordes of people migrating from the stifling atmosphere of the underground to the refreshing breeze progressing through the park in front. Make your way through the winding gravel paths in Hampstead Heath and pass people bathing in the murky natural ponds and dog walkers calling out to their four-legged friends. Drawn to the sound of a sonorous voice booming from above the treeline: 'I'm a man, you fool. Don't you understand? A plain, simple, muddled, fat-headed human being. We have them in the West, you know'. It is the sound of Richard Burton, projecting whilst rehearsing lines for his new film The Spy Who came in from the Cold, from the top floor of his apartment.
Sylvia Plath, poet (1932-1963)
The crowded and riotous bus heads towards Camden, just a stone's throw away from the exclusive Primrose Hill in the idyllic setting of Chalcot Square. It is difficult to imagine the torment and suffering Sylvia Plath is experiencing behind her imposing closed doors. Huddled and shaking in the darkened corner of her cold, bleak room her plagued mind fuels her creativity as she scribbles with intense fervour translating the depressive thoughts in her mind onto paper. Upstairs, her children innocently play a game of jacks but Plath demands immediate silence as below them, she endeavours to continue writing in the hope she will compile enough pennies to survive the bitingly cold winter.
Samuel Taylor Coleridge, poet/philosopher (1772-1834)
Riding in a precariously constructed horse and carriage, eyes closed for a brief moment, drifting away to the rhythmic sound of trotting as the horse's metal shoes strike against the hard, cobbled streets. Through the streets of West Kensington, promptly awakened by street children obtrusively engrossed in a game of quoits, buried within a thick and stifling smog which pollutes the air. Once on the street, Coleridge hurriedly brushes past; his papers on Hamlet haphazardly stuffed under his arm and within an instant, a careless step sees his notes glide through the air and delicately land in a puddle of blackened water. His sullen face is accompanied with a vacant expression allowing a momentary glaze into his idle eyes: the asphyxiating stench of brandy, lightly imbued with the lingering aroma of opium cling to his tattered jacket as he ashamedly drops his head to the floor and hurries onwards.
Francis Bacon, painter (1909-1992)
The bracing morning air bites against away at chapped skin, wind pushing you towards a bustling cacophony of the High Street. Tucked away in the secluded Kensington mews, Francis Bacon sits hunched deliberately over his easel, engrossed by his latest painting. His house is dark and unassuming but inside is an explosion of intense colour. Every inch of the aged wooden floor is covered in bristle brushes, pots of grubby water and sketches haphazardly discarded to the ground. Only a minute fragment of light shines through the cracked, frosted window as the first glimmer of morning sunlight appears.
Sir Alfred Hitchcock, director (1899-1980)
Battling through the bustling Cromwell Road, pass a mass of tourists, fresh coffees in hand, discussing which of the many museums to visit first. A nearby small and unassuming café provides an escape from the commotion around. A rather broad but affable- looking man, Hitchcock sits, brows furrowed, 
intently reading through his latest film script: Vertigo. His recent actors have infuriated him, focusing on themselves and their emotions, rather than his stage directions. He frustratingly mutters to himself that 'actors are animated props', not the stars of the show that they dream of being.
Charlie Chaplin, actor (1889-1977)
Past the neat rows of identical yellow-brick houses, observe a cheerful young man through a window, stood in front of a faded mirror brushing through his block, black moustache. He adjusts his stiffened jacket and shakes out his unshapely, baggy trousers. Get a closer look into his simple yet welcoming home and spot piles of discoloured, wooden puppets discarded on the rough floor. Charlie Chaplin returns to the mirror as he practises contorted and wonderous facial expressions in preparation for a comic performance later that day.
Ava Gardner, actress (1922-1990)
Hidden down an unassuming mews in Knightsbridge and concealed by a veil of smoke, a striking doe-eyed lady surfaces as if from a mystical dream. Her effortlessly curled ebony hair falls against her pale skin whilst one's eyes can't help but be drawn to her vibrant ruby lips. Ava Gardner has just returned to London having finished filming The Night of the Iguana. She is diligently preparing herself for her glamorous evening ahead at the BAFTAs, for which she has been nominated for her most recent and successful role.
David Bowie, musician (1947-2016)
Through the chaotic streets of Soho, waiters serving alfresco diners whirl past without spilling a drop of food. A delicate-looking young man sits across from an alluring and glamorously dressed lady. David Bowie carefully wipes away the remains of his iconic and vibrant red bolt from his face, as the persona of Ziggy Stardust simultaneously fades away. As he turns his face towards the brilliant glare of sunlight, his icy blue eye is illuminated and reveals his distinctive dissimilar coloured eyes. They discuss his upcoming plans to return to the acclaimed Glastonbury Festival, 30 years after his first appearance. Excitement instantly radiates across his pale face, as the thought of performing 'Heroes' to his devoted and supportive crowd delights him
Karl Marx, philosopher (1818-1883)
Nestled down a dusty cobbled alley, away from the commotion of Carnaby Street, Marx sits nonchalantly whilst intently reading an impressive and rather imposing leather-bound book. The antiqued pages reveal faint hand-written scribbles, displayed in a carelessly etched ebony ink. A distinguished and fatigued looking acquaintance, accompanied by an assortment of journals, joins him at his table. They discuss, often quarrelling, Marx's theory of 'alienated labour': the conversation drifts towards the intricacies of economics and becomes incomprehensible to any curious passer-by
Jimi Hendrix, musician (1942-1970)
Hendrix's tremendously wild and unkempt hair has been pushed back as he styles a vibrant fuchsia pink scarf around his head. This is accompanied by a regal yet tattered military jacket and flamboyant, psychedelic flared trousers; infusing styles of blues and rock, much like his musical writing. This gentleman clutching a guitar, whistling to himself whilst sauntering down the impeccably kept street, appears out of place among the elegant and opulently dressed residents of Mayfair that surround him.
Images kindly supplied by English Heritage Illustration Deeksha Sachan