Fashion is, like any art form, about an idea that
you want to present to the world. I am quite a shy person (when I am not being 'Andrew McMillan
the poet' onstage), and I don't necessarily want people to look at me, I like big, folding, baggy
layers and quite plain ideas, hence some of the designers I've chosen here, intricate and beautiful simplicity. Fashion gets a bad reputation, because people see it as unimportant or vacuous; but everyone is involved in a fashion decision on some level, everyone, every day, is choosing how it is they present themselves to the world, even a decision
to not engage is a choice. AM
Acne, Burberry, Vivienne Westwood,
Wooyoungmi and Alexander Wang are just a handful of Andrew's favourite designers. From the extraordinary to the sublime, the best of London's AW17 Fashion Week is seen here: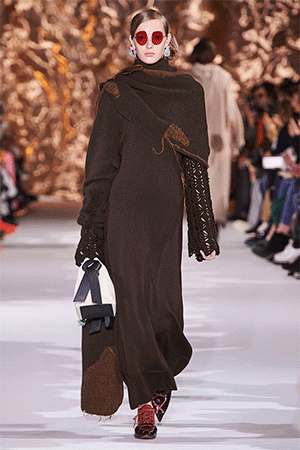 Acne Studios
Jonny Johansson has been thinking about business tropes of the 80's menswear and the masculine fetishized detail. The contrast of grey pinstripe peak labelled jacket ballooned by the neoprene within, to a pink cashmere sweater under a mint high-necked fine gauge knit.
Johansson has created a brilliant use of layering, sending a succession of sleek midi dresses and suede outerwear. The shirts have a major white-collar action, only with fluid cupro on the body. Sneakers  with their raised  rubber soles, were Johannson's idea of power and rising through a status.
.
.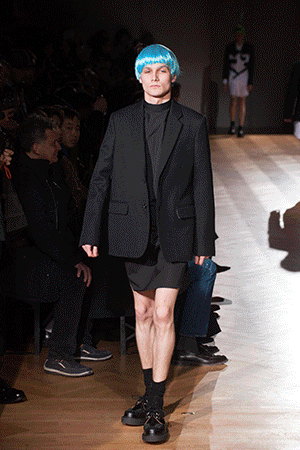 Comme des Garçons
As if aliens had landed, in the middle of Paris Fashion Week, seemingly on the centre of Comme des Garçons runway.
For all it was "The future of silhouette." The first thought that came to my mind when out came the opening look- a fuzzy, mounded white sculpted form with Picasso curves at the bust and backside, but no armholes- walked onto the runway, against a pink wall. As these dispositioned garments filled the runway, then cam the grey curved shapes. It seemed as they were made of recycled fabric waste, the left backs, mashed together into loads of garments. Was the aim of the damage to Kawabuko, the silhouettes of the future will be made from fabrics both humble and fancy.
The models' body language and interaction added seemingly symbolic or meaningful messages. Each time, a model went first, times looked over her shoulder as of a fiend was lagging behind.
This season Comme's piece line-up damaged wigs that referenced everything from outer space to the extravagant wigs of the 17th and 18th centuries.
Kawabuko's form redefining production.
.
.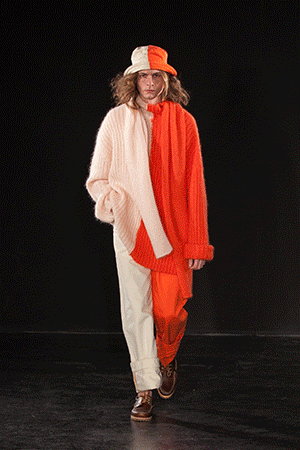 Alex Mullins
British menswear designer Alex Mullins showcased his AW17 collection on the second day of London Fashion Men's- as he explored "the world of Sunday living." Throughout his collection were a combination of bold colours, patchwork and plaid against the background of Japanese denim, merino wool and mohair. Each piece has its place.
.
.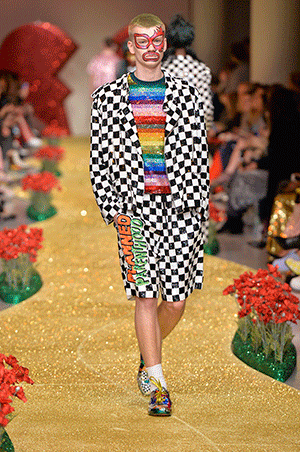 Ashish
Delhi- born designer Ashish's politically-charged show was a message to America to stay united, despite Trump's presidency and all that it stands for. The colourful clothes in diverse materials like leather and mesh featured slogans including never give up and unity in adversity.
One of the most strongly communicative t-shirts was emblazoned with the words why be blue when you can be gay! The face paint the models wore added a further dramatic touch. Ashish's collection was thought-provoking and uplifting.
.
.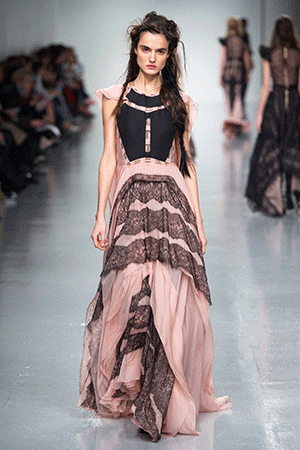 Antonio Berardi
Antonio Berardi's show featured a clash between the elegance and romance of the Elizabethan era and modern active wear. The beauty of black lace against the pink silk of the sweeping dresses contrasted sharply with modern looking utility style garments. Jewel encrusted garments combine beautifully with luxurious silk coats.
.
.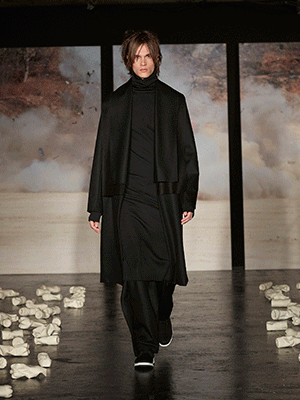 Berthold
Boxy tops, wide-leg trousers and corsets make up Austrian-born designer Raimund Berthold's collection. Soft leather and wool contrast with cotton and mohair, among a colour palette of black, crisp white and maroon. In an interviewn with Wonderland, Berthold spoke of his inspiration behind the collection being related to change.|
.
.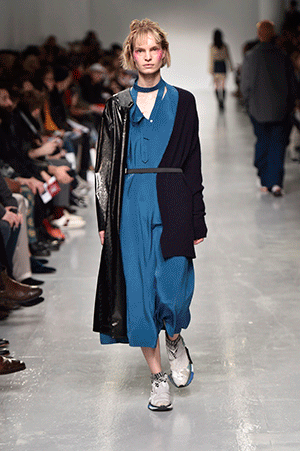 Casely Hayford
British designer Casely Hayford's collection was largely monochrome with shades of black, white and grey in abundance, but there were interesting pops of colour such as the bright orange shift top. Patterned shirts and skirts inspired by the 70's are featured, and classic pieces such as the trouser-suit get an interesting makeover.
.
.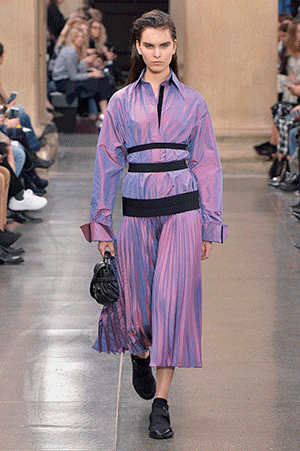 Christopher Kane
Leading British designer Christopher Kane's Autumn-Winter collection was an eclectic mix of historic and modern fabrics, featuring structured silk floral dresses in pastel shades, as well as quirky space designs featured on wool coats.
There was a clear focus on metallics in an assortment of colours, which came in the form of coats and dresses. The spotlight shone on shoes too, with pieces of foam stuffed under the toes of high heels. Christopher Kane's inspired collection was certainly unusual.
.
.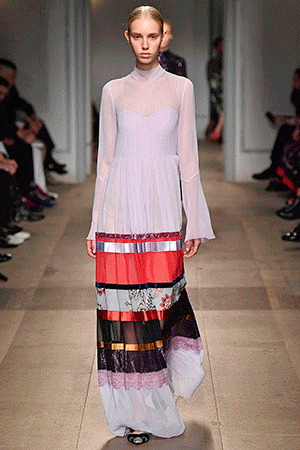 Erdem
London label Erdem's collection is inspired by Turkey, with beautiful prints, pom-poms, and patterns inspired by traditional folk outfits. The Turkish influence of these garments contrasted beautifully with the English elements of floral patterns and lace. There were even some garments which were a beautiful blend of Turkish and English influences.
.
.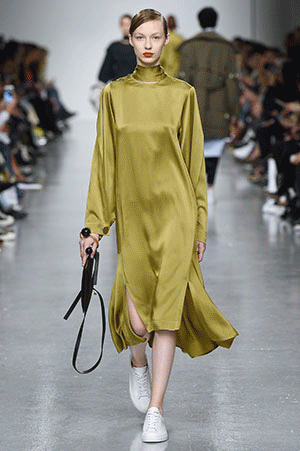 Eudon Choi
Korean born, initially trained as a menswear designer in Seoul, he acquired an in-depth knowledge of tailoring and a great eye for detail. Choi worked with volume and structure for this sophisticated collection that took its cue from the work of Austrian- Czech architect Adolf Loos, the minimalist, modernist designer who believed decoration was a waste of time. Chic styles came in both soft and structured leather. Choi is simply one of the best right now, when it comes to making crisp cottons look cool and wearable.
.
.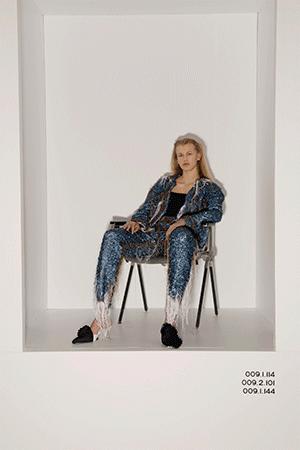 Faustine Steinmetz
Steinmetz, enchanting when it comes to denim. It's no surprise her current take on un-hemmed/ frayed hem denim has caught the attention of so many. Faustine's study of denim is somehow a reflection of how cultures all over the world come together, bringing a sense of unity as her fabric choice is in many ways universal and is probably going to be around for many years to come.
.
.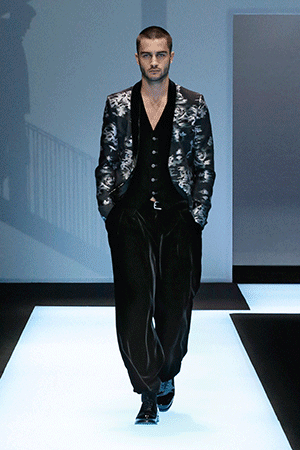 Giorgio Armani
Italian label Armani's collection had a tailored, elegant vibe. Featuring new ways to wear a suit, Armani teamed elegant silk trousers with patterned tops, long coats, and blazers. The monochrome palette of black-and- white was combined with deep reds and luxurious blues. The use of velvet and mohair give the impression that Armani has made comfort important.
.
.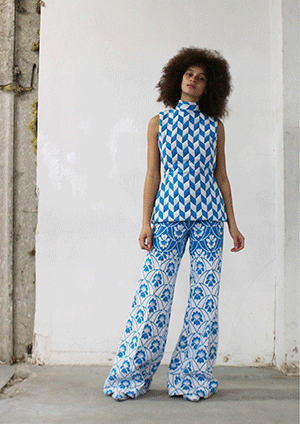 Richard Malone
Richard Malone's collection featured clothing made out of sustainable fabrics, hand-woven and dyed by weavers. The fabrics are durable and comfortable, yet dyed in clashing colours such as orange and blue. Malone makes these unusual combinations work. Some of his clothes even seem to be inspired by oriental styles.
.
.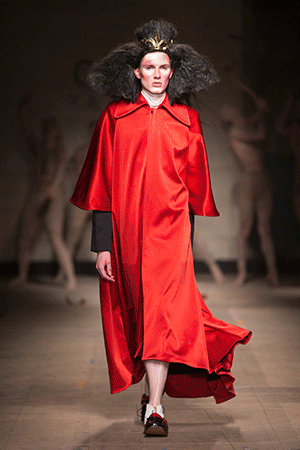 Charles Jeffrey
Scottish born Charles Jeffrey's show was strange and haunting. It began with dancers covered in mud who did a kind of stomp-dance. Models were shown wearing large papier-maché constructions. One was wearing a mix of the American and British flags, which Jeffrey said afterwards represented the sins of man. Jeffrey's surreal and political exhibition will most definitely stay with everyone who viewed it for a long time after.
.
.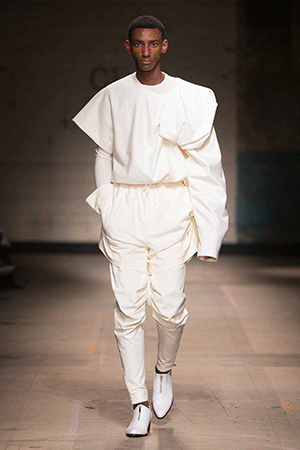 Feng Chen Wang
London based menswear label Feng Chen Wang's dream-inspired collection was wonderfully surreal, featuring peach-coloured leather briefs and metallic outfits. The garments were highly padded, with the colour palette featuring largely peach, yellow, cream and grey interspersed with shiny silver garments.
.
.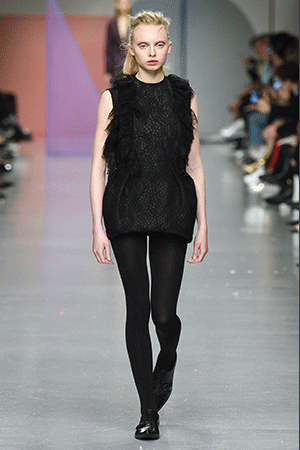 Emilio de la Morena
Spanish-born Emilio de la Morena's stunning collection showcased lace in many interesting ways, with puffy-skirted and straight dresses. He also displayed elegant striped suits paired with mohair coats. The colour schem was muted with flashes of primary colours of red, blue and yellow.
.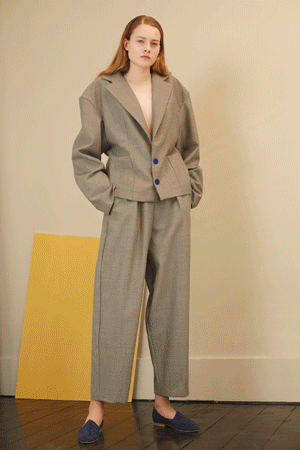 Edeline Lee
Edeline Lee's collection was inspired by the Weimar period, specifically the artist Hannah Hoch. Billowing flares, cuffs and layered skirts were part of the collection. She even came up with a new design of sleeve. The collection comprised of merino wool and jacquard.
.
.
.
.
.
.
.
.
.
.
.
.
.
.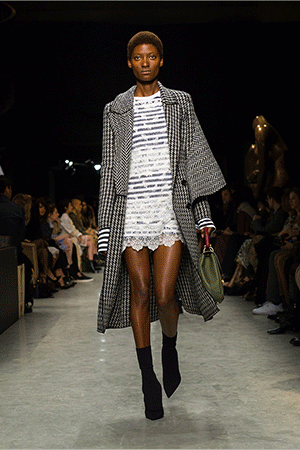 Burberry
The Burberry show is the grandest show on the London Fashion Week schedule.
Christopher Bailey was in a very organic and pastoral frame of mind shown. Compared to the extravagant metallics and prints seen in previous collections, this was a very pared-black palette of white, navy and black, focusing on texture, shape, thought process and a certain innocence.
The trench coat which is a Burberry staple was given a more traditional wrap for the season and saw Bailey send it down the runway adorned with a series of sculptural accessories and pearls.
An unforgettable and defining collections for Bailey in what marks his second show for Burberry.
.
.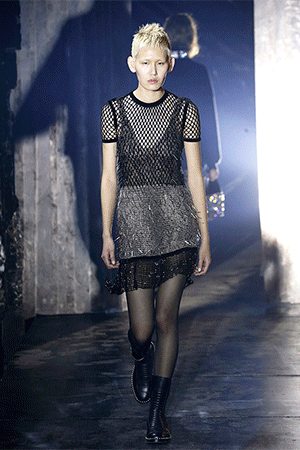 Alexander Wang
His collection which was almost exclusively black, was very much in the key of 'the party girl'. It is time to revive your daring emo dreams; shorts over opaques have returned at Alexander Wang.
The show opened with tailoring, splicing traditional suiting fabrics with sweat-shirting. Then, swiftly moved on to catsuits, leather pants, shorts, stretch denim with bold silver button-flys, and changing mail tees.
The audience were to see a mostly black and "edgy" show. Wang made grunge chic and streamlined, giving the unkept trend a flirtatious new attitude. AW17 gave an indication of where Wang's enthusiasm lies now in his playing with Parisian high fashion seem long-past.
.
.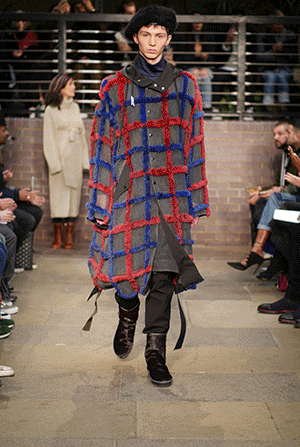 Mihara Yasuhiro
Thinking of the effect that Trump's presidency has had on the younger generation, Japanese designer Yasuhiro's show featured clothes from a time of uprise against conservatism, the 1960's. Biker jackets, sweaters, trench coats and loose trousers were accessorized with woollen berets, with a colour scheme of black combined with deep red, purple and olive green.
.
.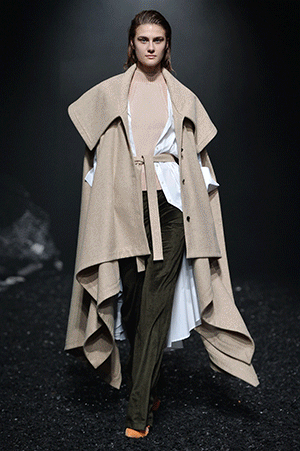 Palmer Harding
Levi Palmer and Matthew Harding's design label focuses on the shirt as a wardrobe staple. Their dramatic new collection includes key clothing items which were revamped and layered on top of each other. Shirts were worn as dresses and capes. Wide-leg trousers are worn with different styles of shirts. Wool, velvet and leather are used in stark contrast to cotton poplin and twills among a colour palette of deep blue, green and pink.
.
.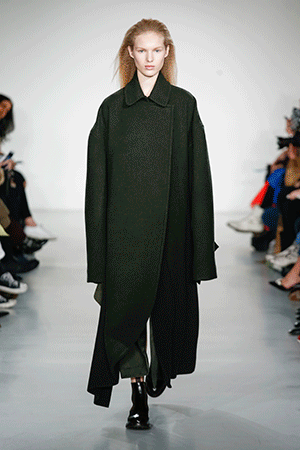 Port 1961
Canadian luxury brand Ports 1961's collection had key pieces such as shirts that were altered and cut up in various interesting ways. Clothes were worn at different angles. The fabrics were of the highest quality and the sharp, clean lines of the clothes were offset by a black-and-white colour scheme with hints of yellow and red.
.
.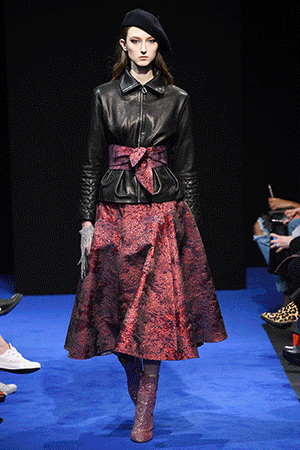 Preen
London fashion designer duo Thea Bregazzi and Justin Thornton of Preen featured large shrugs and wraps with vintage designs inspired by the early 90's. The designers also took inspiration from twentieth century feminist icons, including the Suffragettes and poet Carol Ann Duffy. The striking buckled boots and red lipstick add a dramatic touch to the collection.
.
.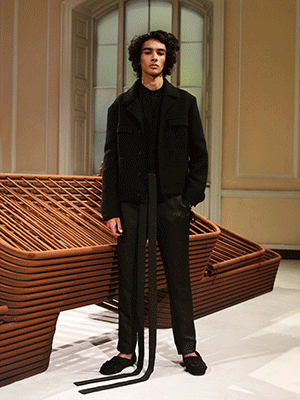 Qasimi
London based menswear label Qasimi's collection took on the form of an art exhibition, inspired by John Lennon and Yoko Ono's Bed-In protest in 1969. Military style coats were tempered by luxe fabrics like satin in shades of bubble gum pink, mustard, military green and brown.
.
.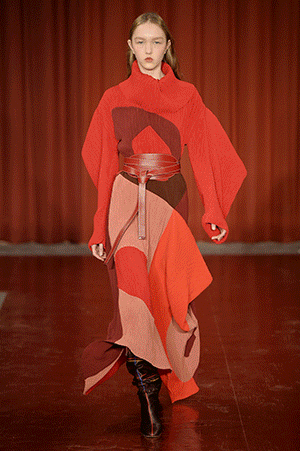 Roksanda
Serbian designer whose label ROKSANDA is one of the most recognized British luxury fashion houses, dedicated her AW/17 show to her friend Richard Nicolls who died last year.
The first model wore a dress in Nicoll's iconic colour, Nicoll Blue. The tones of the show were earthy and rich, with deep shades of red interspersed with dashes of blue, mustard and black. A Japanese influence was seen in the dresses with voluminous sleeves and Obi belts, made of fabrics as diverse as shearling, satin and wool. Roksanda's collection was beautiful and moving.
.
.
Kiko Kostadinov
Kiko Kostadinov 's collection featured workwear-inspired garments, influenced particularly by blue-collar workers. However the sharp, crisp lines, and stark colours of black, navy and grey with splashes of deep red made the garments really stand out. The metal jewellery at their waists and red eye makeup were nice additions.
.
.
J. W. Anderson
J.W Anderson's men's collection was a nod to the Sixties and the Seventies with military inspired clothing including drooping sweaters, brightly coloured shirts and sweaters and leather jackets. The collection also took inspirations from knights from years gone by, with tunic-like garments and crotchet patterned scarves which were influenced by stained glass designs.
.
.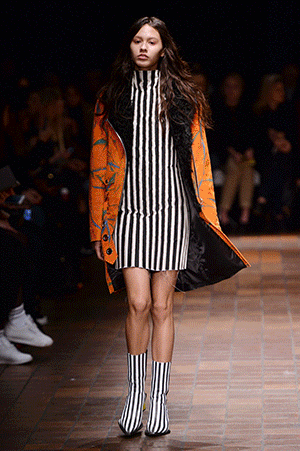 Marques' Almeida
Edgy London label Marques Almeida shows its advancement in its new AW/17 collection. Enveloping coats with structured shoulders, coloured boots and clutches echoed the Eighties.
Patent leather was one of the most striking fabrics used. There was also a great focus on accessories with brightly coloured boots and bags taking centre stage.
.
.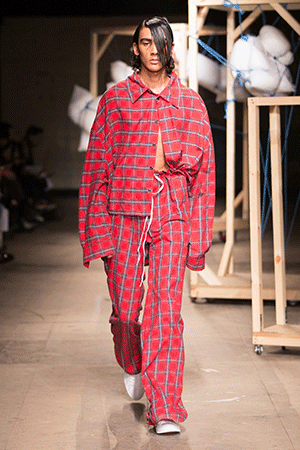 Per Götesson
Swedish designer Per Gotesson's collection was influenced by pyjamas. A highly asymmetric and unusual collection featured lycra and plaid. His clothes were a mix of tightly fitted, from lycra tops to gathered necks, to loose fitted.
.
.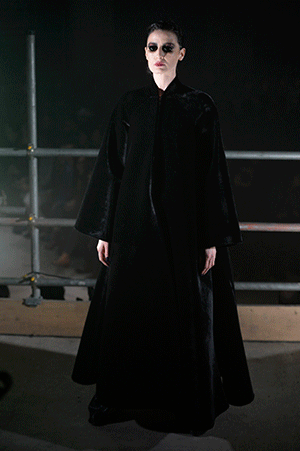 Gareth Pugh
English designer Pugh's collection was a political statement on the stark future of a society which tortures people and condemns them based on their colour or religion, and spies. For this reason the models wore black, some even in garbage-bag like garments, as if to imply that our society's morals had become trash. Harsh materials like leather were used to strengthen the message.
.
.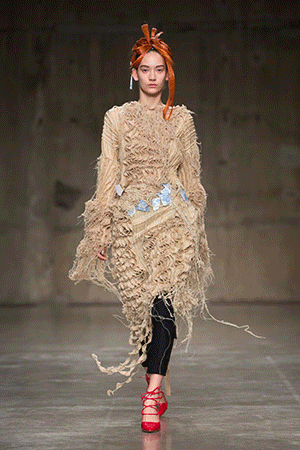 Asai
Asai's collection features a combination of all-white and brightly coloured outfits. Shirts were given a makeover, knitwear was cut and put together in various ways, accessorised by belts.
.
.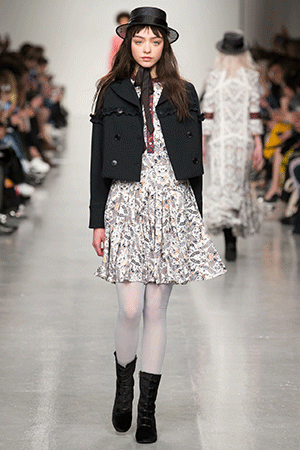 Bora Aksu
Turkish designer Bora Aksu's collection was inspired by the suffragette movement of the early twentieth century, complete with ethereal dresses in pastel shades, interspersed with interesting prints in black and white. Layers of lace and sheer material echoed petticoats, giving a vintage look. The dresses were paired with black lace-up boots, which toughened up the soft vibe of the clothes.
.
.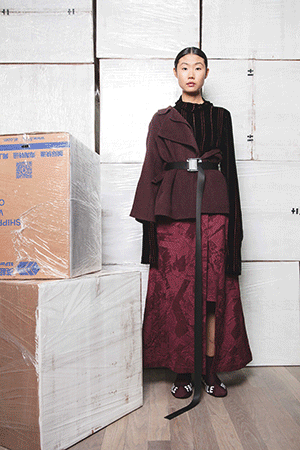 Haizhen Wang
London label Haizhen Wang's thought-provoking collection was inspired by immigration, exploring the movement of people from place to place, featuring models walking among packaging and boxes. The models wore practical clothing suitable for travel in jacquard and wool among a colour palette of black and khaki with hints of rich red and blue.
.
.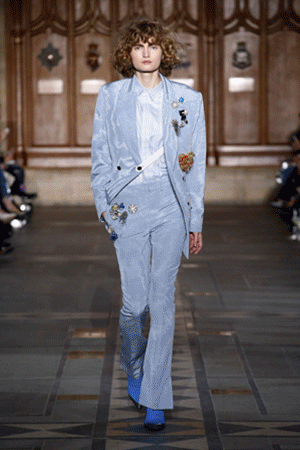 TOGA
Japanese designer Yasuko Furuta came up with her own versions of some popular modern garments. Her garments are layered, and are mostly comprised of primary colours with hints of brown and grey.
Chinese-born designer Huishan Zhang's collection was full of beautiful dresses ranging from ultra feminine flowing dresses in pink and blue to more glamorous sheaths in light pink and red. The dresses are classic and timeless. However some of the clothes had a more modern, cutting edge look, with futuristic patterns.
.
.
.
.
.
.
.
.
.
.
.
.
.
.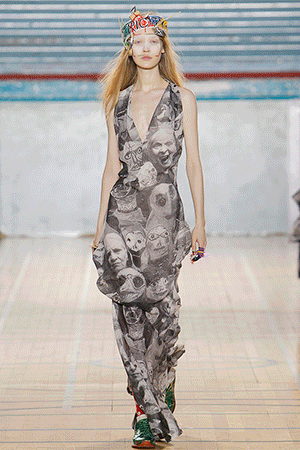 Vivienne Westwood
Vivienne Westwood's platform is something that she has deeply implanted in each collection and her AW17 collection is one of them.
Westwood displayed her MAN and RED label collections into one show. The models were dressed in patchwork knits, unconventional pinstripe suiting and a layering of staple fabrics such as Prince of Wales checked wool and chunky knitwear.
"IOU" scaled on belts, blazers worn with matching bloomers and false crowns cobbled together. Empowering gender fluidity, her clothes were for everybody; the men looked just as striking and fabulous in sheer dresses as the women looked in suits.
Vivienne Westwood ended the show walking out in heeled boots, flaunting her own makeshift crown. What an incredible comeback.
.
.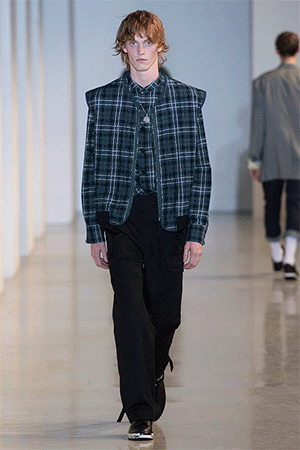 Wooyoungmi
Wooyoungmi and daughter Katie Chung were inspired but the iconic portraits of Oscar Wilde, during the late 19th to early 20th century, that takes the style cues from the street.
The clothes for a young aesthetic who aims to look put-together yet proudly takes pride looking a bit undone. A convincing jogging pants in velvet and hoodie with slightly oversized topcoats, emphasise the inescapable evolution from formal to sport with several updated versions of a poet's blouse.
The mother and daughter duo were also inspired by the equally mismatched furnishings of the young poet's humble dwellings, sleeves, long coats. Wooyoungmi's collection sighted a removable ruffle placket and oversized sweaters. A feminine touch resulted in the crossover appeal of Look 20 with its beautiful bell-sleeved coat.
Carrying a romantic mood through to their AW17 collection, the poetry and romance instead came through in the details.
.
.
Roland Mouret
He returned to London and displayed his AW17 collection, celebrating 20 years of his label, and the female shape in all its forms. The collection included garments with full-length zips. The fabric has also moved with the times from a stretch crepe to wool knit and velvet, and gave the body the shape and a less stark frame. Mouret's websites experienced great growth, and is not surprisingly expected to become the largest retail door of 2017.
.
.
Hong-Kong born designer Ryan Lo's collection takes inspiration from Japanese pop culture. His colourful knits, Hello Kitty motifs and glitter sparkle with glamour. The clashing patterns and pastel shades contrasted dramatically with the bubblegum-coloured hair and eye-popping makeup.
.
.
Shrimps's collection is inspired by Scotland, with the tartan pattern and prints of the Lochness Monster. Shrimps uses a lot of faux fur which blends nicely with the grace and elegance of the array of pearls on their bags and coats. A collection of mischievous prints maintains the brand's fun nature.
.
.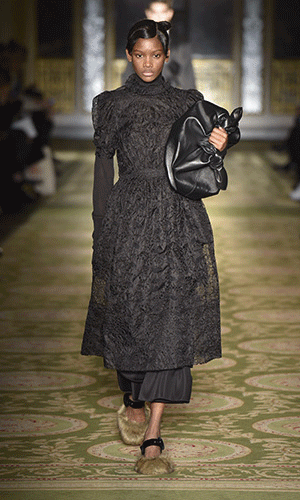 Simone Rocha
Irish fashion designer Simone Rocha's show featured models of all ages. Her clothes had a military-inspired vibe with the velvet coats and belts. Her collection, however, spoke to the power and resilience of women with its belted coats, embroidered dresses and floral prints.
.
.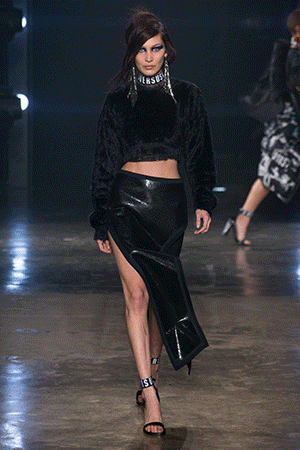 Versus Versace
Leading Italian designer Donatella Versace's show features a mix of black leather and colourful furs, complete with zippers and lace-up boots. The collection oozes punk glamour with hints of grunge. The contrast of pink and blue fur with simple black dresses went nicely with asymmetric leather skirts paired with hanging earrings. Deeply sexy, the garments are versatile and stunning.
.
.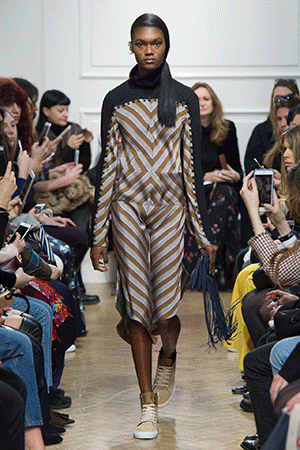 J. W. Anderson
J.W Anderson's collection largely featured different types of dresses, from labourer-inspired to ethereal. The fabrics were incredibly interesting, ranging from silver chain mail to jackets made of leather and shearling coats. Fur was interspersed with metallic fabrics, making this a very diverse collection.
.
.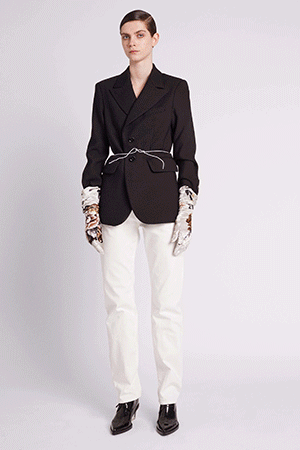 Maison Martin Margiela
Inspired by America, British fashion designer John Galliano's designs were a mish-mash of layering and materials. A trenchcoat featured a statue of liberty cutout on the back, and the collection also featured Marilyn Monroe's iconic large sweater.
.
.
Mary Katrantzou
Greek designer Katrantzou's collection drew inspiration from Walt Disney's Fantasia, the animated film Disney made in the 1940's. The designer, who is used to manipulating designs digitally, has produced a beautifully colourful and eclectic collection with the use of much embroidery and fur.
.
.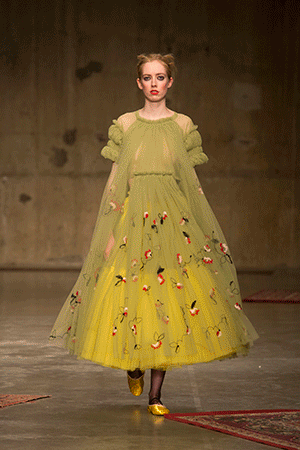 Molly Goddard
Photographs by Kamil Kustosz
London designer Molly Goddard's collection featured elegant tulle dresses and skirts in various shades from bright colours to pastel hues, paired with printed knitwear and accessorised with sequinned leggings and shiny leather bags. Her collection had a romantic vibe yet a quirky tone.
.
.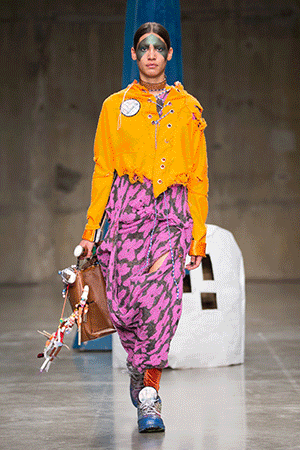 Matty Bovan
Matty Bovan's collection had a sci-fi and medieval inspired, dystopian vibe, with models dressed as warrior women. The bright colours of the show were offset by the striking slashes of coloured face paint the models wore.
.
.
Mimi Wade
Mimi Wade draws inspiration from old Hollywood movies. A blend of corduroy, lace and ruffles, mixed with cartoon-like images and school-outfit inspired garments, Wade's collection is inspired.
.
.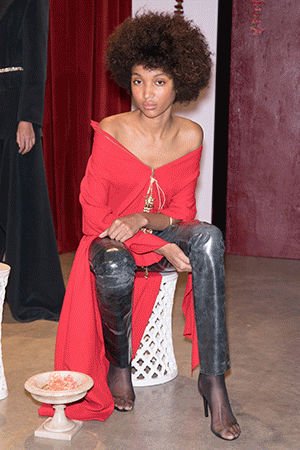 Supriya
Supriya's interesting collection was inspired by her mixed British and Indian heritage and featured latex and huge hanging earrings.
.
.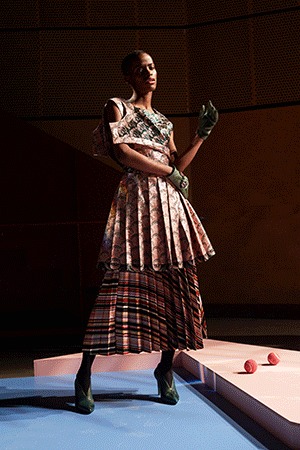 Roberta Einer
Roberta Einer's collection was inspired by the art deco movement and the natural world, with garments embroidered with insects. Einer's collection was also influenced by 1940's with multi-coloured garments. However the pieces that really stood out were exquisite the hand painted and embroidered garments, some embroidered with Swarovski crystals.
.
.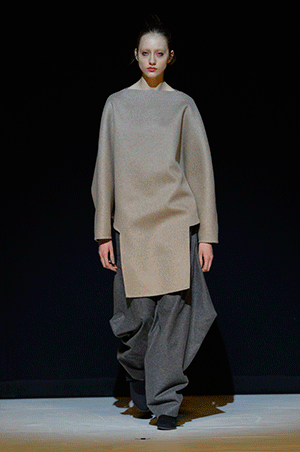 Hussein Chalayan
British/Turkish designer Hussein Chalayan drew inspiration from Greek folk costumes with cloaks, loose trousers with knotted belts, and kilt-like skirts. A unique touch was the chest pieces with designs that the models tore open to reveal tons of material including glitter and feathers. The colour scheme was otherwise muted with dull browns, greys, blacks and navies.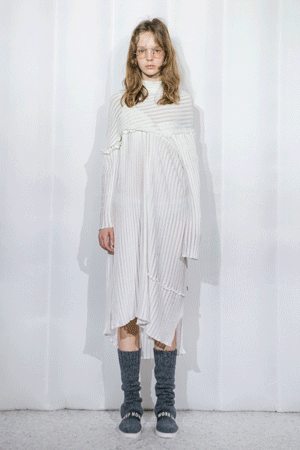 Steven Tai
Steven Tai's collection was a wonderful blend of comfort and the luxe. The colour palette was neutral featuring beige, white, brown and charcoal and including embroidered sleep masks, detachable skirts and wide legged trousers.
Main Image: Ashish