Sally Faye is the Instagram sensation know for her black clothes her black drawing and her general love of all things black in fashion. She has just released her first book and she fills us in here on this and her own fashion illustration journey.
You've just released your first book 'All Black Everything'. How does it feel to be a published illustrator?
It feels amazing! Even more so because not only have I written and illustrated it myself but The Curious Agency designed, edited and published it all in house! To see it then go into watertones has been a huge achievement for all of us, we're all very proud of how it's been received.
How did you start out illustrating and why the move to fashion? Was there a moment in your childhood that set you off on this journey?
I've always loved drawing and had an interest in fashion, it was during my degree in printed textiles that I discovered fashion illustration and I fell in love!
From your childhood to your work life, who are the people that have influenced or moved you?
I was really influenced by Garance Doré. I was struggling to work out how to make illustration my career and I read a blog post she has written that talked about her journey into the illustration industry. She didn't start illustrating until her late 20's, I was at exactly the same point that she was describing so it really gave me a push to make the jump into turning my hobby into my career.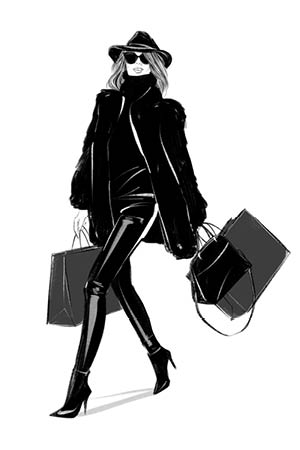 You once mentioned making a 'dream project list' of clients you've always wanted to work with. You've managed to cross a few out. Are there any left and have you added any names?
Yes definitely, I would love to create illustrations for a big fashion campaign. A lot of the work I create is used online so creating something that would be printed and featured in the boutiques of someone like Chanel would be a dream project. Order window displays for Harrds – that would be pretty epic!
What was the process like when you started to gain commissions and worked with major brands such as Louboutin and Maybelline? And how did that change from the way you might have done your personal work?
I've always been very lucky that the projects have come to me. PR companies or other agencies will get in touch with projects they need an illustrator for so they tend to manage everything. That doesn't differ from client to client no matter how big the brand. There's normally more paperwork involved, NDA's to sign and usage fees to negotiate, that's when having an agent representing you is really important.
What is your starting point when illustrating and what is the creative process involved? What is the most challenging part of it?
I always start with breaking down the brief, some briefs are very precise and the client tells you exactly how they want the illustration to look providing you with references etc. More creative briefs require a little more planning, I'll gather my own inspiration and reference imagery and start from there. Time management is the most challenging part especially when I'm working on multiple projects.
Your book and your social media feeds are dominated by the colour black. How exactly did the obsession begin?
It definitely started with my illustrations which then had an impact on my own personal style and took over my wardrobe. We've been renovating our home so it's also crept into our interior design choices too.
You dedicated your book to your partner, James. Does he play any part in your creative process?  Is the love still there between you?
He plays a huge part. James owns the agency that represents me, which is how we met. We still work together, live together have 2 cockapoos together and the love is definitely still there.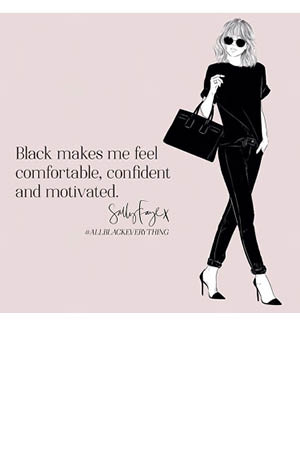 The Curious Agency
thecurious.agency
Website
sallyfaye.co.uk
Book Available:-
sallyfaye.co.uk/book
www.waterstones.com