We love the British blend of pagan tradition, dressing up and family fun that is the essence of Donna Maria's Maypole. Donna Maria is a British icon and personality who has stayed true to her passion, touring with the colourful maypole show in a movement to keep this tradition alive and well, she tells us more below. PE
Spring, when the sun begins to show its face, marking new beginnings in many lifestyles and religions; with it comes a fresh hope for new life.  It's a ritual that has been celebrated in many ways for thousands of years.
Maypole dancing symbolises this celebration of life and colour, dancers circle around a pole holding onto a rainbow of coloured ribbons attached to it. Some believe this was a fertility ritual, others believe it is simply a celebration to mark the start of the season.
Donna Maria, a maypole veteran who runs multi award winning Donna Maria's world teaching the art of Maypole dancing, tells us more about the tradition, where it originated and what inspired her to keep the tradition alive.
The Maypole may well have been a pagan tradition started over a thousand years ago in Germanic and Scandinavian societies.
However, some of the earliest records in Britain, around the 12th century, show it as a community event bringing together neighbouring villages in their celebration for the coming of Spring.
Over the following centuries it became connected to mainstream religions, and by the 18th century it was purely a traditional English celebration dance. It then turned into a dance where many gathered around the pole to celebrate the coming of Spring usually at Whitsun, (the eighth Sunday after Easter), in villages and cities.  In earlier celebrations it was danced around a tree and in later years this developed into a custom-made pole.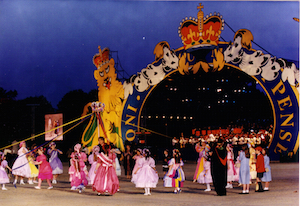 The ribbons as we know them now were first added to the Maypole in the 19th century (perhaps firstly at the Victoria Theatre in about 1936) but were then taken up by theatrical ballet masters at the Vauxhall pleasure gardens and were loved by John Ruskin (responsible for May Queen celebrations at Whitelands college – that are still going), so he included it in his teacher training.
So, by the start of the 20th century, the Maypole with ribbons was going out into the country to schools with newly trained teachers and began to appear in shows and ballets. The tradition of having ribbons on the Maypole was spread to the whole country.
The full set of Maypole dances range from the starting point of skipping around holding a ribbon in a circle to dance moves where the choreography is very complex and complicated. There is weaving and plaiting known as the Barbers Pole and the Spiders Web for example. Both are taught by me to keep these subtle traditions alive.
Music is a big part of the Maypole ritual. There are records of songs hundreds of years old which were written specifically for the Maypole and these will have been accompanied by the instruments of the day. Flutes, fiddles, drums and later concertinas etc. These will have been instrumental in keeping the rhythm and timing for the dances. For instance, according to the traditional Maypole song "come lasses and lads" there was "a fiddler standing by". From this I can only presume there must have been a fiddler fiddling at the Maypole many years ago. I believe this song dates to the 16th century. We still use this music in my Maypole, but sadly no fiddler.
The Germanic and Scandinavian Maypoles have always had "hard" decorations. They could be iron, carved wood or pottery. It's thought that the flowered decoration started in England and developed into flower decorated tops, known as the crown which is usually also in the shape of a crown, in the 19th century. I particularly love the natural flowers – blossom or hawthorn in May. So, my Maypole has a decorated crown of flowers.
My Mother, Rose was the reason I first started dancing the Maypole.
She started dancing when she was a child in Lambeth and passed on her love of the dance. She voluntarily taught Maypole dancing in the local schools and churches in Dulwich and she joined the Merrie England Mayqueen's organisation and ran the West Dulwich Mayqueen's. She organised Mayqueen crowning celebrations every May and her group joined all the other May Queen groups for a major celebration on Hayes Common in Maytime where a giant Maypole was danced with all the Mayqueens of London with over a hundred ribbons.
She was actually attending the Hayes celebration when I was born – I was nearly born under the Maypole! Even as a new born (or not yet born) baby I must have been very keen as I came a month early! But, her passion for the Maypole was soon to pass on to me. I became Dulwich May Queen and the London May Queen. The Dulwich May Queen group was her pride and joy and she kept Maypole dancing alive in Dulwich.
She kept the tradition going while I was having my stage training and I started my performing career. In 1978 I was producing a show for the Regent Street Association for the first May Day Bank Holiday. The executive officer of the RSA asked if it was possible to perform a Maypole dance. Mummy sourced me a Maypole and the dance went ahead in Golden Square. It was so successful that I have performed it ever since. We were invited to Westminster Cathedral flower festival for Cardinal Hume and then on to Westminster Abbey for 20 years invited by the Dean of Westminster who danced on the Maypole on Mayday together with the Lord Mayor of Westminster.
Strangely before the reformation, the Maypole was banned in all of Britain and after the reformation it was again allowed but the Scots decided to keep it banned. Therefore, the Maypole these days is mainly English and is sometimes danced in Wales.
I am very dedicated to teaching this tradition to new audiences. I encourage schools to keep Maypole dancing so more children can understand the heritage of the Maypole and keep the traditions alive in this country.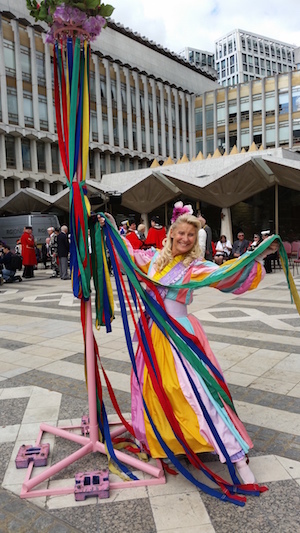 I do ask the children and they often say that their Grandparents had danced the Maypole in their schools, although some had never seen a maypole themselves before.
I decided to take the Maypole back to the schools – to date 50 schools have had the Whole School – Whole Day workshops for their 'Proud to be British' or 'British Values' Days.
For the last 10 years, I have developed a school workshop program teaching starter sessions at schools. Some have a tradition in the past that has lapsed due to the lack of trained teachers or lack of the Maypole itself. A few have their own Maypole team – I run a master class to get them prepared for their big May celebration day which may be at the school or at local events. I love that.
Still a very traditional dance, I do not know of any modern takes on it. There are Maypoles danced out of London which are strictly traditional and usually on Mayday.
I haven't seen any other Maypoles at London celebrations only mine.
One thing I do differently is that I perform the Have-A-Go Maypole from April through to September.
I give everyone the opportunity to join in and dance their own Maypole. I believe I was the first person to have such audience participation.
donnamariasworld.co.uk All images (C) Donna Maria; with thanks to Donna and Will