Why real life and Role play by Paris Essex
Real Life and Role Play for us is a reflection of the two-sided approach that we have. Reality is important as we see life in an unpretentious, practical down to earth way, but we always juxtapose, be it with playful, unexpected ,unpredictable, silly or subversive, decorative or fanciful, enhancing the combination of Real Life and Role Play.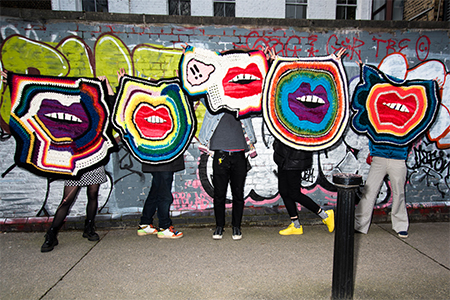 This comes through in our work from the starting points, whether it be from the choice of imagery, colours and themes, as well as our use of symbolic or cliché imagery like faces and masks, whilst reinventing them with pattern, colour. The nature of crochet and knit is quite freeform which allows for ideas to keep moving.
The aspects of fashion that appeal to us are about storytelling, styling and themes, which is like a form of dressing up, it's playful, almost childish. We like to use the woolly and fluffy, glittery qualities of yarns and the domestic and friendly , luxurious qualities of knitting , but we scale up ideas slightly beyond the expected and make it brash and unapologetic.
Humour plays a part in life, so of course it plays a part in our knitwear. We care about what we are doing but it doesn't need to be serious, it's funny and maybe weird. However we always enjoy a laugh!!
Knitting and crochet are very traditional crafts in the UK and beyond. We reference everyday London culture which is all about the randomness of different cultures, classes, ideas and times in one city. We both live and work in London, it would be hard not to be influenced and to engage with such an inspiring, lively multi-layered city. The contrasts and odd juxtapositions around us are what we love and find fascinating. PE
Tiphaine de lussy. Carolyn Clewer
parisessex.com
All photos Louise Melchior