Peter Max is a psychedelic poster artist who has been working in NYC for many years and his timeless aesthetic represents everything we love about pattern and colour. If we needed a Paris Essex tour poster he would be our dream graphic designer!  Peter shares his working process and journey with us below. PE
American artist, Peter Max, is  known for his use of bright colours in his work, a master of Neo-expressionism. His paintings fuse a wide collection of colours and patterns, creating artworks that are bold, bright and exciting. Max has been labelled as a "visionary pop artist" due to his innovative and energetic artwork. Max's work and one-man museum exhibitions that have been dotted all over the USA have gone onto inspire art-fanatics, art-critics and psychedelia-lovers nationally. Max's work is so renowned that he has honourably created paintings for six ­U.S. presidents, in addition to his work being displayed in presidential libraries and in US embassies. In 2002 Abraham Books published what went onto be one of the best-selling art books "The Arts of Peter Max", who was then named an official artist of the 2006  U.S. Olympic team at the Winter Olympics in Turin, Italy, increasing his already impressive body of artwork, as well as his status and respect as an artist that isn't necessarily traditional. He has also been crowned "official artist" of five Super Bowls. A visionary here he talks us through a little of his world.
I was born in Berlin and grew up in Shanghai China, during World War II. My parents and I lived in a pagoda-style house, across the street from a Buddhist temple. Once a week, I would see temple monks roll out large sheets of rice paper and paint giant Chinese characters with long bamboo brushes using the movements of their entire body, in a manner similar to tai chi. I also had a young Chinese nanny who taught me how to paint calligraphy, using the movement of my wrist. These early impressions formed the way I paint today, using the movement of my body as well as my wrist, which is why I paint standing up. Another great influence was my mother, Salla. She was a fashion designer in Berlin and encouraged me to be an artist by providing various art supplies around our house for me to experiment with and give me permission to "have fun and make a big mess." My father, on the other hand, was a strict business man, and instilled in me a business-like manner.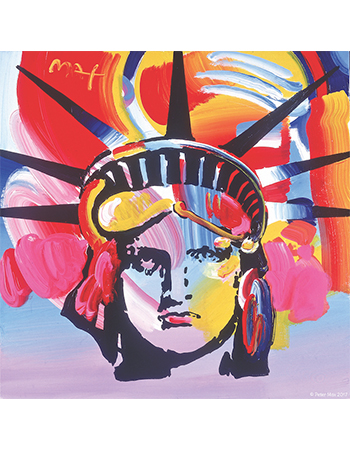 Liberty Head (C) Peter Max
In 1948, at the of age ten, I emigrated with my parents to Haifa, Israel. There, while attending school, my mother sent me to take classes with an Austrian Fauve painter, Professor Hünig. He taught me to see colours in an exaggerated way like the Fauves.
I found that posters were the best way to display my art. When I saw my first poster of Toulouse Lautrec roll off the printing press, I was thrilled and immediately fell in love with the poster medium.It blew up my original 9X12 India ink painting to 24X36, three times its size making it very dynamic. Soon after, a European printer showed me how to print with "split-fountains," which allowed me to create a full-colour poster on a two-colour press. He placed two wedges into each of the two printing fountains (rollers), and poured three colours in each, blending six colours. The colours were clean and pure, like a silkscreen, rather than composed with a dot matrix as in ordinary full-colour posters. It took a lot of work and I stayed up all night to produce my first piece, but then I got the hang of it and printing became an obsession. It was much cheaper to print on a two-colour press than a full colour press, and it allowed me to print my Love poster for $1.00 each and sell them for $2.00. It instantly became very popular and suddenly I became rich and successful. I continued to create posters fervently, and have ultimately printed more than 800 different poster editions.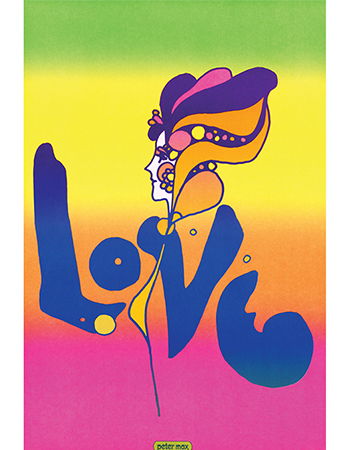 love (c) Peter max
I am very much inspired by American culture. From an early age I fell in love with American media,  comic books, Hollywood movies (which I saw in a Shanghai movie theatre on Saturday matinees), and Swing Jazz which I listened to on a weekly radio show. America appeared as a magical land of creativity, and I'm so honoured to have become part of its culture and to have painted many American icons, from the Statue of Liberty to Taylor Swift.
Another great art influence came from imported American comic books which included super heroes such as Batman, Plastic Man, Buck Rogers, etc. The comic books taught me to draw expressions with a few simple lines, and tricks like foreshortening, which created an illusion of depth.
My work has always been influenced by the current culture and changes. In the '60s of course, I was influenced by the hippie culture, whereas in the seventies I became patriotic and painted the Statue of Liberty and helped influence its restoration. I also painted at the White House for President and Nancy Reagan. In 1989, I designed the world's largest stage for the Moscow Music & Peace Festival, and soon after painted Soviet Premier Gorbachev and had a one-man exhibition at Hermitage Museum in Leningrad. It broke all-time records for an art opening in Soviet history, (almost 15,000 attended opening night). I was most proud when I was greeted by thousands of Russian hippies holding up their hands making a peace sign, and chanting, "Peace, peace, peace," as I entered the
museum. Having also been designated as "Official Artist" for numerous major sports and music events has helped keeping me current with the times. Ecology has also been important to me and I have created several Earth Day posters, a poster for Sting's Save the Rainforest Concert at Carnegie Hall and the Official poster and series of postage stamps for the U.N. Earth Summit in Rio de Janeiro, and much more.
All of my pieces are bright and saturated with colour. My use of bold colours were first inspired by Professor Hünig, a Fauve painter. I began my formal painting studies at the renowned Art Students League in Manhattan. I studied under Frank Reilly, a realist painter, who taught us how to mix our oil paints for different skin tones and paint in the manner of Vermeer, Rembrandt, and John Singer Sargent. But soon after graduating, I became interested in the avant grade and graphic arts and learnt how to use complimentary colours, which later helped me with my colour blends on my posters. In the sixties, I worked mostly on posters and limited edition serigraph prints. Then, in the late seventies, I began to work in acrylics. With brushes loaded with several colours at once, I applied my strokes with broad and swift movements like the Buddhist calligraphers I saw in Shanghai. Quite a contrast to the slow, studied oil brushstrokes in a realist painting. But even when I painted a Fauve head, the values of light and shadow from my realism studies were still there as a foundation. I discovered that it was best to have learned all the rules before I broke them.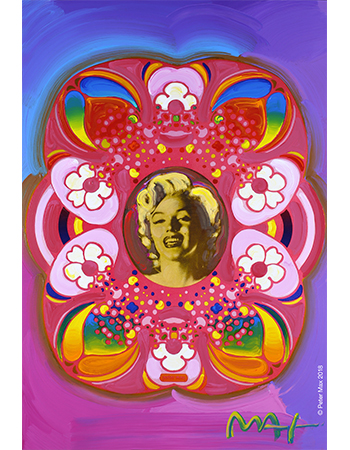 Marylin (C) Peter max
The time I spend on my paintings vary, sometimes a painting can take about 20 minutes, as it is the spontaneity that counts. Other times it may take longer, such as when I paint portraits, as I paint slower, with smaller brushes. I may also have several paintings stacked on my easel at once, and move from one to another and back again. Often, when I walk into my studio and see the previous days' paintings, I pick up my brush and add some new brushstrokes or paint over existing ones. Music also effects the rhythm of my paintings. I may paint one way while listening to Chick Corea and another way while listening to the Rolling Stones.