CHLOÉ

 
Designed by Natacha Ramsay-Levi, this season's collection provided a fairy-tale experience. With this collection, the idea was to transform everyday life into a fairy-tale, to have an enchanted narrative at every moment. The clothes expressed a sense of ease toughened by the passion of romance of the design of the hems. The accessories added to make it look like good luck charm provided an edge like the chloe girl on an island. There was also a variation in colour from bare to dark showing a multitude of personalities. The tailoring of the designs reflected an equestrian theme like the riding coats. Cavalry buttoning was worn undone with sensual undertones which she filled her garment with. The jumpers went down to the floor and sliced up at the front in a dramatic way for a resemblance of Victorian riding coats in knitwear. Slate satin bomber jackets along with shearling jackets were also seen making their way on the runway. On the seats were placed an homage to the late Karl Lagerfeld, who spent 25 years designing for Chloé.
ISSEY MIYAKE

After the last season's fabric invention called "dough dough", it was used again this time with wool giving a soft texture which were all in grey colour retaining the sentiment of the ability to stimulate the imagination of a person by turning them into an artist or a creator, a phrase resonating with the Issey Miyake woman. Outfits in colours such as bright, saturated shades of yellow, blue and green looked inspired by the 80s. The all black outfits showed refined silhouette with other outfits made of stretchy clothing that looked geometric inspired by the label's Bao Bao handbags. Bold prints of black and white resembling op art were also seen in the collection.
DIOR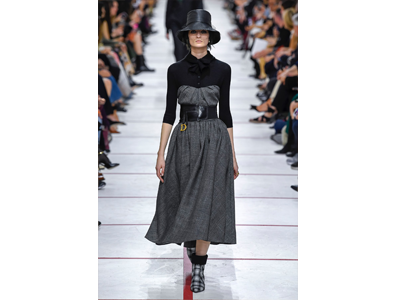 Maria Grazia Chiuri opened the show with a reading in Italian by Tomaso Binga, a feminist Roman artist. Her words covering the large walls of the backyard tent of the Musee Rodin, the show venue, the show started with a female empowered soundtrack by Amy Winehouse, Chrissie Hyde and the famous song "The Moon is Blue" by Colours, with models wearing T-shirt borrowed from the title of Robin Morgan's book title SISTERHOOD IS GLOBAL. Inspired by the blousons noir phase of Yves Saint Laurent and the black and white picture taken by Ken Russell of teddy girls of the same era, it was fascinating to see Maria's redesigning of the iconic clothes. To match the impact of the leather jackets designed by Saint Laurent, Maria found a shiny technical cotton and also redesigned toile de jouy as a palm tree motif. Her idea, with this collection, was to make clothes that are wearable throughout the year that are quintessential Dior as well as modern. The collection tied together the past, present and the future of the brand that is Dior. The show was dedicated to the late Karl Lagerfeld who she worked with at Fendi.
CHANEL

This A/W fashion show marked Karl Lagerfield's last ever collection for the brand. The iconic designer was at the forefront of Chanel for over three decades. The show was held at Le Grand Palais which was transformed into winter wonderland surrounded by wooden chalets, mountains and snow. In honour of the late designer there was one-minute silence as the models emerge in the beginning of the show.The colour palette featured were mostly monochrome with black, white, houndstooth pattern, neutrals colours such as brown, tan, and bold colours such as fuchsia pink, teal, red were also featured. Featured looks in this show were monochrome houndstooth coat, grid print jumpsuit, Chanel's signature tweed, matching hat, houndstooth print trousers. The show finale saw models walking arm- in-arm as the audience gave them standing ovation with 'Heroes' by David Bowie playing in the background.
LANVIN

This show marked Lanvin's return to the Paris Fashion Week featuring debut collection from new creative director Bruno Sialelli. The show was held in Paris's Musee de Cluny.
The collection's core features were fresh, fun and youthful. Featured looks in the show included lurex knitted day dress, woollen jackets with sailor collars and leather ties, double-hemmed kilts in mismatched checks, patchwork leather jackets, hooded sweatshirts, split front denim skirts, check blanket ponchos. The collection also included shirts featuring Babar and Zephir , both-gender twinsets , layered slip dresses with patched extra hems at the back embroided with foxes , purple bobbled dress, and the closing pieces included 70′s looking illustrations and print.
The materials included were intricate embroidery, hemlines with sequin shards, silk , knitwear.
 
TOMMY HILFIGER AMERICANS IN PARIS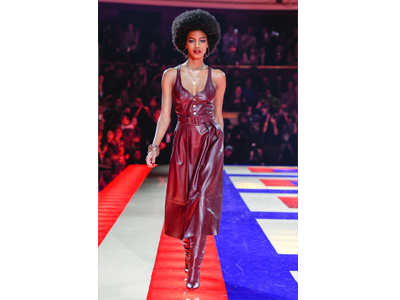 This season TOMMYNOW descends upon the City of Light to debut TommyXZendaya, the first collaborative collection between Tommy Hilfiger and Zendaya, our global women's brand ambassador. We were inspired by the historic 1973 Battle of Versailles, where a new generation of supermodels brought American sportswear to the European runway with unprecedented charm and charisma.Hand-drawn zodiac prints form a cornerstone of positivity alongside precisely tailored suiting that delivers a vibrant and sartorial twist on menswear. Sweaters and dresses exude confidence, while luxurious leathers and sexy denim silhouettes allow femininity to take center stage.
KENZO

 
This collection is dedicated to the records of Kenzo Takada. Titled La Collection, Carol Lim and Humberto Leon had a special event during their ready-to-wear show in Paris, a performance where choreographers Paul Sadot and Nqobile Danseur collaborated on the creation on the crossroads of several traditions. The performance had a group of dancers moving, jumping around the venue which was a small gym in Le Marais. The dancers wearing the collection focused on the prints of the records showing Kenzo Takada's quirky side along with his daring attitude towards the world of fashion and his love for food and entertainment. Designing the old tomato and lemon prints in dresses, shirts and shorts while rejuvenating Kenzo's signature tiger in various ways along with leopard prints, the show made up for an energising experience.


DRIES VAN NOTEN
Featured looks included belted charcoal pinstriped jacket and trousers, with matching pinstripe puffer carried over one forearm, with matching pointed pinstriped high-heeled pumps, long black leather gloves with black leather clutch. A series of Greys look were featured. Grey look with matching grey coat, bag, skirts, tights, shoes which surprisingly worked well and looked very poised.
After the grey looks, there were flower prints, a single peach rose with blackened leaves which was printed across a grey shirt, Other featured pieces included Satin coats and high-necked, long-sleeved shifts, purple padded coat, Kniphofia plant's print reared up from a hemline with yellow and orange – tipped fake-fur wrap and bag. Heavy amount of contrast was seen throughout the collection with mixing patterns and textures, mannish tailored clothes with sheer coverings which gave that very mysterious veiled look.
Belgian accordion music was playing in the background which gave that rawness feel to the show.


MARINE SERRE
Titled "Radiation", Marine Serre's collection depicted a post-apocalyptic era
reflecting her thoughts on today's environmental issues. Dressing the models in
outfits decorated with shells, rings, coins. There was evidence of sophisticated
tailoring in the cutting of scarves into cocktail attires.
Some of the garments include the white quilted puffer dress, given a lampshade
skirt and dramatic leg-o-mutton sleeves; a series of puff-ball-gowns with bubble
hemlines in fluorescent yellow and turquoise; and a black skintight dress covered
in totems, 2019 shaman-style. An astronaut was also included in her outerwear.
The theme of the collection was seen to be inspired by dystopia, meaning an
undesirable place.