Legs as far as the eye could see, clad in black leather shorts, black cocktail dresses in velvet, leather, patent or fur, all cut as short as swimsuits and with sharp big shoulders. These are the elements that defined Anthony Vaccarello's Saint Laurent A/W '18 collection. Certainly, leather shorts were key. Not only because they embody modernity, according to the designer, but also because they highlight a wide range of footwear, varying from chunky platforms and fur-cuffed boots to ornate stilettos. With a clever layering of blouses, shirts and tailored jackets and crystal-embroidered smoking jackets, the designer decided to showcase in black from top to toe for the upcoming season. However, he was careful to use different textures and structures in order to avoid monotony.
The runway ended with a lineup of short and big-shouldered metallic dresses embroidered with fuchsia, purple and pink florals.
For his last show as creative director at Louis Vuitton, Kim Jones presented a collection focused on the outdoors and travel. Taking inspiration from images of his past travels, Jones created prints resembling the colours and textures of the aerial landscape of Kenya. Neon green and orange fabrics were used to highlight certain features of the predominantly darker blue and purple palette looks. Many looks included tight leggings printed with the Louis Vuitton trademark with sturdy and important hiking boots. Collectively, the looks, full of furs, knits, and leathers, put together with the simple slicked-back look of the models gave Kim Jones a final product to be proud of.
With his second collection for Lanvin, designer Olivier Lapidus brought his looks to life on the catwalk against a dark, dusky backdrop in the Place Vendome. Flowing dresses in semi-sheer coral, sky blue and black were interspersed with luxurious structured scuba dresses and long swathes of bright satin and silk, with leather making an appearance in the form of handbags, belts, gloves, skirts and trousers. The colour-palette consisted of a sophisticated blend of vibrant orange, purple, fuchsia and emerald set against the more muted tones of cream, black and grey. Makeup retained a minimalistic elegance and the styling details of asymmetric earrings, tight hoods, dark shades and pendant necklaces gave a chic edge and urban grace to Lapidus's lineup of day-to-evening looks.
In black and white, with a few accents of tan and gold, the models walked out in coats that were almost cape-like, as well as dresses, gowns and suits. On quite a few pieces, floral prints were present, and the coats themselves had hoods in imitation of the shapes of rich-petalled flowers. Throughout the second half of the collection, hues of pure red, blue and green appeared too, completing the garden of colours that was showcased.
This A/W '18 collection was not only a homage to Vivienne Westwood's 'Life in Fashion', but a reflection of the genderless, fluid and bold message of fashion throughout the years, where anything goes. The teddy-boy tailoring, flower and carpet wallpaper-printed dresses, rubber cropped jackets, faux fur leopard coats, bright ethnic headscarves, DIY-look knitted sweaters, blue catsuits and Victorian-esque skirts were just a few named highlights of the collection. Using Westwood's Punk era influences as styling inspiration, with suspenders over golden tights, smudged makeup and heart-shaped face-paint, chunky-soled army boots or bright stilettos, the lineup offered new (yet using the old) insights into punk as a pioneering reflection on today's society.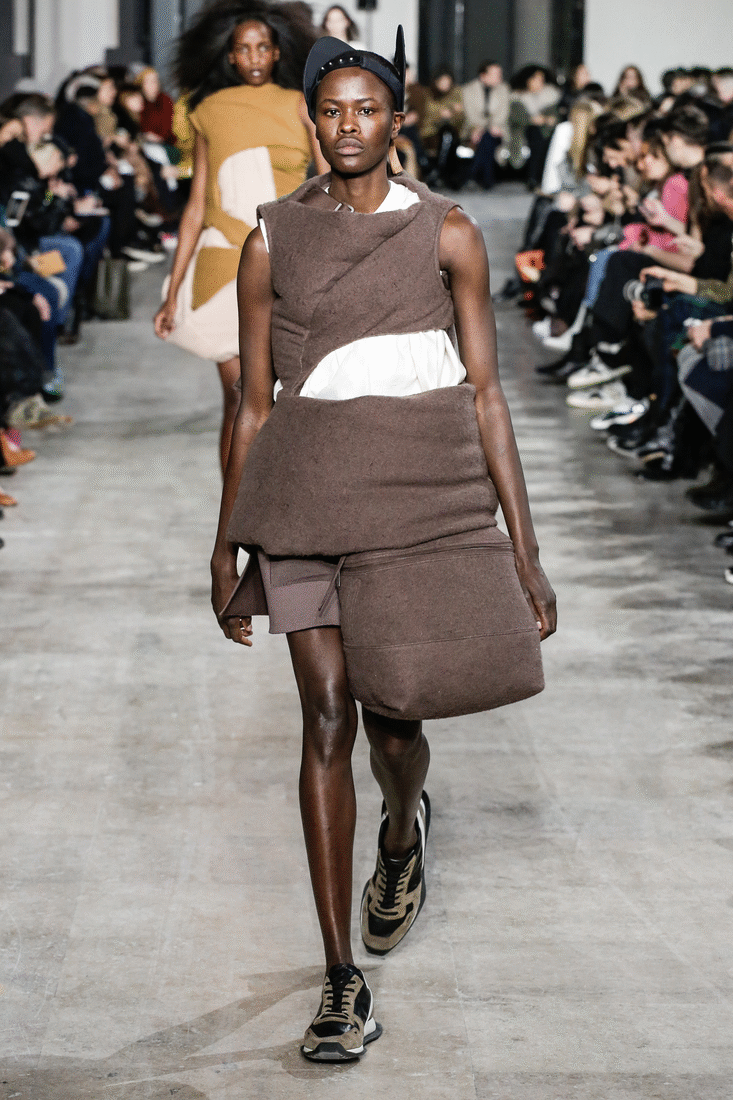 Rick Owens
Representing women in charge, Rick Owens' collection had everything from tailoring to minidresses, in pretty much all shapes and sizes, quite literally. Truly otherworldly, the whole point was the communication of Owens' visions and ideas. Greys ruled this collection in different tones but all-white looks were not uncommon to see. Known for never sketching out the garments beforehand, but instead simply putting the fabric on the mannequin to see how it would drape, Owens' showcased looks represented his process of creation, and the result was utterly out-of-the-ordinary shapes.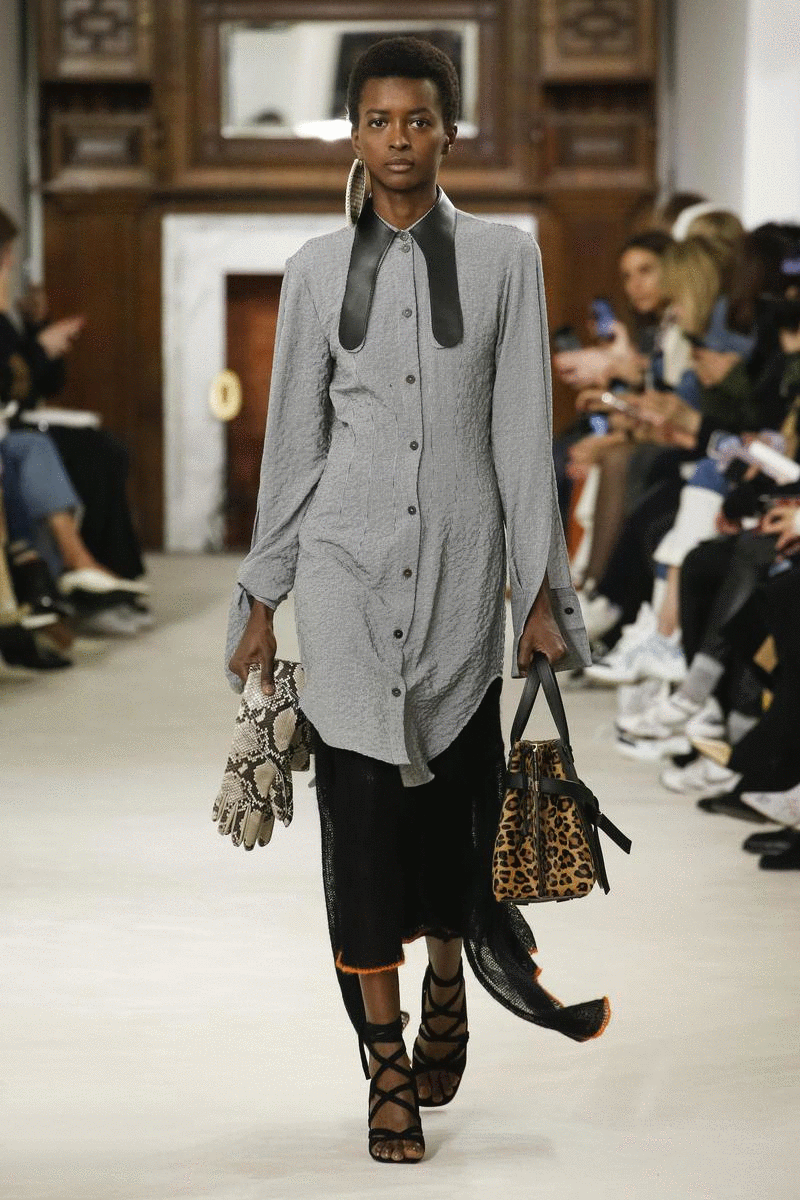 Loewe
Loewe's collection definitely had a certain calmness and serenity to it, each look very carefully thought out and crafted for every woman to wear with comfort and confidence. With every outfit gracefully walking out, the colour-choices were gradually revealed. In all-neutral tones of tan, grey, and ivory, the palette perfectly complemented the clean-cut lines of each piece.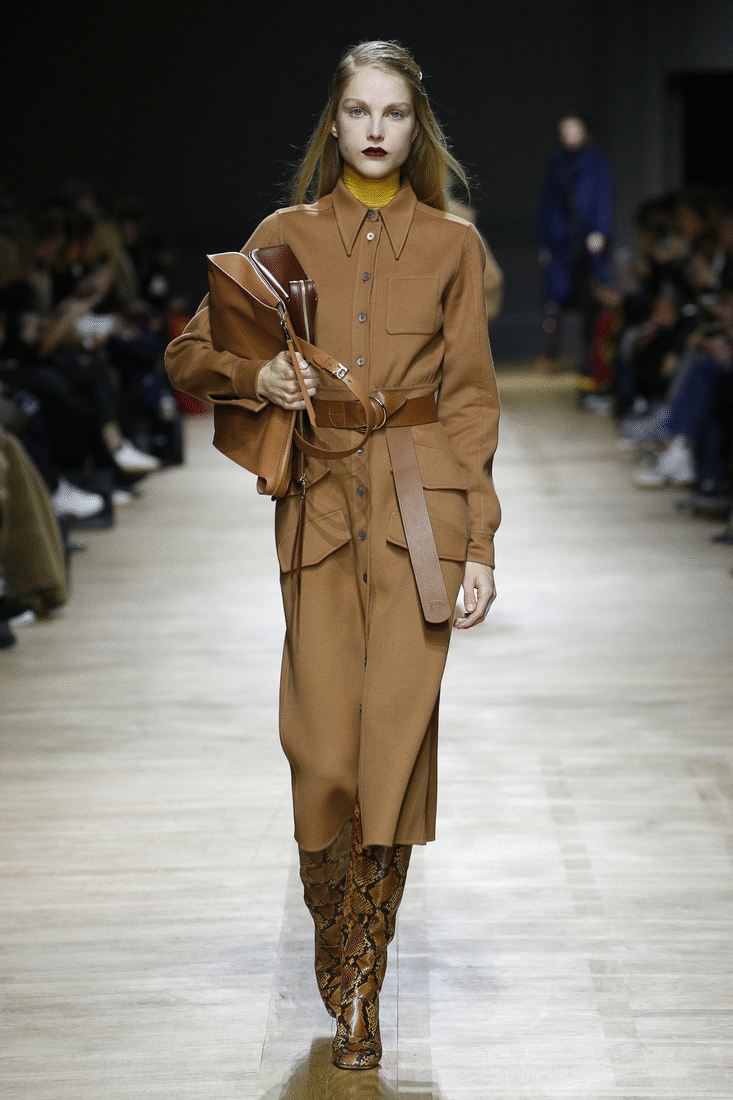 Rochas
For this season, instead of the night-life look, it was more about the daywear look. Everything was very clean and neat: the simple-cut suits, the loose trousers, the yellow-accented trench coats walking down the runway. The looks had a retro vibe, thanks to the wide shoulders of the suits, which gave an almost masculine impression.
There was a surprising harmony in the Off-White A/W '18 collection, which blended streetwear and couture, all with a horsey luxury feeling. In fact, it was impossible to miss the traditional equestrian prints and the hunting tapestries, the true stars of the collection, which appeared on costumes as well as on coats or dresses. The entire collection showcased well-structured and tailored garments centred around diverse tones, including peach, beige and pastel blue alongside black and white. Whether it was swimsuits layered with frothy tulle gowns, floral quilted skirts paired with crop tops, or cocktail dresses with hooded windbreakers, Virgil Abloh came up with a perfect balance between modern athleisure and couture.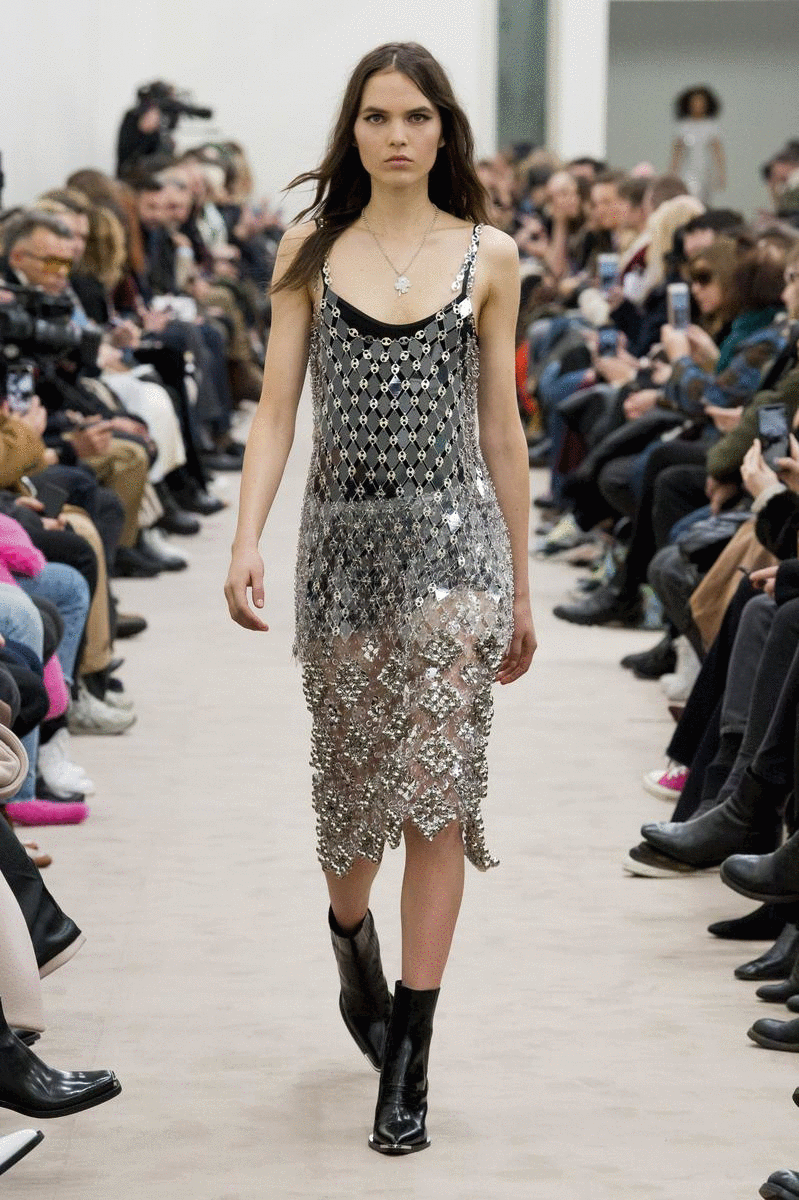 Paco Rabanne
Paco Rabanne's A/W '18 collection might be described as Parisian-chic, in armour. Classic pieces such as camel cashmere sweaters, cowboy boots, military woollen blazers and pea coats were paired with chain-mail slip and column dresses made of shimmering perspex flowers, clattering plastic circles and heavy-duty mesh with flashing silver details. These statement pieces were offset by the casual styling: a few smudges of effortless night-before eye make-up and loose, tousled hair came together to finish off looks that brought the glamour of the night into the casual serendipity of days spent sitting outside coffee shops in the streets of autumnal Paris.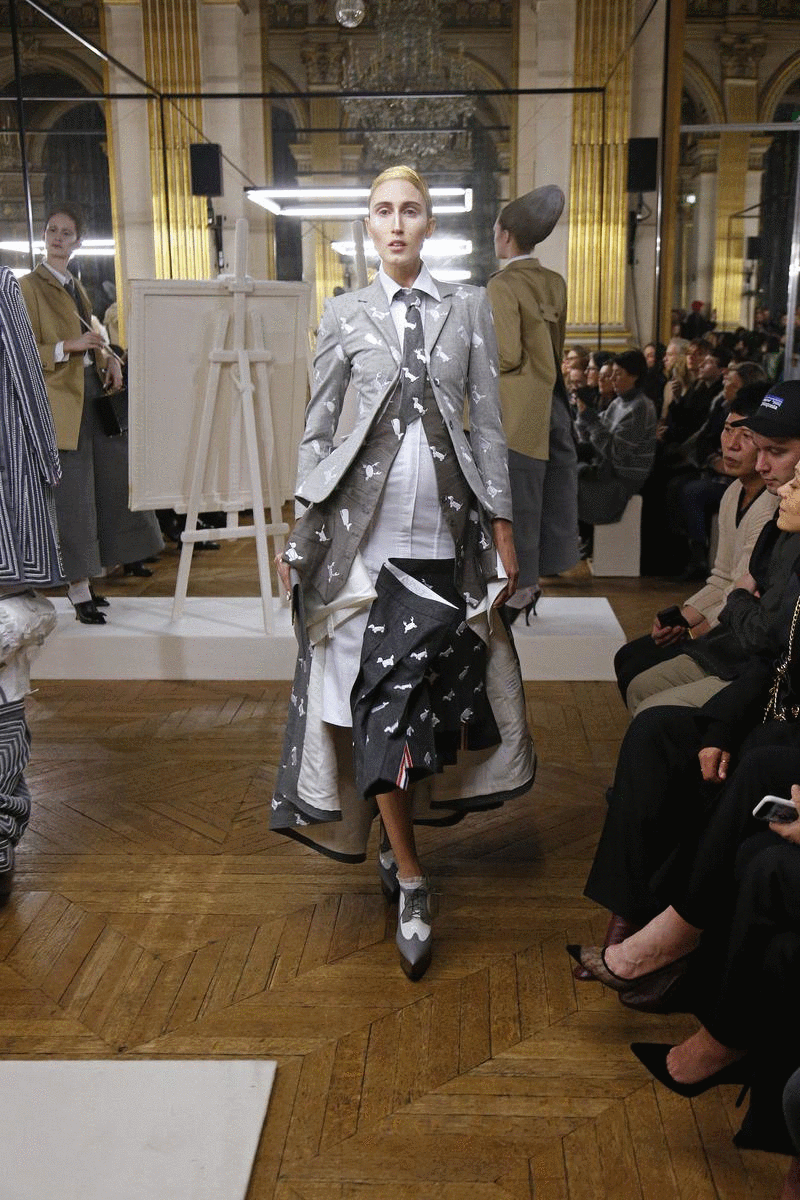 Thom Browne
Dressed for harsh weather with long brown braids and rosy cheeks, Browne's models walked out onto a stage that had been transformed into a winter wonderland, covered with snow and barren trees, and with small cots between the two runways. Fur, wool and nylon dominated the looks, along with whites, blues, reds and greys. The silhouettes were oversized and wide, thanks to the heavy overcoats included in each outfit.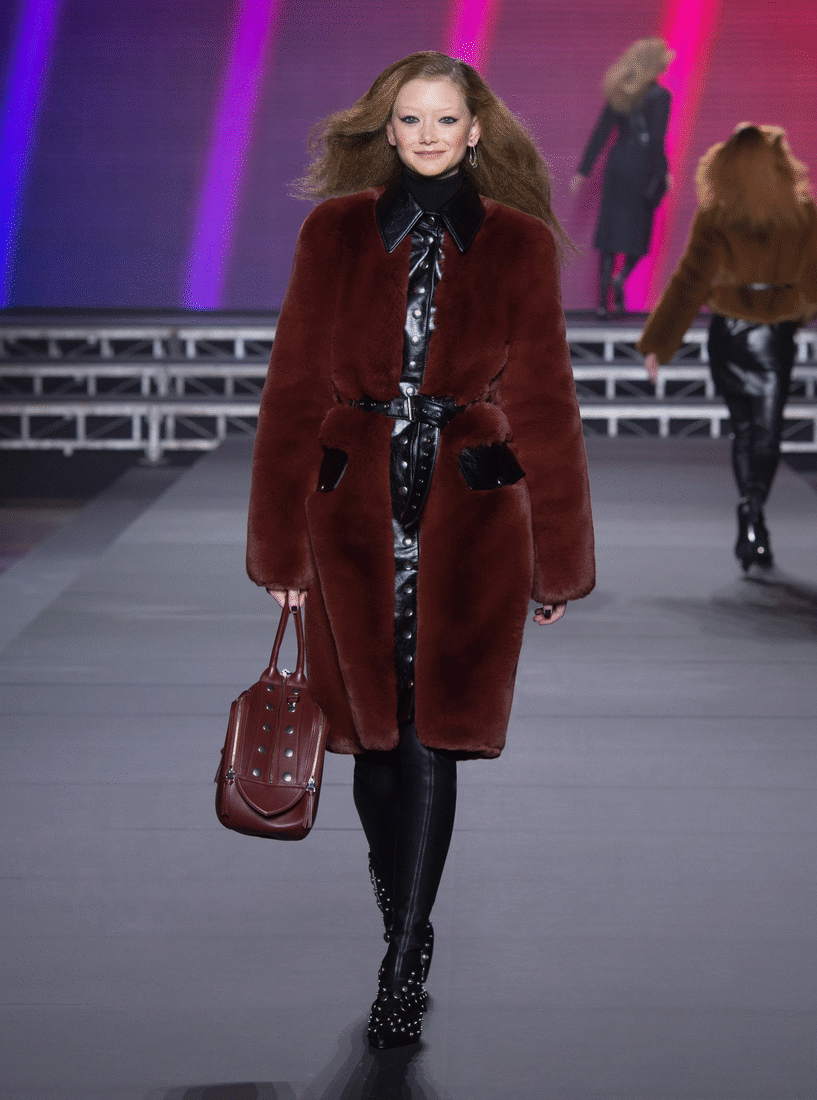 Sonia Rykiel
With its fur coats and matching boots, corduroy suits and leather, Sonia Rykiel's Autumn collection drew its inspiration from punk, new wave and 80′s pop music and the clothes that suit, all of which gave an almost masculine impression. This was an anniversary collection, Sonia Rykiel having opened her first boutique in Saint-Germain-de-Prés fifty years ago. The runway therefore set the celebratory tone with colourful, shiny garments and delighted models.
Image sliders 1,3,5 Sonya Rykiel, slides 2,10 Miu Miu, slide 4 Kristina Fidelskaya, slide 6 Chanel, slide 7 Hermes, slide 8 Galliano, slide 9 Lanvin, slide 11 Louis Vuitton