Ramsay Levi has turned Chloé in a completely opposite direction for her second collection with the label. She has moved it away from the festival and on-holiday vibes of previous seasons. In what can only be described as a cinematic reality, the garments are constructed according to the identity or persona of a singular female. Levi captures the bourgeoise allure with sharp silhouettes and embraces Chloé's renowned airy qualities. Some garments include seventies geometric prints that have been reproduced with the 'Chloé' logo, but the majority of slits, cutaway panel insets and mutton sleeves, as well as upper-arm bracelet details, are more distinguished. This collection takes classic bourgeoise items and de-normalises them by removing shirt buttons to expose as much skin as possible, with open v-necklines, with elongated blazers and matching jodhpur joggers, with unstructured trench coats and chunky ribbed knit and lace insets, and with pleated skirts, all of which are bold, grand gestures. This collection is all about garments made to wear with confidence.
This collection mixed men's and women's clothing pieces together, resulting in looks that could be described as feminine but with an edge. As if inspired by farmer's clothing and country girls, it featured specific fabrics and neutral colours which drew on that aesthetic. With a twist of classiness and elegance, silks, see-through fabrics and lace were equally significant components of the collection.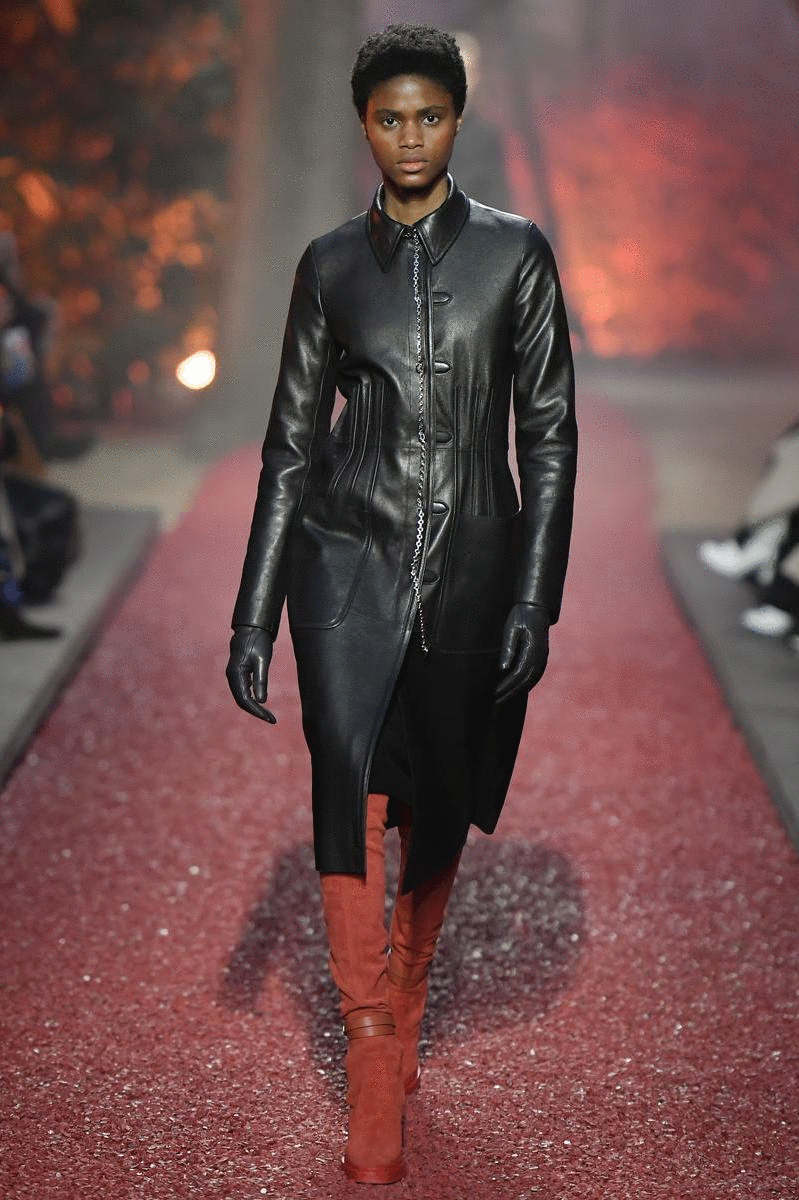 Hermes
With a mixture of chic black and earthy tones in leather pieces, the A/W '18 collection for Hermès was far more dramatic than what people have seen before. With silver accents, studs, and high-neck leather dresses, the collection exuded 80′s power while still keeping in touch with the main feature of the venue itself through cigarette pants, pencil skirts, and slim dresses.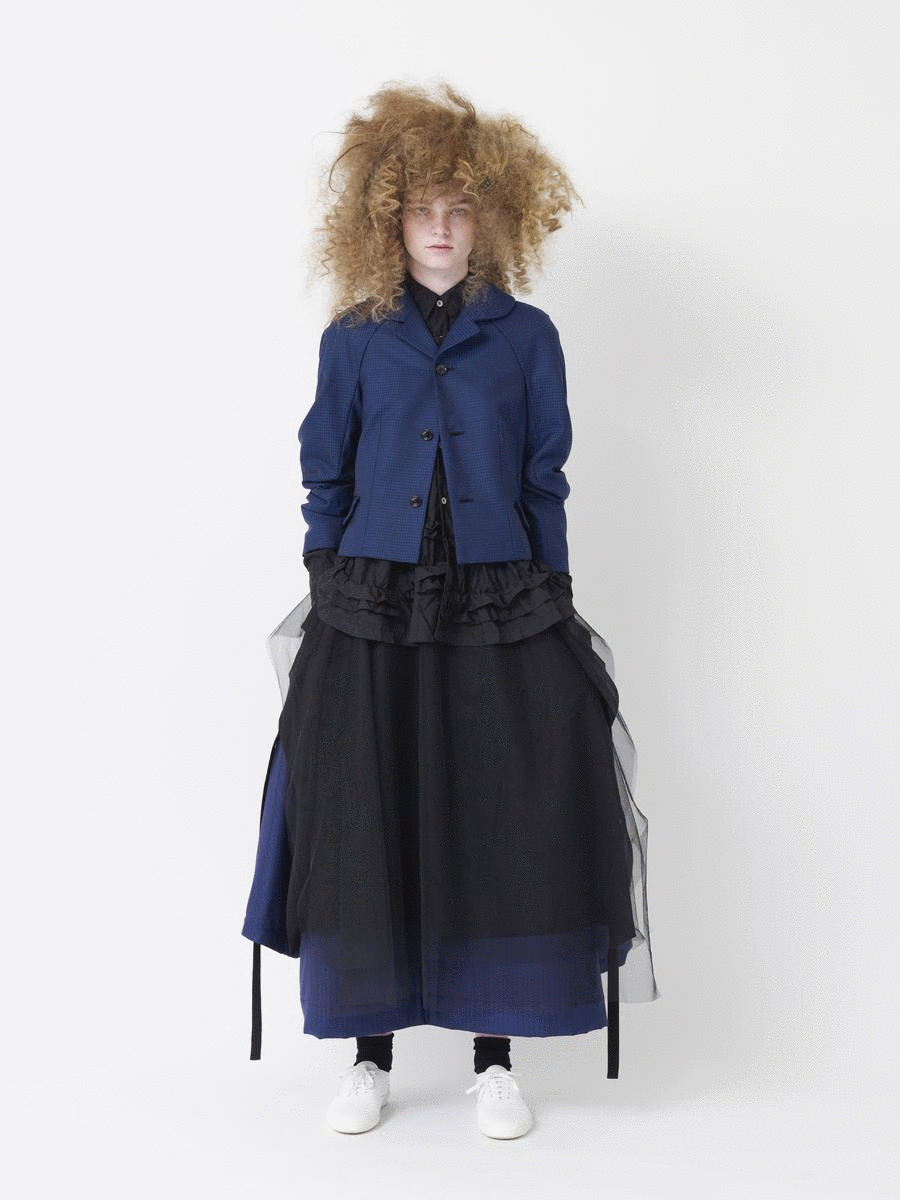 Comme des Garcons
Crosses menswear and womenswear. Ruffles are constant throughout the collection. Flowing Blue polka dot prints, apron-like dresses, matte wool fabric, long pleated garments, followed by the zigzag quilt series with a more boxy shape of multi-layered monochrome tulles and coat dresses, as well as skewed cage ponchos in hues of oranges, look somewhat like the cryptocurrency in fashion. The show ends with the garden pastels of floral dresses and tulle aprons that are paired with biker jackets and an overall grunge aesthetic. Models are styled with black socks and jazz shoes or Dr Martens throughout the catwalk, staying true to Comme des Garcons' simple but multifaceted tone of the trendy intelligentsia of Tokyo.
This collection is in a constant transition between technological contemplation and the incorporation of traditional folk concepts. The collection begins with a loose silhouette of folk-dress imitations made from white synthetic fabric with ribbed textures and loose waves that are adorned with faux fur, accompanied by matching fur trousers. The colours transition into bark browns, bronzes and navys as the silhouettes become fuller. Botanical headwear is added to the styling and the garments have more patchwork details. The silhouettes become more irregular as they also become brighter and bolder in fuschias, oranges and yellows or the charcoals of the woollen fabrics. By the end of the collection the looks become more ceremonial and, as such, a possible ode to the history and culture of clothing and fashion in a technologically driven society.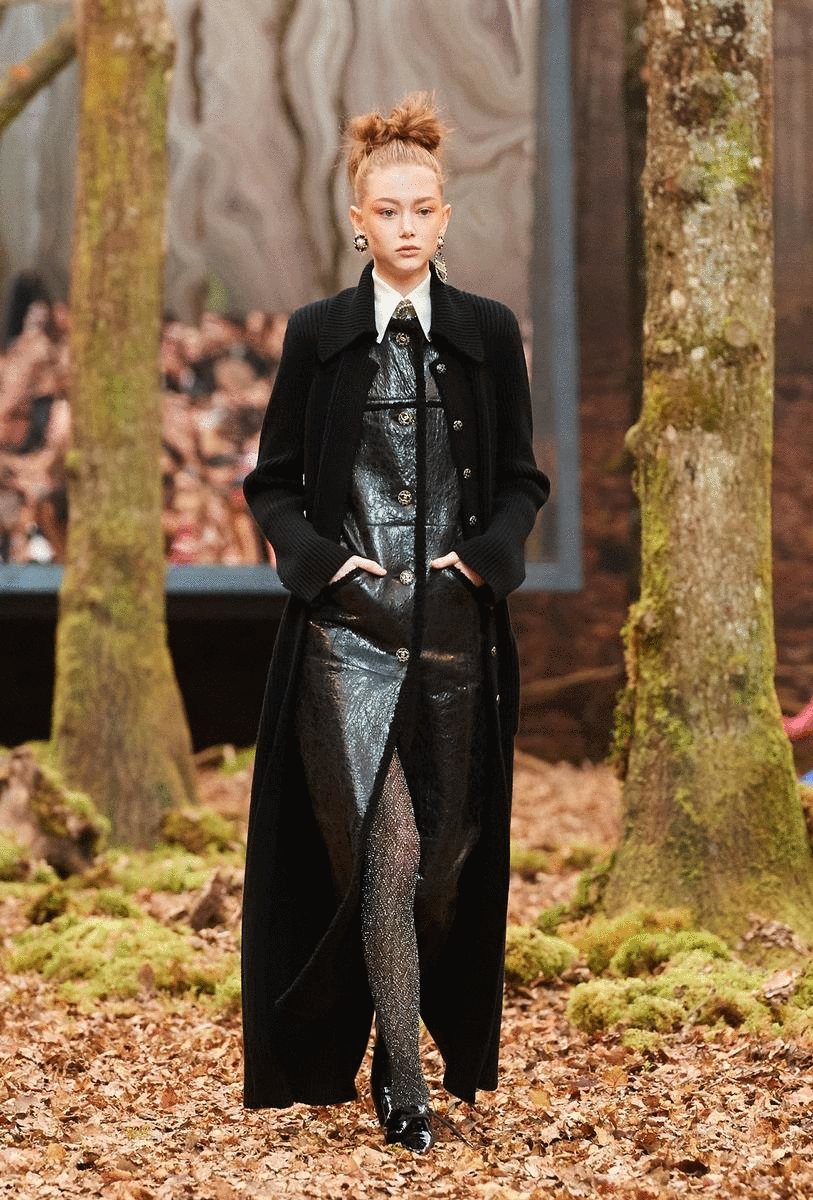 Chanel
Chanel's ready-to-wear A/W 18/19 collection opened with looks that varied from the brand's classic tweed to fur coats, black lace gowns and large, colourful scarves. Though focused primarily on coats and suits in classic tweed, paired with knits, corduroy and velvet, the collection also featured colourful fingerless long gloves and oversized scarves in blue, orange and pink to accompany the predominantly neutral looks in shades of black and grey.
Unlike most, for this season Junya Watanabe did not have a specific theme but that does not necessarily mean that these are straight-out-of-the-box jackets, coats or buffalo shoes, no, in fact, these garments are just as complex in their singular forms. A range of outfits from this collection have been created as single garments, such as a tailored jacket and pleated skirt or large oversized tops combined with skinny leggings. The 80s chintz, Scandinavian sweaters, floral dresses and suits that look like they belonged to our grandparents, parallel the unique uniform aesthetic Watanabe is going for with the menswear. The range of colours in the outfits is from distinct monochromes to neutrals and even neons, offering a refreshing outlook for an eccentrically cool vintage factor in womenswear that is all the rage.
A co-ed performance-based show, the film-set-like catwalk full of Meta influence, with the men's and women's collections separated only by a telenovela-style intermission with the live-action feature projecting in the background, this full Meta concept began with designer Humberto Leon bleaching his hair blonde as a starting point for this storytelling collection. A throwback to the late 90′s with floral motifs and film references, the collection utilises a slim silhouette. The lineup of vintage shimmery party dresses, camp-movie poster prints, layered animal-print sets, bold longline leather coats and skirts, trimmed elbow-length gloves, sequined clips and cheongsam satins, ultimately create this women's collection as a wonderland of a movie night out.
A/W '18 for Balmain is all about embracing the future. Holographic and futuristic, there are still traces of the house's heritage with 80′s disco influences trickling throughout the collection. Clearly, Olivier Rousteing has taken up the challenge of new materials, such as black PVC, and incorporated more complex designs of tailored sequin jackets and quilted high-shine trousers. Classics, such as denim, were still cleverly weaved in by reworking and exaggeration. Similarly, the iconic strong shoulders are also present, although oversized to keep up with the seasonal trend. All in all, the Balmain army was a mesmerising sight of iridescence, parading in their sci-fi uniforms and sporting accessories such as thigh-high leather boots, feather trimmed boots and thick leather belts. Despite the hardness of colour blocking that steals the show, the soft silhouettes created by the prismatic effects of fabrics and colours imitate a fluid movement with the help of ruffle detailing.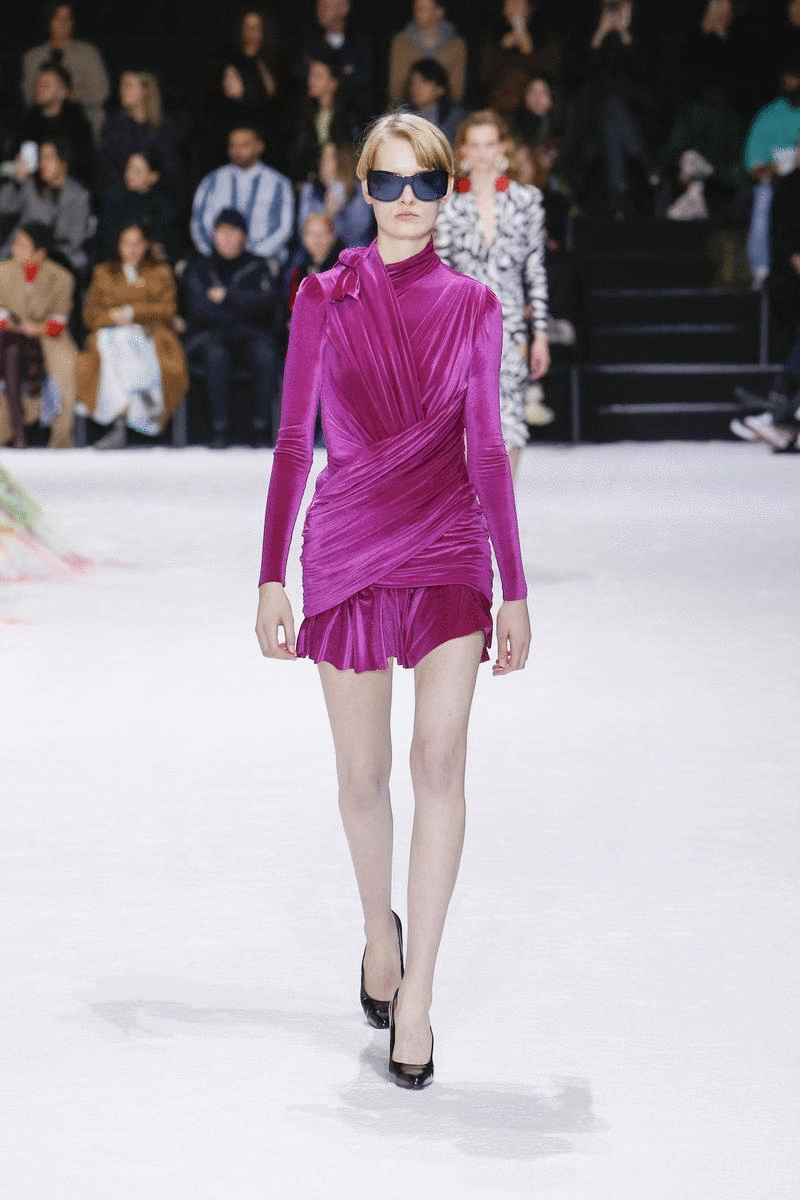 Balenciaga
Balenciaga's A/W '18 collection at PFW combined the brand's men's and women's wear on a single runway while focussing on two key house codes: tailoring and volume. With forward-thinking garments, Demna Gvasalia took wide silhouettes to another level. Layers upon layers in traditional fabrics such as tweed, wool or velvet, all boosted by bright shades and bold patterns, the runway showcased exactly what the brand is known for.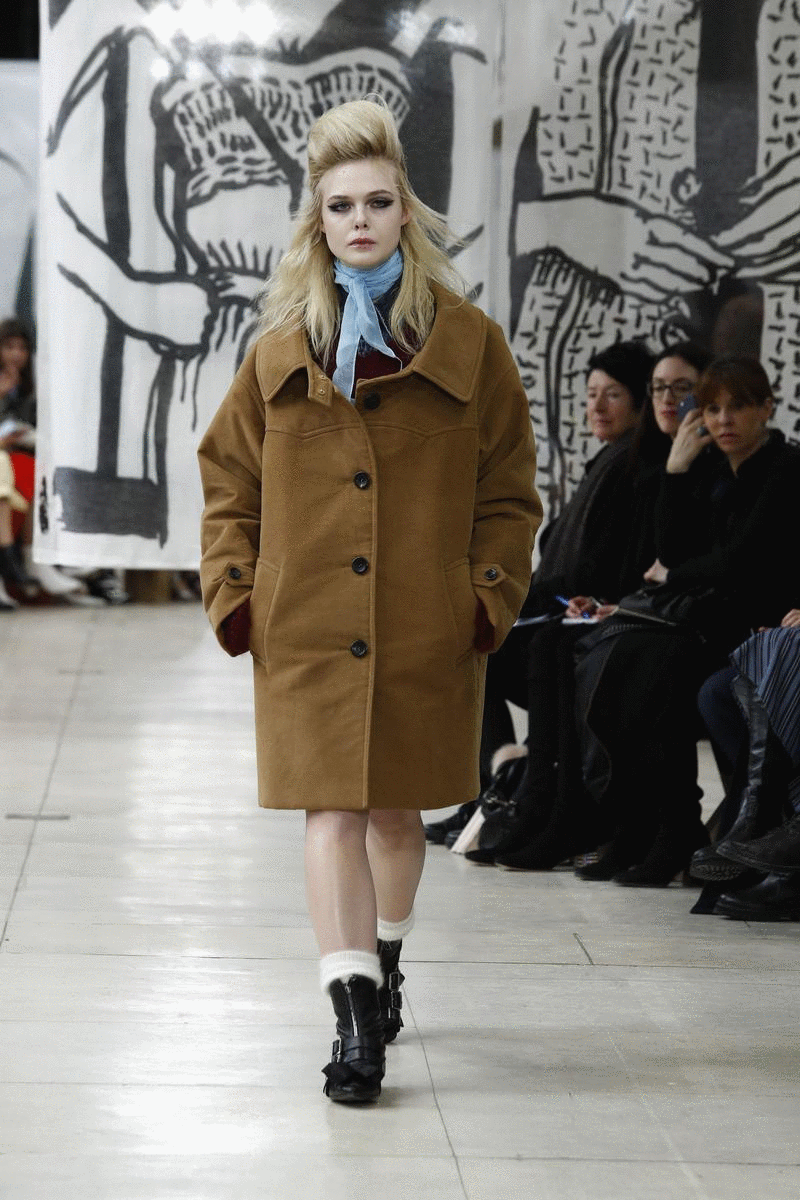 MIU MIU
Miu Miu's collection created a specifically crafted mood through their buckled belts and chain accessories, mohair sweaters and over-the-top hairdos. Combining bleached denim and houndstooth with pastel leather jackets and coats, the line channelled that of Karlheinz Weinberger who was best known for photographing teen 'rockers and greasers' from the 50′s and 60′s.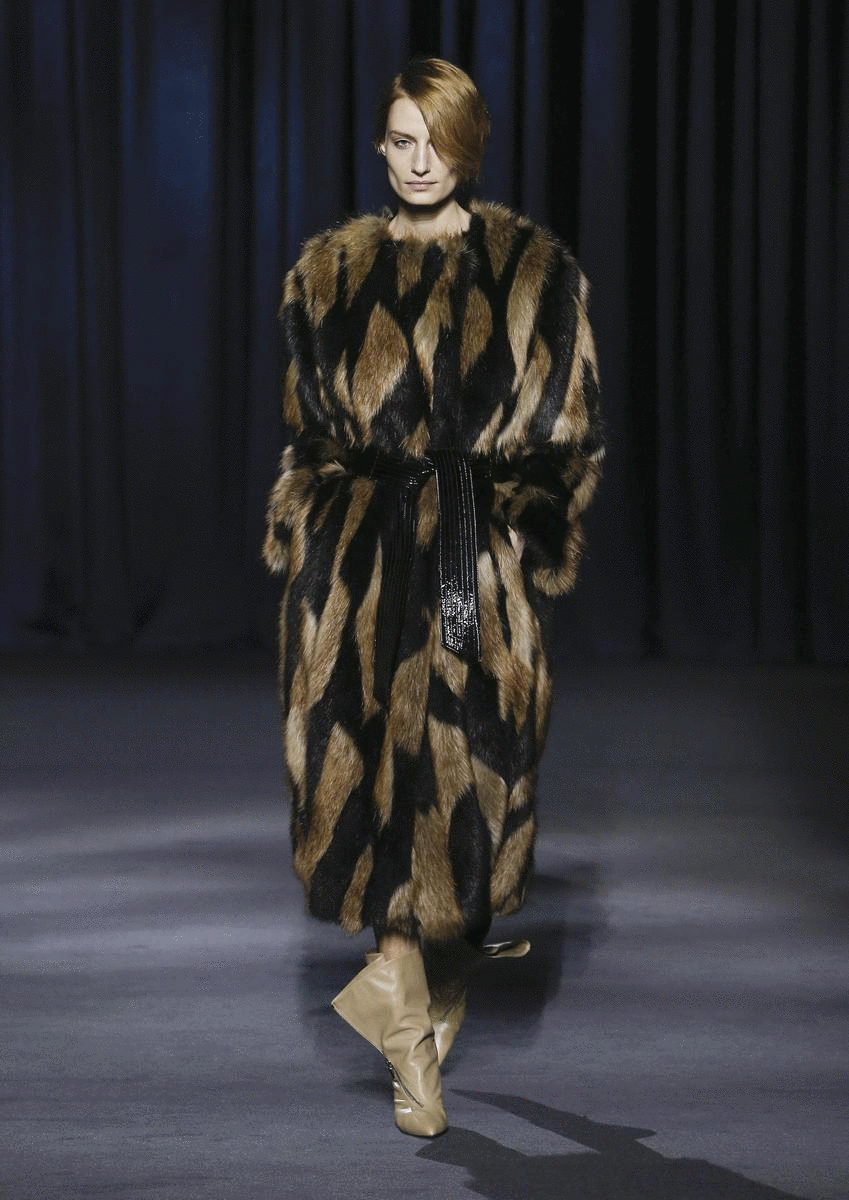 Clare Waight Keller's Givenchy A/W '18 ready-to-wear collection was set in the Palais de Justice. Decorated with thick velvet curtains in deep shades of blue, red, and purple to channel the atmosphere of 80′s Berlin at night and its famous fake glamour, there was tonnes of leather and fur everywhere and, of course, all of the furs were absolutely faux. However, Clare still made the collection very sophisticated with a blend of traditional design and modern materials. Silhouettes were extravagant, with wide shoulders and cinched waists, often paired with shiny leather pants. We could also easily see the designer's long-line tailoring in sharp leather coats and skin-tight lingerie dresses.
Images sliders 1,2,8,9,10 John Galliano, slides 3,4,5,6,7,11,12 Balmain