Two distinct styles dominated Owen's "Sisyphus" A/W '18 ready-to-wear collection: the oversized, imposing look and the ripped-up, shredded look. With these two different styles, he provided a contrast between raw and refined, between exposure and protection. The first portrayed vulnerability; the ripped and shredded detailing made it seem as if the garments had been aggressively ripped off. Meanwhile the others consisted of all-covering, heavy and ominous capes and overcoats without armholes. Limiting himself to dark and solid colours, mostly navy blues, beiges, browns, and light greys, Owens used the cut of his clothes to convey his chosen theme of Sisyphus or, more fundamentally, human futility and his own anger in response to modern fashion.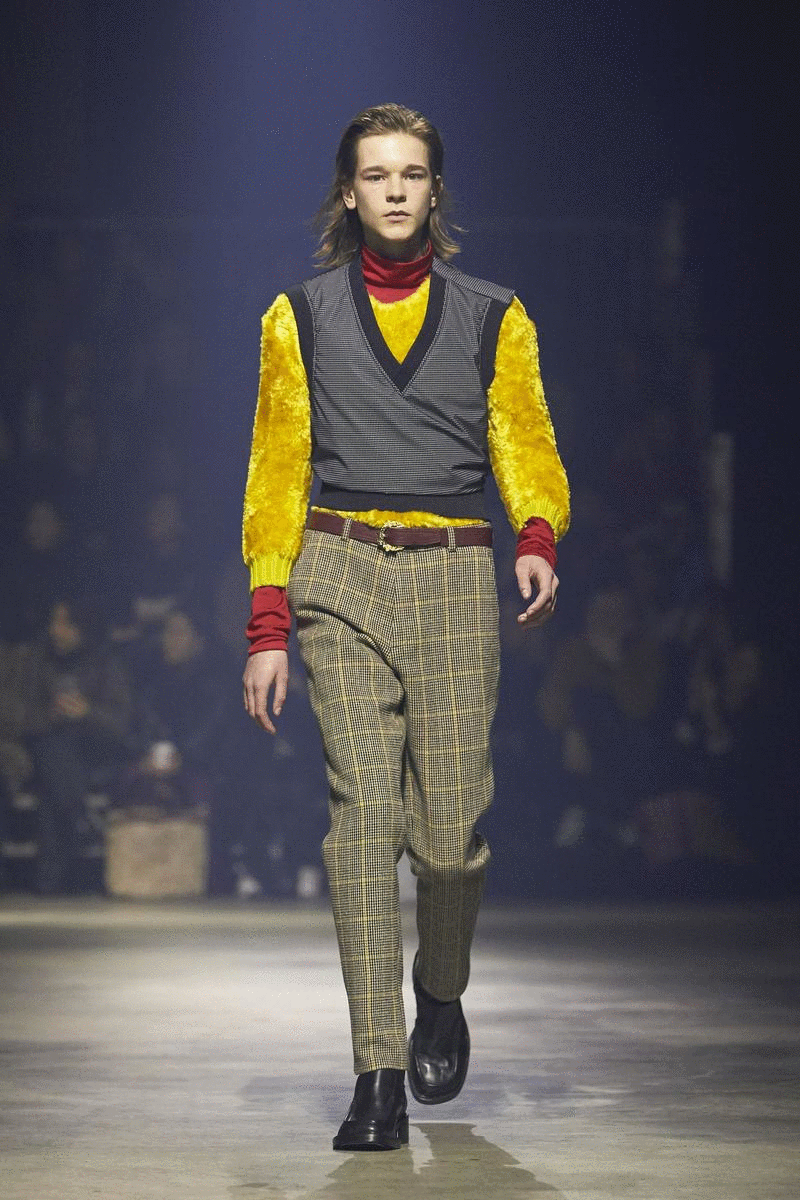 Kenzo
Carol Lim and Humberto Leon began with their usual storytelling approach for this collection. Approached with a leisure styling and a dandy look, the outfits consisted of suit trousers with checkered patterns, neutral greys and tans, or the bold palette of the complementary colour-pairings. Sleeveless sweaters, trench coats, leopard-print fur coats and sweaters made out of a fluffy fabric could all be seen here. The collection then progressed into clothes made out of shimmery fabrics, reflecting different colours depending on how the light fell on them, which gave a different dimension to the pieces. Distressed leather jackets resurfaced for a throwback moment. Overall, the collection was shown at the right place, as it draws heavily on 70's Paris men's fashion.
Mixing loungewear with formal accents such as pinstriped suit pants and dark ties, Virgil Abloh made his predictions concerning future business attire. Integrating his typical use of prints and labelled merch, the designer mixed loud and bright colours such as blood red and electric blue with duller and more professional ones such as grey and beige. Abloh went for an oversized and relaxed look with bulky overcoats and loose trainers created with lighter fabrics to aerate the looks.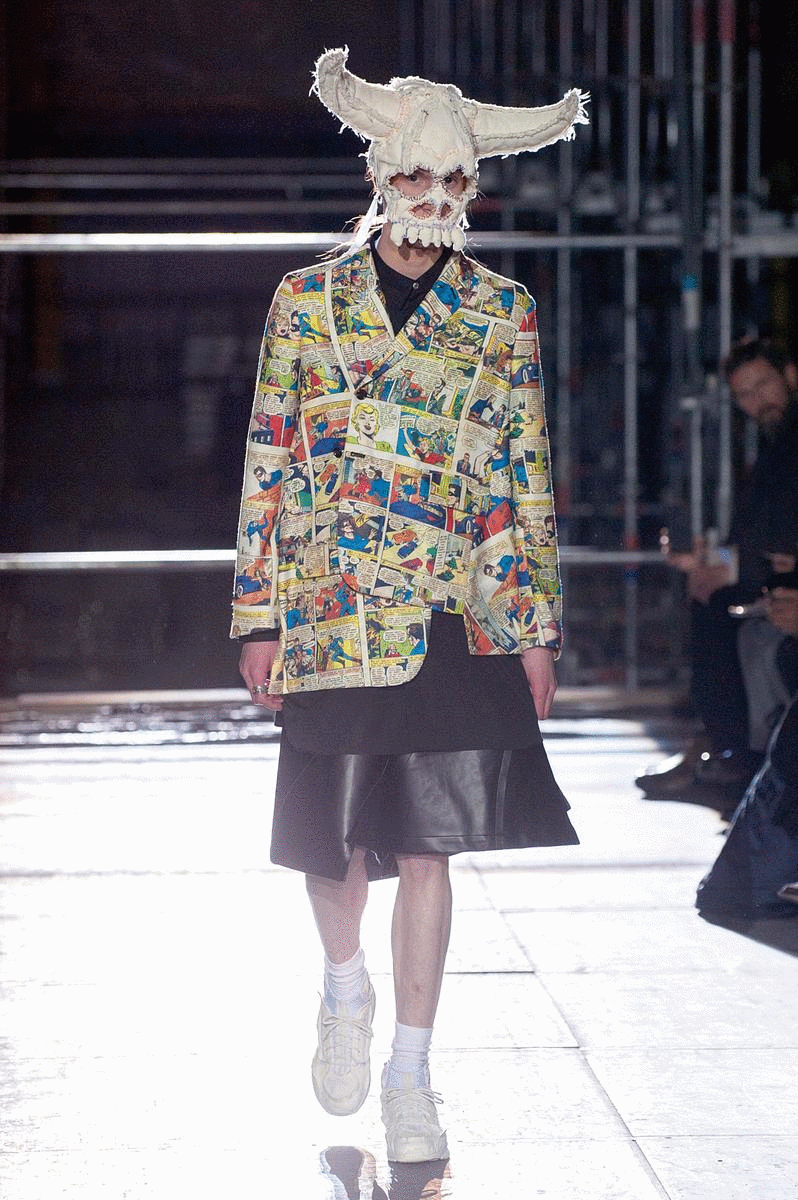 Comme des Garcons
Opening and closing her show by covering her model's faces with all-white dinosaur masks, Rei Kawakubo experimented with both the monochromatic colour-palettes and the overlapping of various prints. In fact, her looks were either completely white or full of complex and coloured patterns. The outfits were constructed out of tulle and other light fabrics to help create the airy and relaxed silhouette.
Walking down a runway lit by torches, Hermès' models presented a ready-to-wear collection of warm and homey hues such as burgundy, dark green, and deep brown. Put together with wool, cashmere, leather, and other soft materials, the looks, full of long flowy pants and tight sweaters, provided an elongated and chic silhouette.
For his first show at the fashion house, John Galliano put his own spin on the classic Margiela styles. As a basis and theme for his work, Galliano used the concept of 'Synergy', the interaction of two parts to create a greater and stronger whole, as his inspiration. From a long wool bright red overcoat to a completely shredded and all-white look, the collection featured a wide variety of colours, fabrics and styles. Tending towards the unconventional, his models' eyes were defined by pink eyeshadow for a bloodshot look, and most donned tight hats similar to those of World War II fighter pilots. The silhouette, on the other hand, varied dramatically, from long and wide to slimmer ones that emphasised the hourglass figures and waistlines.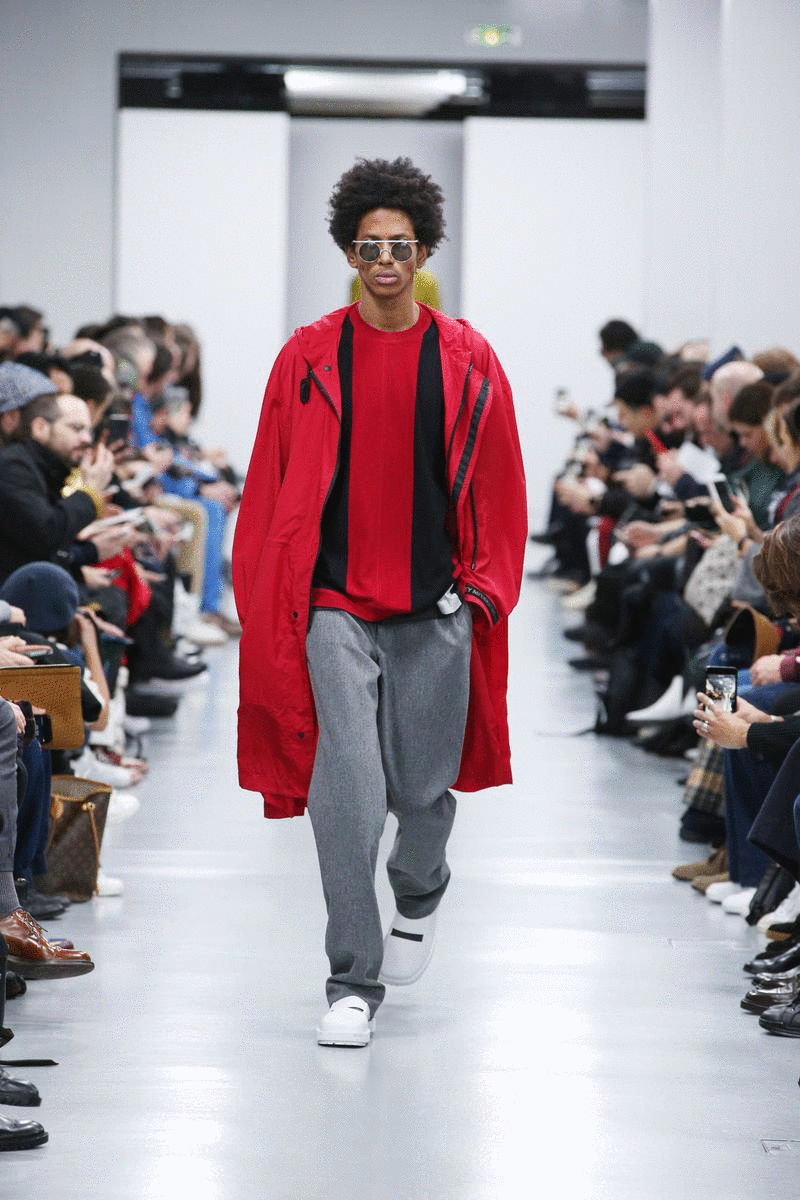 Issey Miyake
For the A/W '18 Issey Miyake men's ready-to-wear collection, Yusuke Takahashi decided to experiment with different fabric techniques so as to test the waters of the relationship between purpose and endurance. These techniques included the mixing of fabrics such as wool with cotton, and leather with wool or cashmere, and the collective use of double-faced garments and outfits. His colour-palette was varied but concentrated itself mostly around forest greens, cobalt blues, blood reds, and plum purples. Puffer and bomber jackets were very common among these looks, along with colour block pockets. The silhouette created from these looks was slick and relaxed, heightened by the models' circular eyewear and oversized bags.
 
Titled 'Gangbang', this collection focused on fetishism and recreational sex, and the freedom that comes with it. The silhouettes were predominantly boxy, and cartoon-like elements could be seen in the cube-like shearling coats, pinned sleeves, deconstructed leggings and black leather jackets with lapels, layered atop of multicoloured bodysuits. Unconventional shapes demonstrated Beirendonck's mastery. The technical wear with PVC shine, nipple-exposing holes, quilted trousers, embroideries on overcoats, pig mask headwear and models strutting down the catwalk in wellington boots, were all part of the eye-opening and stimulating experience of this Beirdonck lineup.
Starting off with predominantly dark looks, characterised by wide pants, long overcoats, chained suspenders, and black boots, Yamamoto presented a collection full of variety and left his audience wanting more. Following his all-black outfits he slowly began to integrate colour by including hints of embroidery which altered the texture of the jackets.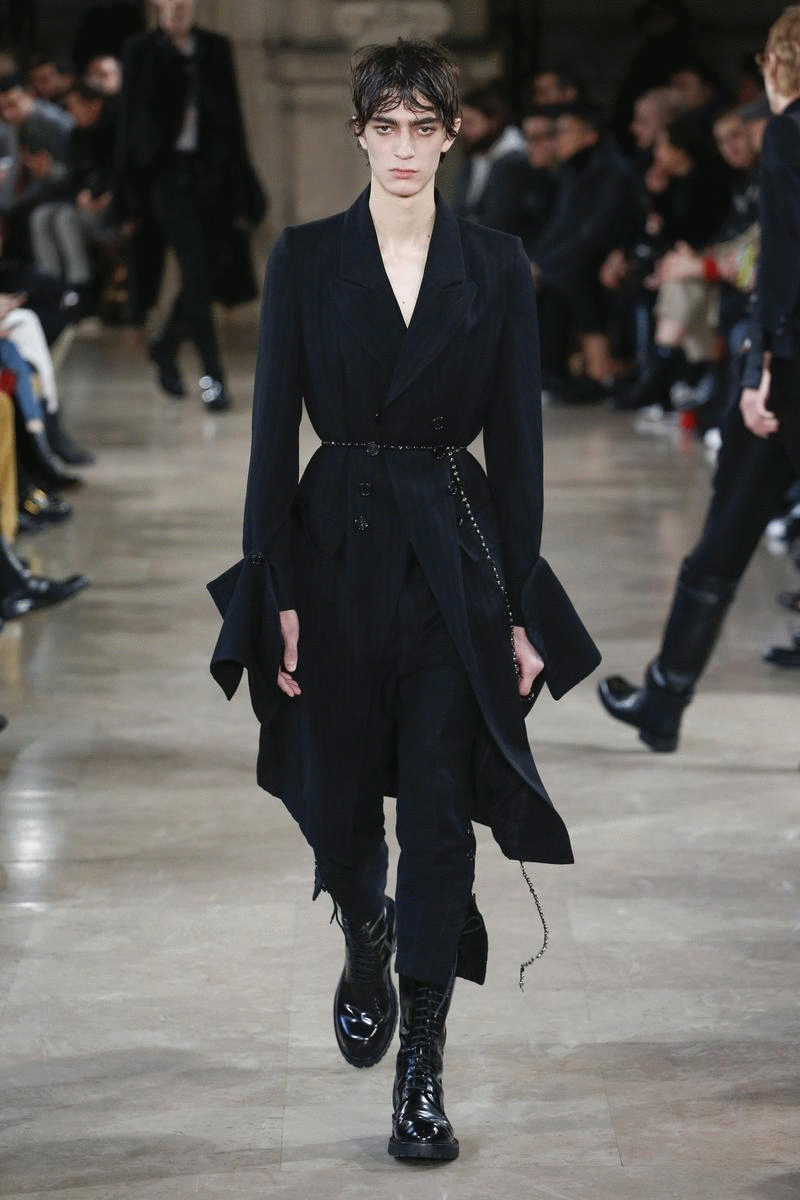 Ann Demeulemeester
Poetry was always the key source of inspiration and influence for this brand, and its lyrical notes were certainly detectable in this collection too. To express the work of William Blake through clothes, Sebastien Meunier created a collection that was sensitive, Romantic and almost intimate. Combining historical silhouettes with the more feminine styling and a certain creative mood resulted in flared cuffs, accentuated waists and flowy Victorian shirts. Although there were elements of defined tailoring, these were paired with the looseness of fabrics in a very dark colour palette.
 Julian Zingerli
With a flair of femininity, this men's collection had an androgynous look to it, with long flowy pieces in different prints and fabrics, paired with black leather combat boots. At the same time it also mixed tailoring with a more street styling.
Junya Watanabe's utilitarian style made it seem as if his models had just stepped off the streets where they worked as firemen, construction workers, and policemen. Working with the idea of convenience and keeping the traditionally male mentality in mind, Watanabe brought utilitarian style to a whole new level, inserting reflective strips directly onto his designs, adding spacious pockets and creating bags that could be turned inside out and even into windbreakers. Sticking to darker blues, greens, and black, Watanabe used these particular features of his garments to speak to his audience. All looks were tailored to fit street style too, accompanied either by backpacks or baseball caps. The silhouette began wider at the top and slimmed down as it met the legs, an effect achieved by large overcoats and tight trousers.
For his last show as creative director at Louis Vuitton, Kim Jones presented a collection focused on the outdoors and travel. Taking inspiration from images from his past travels, Jones created prints resembling the colours and textures of the aerial landscape of Kenya. Neon green and orange fabrics were used to highlight certain features of the predominantly darker blue and purple palette looks. Many looks included tight leggings printed with the Louis Vuitton trademark logo along with sturdy hiking boots. Collectively, the looks, full of furs, knits and leathers, put together with the simple slicked-back look of the models, gave Kim Jones a final product to be proud of.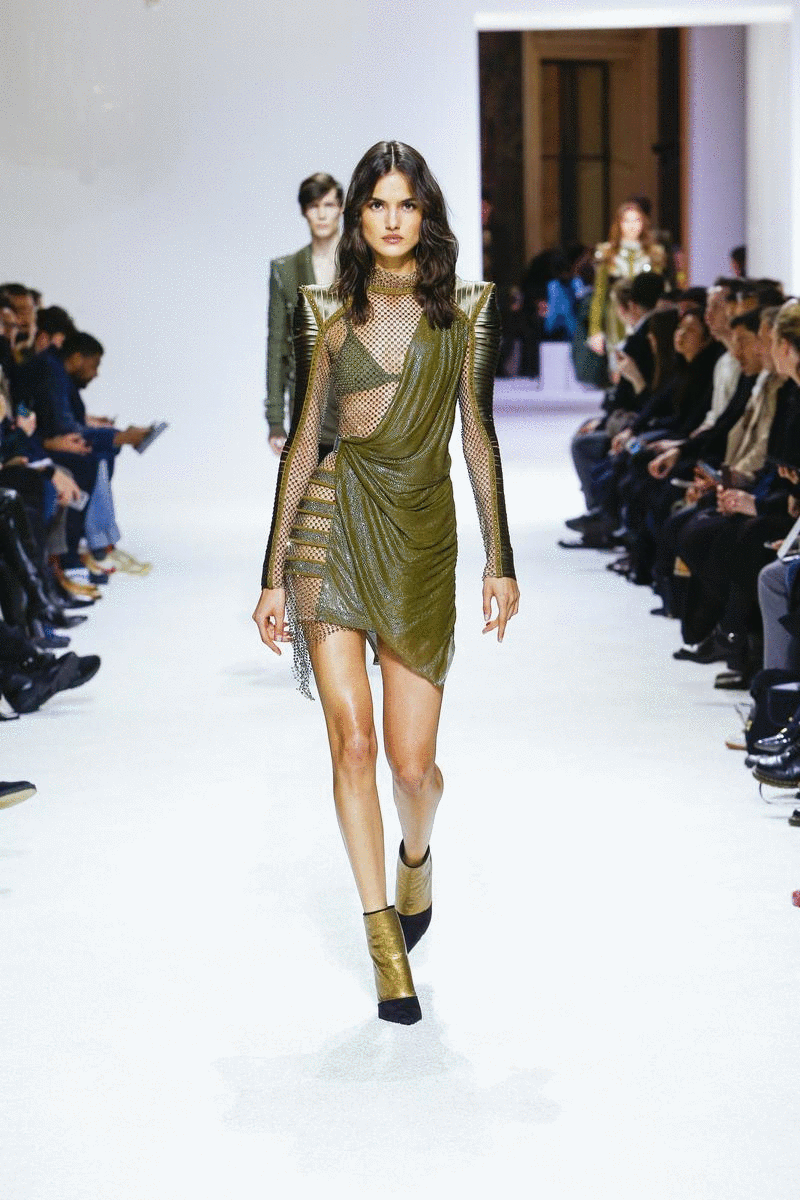 Balmain Homme
Abundant in signature beading, sequins, and embroidery, Balmain presented a collection of rugged yet sophisticated styling and technicality. Realised with lots of PVC, latex, leather, and lurex, the collection displayed a view of modern fashion as a revolution rather than an evolution. Silhouettes were kept mostly narrow and long, with major emphasis put on the waistlines by the addition of bulky belts and cinched waists. All looks were completed with dark and pointed vampy ankle boots.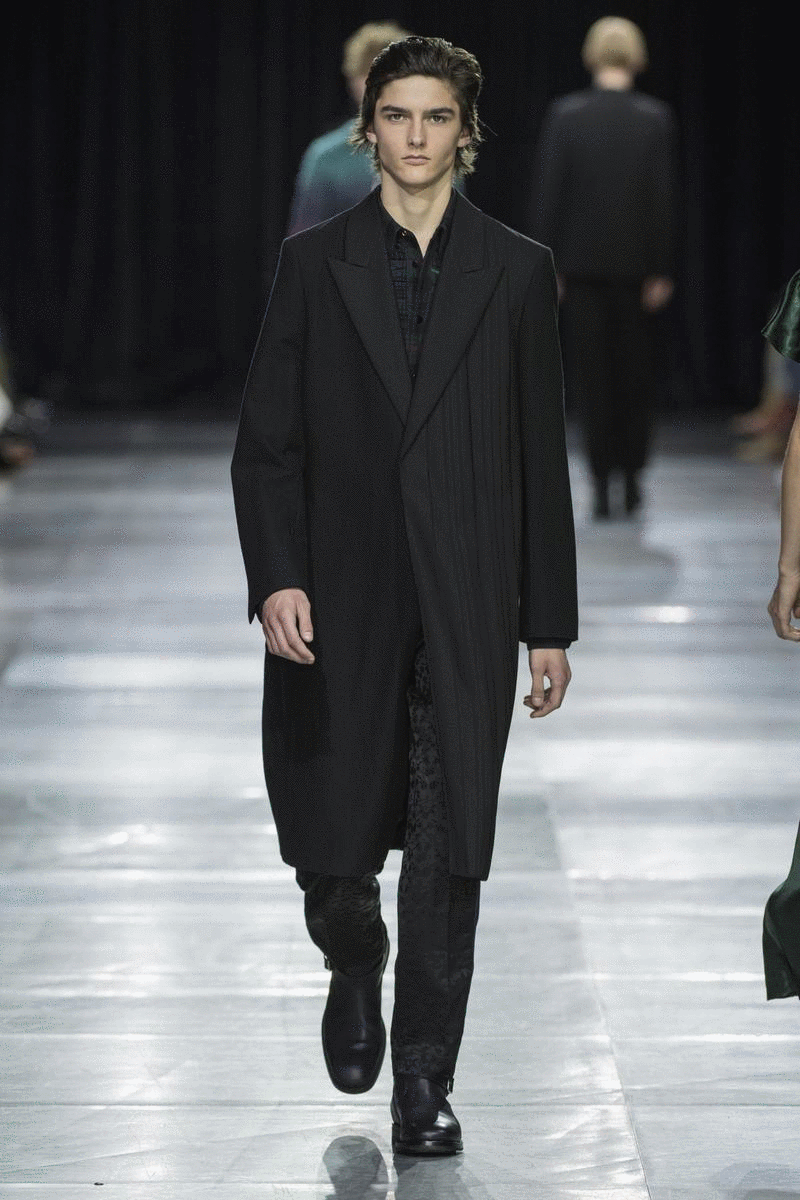 Paul Smith
Confining himself to a cooler colour-palette, Paul Smith presented a menswear collection inspired by his well-known love of suits. Playing with tailoring and fabrics such as tartan, mohair, and velvet, he was able to produce a line of clothes that were all completely original and irresistible. Sticking to the classic menswear theme, each outfit was polished off with shiny dress shoes or boots.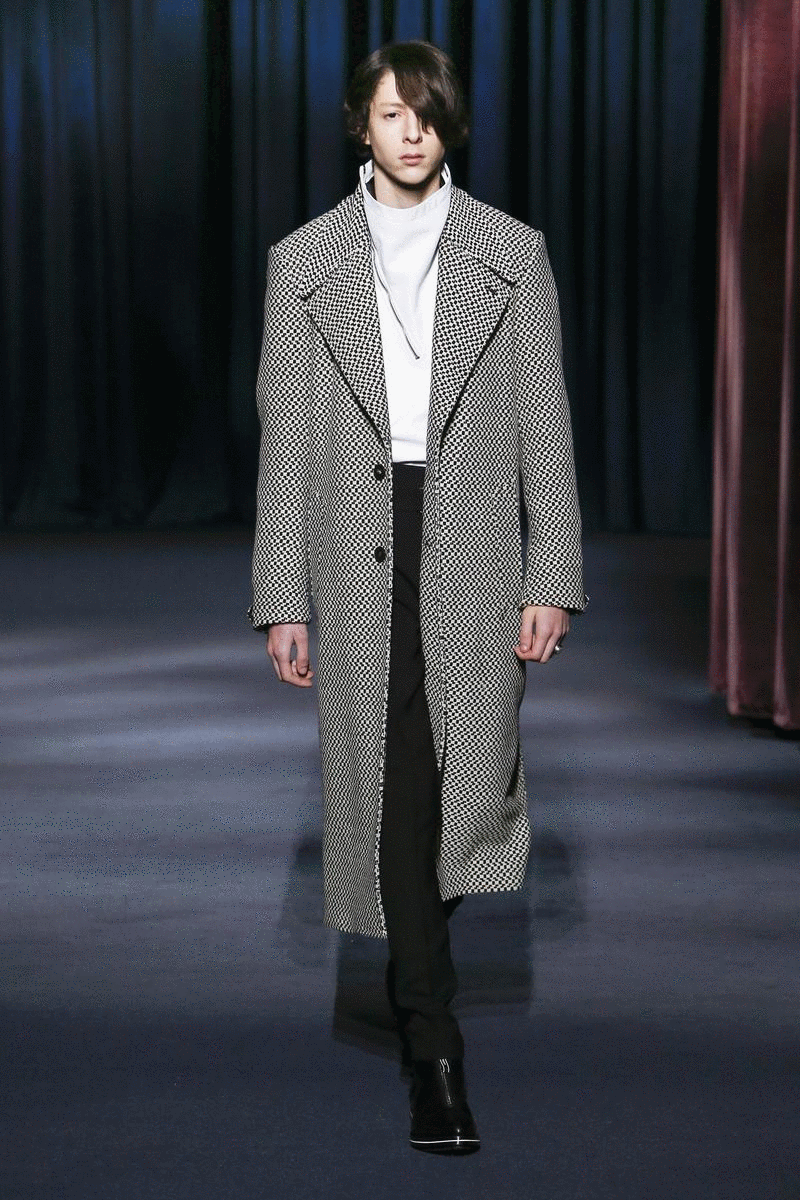 Givenchy
Long checkered coats, faux furs and dress pants. Dark and edgy, Givenchy's men's collection can be described with these words. With pure white pieces to delineate the shapes, everything was perfectly tailored and carefully styled to fit the contemporary man's style choices. With combinations of different fabric textures and draping effects, the looks gained another dimension.
Image sliders 1,6,8 Louis Vuitton, slides 2,9 Kenzo, slides 3,11 Yohji Yamamoto, slide 4 Paul Smith, slides 5,10 Balmain