We are fascinated, inspired and entertained by all types of clowns. We have a little story on the history of why clowns went from funny to scary and also some insight from Matty Faint from the amazing clown museum in Hackney East London below. PE
Clowns are very ying and yang, funny and sad at the same time but in the fairly recent history they have also become a source of fear.
They have become ingrained into nightmares due to their appearance in many horror movies and novels. But how did clowns, whose original purpose was to spread laughter, turn out to haunt so many people's dreams?
The history of clowns begins in Egypt as early as 5000 years ago where the first entertainers, known as today's clowns, imitated different Egyptian Gods to entertain the court. Entertainers with similar roles made their appearances in Ancient China and Greece too.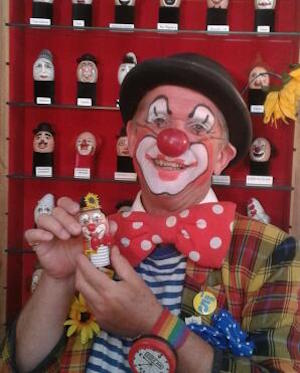 However, the profession of the clown fully blossomed in Italy between the 16th and 18th century when Commedia dell' Arte, (roughly translated in English to comedy of the profession), took over the streets where artists presented different performances to everyday folk.
It became an immediate theatrical movement through the absence of talking, the use of over-exaggerated movements and well-known characters who appeared in every performance. The use of face make up has begun at this point too. This is when the role of the clown, known at the time as the Arlecchino or Pierrot, became really popular as a character of comedy.
The profession of the clown grew more well-known in the 1800s due to the popularity of two clowns; Joseph Grimaldi and Jean-Gaspard Deburau.
Joseph Grimaldi, born in the Clerkenwell area of London from Italian parentage who came from the 
performance tradition. He became known for inventing the modern clown. He performed physical comedy while having his face painted white with red cheeks and adorned colorful costumes. Jean-Gaspard Deburau was the performer who came up with the silent meme in France, which we would now recognise as a mime. However, his career was cut short in 1836, when he killed a boy with his cane after the boy taunted him. This incident was not enough to change the funny perception of clowns – just yet. As the 19th century came about, the clown became integrated in circus and TV as a piece of comic relief via comedy acts and dangerous stunts.
The most popular examples to this trend of the 1950s-60s were "Bozo the Clown" who had his own TV program and Dodo the Clown in the 1953 film "The Clown."
An unexpected event turned the friendly funny clown into something a little bit more sinister. In the 1970s John Wayne Gacy, also known by his clown name Pogo, was found to have assaulted and killed more than 35 young men in Chicago. When he admitted all his crimes, it was reported that his last words were, "You know… clowns can get away with murder," before receiving the death sentence. 
Those words had a huge impact on the public and became the catalyst that led to a movement of fear amongst some adults, as well as children and therefore transformed clowns from, for some, entertainers to objects of nightmares.
Many authors and directors became inspired in the '80s by "Coulrophobia,", the fear of clowns, and started to create thrilling novels and movies that would spread fear to the audience. The first one to write a novel with a scary clown protagonist was Stephen King in 1986 with his novel "It," where a clown possessed by a demon went around murdering children. After the big success of "It," many novels and movies followed suit, such as "Saw," "Clown House" and "Clown."
Clowns were initially a source of laughter and happiness for the masses but during the 19th century they transformed in some people's eyes into objects of nightmares for both children and adults.
2018 sees the 250 year anniversary of the Clown in British society. Circus 250 will be celebrating this with tours across the UK for more information go to http://circus250.com/.
Mattie Faint, a curator and Co Director at The Clowns' Gallery, spoke to us about some of the history and importance of clowns and tells us a bit about his job.
I think the most important British clown in history was Joseph Grimaldi. Born in 1778 and passed away in 1837. He was a budding actor and funny-man, 
 who first took the role of a clown in "Harlequin and Mother Goose" in 1806 at Saddlers Well Theatre. He brought a roguish, naughty and cheeky character to any situation; he was everyone's friend. He changed the path of our pantomimes with his new style of clowning. He is known as the father of the British clown.
In terms of make-up, the clown's make-up shows off his character from a distance, as bright as his costume. It follows the half masks worn by the Commedia dell'arte, but is much more immediate and personal. The idea of tears of a clown is a sentiment we are all familiar with, because the clown is always in the wrong, down trodden, often vulnerable and so… to be laughed at.
As for now, I have worked for over 30 years with The Clowns' Gallery Museum as its curator and Co Director. We work from our small museum at the back of the Clowns Church, Holy Trinity in Dalston, London E8. We hold a large archive of photos, pictures and books along with costumes and the Clown egg register. This is a museum full of clowning history. It is open on the first Friday of each month, 12 to 5pm, or by appointment.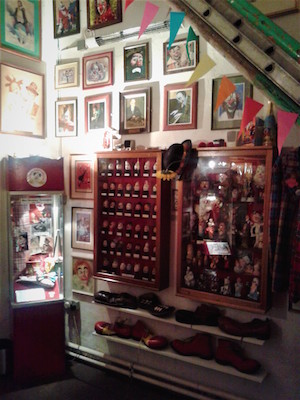 Laughter is the most important emotion we have… and it's free!​​ Which is why the clown is so perpetually appealing. Clowns are the catalyst to that laughter. Charlie Chaplin once said: "a day without laughter is a day wasted."
There are a  UK-wide celebrations for 250 years of circus in 2018 
clownsgallery.co.uk