We visited an exhibition of Dzhangal at Autograph ABP Gallery last year. The work sends a powerful political message by working on different levels, huge striking photographs alongside installation of the actual abandoned possessions that were found at the cleared Calais Jungle. PE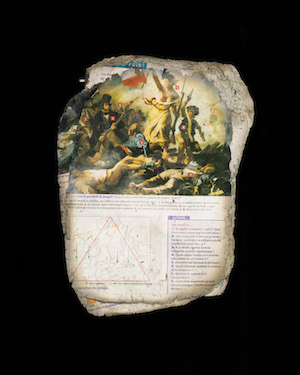 Book from Dzhangal by Gideon Mendel
Contemporary Photographer Gideon Mendel's career began to excel by taking photographs against the stigma of AID's/HIV shot in a Ward in 1993.  Mendel was born in Johannesburg in 1958 and studied Psychology and African History at the University of Cape Town. In the 1980s he began his career in photography and his work 'struggle photographer' brought him a lot of attention. His 1990's move to London gave him the ability to further respond to global and social issues and more insight, travelling to Africa and other countries from there and creating projects and books that expand on broad ideas and inform the public of publicly neglected issues.
Since then his photographs and ideologies have sparked thought and emotions from the large variety of spectators that have viewed and enjoyed his work. Making images of real world-happenings come alive, he has managed to create an
environment of intrigue and realism to form hard-hitting messages to express needs in the world through his photographs.
The International recognition that has found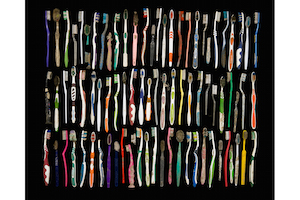 Toothbrushes from Dzhangal by Gideon Mendel
Mendel comes from his intimate style of image making and long-term, emotional commitment to projects, earning him multiple awards including the Pollock Prize for Creativity.In contrast to his photography of people and the worldly problems that are made very clear, his book 'Dzhanagal', published by GOST in January 2017, explores photographs of 'alternative portraits', made up of items from residents of the Jungle refugee camp in Calais.  Portraying these present problems in a less overt manner yet still evoking emotion and  empathy from the spectator.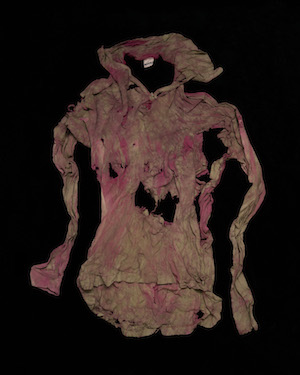 Burnt Pink Shirt from Dzhangal Gideon Mendel
Mendel named the book 'Dzhanagal' as in the Pashtun language, it means "this is the forest", and what "The Jungle" was home to between 7,000 and 10,000 people, all hoping to cross the English Channel, illegally and claim asylum in the UK. Mendel tells the story of the refugees in a document style, of discarded items such as toothbrushes, children's dolls, teargas canisters and more, questioning whether photographs of the people it was more exploitative than helpful. By taking photographs of what these people had owned or had been discarded at the site, Mendel still captures the essence of the camp without exposing any people in it. With over forty images, this book evokes emotion and instils the idea of humanity amongst groups of people that had been discarded or vilified by the media, hoping to make a statement and create awareness through his documentation.
Documenting ripped clothing, tampon applicators, torn out book pages and muddy shoes and gloves informs the viewer of what was going on, from a perspective of an insider. Whilst these images give hints of the lifestyle, they also show a lack of resources, those of which we would consider basic needs. His images display aspects of violence and, unnecessary and undeserved  punishment that seem almost unimaginable, but that's what is in the magic of Mendel's work, the way he views things and portrays them.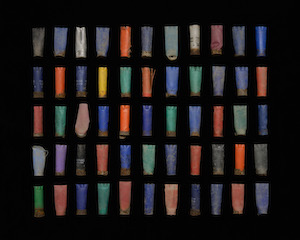 Shotgun Group from Dzhangal by Gideon Mendel
Not only does this work show the lifestyles of the people who were living in the Jungle in Calais, and just how ignored they were that the circumstances of how they lived were deemed acceptable,  but also makes you wonder how the media and the public just let it go.
Mendel's work shows a sense of compassion and thought from the photographer, as well as his intrigue and empathy, wanting to the show the world what he had seen in a startling manner, more startling then the images in the media as these photographs are raw and co-ordinated to be so.
"I hope that these images, as alternative portraits of the "Jungle" residents, will portray the residents humanity, and also stand in for the plight of displaced people everywhere".
Instagram: gideonmendel