SELF PORTRAIT

Self Portrait opened its show with it's well-known black and white options. Han Chong, the genius behind the line displayed a matured style an evolution similar to that of sweet-girl to strong-urban woman. Famous for his understanding of prints and textures, Chong delivered once again. He layered skin-tight Lurex-striped knitwear under midi dresses and off-the-shoulder frocks. It shows an in-depth understanding of the current desire to wear several layers with different patterns. Backstage, Chong talked about the streamlining of his silhouettes saying, "It's a bit more tailoring this season, but with a Self-Portrait twist. It's still fun but I wanted to have those pieces which are a bit more classy.". There was a gingham motif throughout the collection, accompanied by fine-knit, crocheting, graphic patchwork and lace trimmings.
COACH

Psychedelic would be the all encompassing word to describe the COACH AW19 collection. Creative director Stuart Vevers inspired by the east coast, collaborates with the American textile designer and artist Kaffe Fassett. Fassett's most well-known for his psychedelic, colour infused artwork which feature on many of the garments and accessories showcased in the new collection. The result is a celebration of colour. Vevers spoke of their collaboration backstage, "How sometimes that relinquishing of control can really open [you] up to a more heightened and enhanced relationship with colour, nature and emotion. Kaffe [Fassett] often talks about the power of colour to change our lives, so I wanted to translate that into dressing." The key themes of opposing aesthetics, blurring the line between feminine and masculine by combining delicate, floral dresses and boxed shearling coats featuring the new faux fur. COACH went fur free for this fall collection and has pledged to continue.

RALPH LAUREN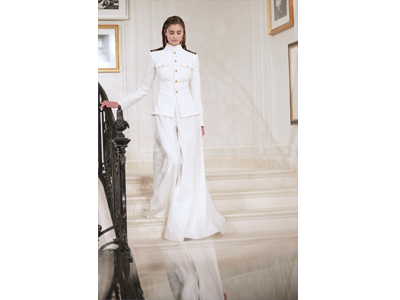 Situated in a grand café, the show was in a more casual setting than we are used to for Ralph Lauren. The clothes maintained the balance between figure hugging and an oversized look. Gold was a strong theme running throughout the show, brings the ever day woman out of their fashion shell. A ready to wear collection, maintaining the ethos that Ralph Lauren has for a fashion forward, powerful woman however with a twist. There was pressure leading up to the show due to last year's 50th anniversary runway, however they pulled out the bag with an array of models including Taylor Hill and Bella Hadid. I think it is fair to say we were not let down by this collection.
TOM FORD

Tom Ford revealed his fashion language and paid less attention to the present fashion whimsical. He opened the show with some relaxed satin trousers with silk blouses and velvet blazers. All in different color palettes of purples and soft powder pinks. These clothes were embellished with slinky jersey, the fine gauge hoodie, sparky island platform and the gowns were elevated with chunky chain link straps. As these things are client friendly and what they would want to wear weather it fashion updated or not.
PHILLIP LIM

Phillip Lim showcased a minimalistic collection like uniform outfits with some funkiness to it. Outfits like skirts and suiting's, cargo pants and tunic tops showed utility. Some of the elements were added to elevate the whole look of these outfits like bishop sleeves, sharp shoulders. Fabric used are very fundamental and basic not very fashionable and their color palette was all about khaki, navy, creams and greys. Zebra stripes and forest green hints were used to create a sense of glamour.
JEREMY SCOTT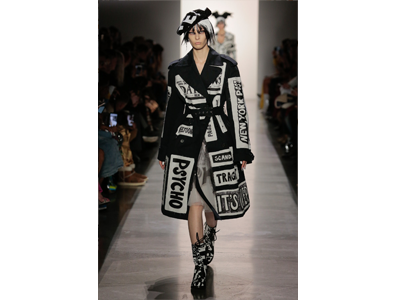 Jeremy Scott hit the catwalk collection with words printed all over like panic, scandal, psycho, runaway teens bizarre story. Scott revealed false filth through outfits layered in clear plastic, nodding at the filtrages created by social media. The main focus was to break the culture of untruths. These graphics were interpreted by Aleksandra Mir, who hand drew them before plastering them all over the collection as a contrast to all that filth. The colours used were all bold in black and white to convey a strong message.
THE ROW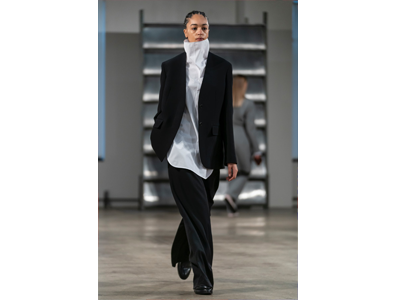 Mary-Kate and Ashley are hardly new to the fashion industry and their Fall collection boasts experience. Despite the twins' refusal to give pre- or post-show interviews, it's clear that they've had influence over so many labels at all levels with their talent for minimalism. Taking their usual minimalistic approach when it came to details, colour and fabric; it was the waistline silhouette that truly impressed. There was great contrast for the elongated jackets and coats, the nipping of the waist line relieving the voluminous numbers. A cream fleece snuggie worn over black pants as well as a  poncho-dress with side snaps over a funnel-necked blouse and billowing black pants exhibited an elite style of lounge-wear reserved for the crème de la crème in our society.
MARC JACOBS

In an intimate and tender show was orchestrated by the timeless Marc Jacobs. His collection was a homage to previous shows, playing on familiarity with Christy Turlington closing the show wearing an off-the-shoulder jet black frock embroidered all over with glossy feathers. Turlington had last walked the runway in the nineties, most famously for Jacobs' 1992 grunge show. His usual repertoire of cloth coats and capes, crewnecks, A-line skirts and pantsuits were taken to new extremes. Even the models wore hats designed by Stephen Jones to enhance their stature. A smaller than usual show gave the sense of an almost secretive display as each model came down the runway through the spotlit dark in slow procession, one by one. Luxe cashmere and wools, sequins, organza florals, constructed into exquisite dresses. The fabrics boasted of the highest of luxury, even Stephen Jones' knitted grunge beanies had an air of elegance. Truly Marc Jacobs, daring and wonderful in every way.
PRABAL GURUNG



He has achieved a lot of success in a very less time. Master at draping and also known for making clothes which speaks for them. His latest collection is inspired by his hometown Nepal, where he dressed the bride and most of the party. The trip to Nepal gave him his motifs for 2019.the comparison of 70′s and 80′s came together in a gray pinstriped blazer worn with hot pink brocade cargo pants that was woven in Varanasi. The collection showed a terrific ikat print dress with sari drapping; whole series of pieces made from that colorful Varanasi brocade; and tulle and velvet party clothes alight with hand-painted metallic ombré illustrations of the Taj Mahal. Elizabeth's sparkling halter top and trousers would be a perfect kick to wear. Gurung also added YSL and Lacroixisms to his collections since these two are the designers he idolizes.
JASON WU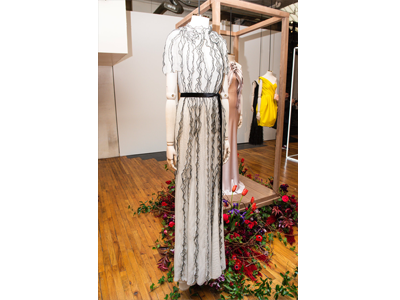 Jason WU is back with a bang after a year away from the runway. His entire collection of 18 dresses is hyper feminine, delicate and minimal in spirit. Unsurprisingly his work has blown away the spectators. His collection also showcased rose centric clothing constructed cocktail dresses, overlapping flower petals; he has played differently with his outfits like strapless neckline of the red dress with frayed ruffles, black on white flocked velvet gown with biased chiffon stripes on it. Except an 80′s party dress which had a bow at the hip.
NICKY ZIMMERMAN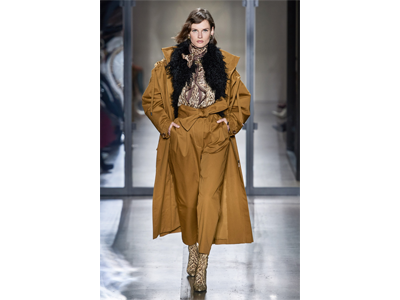 Nancy Wake, an Australian spy that assisted in the resistance movement in France during the Second World War, contributed to Zimmermann's inspiration on her new collection. Zimmermann revamped what she imagined as Wake's wardrobe to the modern setting. The chosen palette incorporated warmer and earthy tones of colour. Prints, asymmetric frills and bows, lace, satin and fills were salient to the outfits that were tailored from comfortable materials like chiffon and flexible leather. The collection included long dresses, big jackets with multiple pockets, high-waisted trousers, and jumpsuits, accentuated with thick belts atop the dresses, big bows and pleated boots. The models strutted down a simple runway, with large glass panes aligned geometrically to form pretentious wall. The make-up was kept natural and dewy, their outfits complimented by thick necklaces, berets or large earrings.
Image 1 self Portrait, Image 2 Alice and Olivia (Billy Farrell)