Perfectly exemplifying Nomadic garments, this eclectic collection evoked a certain transiency, and yet it was a pretty patchwork of different materials and patterns purposefully selected. There was a clashing of fabrics, textures and colours in the mix of cowhide and yarn wool, chocolate floral prints and pastels with vibrant colour-blocking. A couple of camel-hued coats offset the discord with some chic. The collection was still skilfully haphazard with uneven floor-length hems and turtlenecks which elongated the silhouettes and were then further enhanced with vertical stripes and rib knits. However, it was all very much intentional in its creased and pleated looks on asymmetric boxy blazers and baby-doll dresses, with seashell charm necklaces adorning the outfits. All these unlikely combinations, which were strange yet familiar at the same time, were an ode to displacement, where the accumulation of travel transforms humble, underappreciated things into things to be cherished.
Femininity ruled, power oozing out of every outfit. Lace next to leather next to thigh-high boots. Black with baby blue, lilac, pink and white mixed female independence with gracefulness. The lineup consisted of tailored suits, fitted dresses and summery dresses that gave the impression of a summer breeze. Sheer dresses with floral prints could also be found here, together with metallic bodysuits in gold and shiny floral-printed silver. The closing pieces, which were skirts and dresses, looked almost architectural in their structures and added a totally different dimension to the collection.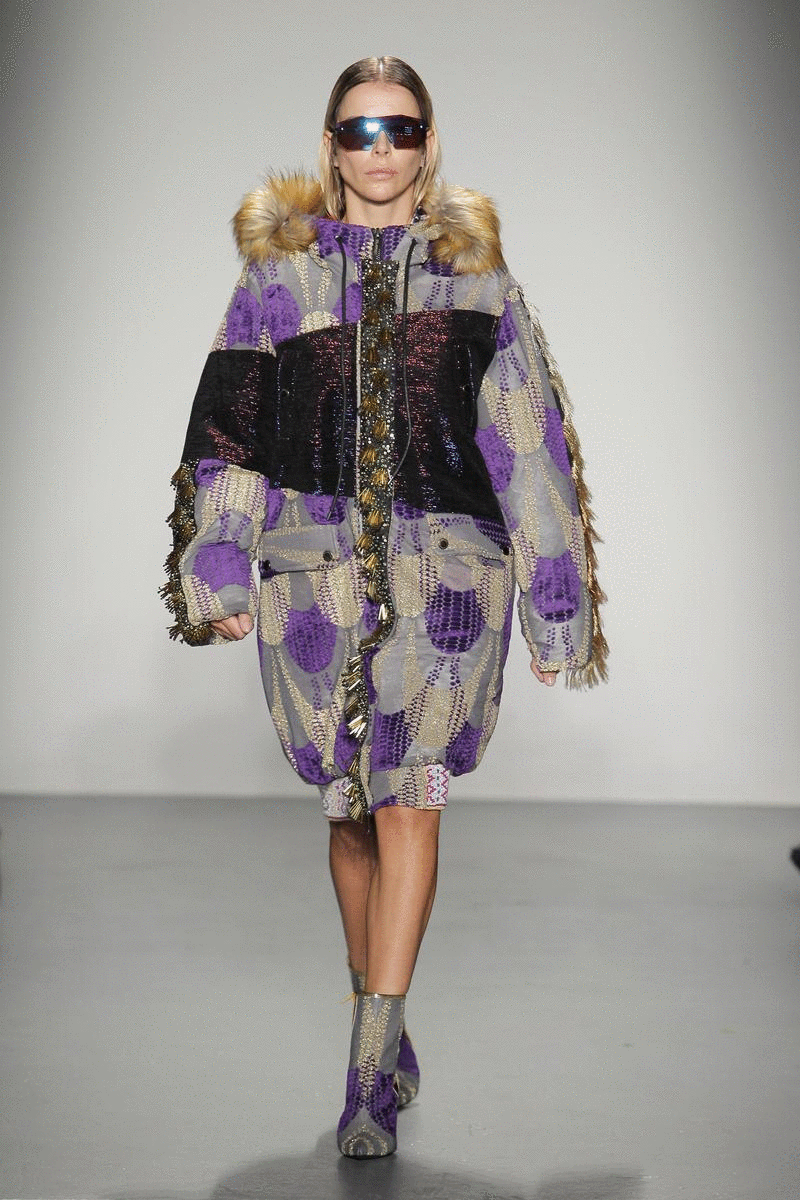 Custo Barcelona
Skin, embellishments, patterns, an East-meets-West motif and dramatic underwear. The somewhat overwhelming clash of textures and colours with slinky dresses, flesh-baring slitted dresses, black gowns, transparent, futuristic-look mesh, neon camouflage, sweaters with swan embroidery, loose bronze trousers, fringe and feathered pencil skirts with printed tops and puffer coats, not to mention the sequined patchwork, all came together to form layered ensembles of winter weather staples.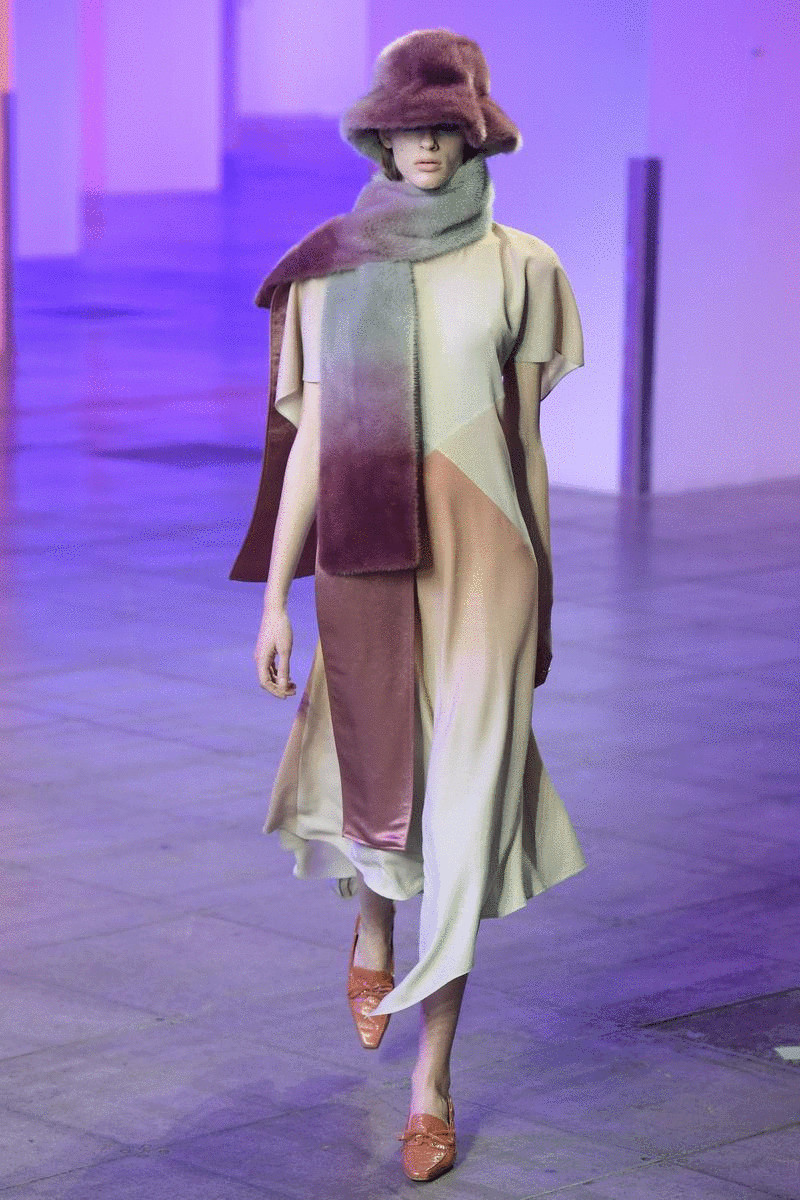 Sies Marjan 14

The silhouettes were fluid and the colours were blended in an ombre of sage green, teal, peach, blue and brown. In this showcase, everything was soft, from satin drapes and swirls to fur and plush textures. It was clear that the designer, Sander Lak, has a deep passion for colours which, as he states, reflect his emotions, and the blending of them as such makes him happy. A fantastical collection that does not particularly conform to any trend but exists on its own level. The tulle-wrapped shift dresses, bell sleeves and bell-bottomed jumpsuits, holographic trenches and teddy bear coats looked like something out of a visceral reel with fairy dust that coated every surface.
To this day, Victoria Beckham is still celebrating the female form as she has claimed to do since the very beginning. While she kept true to her words with her new collection, her aesthetics found a new meaning through the minimalism and modesty that her clothes brought to the catwalk, elevating the form of women today. A luxe, everyday wardrobe could be detected in the cool, laidback attitude taken to this collection: put-together looks with the added accentuation of the hips and waist. It was a showcase still very much dominated by the layering of classic, tailored pieces which nod to the British heritage. Suits, oversized trench coats and jackets maintained their feminine silhouettes, cinched by belts in rich yet muted tones of navy and khaki green. Bold dashes of leopard print were added here and there to contrast with the softer elements of the origami folds in trousers, skirts and dresses. A mix of bulky and dainty footwear highlighted the versatility of the pieces. Slouchy felt bags, oversized for daytime use and micro-sized for the evening, provided a finishing touch of casual sophistication.
Filling an ominous and smoky runway with muted tones of orange, brown, black and blue, Coach 1941's women's Autumn ready-to-wear collection featured long, flowing dresses embellished with ruffled hemlines and high-neck silhouettes, coupled with hints of leather and suede accents. Alongside the dead leaves, fog, and old-school televisions covering the set, the autumnal, floral designs and the paisley prints were underscored by the woodsy and mysterious atmosphere engulfing the room. The lamé, pleated dresses that closed the show completed the set with a whimsical and ghostly vibe which was highlighted by the incorporation of mesh sleeves and striking winged eyeliner.
 
Complementing its 'workplace-chic' aesthetic, Alexander Wang's Autumn ready-to-wear collection took to the catwalk on the 21st floor of Four Times Square, Condé Nast's old headquarters, and was surrounded by cubicle walls on both sides of the runway. Featuring body-con silhouettes that combined business attire with striking athleisure, this blend of high-fashion corporate wear paid homage to powerful, strong women. The black leather, the fur and the metal accents were merged with hints of pink and silver to create intense and fierce outfits, perfectly accompanied by bold eyebrows and a no-makeup look.
With a collection purely based on outerwear, Romeo Hunte created his lineup from fur-patched clear PVC and denim jackets and luxurious mink coats, as well as trench coats in buffalo print. In collaboration with Speedo and Tyer, full bodysuits and wetsuits were worn underneath, paired with Timberland shoes. Certain aspects may have been a nod to Hunte's childhood, but buffalo prints, plaids, camouflages and shearling remained constant throughout the showcase.
Known for structured guipure lace dresses, Self Portrait here presented an evolution of its staple brand classics of evening wear into minimalist city-wear for the modern woman. A combination of masculine outerwear and floaty, ethereal dresses replete with details, Han Chong has created a collection comprised of what the city woman needs – versatility and layering, which explains the capacity of some items to be worn back to front. Undeniably feminine, with lace detailing, pastel hues and cinched waists. A contemporary edge was maintained through the use of leather and loose, oversized cuts. Most striking of all was the use of bold lip colour: a shade of dark blue offset by a hot pink hue in the middle of the lower lip, tying up the overall look and showing off its compatibility with all skin tones and hair colours. Truly a multifaceted collection.
Referencing the bold prints and colourful style of the 70's, Diane Von Furstenberg's Autumn ready-to-wear collection brought animal prints, including feathers and parrot designs, to the forefront of the line. Wrap dresses and trouser suits gave the collection a vintage feel, with graphic cubes, small and large, accenting both the form-fitting and flowing silhouettes. Accessorised with boxy, thick sunglasses and light blue eyeshadow, the line used stripes and pleats to allow movement throughout the clothes and to bring the designs to life.
A showcase that was Space Odyssey themed, with models strutting down the catwalk in skin-tight catsuits, bodysuits encrusted with crystals or cut from latex, oversized puffer jackets with flyaway logos, colourfully dyed fur coats, metallic crop tops and plastic coats. The male models were clad in spacesuit puffers, studded biker jackets, latex trousers, sporty hoodies and backpacks from their collaboration with Playboy. The overall impression was one of serious attitude for out-of-this-world high-street and luxury fashion.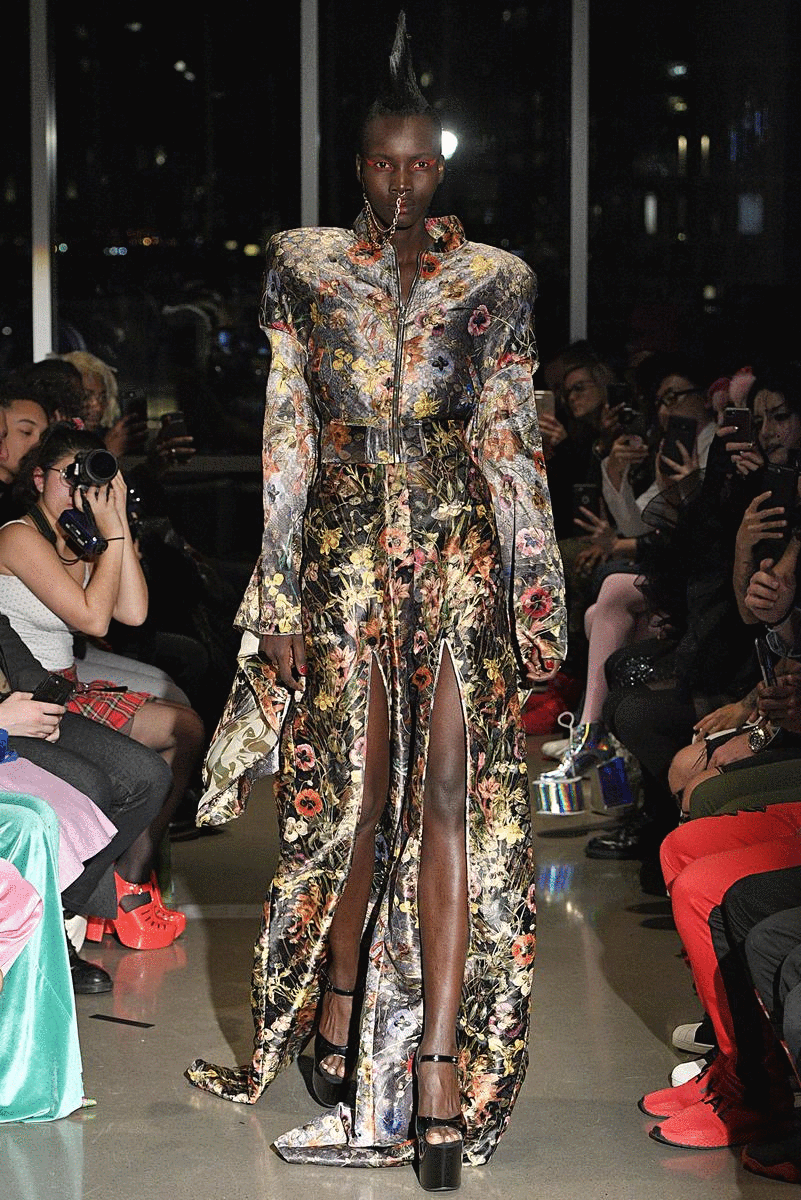 Kaimin
In collaboration with the artist Jon Jacobsen, Kaimin launched an 'Oriental Garden' collection which was visually immersive and high-tech. Many of the models were recognisable fashion influencers. As part of its techno motif, this season's limited edition collection was created in collaboration with the singer, Poppy, in order to create bespoke designs which merge an out-of-this-world experience with technology. In the showcase, these also incorporated water elements, flowers and bioluminescence in contrasting layers of bold garments ranging from innerwear to outerwear with elegantly flowing silhouettes.
Images sliders 1,5 Alexander Wang by Dan Lecca, slides 2,6 Victoria Beckham, slides 3,8,9 Self Portrait, slide 4 Phillip Plein, slide 7 ALice McCall