This issue has brought together a great sense of courage and creativity. Justine Simons introduced us to a whole host of global creatives, whose work, transcending traditional boundaries and limits, we take a deeper delve into in this issue. Taking you through valour, bold, brave and defy we explore the creative geniuses that shape and inspire our modern world. In Valour, we took a look at the art that surrounds us in music, architecture and beauty. Have you ever stopped to look at the marvellous piece of artwork on the side of John Lewis in Oxford Street, London. Were you even aware it was there? Do you know who made it? How many other works of art have we passed by without realising? Check out our Passers By article to find out.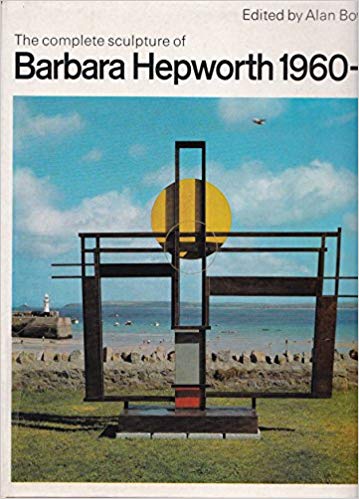 And what about architecture's unseen? In a timeline of influential figures in building design, from Amanda Levete, Florence Knoll Bassett, Eileen Gray, Denise Scott Brown to Neri Oxman and Elizabeth Diller, .Cent discovered the women that paved the ways for the future of architecture and design.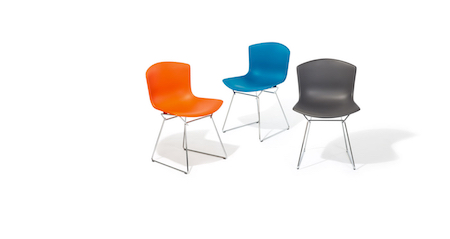 Bertoia Molded Shell Side Chair
We experienced every shade and sound this issue. Drink in the eclectic and new 'coolgirl' sounds in Girls and their Guitars, from St Vincent, Sister Rosetta Tharpe, The Slits, Goat Girl, Black Honey and Sunflower Bean, in a confident confrontation of emotion and evocation of the modern day woman.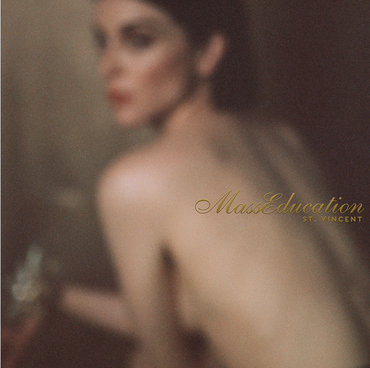 And they weren't the only ones making noise. Make-up this season is now really becoming available for every skin tone. Discover YSL Touche Eclat Neutralizer, Violet, Green, Apricot, Marc Jacobs Iconic Multi-Finish Eyeshadow Palette no. Edgitorial 750, Lipstick, Smashbox Be Legendary Lipstick, Nylon Nude, Suqqu Refining Primer and Cover FC Natural Finish Foundation and many many more.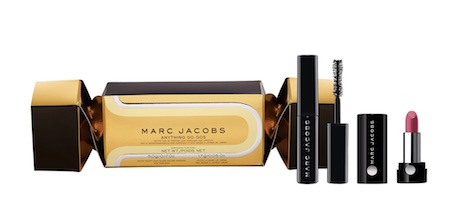 Marc Jacobs Anything goes cracker
Strong sounds and sights in mind, one of the first people that Justine introduced to us was definitely Bold artist Hilma af Klint. A Swedish woman who worked within abstract art, she produced futuristic and phantasmagorical paintings but didn't gain any recognition until after her death. IMAGE Courage and creativity abound, we then cast our eyes to those of the artists' in From the Artists Eye, where we discovered Barbara Walker's and Althea Mcnish's work; the former's iconic Liberty prints and the traditional Art canon turned on its' head.
Hilma af Klint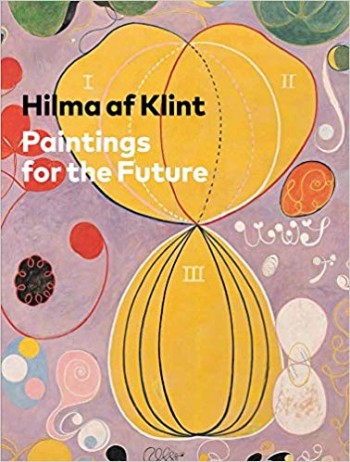 Bold print was carried through in Fashion Bright Lights, where we discovered a group of young British Designers presenting a sumptuous display of bespoke tulle puff hats, chiffon pleats, baby pinks, gem coloured florals along with white brights. Meet the new talents: J Smith Esquire, Mother of Pearl shoes, Richard Quinn, Nabil Nayal, Tetum Jones, Rupert Sanderson, Butler and Wilson, Eudon Choi, Malene Oddeshedebach and Malory.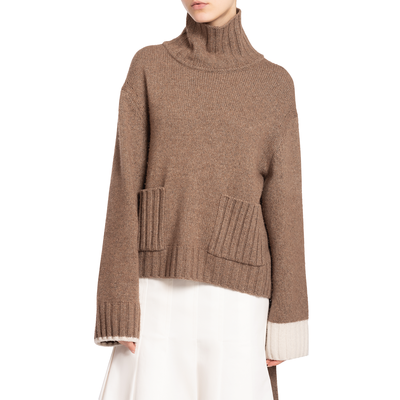 We then took a trip across the world with Lady Tales in Brave, where we looked at 5 up and coming female directors and their films, set to push new boundaries in genre and subject matter. Meet Marianne Farley, director of Marguerite, a French film exploring LGBTQ+ issues through the burgeoning friendship of an older lady Marguerite and her nurse Rachel. LINK FILM Throughout this issue we have looked at the unseen, unsung and sometimes unrecognised. So, in The Travel Ladies Built, we took a look at 6 amazing designers and pieces of design that shape our daily commutes. From road signs to the very glass you look through day-dreaming, you wouldn't believe the creativity below your very eyes.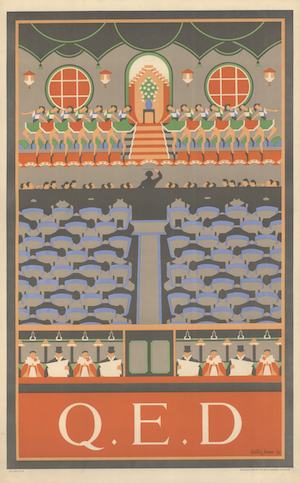 Travel posters London Transport Museum
Design and creativity were core to Justine's inspirations. So, look at the Rado Future Now piece and see who are the heroes for the future in the great design competition.
Rado True Thinline Studs Limited Edition: an eye-catching statement timepiece with British designer Bethan Gray Rado continues to push the boundaries in pioneering design, working with designers to bring new ideas, fresh perspectives and individual style to Rado's timepieces.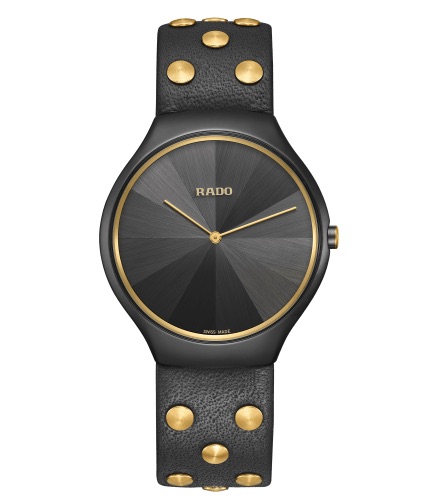 The True Thinline collection worked with award-winning British designer Bethan Gray
The True Thinline collection worked with award-winning British designer Bethan Gray to bring luxurious materials and intriguing elements to the brand's slimmest watch. Renowned for bringing bold textures, patterns and luxurious materials to her designs, Gray's signature style has won her global acclaim, including the 'Best British Designer' award in 2013/2014. An eye catching piece of statement design combined with the revolutionary making synonymous with Rado.
What about the women who receive acclaim later in life? Justine explained that there in fact used to be a cut-off age for artists who apply for the Turner Prize?  So how about the piece on such luminaries as Judi Dench, Vera Wang, or Lubiana Himid, check out our story Coming of Age.
Have some Fashionable Laughs with Gucci, Moschino and Anya Hindmarsch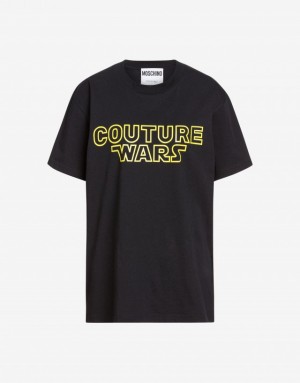 Or play a game of "Whats missing?" in Permanent Impermanence in Defy; discovering 5 incredible artists and artworks you're sure to remember. One of them, Tania Bruguera, has just opened her new installation at the Turbine Hall, Tate Modern in London. Just be warned: you may not, at first, notice it… Some art and their artists are unnoticed, some gone but remembered. Some do not receive the necessary recognition because of their social standings.
So, what about the women who receive acclaim later in life? Justine explained that there did indeed used to be a cut-off age for artists who applied for the Turner Prize. So how about the piece on such luminaries as Judi Dench, Vera Wang, or Lubiana Himid, check out our story Coming of Age.
In Boundary Breakers, meet two amazing Choreographers, Tisha Brown and Elizabeth Streb, that Justine admires, who explore their worlds of action. Can she fly? Can she run up walls? Can she break through glass? How fast can she go? With clarity and humour-and with a world-class dance troupe called STREB. In this pathbreaking book, Streb combines memoir and analysis to convey how she became an extreme action dancer/choreographer, developing a form of movement that's more NASCAR than modern dance; more boxing than ballet.


Elizabeth Streb How to become an Action Hero
Not only are the boundaries being broken in art and in dance but now through scent. In The Scent of My Mood we explore scent in a totally new way. What if perfume became a far more impactful part of our day lives than ever before? What about a scent for every mood; one for indulging that melancholy feeling, one for a winter walk, for concentration, for the powerful person in you or one for getting into bed, all by yourself.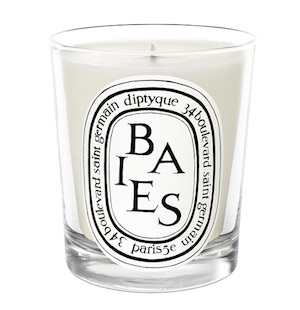 However much London is her home, her love, her inspiration, she does love other cities around the world. But what if you can't leave London? Then you can travel the world via the wonderful array of food available around the city. Check out London Table article and make the recipes.