PRADA

This season, Prada offered us romance, with all its contradictions. On the runway, every steps of a romantic relationship where showed from floral patterns on lively coloured dresses to really dark coloured ones, from seductive dresses to military green Army jackets, coats and pants. And everywhere, on almost every clothes, we could see laces. The accessories insisted on this contradiction as soon as the show opened, with lovely cocktail dresses paired with combat boots. The main accessories saw on the show were rosettes, floral earrings, satin handbags and ruby slippers, romantic symbols that were always adorning something surprising and unusual to break this "lovely romantic" idea behind the outfit. For the show, dozens of models also saw their hair being cut and dyed in black, or kept long with long braids, such as Wednesday Addams, the famous daughter from the Addams Family movie. The makeup was minimalist: bleached brows and really pale faces, no colours could be seen on the models' faces on the runway.The Prada designer didn't stop herself with one style, pattern or fabric, she told an entire gothic love story.
JIL SANDER

At the Milan Fashion Week this year, the two designers behind Jil Sander's new collection were Lucie and Luke Meier, who individually worked for Balenciaga, Dior and Louis Vuitton before, to name a few. The main goal for their collection was to push the boundaries of minimalist fashion while giving it a new breathe. They used a previous trip to the countryside of Japan as their principal inspiration. As references to this trip, we could see delicate oversized flowing outfits, made of textiles from a small town in Japan, and handbags reminding of bento boxes, the traditional Japanese lunch boxes. Knit dresses, a lot of chic outfits made of silk and extra larges handbags could also be seen a lot during the show. Finally, the Jil Sanders woman this year was wearing really minimalist makeup and natural styled hair, to reinforce this minimalist fashion show. Minimalist doesn't mean empty and lacking of charm, Lucie and Luke Meier definitely proved it with this collection.
GIORGIO ARMANI

For this new collection, Armani presented the men and women collections together in one runway. The main idea behind this collection was blue. Blue was everywhere,Prussian and Navy ones were at the heart of this show, deep and profound.  With the women collection, a lot of jumpsuits, high-waisted trousers, but also jodhpur-styled pants could be seen, all turned into something really elegant, and full of fluidity. This fluidity was reinforced by the use of a lot of velvet and silk, for both men and women. As accessories, women models were wearing ruffles at their necks, blue shoulder flowers, prints of drapery and knot prints were also added to the outfits. Armani's women models this year were seen a lot with a boyish haircut or hair tied back, and dark slightly smokey eyes. No colours on the lips, the makeup was here to reinforce the outfits. For men, we could see suits jackets, legged-trousers, blue velvet coats with padded shoulders and tuxedos. All with the same elegance and fluidity as for women.
BOTTEGA VENETA:

It was the first ever show of Daniel Lee as Bottega Veneta's creative director (he was previously the director of ready to wear for Céline.), and he definitely started a new era for the luxury house. Feminine and edgy, minimal but bold, the creative director asserted his own aesthetics in this new collection, making the signatures of Bottega Veneta evolve. Its Intrecciato weave, for example, was reinvented as a square-shaped texture on leather coats and skirts, giving the impression the outfits were made of small squares that can fly with the wind and as a detail on a bright orange dress. On the runway, a lot of leather could be found, on trousers, jackets, coats and dresses, but there were also quilted jackets and coats, nylon underwear, satin reinforcements, mail coats, and some glittering and sequined clothes from time to time. All looks were completed with comfy rubber-soled shoes, that make walking easy, and there was an impressive variety of handbags with really various shapes and styles on the runway. As for the colours, it was mainly black and deep purple, but white and pale colours could also be seen, on a pale yellow coat for example. The men collection was really bold, male models were wearing turtlenecks with very long sleeves and necklines. It is a new beginning for Bottega Veneta.
FENDI

Fendi had a really long story with Karl Lagerfeld (the famous designer was the creative director of the luxury brand during 54 years), so naturally, for its first Fashion Week since the death of the Kaiser, the Italian House decided to pay a tribute to him by showing to the world his ultimate collection. More than a simple tribute, it was his final reverence. The theme of the collection was smart and sportif. It was perfectly showed with the cocoa mini skirt suit wore with a white shirt adorned by a giant white bow at the neck and a double-breasted jacket, or the sheath dress with a red leather bum-bag. On the looks, we could see that one item was honoured more than anything: the famous crisp buttoned-up shirt collar. However, the iconic ladylike tailoring adorned with playful accessories, a signature of Lagerfeld with both Fendi and Chanel, could be found a lot too in this collection. The looks also featured soft belts, worn half undone.The House used mostly neutral colours and all the tailoring was at the same time really feminine and relaxed. The shirt was worked in all its aspects,in a classic way tucked into trousers, but also into pleated asymmetric skirts or under sleeveless dresses. Everything was a game between body-con and fluid fabrics outfits, a game that Lagerfeld used to play a lot during his entire career. We also saw a few fur coats, hats, and bags, but for once fur wasn't really present this season. Anyway, it was a beautiful elegant collection that celebrated the Kaiser in its best way, including a video of him when the show finished.
MAX MARA



The now iconic Max Mara's brick-red, high-collar coat wore by U.S. House Speaker Nancy Pelosi in December during a showdown over the government shutdown with President Trump was the starting point for the new collection of Max Mara. In her coat, Nancy Pelosi looked like a real warrior, a woman with power and Ian Griffith, the creative director of the brand, wanted this collection to be a study of how the way we look can empower us. When it comes to fashion, women have way more choices and liberties than men, and we could perfectly see all the advantages to be a woman with Max Mara.From colourful fur looks to beige layered ones, coats of all silhouettes, leggy skirts and thigh-high boots reminding the nineties, all the choices were on the runway. Being specialised to work with all shades of beige and neutral colours, Max Mara asserted its superiority when it comes to it, while showing at the same time an amazing rainbow of colours. A lot of patterns were also shown like the hearts on blazers and boots, crocodile checks and zebra stripes on beige cardigans. Huge zip-close cargo pockets on jackets, utility zipper on a nylon miniskirt, a long skirt under a bomber jacket, a sweatshirt with a utility pouch, a new foccus on knitwear and oversized sweaters showed that the brand wanted to enter in a new era, keeping its luxury heritage while opening itself to more modern looks.Finally, the brand's signature overcoats were transformed in bright colors, the iconic camel coat was recreated without any fur or made in a quilted version, the teddy coat had two new versions too, one in a snugger silhouette and one made with black Lurex. It is a new era, made of timeless luxury.
VERSACE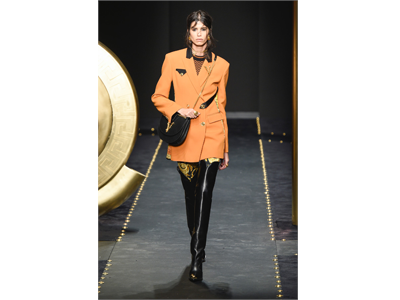 Versace offered a show way different from what the Italian House was used to do before, less provocative but still using black as the main colour of the show. For this collection, the House honoured its signature, the gold safety pin, that the brand was the first one to introduce into the world of fashion and that gave it its sulfurous reputation, but in a softened way. On the runway, the safety pins, as well as some brooches, held together layers of tweed, deconstructed and ripped knitwear, sleeveless dresses and tops. Here, the models surprisingly didn't reveal any part of their bodies since it was a stack of layers, skillfully superposed. Even the bondage-inspired black silk dresses were softened because worn with t-shirts. For the outerwear, the watchword was warm and cosy, just like the wool and herringbone coats Versace showed us during the show. The shoes also weren't sulfurous: we could see models wearing kitten heels, cowboy loafers and chunky boots only. Finally, a new bag called the Virtus was introduced for the first time on the catwalk. It was a soft and unusual collection for Versace, but this change was definitely worth it.
ROBERT CAVALLI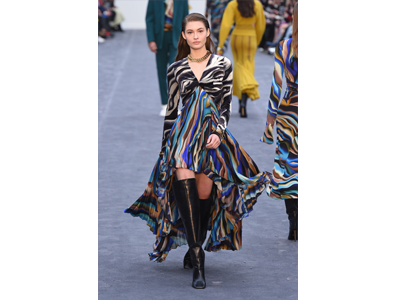 On the runway, the brand's heritage was mixed with something new announcing a bright future. Indeed, the famous tiger print of Roberto Cavalli was changed a little bit this year, being showed in bright and unconventional colours such as yellow, blue and brown. These coloured tiger prints could be seen on a lot of different outfits, from double-breasted coats, to strapless and wrap dresses, or tight tops for the women collection. Apart from this famous prints, we could see a lot of mustard-yellow dresses, V-neck high-waisted ones, and silk pleated skirts. All in earthy colours. With the men collection, the tiger coloured prints could particularly be seen on ties, as a subtle but present reference. On the runway, men were wearing bomber jackets, printed parkas, oversize jackets or also pine green and berry coloured suits.
GUCCI:
 

It was the first Gucci show since the scandal the luxury brand has faced for the "blackface" balaclava-style sweater, featuring outsize red lips, which was withdrawn from sale, but it was brilliant and colourful. The show was just like a Venetian parade, with a lot of harlequin tunics, trousers cuffed at the ankle, Pierrot collars, and masks signifying here hermaphrodite deities because it was a central theme on the runway, but also reminding of Venetian masks. About gender fluidity, the luxury brand played with genders during the entire show, making male models wearing high heels while the female ones wore oversized blazers. Gucci still remained loyal to itself by showing clothes as costumes, but still playing with it. We saw simple double-breasted blazers, but also high-waisted trousers that were totally exaggerated, trainers full of colours and a lot of cleavages. It was a bold collection, but full of outfits easily adaptable to our everyday look.
MOSCHINO

This season, Moschino's designer Jeremy Scott offered us The Price Is Right on the runway. On the backdrop of the runway, home appliances, a slot machine and a cherry-red Ferrarri on a rotating dais were recreating the exact atmosphere of the famous American game. The looks were completing this atmosphere with dollars and  household-product packaging patterns on dresses, gold, silver and technicolor as main colours, and a lot of jewels were used to finish it. The silhouettes could represent everyone, from super-casual tracksuits to shiny evening gowns. The money pattern was included on leather jackets and trousers, denim skirts, trucker jackets and sleeveless dresses, while slot-machine patterns could be seen on ruffled and one-shoulder dresses and capri pants. One dress in particular was totally eye-catching, a floor-length dress with a half-dozen blinking LED lights that blinked following the model's steps. The other memorable look (that was even the most memorable one) was a shiny green mini dress wore with a giant cape with patterns of huge cubed carrots and peas on the right, falling mashed potatoes with a butter pat on the left. On the back of the cape, it was a giant steak in brown sauce, and a cake with a cherry on top. The cape was so big and was protruding so much on the right and the left of the model, it could be seen as wings. For the fabrics, a lot of silk jersey, leather and ribbed gold rib knit. Additioned with the extravagante overflowing haircut and 60s look alike makeup, this collection was definitely made to let every woman shine on.
ANGEL CHEN

The inspiration for this collection was taken from a group of nomadic shepherds based in the Sichuan region of China called the Qiang people. The inspiration for their bright colour palette which consists of orange, red and zingy yellow was also from the tribe's ceremonial headdresses. The shapes in this collection were deconstructed and oversized. For trousers and tops, it was mostly denim, sartorial or distressed. The textures for overcoats, hats, and shoes were Mongolian fur. Other materials included knits, wool, fur, cotton, mesh, technical fabrics, down feathers. Interesting pieces showcased in the collection were a six-colour jacquard jacket, head-to-toe wool -trailing scarves and shorts, long fuzzy coats, shawls. The models had natural makeup with feline eye makeup and some had their ponytails high up.
SANDRO

Sandro designer Evelyne Chetrite introduced Western elements into their AW19 collection.
They still have their classic Parisian chic look in their collection with acid-washed jeans, a prairie dress, check blazers.
Their collection represented mixture of Western elements and Parisian chic.
Primary colours featured in this collection are muted colours like beige, brown, sand. Tailored and check blazers were seen throughout the collection which gave simplistic and chic look.
Image 1 Bottega Veneta, Image 2 Marni, Image 3 Moschino, image 4 Missoni, Image 5 Jil Sander.