Showcasing archived prints on 50′s quilted dirndls, sequin shifts and spike heeled boots, Pucci's collection worked to find a new footing while in the process of transition. As one of Italy's most iconic labels, the force behind the brand was emphasised with their printed swimwear, silk bathrobes and wearable lingerie layered with knits. Still in keeping with current trends, the collection included blanket coats, capes and skirt suits with the house logo woven into the fabric. This being its second runway season operating without a creative director, Pucci is a brand with a highly anticipated future.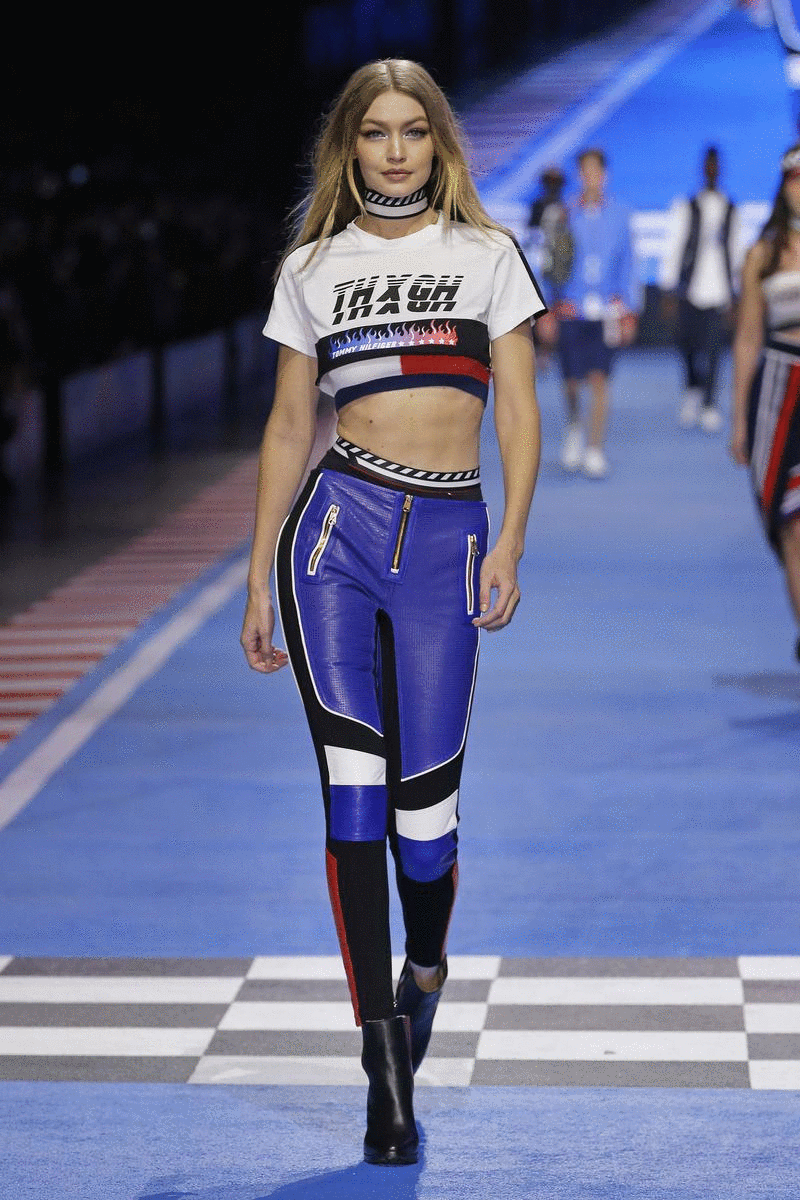 Tommy Hilfiger
Biker jackets and leather pants mixed with a car-racing aesthetic rolled down the runway in brilliant blue, white and accents of red. Balancing car-racing attire with streetwear, the collection was able to throw off a casual styling. Prints were also in the mix, with black and white checkered patterns and seemingly random stripes on shirts. A retro vibe was definitely present with the checkerboard head pieces and in the overall look.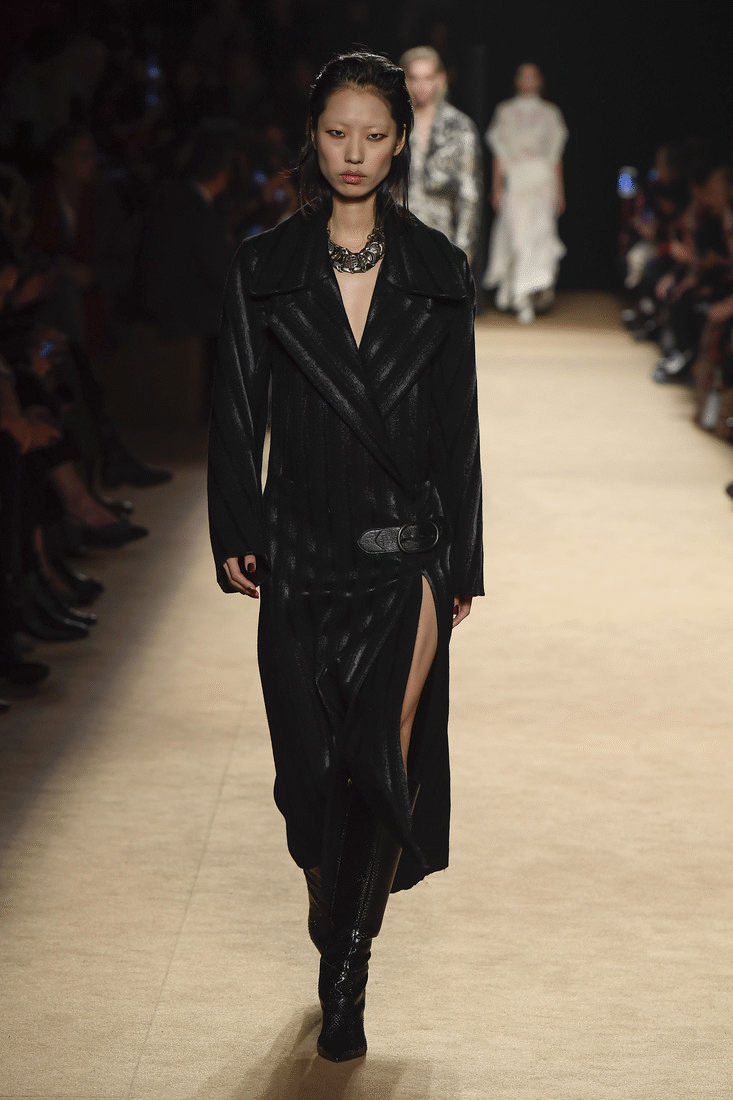 Roberto Cavalli
Glamour, confidence and comfort were Paul Surridge's goals when designing the A/W '18 line for Roberto Cavalli. With his luxurious animal prints, furs and leathers, he definitely hit the mark on glamorous, and by mixing these various fabrics with more simple and solid hues including navy, black, purple and red, he made his styles both unique and wearable. The addition of tall boots and simple yet elegant block-coloured earrings completed the fashions with sophistication and ease.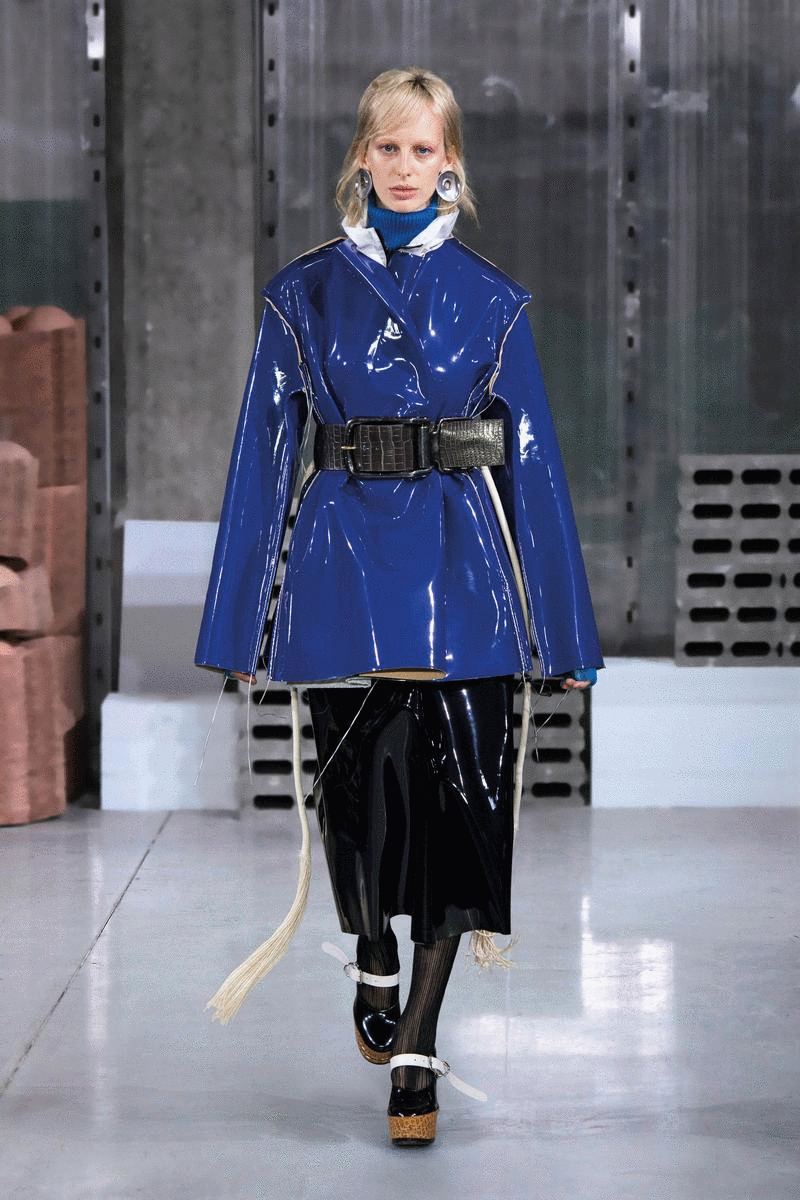 Marni
By adding feathers, latex and PVC to typical everyday styles, Marni presented a classic yet refined collection which reflected the versatility of the modern woman. Dressed in long vinyl coats, latex trench coats and asymmetrical midi dresses with accentuated waists, Marni's models walked the runway, blurring the lines between gentle and bold, and testing the waters between seduction and assertion.
Etro's new ready-to-wear A/W '18 collection presented a bohemian-style clothing line, full of fringes, clunky belt buckles and tall boots, all inspired mainly by westernized culture. Warm and earthy tones characterised the looks, which were pieced together in leather, fur, denim and knit. These fabrics were worked to create the loose and sweeping silhouettes of the models. Accented by dark, sharp eye makeup, Etro's A/W '18 collection strayed slightly from its signature flower-child aesthetic by adding just a touch more maturity and elegance.
In his A/W '18 ready-to-wear collection entitled 'The Cyborg Manifesto', Alessandro Michele challenged the idea of modern identity by presenting a reality in which personal identity is free of any and all gender, cultural, and societal barriers. To elaborate on the fluidity of human existence, the collection presented very particular garments, accessories and special effects, including fake baby dragons and chameleons; some models even carried duplicates of their own heads. The garments all orbited around darker and heavier colours such as black, dark red and navy, but to liven the looks up, eye catching fabrics and accessories were used, such as velvet, silk and crystals.
Prada's line featured put-together layers of workwear and tulle, pieces assembled from manmade materials, and Prada's nylon-padded rainwear. Contrasting fluorescent prints with tweed and cocktail dresses, ID cards and rubber boots with nylon drawstring up the leg, the discord of the line felt incredibly palpable and deliberate.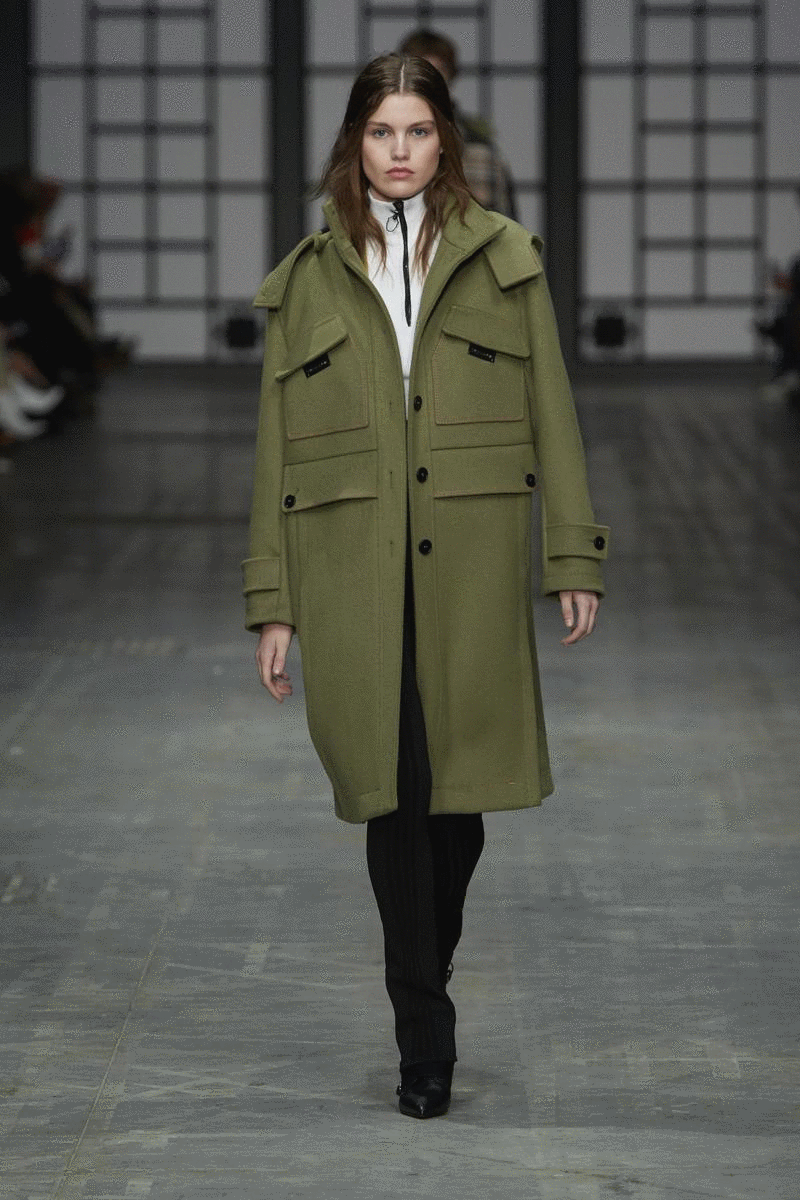 Trussardi
Using Milan's bustling city atmosphere as inspiration, Trussardi's A/W '18 ready-to-wear collection showcase brought together both day and night looks to portray the versatility and wide range of city life and fashion. This concept was achieved by using a wide range of different materials and fabrics such as knits, leathers, silks and lurex. The colour-palette brought together the darker and warmer tones of military green, brown and black with lighter blues and pinks to contrast. A strong point of this collection was the variety of silhouettes created by the diversity of each look. Most outfits included big and clunky overcoats that provided larger and starker shapes, but once taken off became much slimmer and more classic silhouettes.
Incorporating a new tribal feel into the traditional urban and utilitarian look of Diesel Black Gold, the A/W '18 line was infused with more bohemian-style silhouettes in both lines. The showcase featured peasant dresses and pleated mini-skirts paired with jacquard sweaters, channelling a more East Asian influence. Femininity and masculinity were balanced in this collection with oversized jackets and nomadic-inspired denim and suede.
Armani's use of typically lush fabrics reserved for eveningwear in its daywear was a careful and purposeful move. Suits and short suits in pinstripe and check patterns held embedded rhinestones. The combinations of rhinestoned cowboy boots and jersey and velvet jumpsuits were both undeniably modern and on trend.
Referencing those in positions of authority, this show presented a collection fit for any one of the spectra of the successfully chic. Fine tailoring and fabrics traditionally used for menswear were combined with homemade embroidered handkerchiefs that addressed fashion's romantic femininity with a masculine daytime glamour. Strong square shoulders, anchored natural-waist dresses, collar embroideries and butterfly lapels were thoroughly considered for a constructed silhouette. Despite the sharp tailoring, the contrast of embroidered silk dresses with florals and the signature Fendi form had remnants of a 1940s vibe.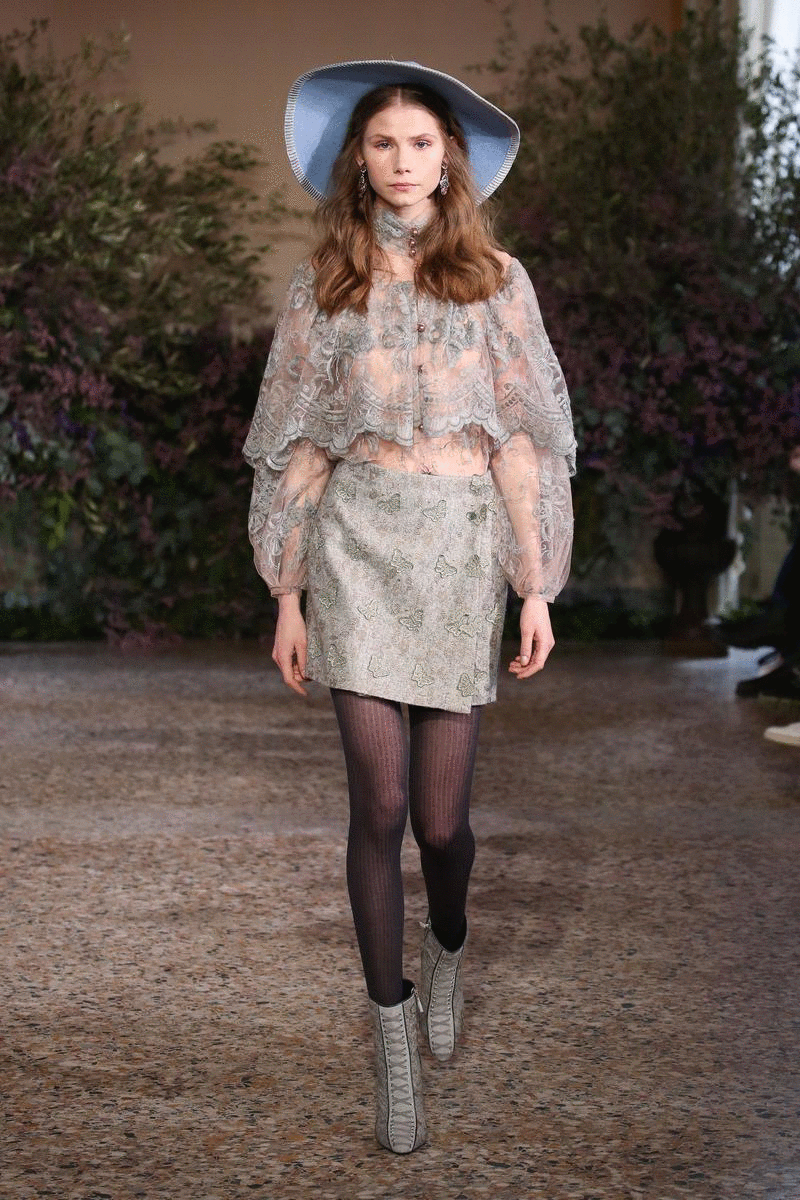 Luisa Beccaria
There's no denying that Beccaria's inspiration for this collection was the Belle Epoque period. As expected, this collection appeared to belong to another age with its romantic and wistful aesthetic. The dandy three-piece suits, polka-dotted skirts and dresses, pussy-bow blouses, thick tights, wide-brimmed hats and laced velvet boots were all unapologetically pretty and resonated with the ideals of a fanciful romance that will never die, even in the harsh 21st century.
With sportswear currently being the biggest trend in Milan, Sportmax is the label making clothes for women on the go. Derived from the Max Mara label, this line took direct inspiration from winter sports. Highlighting kick flare trousers in imitation of salopettes and bombers with emphasised collars, the collection was a balance between casual luxury, seen in their oversized sweaters, and modern fabrications, with knits layered over trousers. With toggle ties, nylon lacing and boots with rubber treads, the collection was entirely executed with snow and ice styles in mind.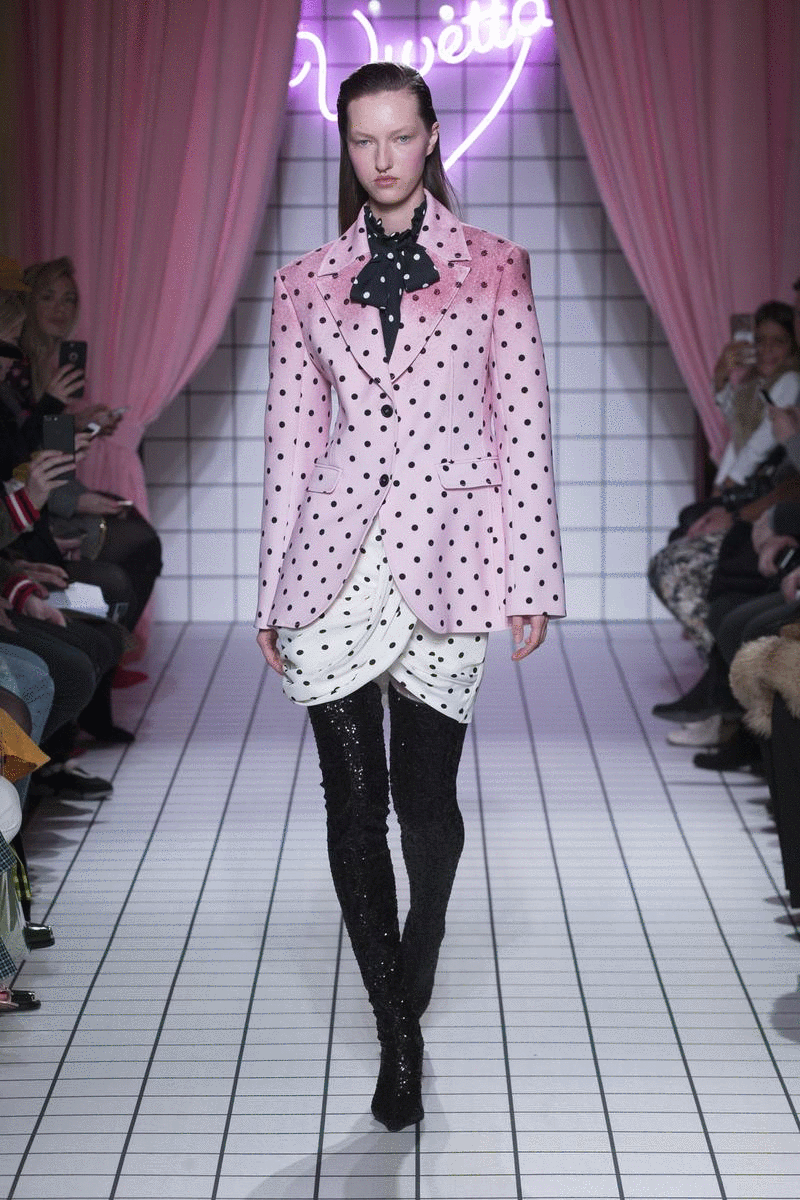 Vivetta

This time around the designer went for a more doll-like, sugary look, with lots of pale pink, polka dots, lace and big bows. Velvets could be seen in vintage silhouettes. Mint green added a plus of colour-pop. Floral prints also gave a girly and lively atmosphere as the looks walked down the runway, the fabrics flowing with the models' movements.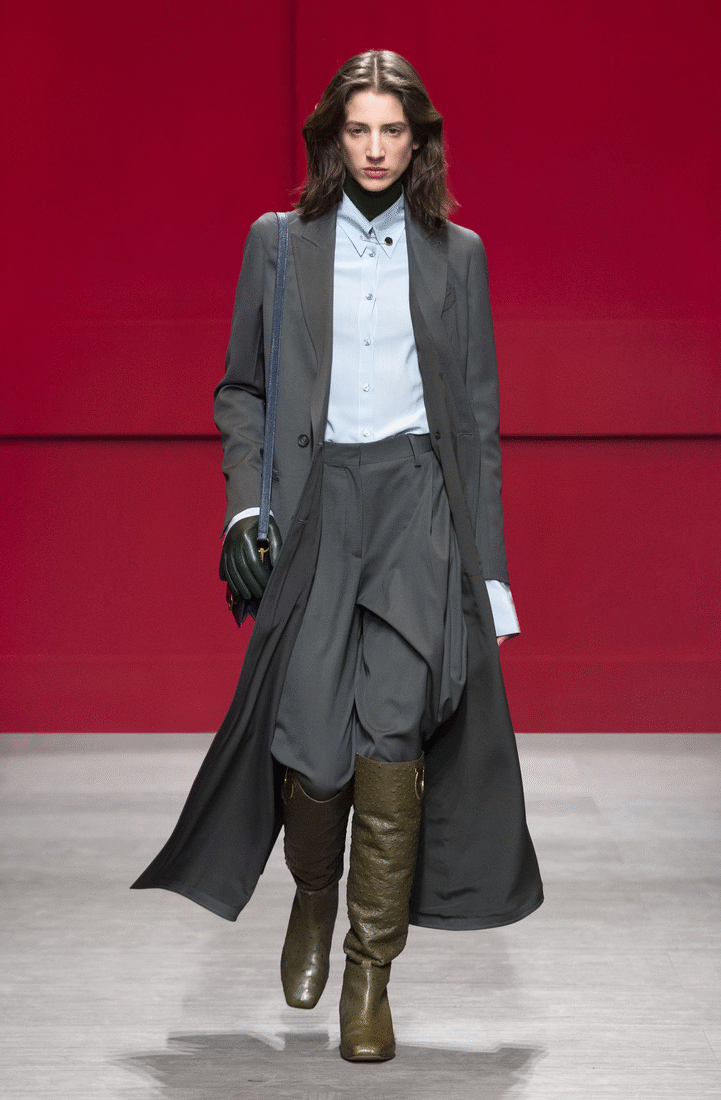 Salvatore Ferragamo
With a focus on dark, rich colours such as emerald, maroon, and navy blue, Salvatore Ferragamo's show promoted an elegant and minimalistic collection at Milan Fashion Week. Using menswear as inspiration for his women's looks, long trench coats, collared shirts and leather gloves together with the layering of voluminous capes, shawls and hoods, helped to create a very structured, while at the same time loose, silhouette.
Image sliders 1,5,11 Prada by Molly J Lowe, slides 2,6 Daks, slide 3 Diesel, slides 4,8 Emporio Armani, slides 7,10 Etro, slide 9 Max Mara