The relationship between innovative technology and nature was what this showcase was all about, with its hyper-high-shine primary-colours of bright blues, reds, yellows, greens and oranges contrasted with neutral tones which, in turn, were juxtaposed against the high-styled and polished garments made from what appeared to be recycled fabric. The nylon raincoats, hooded duffle coats, blanket wraps, knitted tunics and super wide trousers formed polarised concepts and showcased 'techno-primitivism' through laser-finished or raw-cut hems, PVC on silk and polyester on leather.
The Daks show not only presented a colourful and zesty collection; it unfolded an entire story for its audience. Pairing the men's and women's collections together, the narrative of the show was that of a romantic moment on a steam train. As well as the crafting of classic suiting fabrics into a wide range of suits and separates finished in a variety of patterns (from stripes to houndstooth) and in bold colours, the men's range included sweaters with visible texture and elegant velvet pieces. Additionally, with its turtleneck sweaters and patterned jackets, the line was undoubtedly fused with inspiration from British and Italian influences to produce a fine, innovative collection.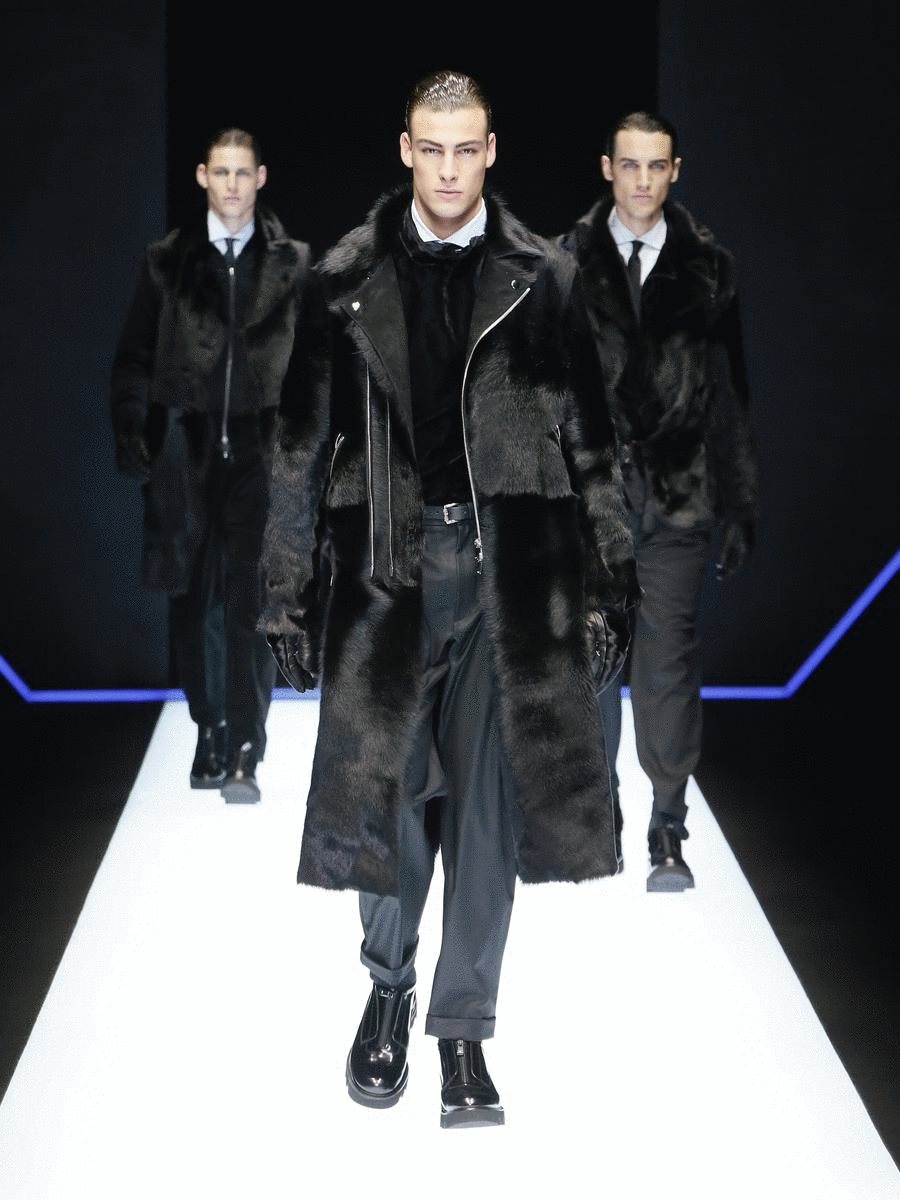 Emporio Armani Mens
Working mostly in deep blacks and midnight blues with hints of grey, and pairing these with shiny fabrics and faded jacquard patterns, Armani's collection remained urban, luxe, and modern. Highlighting the modern hemming of trousers and jackets with reworked proportions, the line was a fusion of trendy, sporty vibes with just the right amount of sophistication.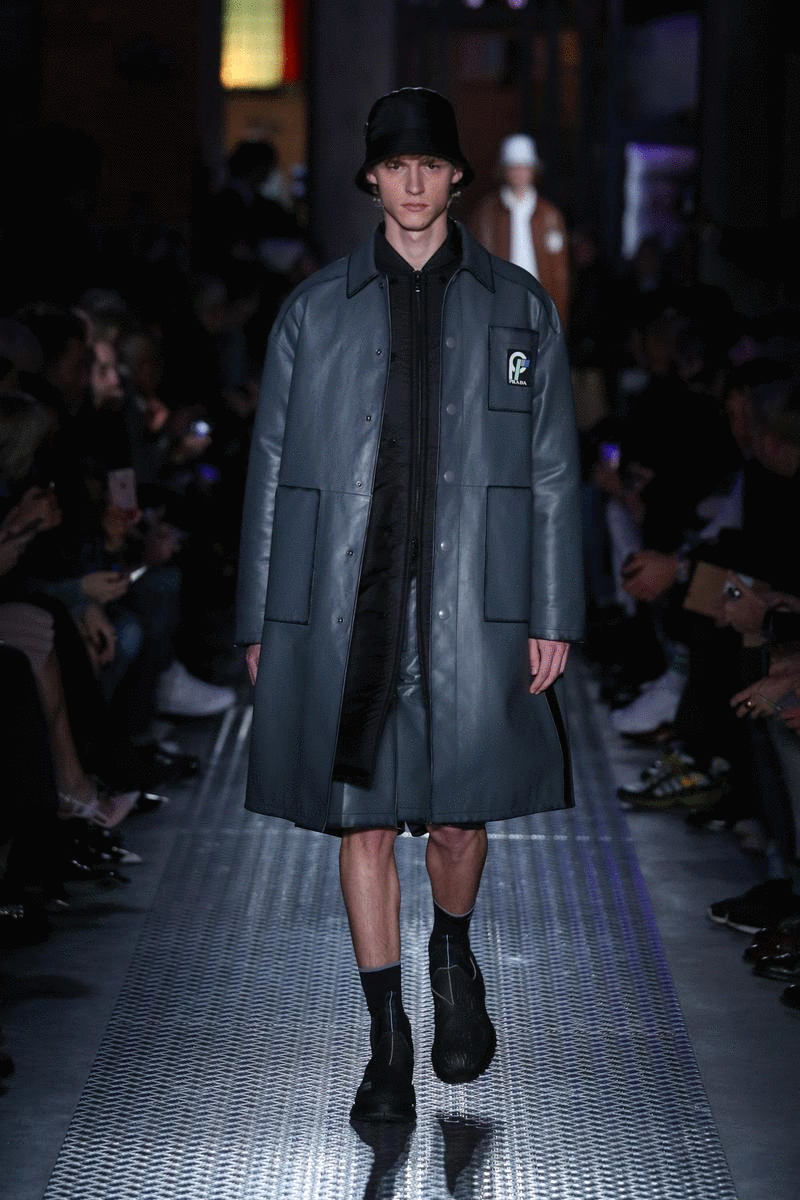 Prada
The collection could be called a wind and water-resistant one, thanks to the fabric that certainly looked as if it could withstand the ravages of Mother Nature. With black being the base colour, there were also splashes of blue and yellow, which could be seen in accents on the models' bucket hats and shirts. Very tastefully placed, these accents also gave a sensation of cosiness and evoked the mood of walking through the rain while wearing these pieces.
Featuring classic 80′s-inspired vibes with trenchcoats, shirt collars and tartan patterns, Versace's A/W '18 collection showcase was full of colour and was a fusion of punk and posh. With wide shoulders and cinched waists, Versace perfectly channelled the fashionable retro looks of earlier decades. Using primary colours to accentuate tartan patterns on draped mini and bubble skirts, Versace also showcased little black dresses worn with headscarves to add a fun and fresh dimension to a sophisticated classic.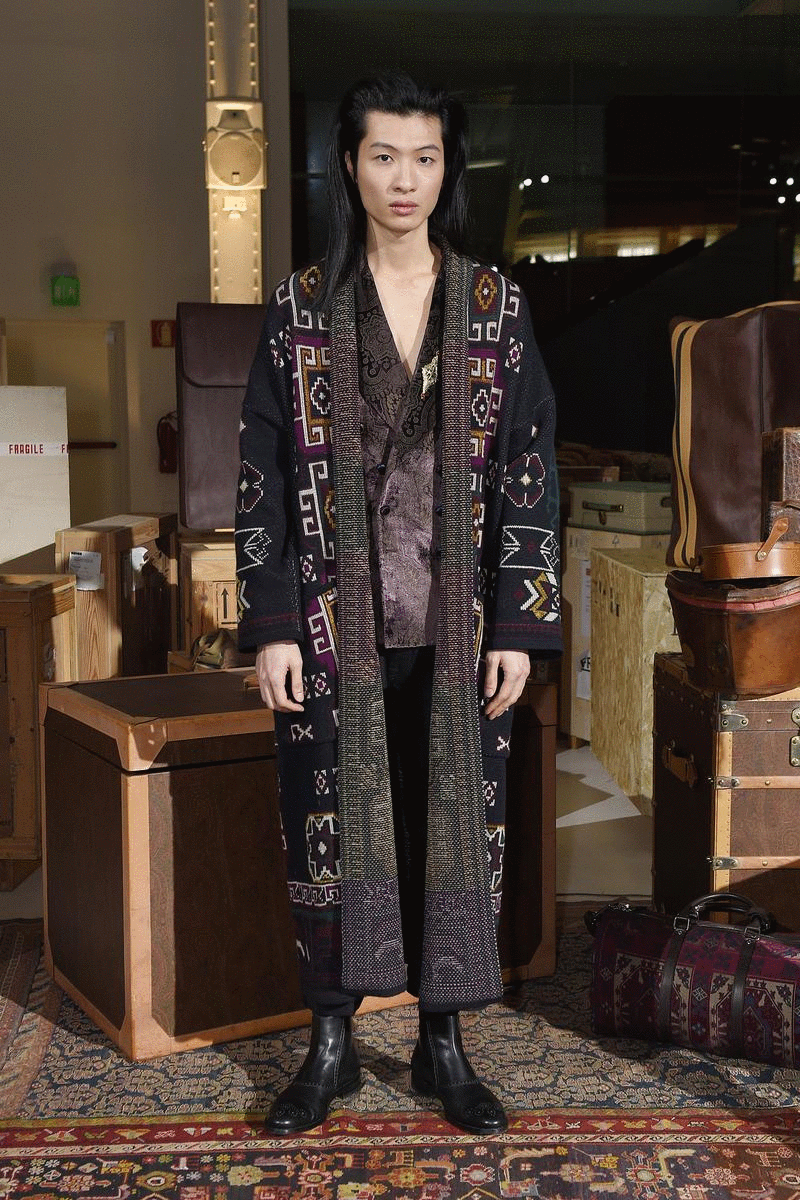 Etro
"The way you live is the way you dress, and I've always been known as an interior decorator of men". Basing his designs on Persian carpets, the line was presented in the form of long graphic carpet coats and hanging sweaters with carpet embroidery, one highlight of the collection being an all-embroidered tuxedo jacket. Ranging from fitted suits in jewel tones to classic suits with bold accents to subtle camel coats with brilliant stitchwork, the collection also featured a multitude of fabrics, from wool and corduroy to velvet. As a whole, the collection brought together a wonderful sense of the beauty and romanticism in menswear.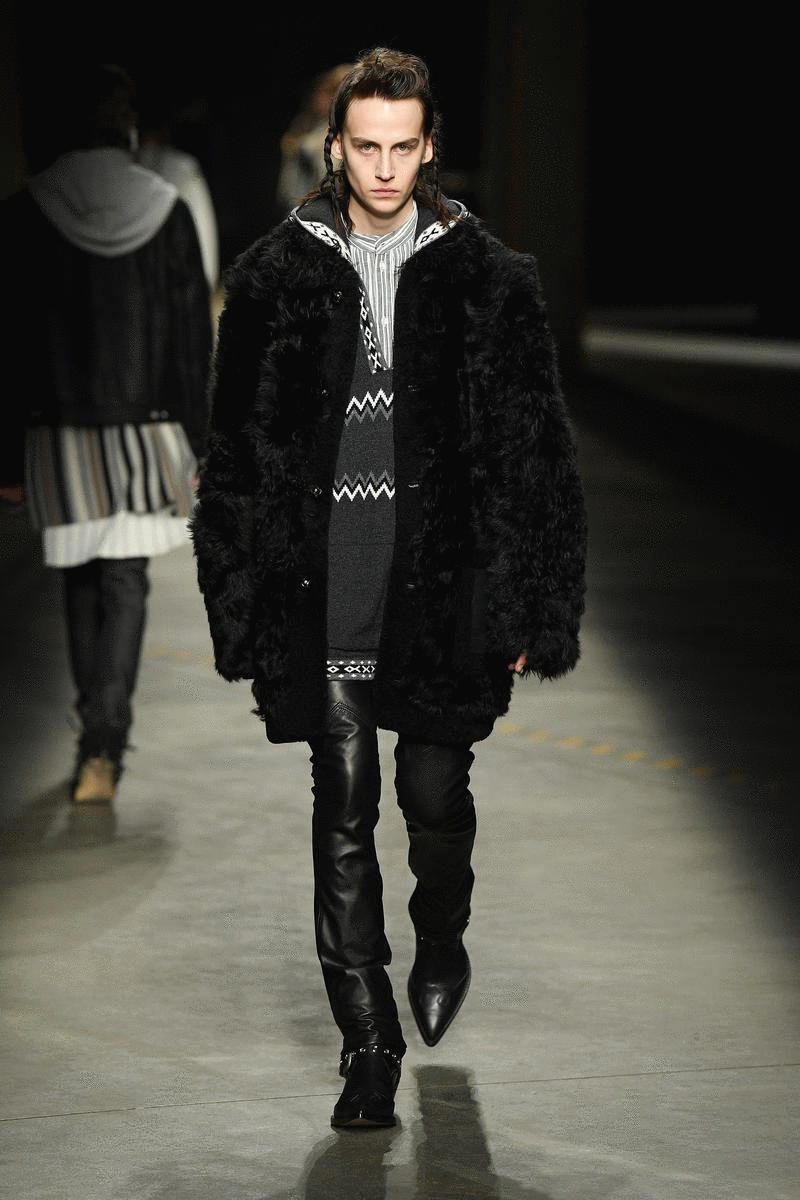 Diesel
Incorporating a new tribal feel into the traditional urban and utilitarian look of Diesel Black Gold, the A/W '18 line was infused with more bohemian-style silhouettes in both lines. The collection debuted jackets with Navajo jacquard inserts, Mongolian fur coats and leather jackets with metallic and stone embellishments. Ranging from cool tones of black, white, and grey to warm browns, beiges, and creams, the line's fusion of colour and style was continuously apparent throughout the entirety of the show.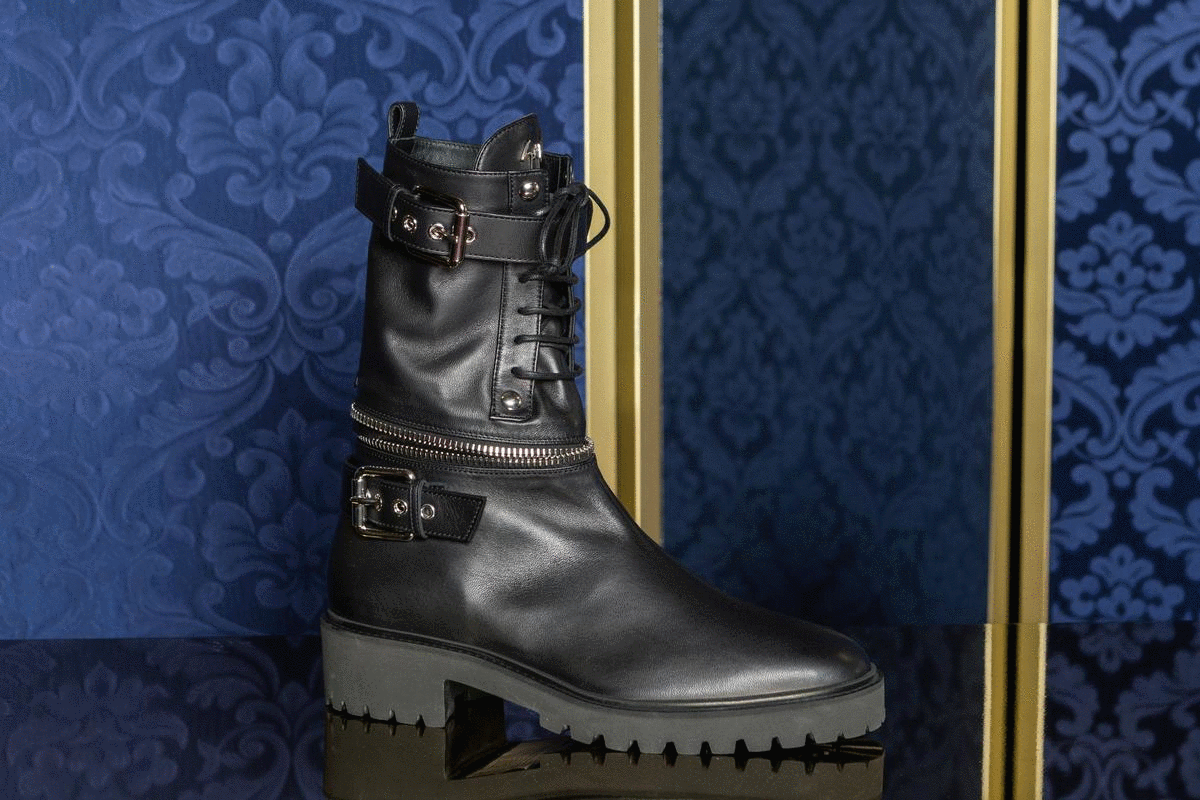 Giuseppe Zanotti
Giuseppe Zanotti brought us a new collection stamped with their distinctive style that has always set them apart from others. This season they went for an off-centre approach through their daring yet versatile shoes, made to break down fashion boundaries. Details of crystal, plexiglass, purple feathers and ice cube heels adorn suede stiletto or block heeled sandals of stretched Nappa leather, giving them almost the look and feel of a second skin. A glamorous collection, versatile for both day and night, with looks that one can wear with ultimate confidence knowing there is that extra comfort factor as promised by Giuseppe Zanotti's designs.
Somewhat ascetic in look, Neil Barrett's collection presented a seemingly basic collection while still remaining inspired and expressive. Taking from a military view of mass design and uniform alongside the couture experience of one of a kind designs, Barrett's line included minimalist suits, leather blousons and textured sweaters. Additionally, there were corduroy and leather motocross pants and trench coats with leather flaps. The military inspiration was immediately recognisable in Barrett's new collection which managed to be classic and new all at the same time.
Displaying its men's and women's A/W '18 lines in a single gender-defying cowboy-western show, Dsquared2 presented looks made up of an eclectic mix of patterns, prints and fabrics. Layering was the key word for the showcase; earth-toned knits over plaid shirts and skirts, heavy cow-print coats over distressed and faded denim, sequinned jackets and longline blazers over sharp tailored trousers, not to mention the polished and patent leather which adorned everything from lapels to trousers. The looks were topped off with neckties, cowboy boots and cowboy hats. These versatile pieces made for a perfect collection of transitional looks for walking into the colder months with style.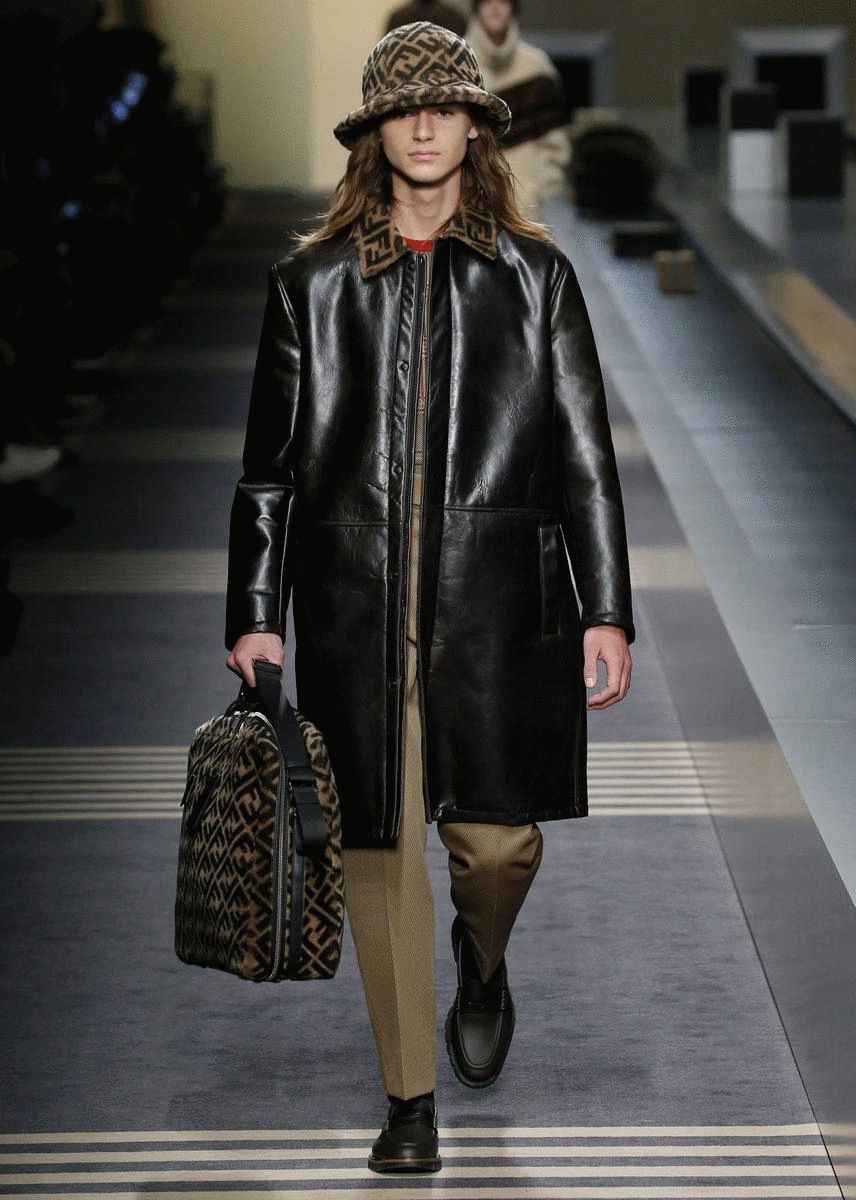 In collaboration with colour-artist, Reilly Hey, Fendi's new collection was a combination of sport and street with amusing details weaved into the whole. Pulling together perfect and practical pieces for the 'modern flier,' Fendi's line was inspired. Out walked long fur coats with thick straps, featuring both new and vintage Fendi bags, not to mention other luxury accessories and zip front sweatshirts with the FF logo stripe. There were also funny and surreal touches, such as the image of a snail on a soccer ball in a frying pan, and T-shirts featuring a banana on a sofa in space, which brought together old and new in a grounded way.
Going back to classic silhouettes and cuts, this collection stayed Italian classy, with suits, bomber jackets, and dress pants. Sporting mustards, dark blues, khaki, and tartan prints, it called to a retro past which was made very much present and up-to-trend. There were also harmonious combinations of fabrics and textures: colourful satin with mattes, denim and faux fur, which were all in tone with the colder seasons of the year.
Image sliders 1 Giuseppe Zanotti, slides 2,4 Daks, slides 3,9 Diesel, slides 5,8 Versace, slides 6,7 Fendi