Serge Lutens is a G-d. Okay, maybe he is a demi-G-d, but he is one of the most wonderfully mad creatives to come out of the fashion world for many years.  He has worked across the industry since the 1960′s, and he is still 'cutting it' now.  He created the first ever Christian Dior beauty line, before moving to the directional Japanese brand Shisheido to create packaging and campaigns for them, before finally establishing his own perfume and beauty line. A French institution (although he now lives in his much admired and beloved Morocco), a photographer, filmmaker and hair stylist, as well as perfumer, jeweller and make-up creator.
Born in France in 1942, his career started out in Lille as a hairdresser's apprentice, which he has been quoted as saying that it started to inform his appreciation of beauty and that he could see the three-dimensional element of beauty through it. By the 1960′s he was in Paris working for Vogue (and other premium publications), creating hair, make-up and jewellery for them while working with such luminaries such as Guy Bourdain, Richard Avedon, and Irving Penn. At Dior, he worked directly with Monsieur Christian Dior himself and when he moved to Shiseido, the brand provided him with a platform to create a scent, Nobre Noir. This was followed up with Feminite Du Bois (the first woody fragrance for women). In 1992 came the magnificent Les Salons Du Palais Royal and amazing deco style shop, exclusively for both Shiseido and Serge Luten fragrances.
Known as a trailblazer, he has not stopped at make-up or perfume, as the fragrance collections now contain over eighty fragrances, none of which are Eau De Toilette (he does not want the word toilet to be associated with his fragrances). Yet again these are boundary breakers, but he refers often to a visit to Morocco in 1968 that brought his real sense of smell alive, and which grounded him in the world of perfume and made him one of the true originators of niche fragrance as we know it today.
His work is driven by his emotions; he often talks of his childhood abandonment by his father before his birth, leaving him nameless and unwanted, and he speaks of emotions he could not escape but which formed much of his identity (take the example of one perfume Dent de Lait 'milk teeth' which is rooted in his childhood experiences). This deeply-felt set of emotions often drive his work, but below he gives us an insight into his working world, his loves and passions.
Here he opens a window onto his world, a world that you, as a creative (or a lover of creativity) need to know about; if you don't already know, then we urge you to get acquainted with one of a handful of truly visionary people worth knowing and loving, and one who has influenced many that have followed.

You have had a lot of difficulties to overcome. How do you use these in your work; how do you take that pain and turn it into pleasure for someone else and does this bring you any sense of peace? 
There may indeed have been injuries but there was no pain. It is not until adolescence that things become clearer, manifest themselves as a form of revolt or associated destruction. Of course, it was not a happy moment for me but, for others, it may have been entirely ordinary. What is important is the distance established between suffering and creation, this first wound which I will transform into something more universal.
You have mentioned you wanted to be an actor when you were young; do you feel your perfumes and make-up are the 'characters' you 'acted out'? 
It is above all a duality, a choice I made before the age of seven, the age of reason. I had to declare it to dispel a belief about myself. And I said it to the female me. The woman within me was born from a very strong animal. She is imaginary. I summon her/myself when I wish to see her.
You are a relativity private, quiet individual yet you expose so much of yourself via your creative process, what do you gain by doing this? 
When I do something, it is aimed at you. It is not entirely intentional but this character is universal. It is a way to move forward.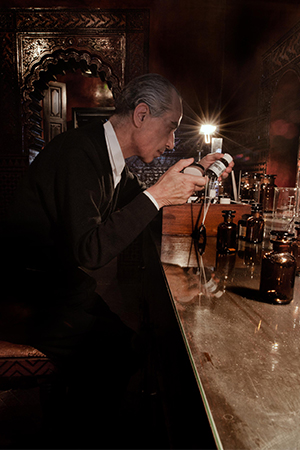 You talk of Morocco as being the first inspiration for smell, but what was your first or most important or both 'moment' with colour? 
Be it fragrance or colour, it is all part of our own special chemistry and is unpredictable. It is even claimed that some criminals are not aware of their crimes until one of them pierces them like a dagger through flesh. We do not know immediately what we will discover within ourselves. It all begins at birth but then our life gets complicated and our sensitivity is heightened to varying degrees. There lies the mystery within each of us. Colour is not very important to me. It remains very much a shadow, pinned to the ground by meridian time, mourning a death. Perhaps mine?
What does colour mean to you in terms of emotion? 
If it is not on a painting or a face, then it is just a colour, nothing more than a tube of gouache!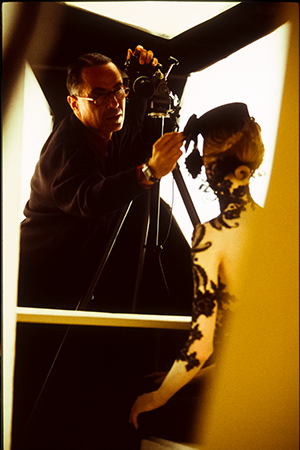 Talking of emotion (which you are very open about) what are the things in life that bring you the most joy? 
It is not so much joy but liberation. I breathe a sigh of relief when it is all finished because for as long as I am doing something I am holding back, which may explain the stitch in my side which I often got as a child when I ran.
You got to work across your career with the most amazing iconic creatives; you are one yourself now so, of those you worked with, whom inspired you the most and why?
If there is a creator, then it is G-d! If his existence cannot be proved, to quote Nietzsche, "even dead he will be impossible to replace". Having said that, I believe everything has its roots in the early years of haute couture just over a century ago with the creation of a woman by a top fashion designer: Cristobal Balenciaga, Gabrielle Chanel, Yves Saint Laurent who, as Edmonde Charles-Roux so nicely puts it, "liberated the woman". For me, this period simply exuded elegance, the secretion of a society which no longer exists.
You have utilised SO many creative mediums, and excelled in them all; what is it about working in different mediums that excites you and propels you forward? 
To excel, I need to lock myself away in a face, a persona. Initially, the face is dictated by the make-up, then the body, which is, in turn, immediately followed by the garment. I would not be happy with a real person. It is pure invention, a substitute for an emptiness I felt when I was separated from my mother in my very early years. There is no doubt that was the trigger. The rest bounces off this to create the image: photography, cinema and then perfume, a sensual expression of the emotions which are not committed to words. Of course, in the end, they will infer the words.
You have a unique vision: no compromise, dark light, good bad, happy sad, film noir, etc. What was it that started to form this visual within your work? 
I am the very principle. It is the result of a life I have saved; in this case my own.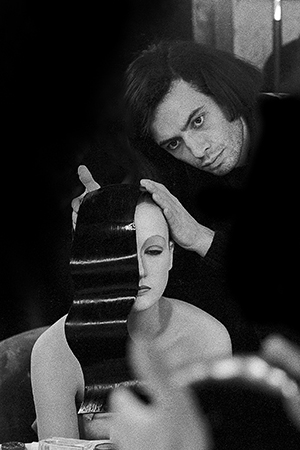 For you, what is love? who is love? do we even need love? 
I cannot possibly define it. It makes us powerless yet motivates us. This love is not readily available, you need to invent it, create it in your own way.
Why? Why do you still work after SO much success? What drives you to continue working? 
A sort of obsession. It is not a choice, it is a love like the passion of Christ. I vow to … I have no choice.
Where does your power, drive and creativity come from? Is it inside you? Behind you? From above? 
It is everywhere. I discover the source every day.
What's next? 
If it is not death, which is always possible albeit not something I hope for, creating images with words which go beyond the essences.