We do enjoy visiting different regional and specialist museums that are dotted around the country. Inspiration can always be found in the permanent ethnographic collection of the Pitt Rivers Museum in Oxford. In this current exhibition, the artist Anne Griffiths made items that she read about in the museum archive but had never seen in real life. PE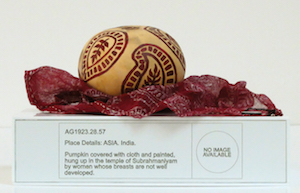 Pompkin covered with cloth and painted,
hung up in the temple of Subrahmaniyam
by women whose breasts are not well developed. 
ASIA, India
Anne Griffiths 'Made In Imagination' Exhibition, at The Pitt Rivers Museum is a fascinating experience for her, the spectator and the venue. Anne took historical descriptions of real artefacts that she found in The Pitt Rivers Museum database, which had no record of images and created these pieces from their descriptions. She spent time examining the customs and rituals of many cultures, she took time to understand the similarities and differences in traditions and fashions to make the most of this project.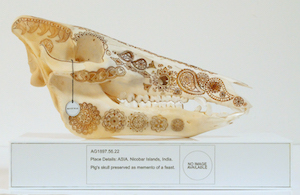 Pig's skull preserved as memento of a feast.  ASIA. Nicobar Islands, India.
With 17 imagined artifacts in the display, Griffiths has created a sense of innovation, originality and ingenuity to create an exhibition beyond belief. Anne Griffiths discusses her creative journey and process with us.  I can't remember how I first came to visit The Pitt Rivers Museum, I think it was just one of those museums that is always talked about as being a quirky place to go, full of strange objects and displayed in a manner that took you back to another age.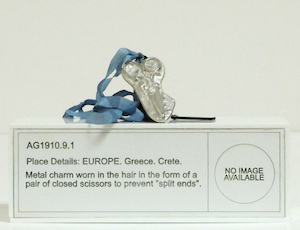 Mental Charm worn in the hair in the form of a pair of closed scissors to prevent "Split ends"
EUROPE, Greece, Crete.
I do remember one of my first visits for research though was to look at the baskets and I really appreciate their method of categorisation, not by age or location, but by type, so you have to scour the museum for different examples, baskets from all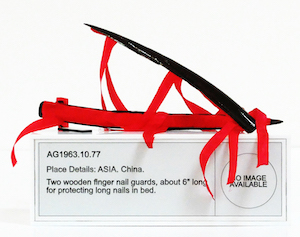 Two wooden fingers nail guards, about 6′ long
for to protects long nails in bed.
ASIA. China
over the world  held side by side in the same cabinet.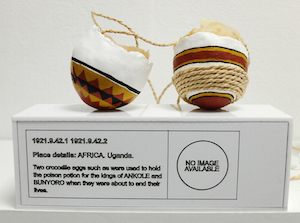 Two crocodiles eggs such used to hold the poison
potion for the kings of ANKOLE and BUNYORO
when they were about to end their lives.
Sometime before doing this project, I had been on a guided tour and seen some stone Medici lions which as a lot of them do, looked really human. The guide was discussing how the sculptor would never have seen a lion and probably made them from a drawing of a lion done by an artist who had never seen one either – only heard about them second hand. This had been playing away in the back of my mind for ages.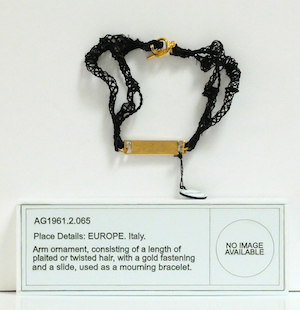 Arm ornament, consisting of a lenght of
plaited or twisted hair, with a gold fastening 
and a slide, used as a mourning bracelet.
EUROPE. Italy.
I went in to see the team at The Pitt Rivers Museum with a sketch proposal for the plan and they were really receptive as the idea and pieces were site specific to the museum. Then I just fleshed the whole thing out and applied – a really simple process. It took me about a year to complete from having the initial idea to the objects going on display, and it wasn't a simple task. Learning how to make origami shoes was a challenge, as was the hair mourning bracelet, but I am really pleased with how they turned out in the end and have so much respect for the makers of such intricate pieces.Much later,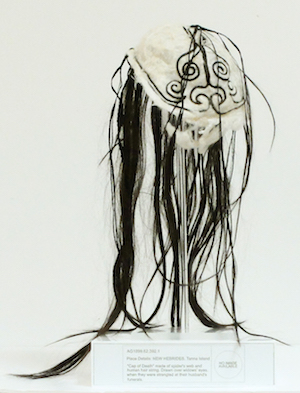 "Cap of Death" made of spider's web and
human hair string. Drawn over windows' eyes,
when they were strangled at their husband's funerals.
NEW HEBRIDES. Tanna Island.
I was doing some research for another project on eggs and was looking on the PRM database when I came across the crocodile eggs,there was no image available for them, but they were supposed to be on display so I went down to look at for them but couldn't find them. I asked one of the floor guides who was really helpful, but he couldn't see them either so I came away quite frustrated.  That's when I decided to just try and imagine what they might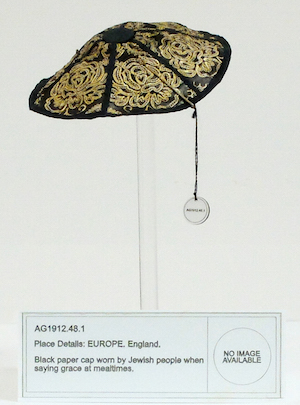 Black paper cap worn by Jewish people when saying grace at mealtimes.
           EUROPE. England.

have been like and the idea went from there. The cabinet will be there till the beginning of May which is great.  Due to the museums archive moving, so many of these objects are being photographed as part of the move so the same project would never happen again.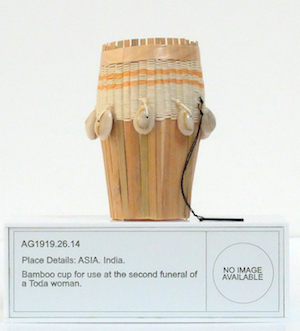 Bamboo cup for use at the second funeral 
of Toda woman,
ASIA. India.
In a talk I did for the museum I also suggested a little game that people could play with their children which I had a note from someone to say they played : "When we got home, we played the game based on it. Each of us wrote a description of an object that might be at a museum on a piece of paper & put them in a hat before pulling one out to work from. We then drew our interpretation of the description. Finally, everyone tried to guess from the drawing, what the description had been. It was good fun and we played it four times!"
They sound like they had a lot of fun! My favourite was always the last one I made, although of course the crocodile eggs probably as they were what kicked the whole project off.
                               Model of four silver paper shoes for burning at funerals.
ASIA. China.
annegriffiths.com
Pitt Rivers Museum: prm.ox.ac.uk
Instagram: pittriversmuseum