Beauty trends this season definitely echo the fashion trends. From lady-like to slightly goth to full-on glamour, it is a season of fun. Some themes carry on from past seasons, others are new one to get to grips with.
Skin is as ever important and can be seen from very natural to slightly glossy and shimmery. Checks can have a natural punk glow sunkissed or nieve and definitely pretty finish. Think a slightly seductive yet innocent blush of pink across a plump cheek.
The natural colour palette plays well again this season and sees an added shimmer and plenty more tonal choice than ever before, as brands widen the tone and palette for skin colours.
Matte red lips are here to stay, the perennial classic, chic strike of colour that lifts every face paraded itself along many a runway.
As this season is the season that builds up to all the holiday's celebrations there is, of course, plenty of shimmer sparkle and metal to be spread; whether across the skin cheeks or eyes and lips its all sparkle a go-go.
The slightly goth return to ever loved black clothes and heavy flat boot was represented in makeup terms by Black Black Black eyes heavy with mascara, strong brows and heavy made up lids. Deep dark panda eyes have overtaken the black flick from past seasons. Go large makeup is back in fashion.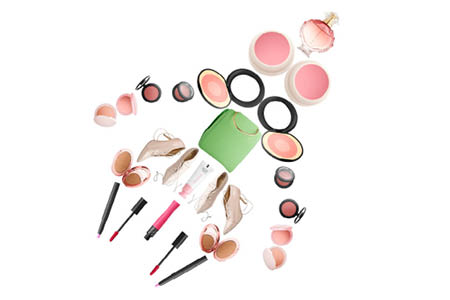 Shot Three
PACO RABANNE Olympéa LEGEND Eau de parfum
PAUL & JOE gel blush shade 04
CHARLOTTE TILBURY Cheek to chic collection, swish & pop blusher love glow
M.A.C powder blush in DESERT ROSE shade
M.A.C sheertone blush in PINCH ME shade
STILA convertible color dual lip & cheek cream in petunia and peony shade
ROKSANDA green besa bag
ROLAND MOURET shoes
GLOSSIER cloud paint seamless cheek color
BYTERRY Brightening+cc powder glowing powder, rosehip oil shade 4 Sunny flash
KAT VON D technicolor crayon in bubblegum shade
DIOR Pump'n'volume mascara squeezable in 840 pinkpump shade