JORDAN LUCA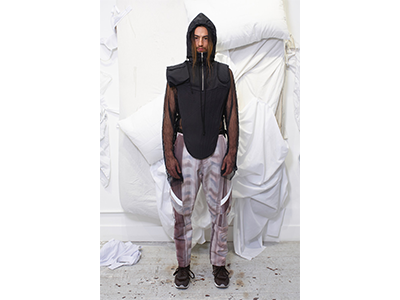 The designers Jordan Bowen and Luca Marchetto told their A/W 2019 through the lens of an obsessive, insomniac predator.
This collection shows the designers Italian heritage as well as mixing well with the intensity and rawness of London looks. This collection is not for ones looking for safe options.
The collection consists of out there pieces with standout patterns, luxe fabrics and complex structures. Also featured are slim tailored suits in abstract jacquard fabrics, smart double-breasted coats, printed tracksuits, oversize parkas with layered panels/cartoon prints.
KIKO KOSTADINOV

Kiko Kostadinov presented his Menswear Fall collection at London Fashion Week this year with movie references as Midnight Lace (1960) and The Ring (Japanese movie of 1998) to a gloomy soundtrack. Having recently left the British label, Mackintosh, the outfits included big, arc-shoulder jackets that were worn without pants. Swing coats, trenches along with ponchos and capes were a part of the collection. Baseball style gloves were blended into the collection which were a collaboration with Asics.
The collection had a lady-like, 50s silhouette and the models had their faces covered with wigs covered in rhinestones giving a dark, broody touch to the collection.
JOHN LAWRENCE SULLIVAN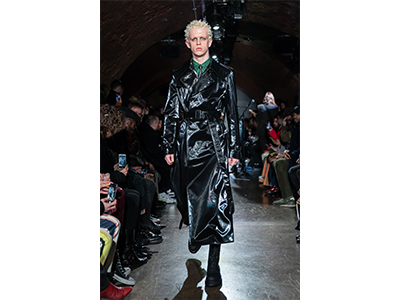 The models were seen wearing leopard, snake printed shirts styled with glossy leather pants and trench coats. Presenting at London Fashion Week with a background performance by underground band called Wild Daughter under a dark tunnel, the show made up for a gothic rock experience. Designer Arashi Yanagawa delivered a collection that had classic tailored suits were paired with corsets or see-through mesh tops, and leather jackets that featured metal fringing. The big-shouldered coats added a modern twist to the collection.
XANDER ZHOU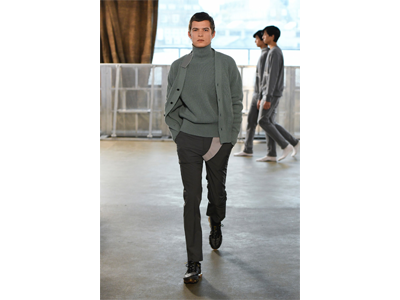 This season, Xander Zhou explored the theme of evolution from the past to the future, with everything that can be frightening, and exciting about it. The most striking examples for this were the faux fur yeti suits with "babies" in a matching fuzzy onesie strapped to the models' front, the transparent outfits saw on the runway or the flared trousers with holes on the knees. Other eyecatching looks were a beige mandarin jacket worn with padded cargo pants,  the striped knitted ensembles with flared trousers a white cardigan over a PVC shirt. For the colours  used for this collection, it was mainly white, gray, navy and camel, with sometimes green, sky blue and red. To illustrate the theme chosen, Xander Zhou also needed to put several accessories, such as a dusty rose cashmere scarf draped around the neck, sunglasses with a different colour on each eye, stilts, palms and a tape lookalike on some models' mouths. This collection was mainly futuristic, sportswear and new. With it, Xander Zhou definitely reached his goal to work on evolution.
BAND OF OUTSIDERS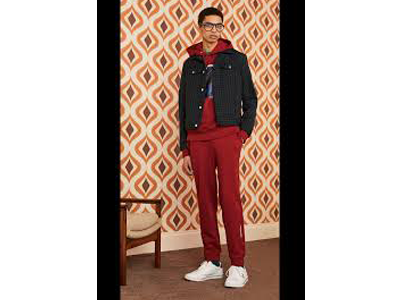 This collection was tainted with nostalgia and reminding of teenagers in our favourite TV series of the 70′s, and was said to be inspired by the people who were watching the first steps on the moon on the TV in 1969. The presentation took place in a small film boutique in East London and was really original since the models who couldn't parade because of the size of the shop were presented on a short movie screened during the show. The looks were mostly regular-wear reminding of the 60′s and 70′s era, such as corduroy suits, flared trousers, and long chiffon dresses, but also sweaters, check jackets and neckties. For men in particular, there were a lot of tailored clothing, but also street and work looks. To represent fashion of the end of the 60′s and beginning of the 70′s, we particularly noticed the number of knitted collars, workwear jackets and cropped jeans. As for colours, we saw a lot of navy blue, black and white, as well as dark brown. Bright colours could, however, bee seen on a few looks. The brand stayed classical for the patterns used for this collection. Straight stripes were seen on skirts, trousers, tops and scarves,  as well as other stripes on suits, and square printed on jackets. However jacket was particularly eye-catching, a really bright women jacket with a pattern looking like flashes, and we saw a few outfits printed with blurred images of the moon landings. The accessories were really simple, just scarves and beanies, and finally for the shows, the models wore Kickers as another reminder of teenagers during the first moon landing era.
 
ICEBERG
 

The primary colours featured in this fashion show are dark blue, black, white. The collection featured puffy jackets, puzzle graphic jumpers, printed trousers and tops. Colour block pieces were also featured like the purple jacquard blazer and matching trousers, pink graphic jumper and matching trousers, pink printed skirts.
Iceberg logo was visibly clear throughout the collection through their puffer jackets, headbands and anoraks. Puzzle graphics mixed with primary colours gave a modern interpretation of vintage ski sweaters.
The models had colour block eyeshadow with yellow, blue shades to match their outfits and sculpted cheekbones.
STEFAN COOKE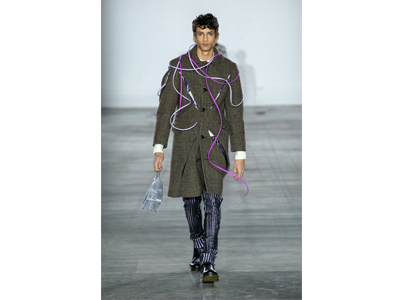 year, for London Fashion Week, it was the last show of Stefan Cooke in collaboration with Fashion East ( a non-profit initiative created to help new designers to make their own step in the fashion industry.).  Before this show, the brand already won the 2018 H&M. Thanks to their craftsmanship, tradition, and precision. It was then naturally for the two designers of the brand to celebrate their last collaboration with Fashion East, and what is seen as their signature now with this collection, as well as their love for traditional British aesthetic and culture. In order to do that, a lot of technical details could be seen on the looks. We could, for example, see an elasticated leather bonded to Lycra on trousers and jackets,  that seemed to move with the models' steps, diamond shapes, Argyle sweaters that reveal gaps between the various elements of the pattern, chainmail stoles, and a tailored, checked coat with cross-cut-outs and tube-like applications. A lot of patterns could also be seen, particularly on sweaters. As accessories, sculptural, looping wires around the body were seen, to show the celebration theme. The colours used were typical traditional British fashion ones: white, black, brown and grey. Finally, what we keep in mind from this show is a huge celebration of traditional British fashion with an eye kept on the future.
MARTINE ROSE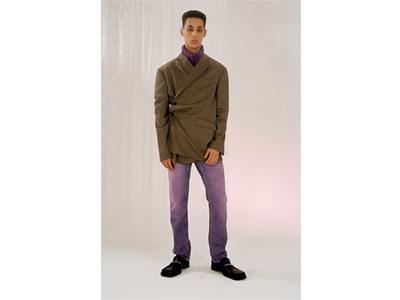 season's show was a tribute to the designer's city, London. This tribute could be seen even before the show since it was held in Leonard's Square's cul de sac and the people living there were invited to sit with the VIPs and enjoy the show. More than a simple love letter to the city, it was also a tribute to the designer's musical youth with several references for punk and rock music. These references could be seen on extra high wasted jeans, jeans featured with metal O-rings,  doctored jackets in leopard and denim, distorted ruched and cutaway track tops and football shirts Hawaiian shirt series, or straight cut overcoats with open pockets. A lot of outfits were also clearly inspired by sportswear but turned to something grunge.The main fabric of the show was denim, used mainly for jeans and jackets. As for the colours, many were used, all taken from 80′s to 90′s fashion, with a vintage inspiration. Another thing the designer used a lot was patterns, with sexual innuendoes on hoodies, a recipe print on a shirt, a Bristol print, a Jamaica one on other ones, and jacquard on trousers and a skirt (yes, there was a skirt in this menswear collection!). Finally, for the accessories, there were satin woven badges, a lot of belts, and square-toed shoes. With this collection, Martine Rose took inspiration from her roots and transformed it into something new, in order to make a wind of change.
CRAIG GREEN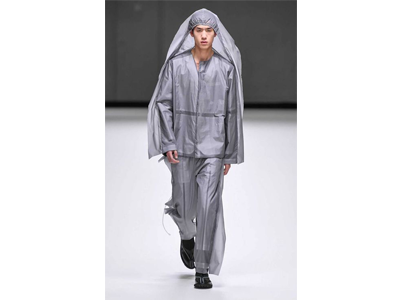 Craig Green's designer decided to blow people's mind and create a whole new experience with this show. Indeed, the show took place in warehouse space, with the audience sitting next to two tranches filled with water, and the catwalk running down the middle. For the looks, it was really futuristic, with fabrics like smocked plastic looking like blown glass, oil-slicker rubber used for a black coat, outfits made with nylon and cotton gauze cross-hatches, or padded nylon. All the colours used for this collection were really bright ones, for example on orange sportswear outfits, or fluorescent-hued looks. Craig Green also used a lot of patterns for this collection, some based on the graphics of bank notes, others were cruciforms and made the outfits look like priest's vestments, but we could also have a view on a quiet forest with a lake on the back of long coats. For the accessories, a few hats could be seen on the runway, but generally, there weren't a lot of embellishments used. The clothes could speak by themselves and didn't need anything more. It was a curious collection, but definitely, a show that was worth seeing.
STUDIO ALCH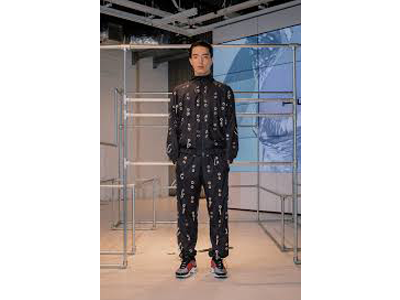 This year's collection was inspired by "daily tracks" and the looks were made to be worn in everyday life and enable people to go directly to the gym if they suddenly wanted to. In other words, it was a perfect mix of sportswear and streetwear. Apart from this inspiration, Studio ALCH also wanted to make people think with this collection and to help reducing waste in the fashion industry. This could be seen with removable bags and several pockets designed to be used instead of plastic bags, jacquard pieces created in exact panels in order to reduce the excess of material with pattern cutting. An eye-catching thing about this show was the patterns inspired by manhole covers in London. Other patterns used were for example chevron ones seen on knitwear, a heart-shaped interpretation of the British Standards logo printed on a sweatshirt, little triangle prints, or the ALCH logo. The main colours seen were a different shade of gray, white and black, but also some pops of fluorescent orange from time to time, seen for example on an ensemble. To reinforce the practical side of the outfits,  there was a huge varsity of jackets, and almost every looks had pockets and really long ones that could be sometimes big enough to put a big bottle of water inside during sports practice! This sportswear collection was also enhanced with the use of Nike trainers. This collection was made to represent London in a sportive way and to make people want to practice sports in the capital.
ART SCHOOL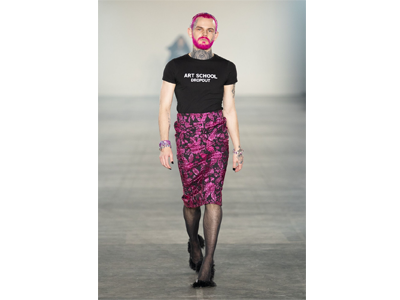 With this collection, Art School kicked things off with a bang. In order to show how genderless high fashion can be, the collection was mainly about dresses, that would usually be seen on women. We could indeed see asymmetrical dagger dresses with sequins or black silk dresses extending below the knee into a sharp point, but also velvet skirts. We could also admire some beautiful skits covered in gold sequins, or lovely silk blouses, all made to be worn by both men and women. Softer clothes could be seen on the runway, such as slashed hoodies or cutaway t-shirts, but the collection was definitely more about queer culture and shining fabrics, that were enhanced by the stilettos and other high heels worn by the models on the runway.  For the fabrics, the collection was designed to flatter all shapes and sizes, so a lot of different ones were used, such as silk, velvet and other floating fabrics. For the colours, there was a lot of gold, white and black used, but in general, we could see a huge variety of colours. A really interesting thing about this show was also the off-kilter top hats created from lost objects from queer spaces across London, and the really colourful wigs worn by the models that perfectly accentuated the genderless and queer purpose of the show.
E TAUTZ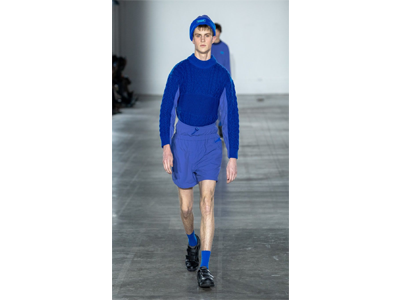 The inspiration for this show was Ibirapuera Park in São Paulo, Brazil. It was an inspiration that couldn't be seen at first glance since it was really subtle, but while looking in a more proper way, we could definitely see it. For example, there were pops of colours reminding of the ones of this park on trousers that were emerald green-hued or saffron-yellow-hued. Single button-blazers tailored with a tropical roominess and the half-moccasin, half-ballet-flat slip-ons (created in collaboration with Christian Louboutin) worn by the models were also a great reminder of this jungle/park inspiration. On the runway, many colours paraded, with a preference for warm colours, another reference to Sao Paulo. The silhouettes had an inter-seasonal mid-century dynamism, shown for example with bomber jackets, double-breasted collarless tops and really wide-leg pants that sometimes seemed a bit cumbersome, but really comfortable. As for the patterns, not a lot were used but we could see stripes in all of their forms on sweaters and scarves, and some geometric prints reminding of the buildings in the Ibirapuera park on t-shirts. Globally, all the looks of the collection, even if they were representing several seasons, looked really comfortable and were perfect holidays looks.