The shades of browns and yellows from a sepia-filtered vintage camera, check prints, long sleeves, shoulder pads, longline dresses, ruffled white shirts with ribboned necklines, black bisected skirts, olive mac jackets and light blue collared jackets with scalloped pocket-flaps all recalled a time when slow fashion was the only kind around. Leather shopper bags, side-parted hair either clipped or in ponytails, snake-printed cowboy boots and kitten heels came together to form Rejina Pyo's pragmatically creative A/W '18 collection.
With each collection, Vivienne Westwood professes her punk lifestyle, the fight for freedom, equality and social justice. The rebellious aura shone brightly here too, in each defiant outfit, each audacious pattern, each experimental cut and each bold, screaming colour.
Aviation was the main theme for this collection, which was defined by the flowy fabrics and balloon dresses drawn in at the hem to create spheres. Satins and silks in silver, greys, purples, sprinkled with a few oranges, amplified the flight theme. The collection appeared almost to have a small universe trapped inside its glimmering colours, which shone while the models strutted down the catwalk. Tracksuits layered with dresses could all be found here, and all in perfect harmony.
Latex was all over the place in this collection, on dresses, gowns, trousers and thigh-high boots. Predominantly black at the beginning of the show, the colour-palette progressed into splashes of red, then bright bubble-gum pinks and bright yellows. Tartan appeared on a military coat with frills, completely different from the opening outfits. Finally, bodysuits in sheer white fabric, with very little covering the body, strutted down the runway.
Amy Thomson's collection could be summed up as a little girl's dreams of becoming a princess, but with a rebellious twist. All pink ruffles and frills, the gowns paraded down the runway in different fabrics and varying hues of pink, from the muted to the loud.
A collection that could only be described as digital acid-toned tribal millennial. The models' faces were covered with ribbed stockings and they wore helmets made of Crayola-coloured cellophane and foil, paired with brightly-coloured fake hair. The fluorescent tulle tubes, tweeds, giant puffer jackets, skirts made of plastic squares and velcro closings determined a structured, drape-like silhouette. A collection all for the new glamour but definitely not for the faint of heart.
With its fusion of traditional patterns and silhouettes with modernised concepts of volume and structure, Jens Laugesen's was a collection decked out in black, red, and white. With its ruched necklines and ballooning sleeves, Laugesen's line was a wonderful discovery from the designer showrooms. 

Supriya Lele
Supriya Lele drew on her British-Asian roots to create her layered looks of sari fabrics and Indian jewellery as well as madras check, combined with modern techno-nylon fabrics and Helmut Lang-inspired tailoring. Supriya curated 90′s minimalist designs filtered through the perspectives of a female designer with multinational roots.
Xu Zhi's renowned braiding craftsmanship, and the use of colours ranging from orange, blonde and pink to navy blue and dark green, created looks in the image of vintage oil paintings. Tailoring was obvious in this collection, with decorative tassels, ankle-length coats and skirts with wax finishing, pleated skirts, wide-leg trousers and crafted yarn vests. These created structured silhouettes and ruffled outlines to compliment the female body. The model Jane Morris was a source of inspiration for this collection, and there is a distinct reflection of the relationship between the artists and the muse as part of Zhi's artistry this season.
Created in a monochromatic colour-palette, Phoebe English's collection payed homage to her late grandparents with sombre silhouettes and straight, sharp-lined pieces.
Said to embody the Teatum Jones spirit, the collection was inspired by twenty-five unique women with the qualities of boldness, confidence, creativity and intelligence. Drawing on moments of joy, sadness and hope, the line, 'Global Womanhood', was presented in a wonderfully emotive atmosphere, infused with a bright, feminine energy. With colour-palettes of deep red and burgundy, lush pinks and cornflour blue, mixed with intense navy and royal blue along with fresh white, ivory and cream, the colours of the collection functioned to reflect this aura. Using the brand's best pieces, such as their oversized statement coats, fluid dresses with handkerchief hems, overflowing and elongated sleeves and knitwear with cut-out sleeves, the translation of emotion and colour into the fluidity and movement of the pieces was overtly evident in this refreshingly feminine line.
Capturing the essence of a Zen garden was the central motivation in the contemplative designs of this collection and in the showcase. The technical draping created monastic silhouettes made up of knot motifs, jacquard and floral coats and fabrics which looked like armour, not to mention the large tassel decorations which added a modest and introverted but equally romantic dimension.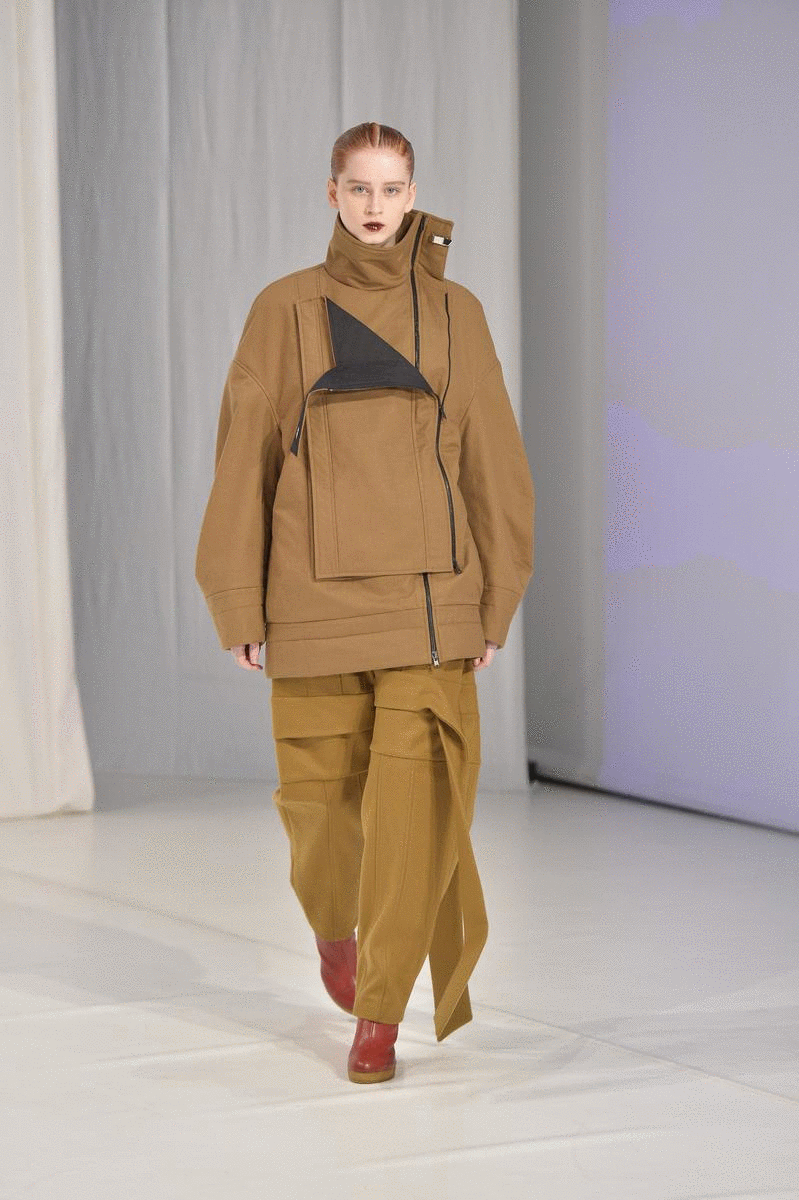 Chalayan
Chalayan's collection, titled 'Peripherique', presented a discussion of the turbulent immigration crisis in Europe. Cutting-edge women's tailoring and clothing designed in an almost utilitarian parody of the French haute couture were adorned with faux fur to create sharp and pragmatic outerwear in earth tones of brown, green and red, as well as corals, purples and greys. A definitive triptych collection in conjunction with this autumn collection.
Featuring poufy skirts and feminine silhouettes, Molly Goddard's A/W '18 collection showcase presented an ultra-feminine line which epitomised the traditional ideals of womanhood. Accented by straightened hair and winged eyeliner, the outfits were comprised of blacks, golds, pinks and muted greens, along with layers of ruffled fabric. Patterned stockings and strappy sandals were also prominent, in contrast with the mesh undertones of the dresses and scoop necklines.
Pulling a Moulin Rouge in this collection, the show featured pink feathers and classy dresses with an element of sexy playfulness in the riding-up-the-thigh skirts, seductive fringes and neon stilettos.
Image sliders 1,3,6 Taetum Jones, slide 2 Edeline Lee, slides 4,5,9 Xu Zhi, slide 7 Molly Goddard, slide 8 Sofia Webster