Channelling a very girly and feminine style, Starsica's fall collection featured ruffles and frills to complement the eye-catching and prominent patterns and designs. Rendered in a muted colour-palette of blues, purples and greys, the oversized silhouettes were accessorised with a dark pink blush and slicked-back hair. The red lipstick and overdrawn eyebrows also helped to dramatise the look, along with patterned stilettos and interesting cut-outs.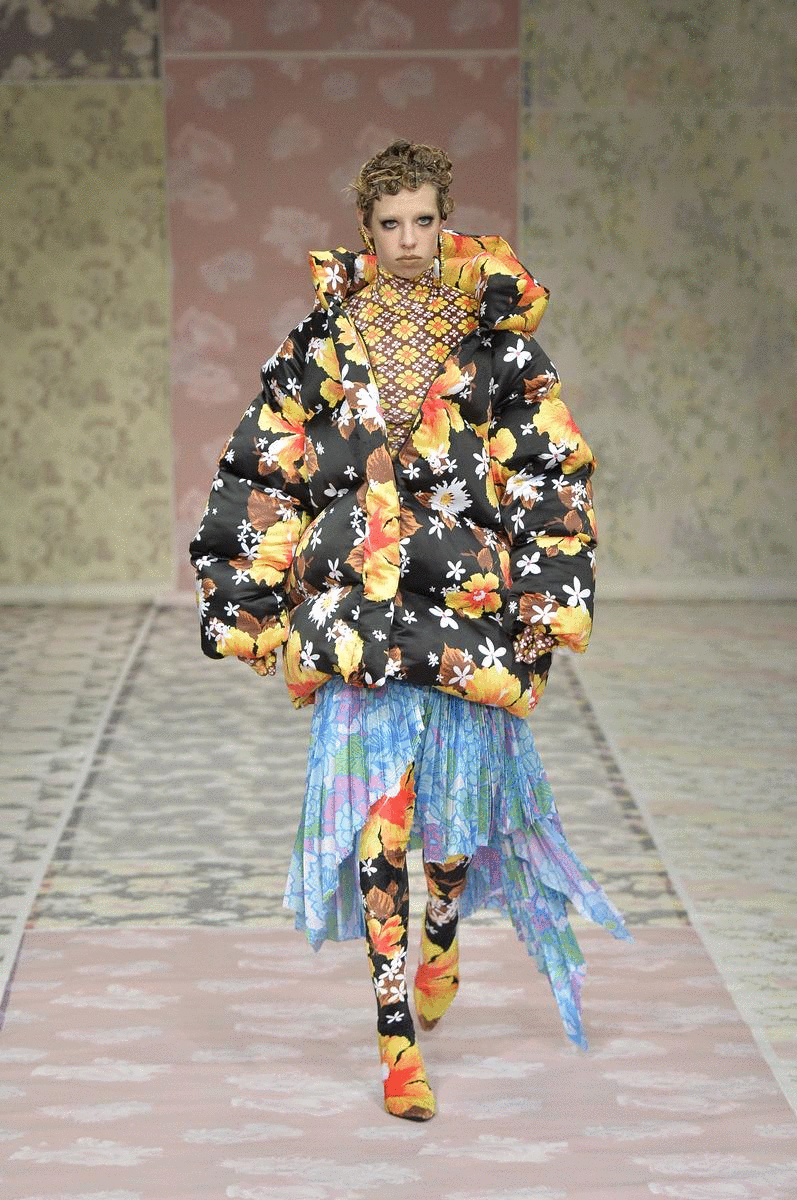 Richard Quinn
Frills, layers and outstanding print-work took the main stage alongside the theatrical silhouettes. Oversized was definitely one of the main components in this abstract-patterned collection with its rocking browns, yellows, pastel-blues and pinks. This complimented the delicate chiffon dresses which seemed as if they were flowing and in continuous movement. Bomber jackets made out of silk and gowns made out of metallic material alongside the dresses gave the impression that they were made out of multiple silk scarves strutting out one after another.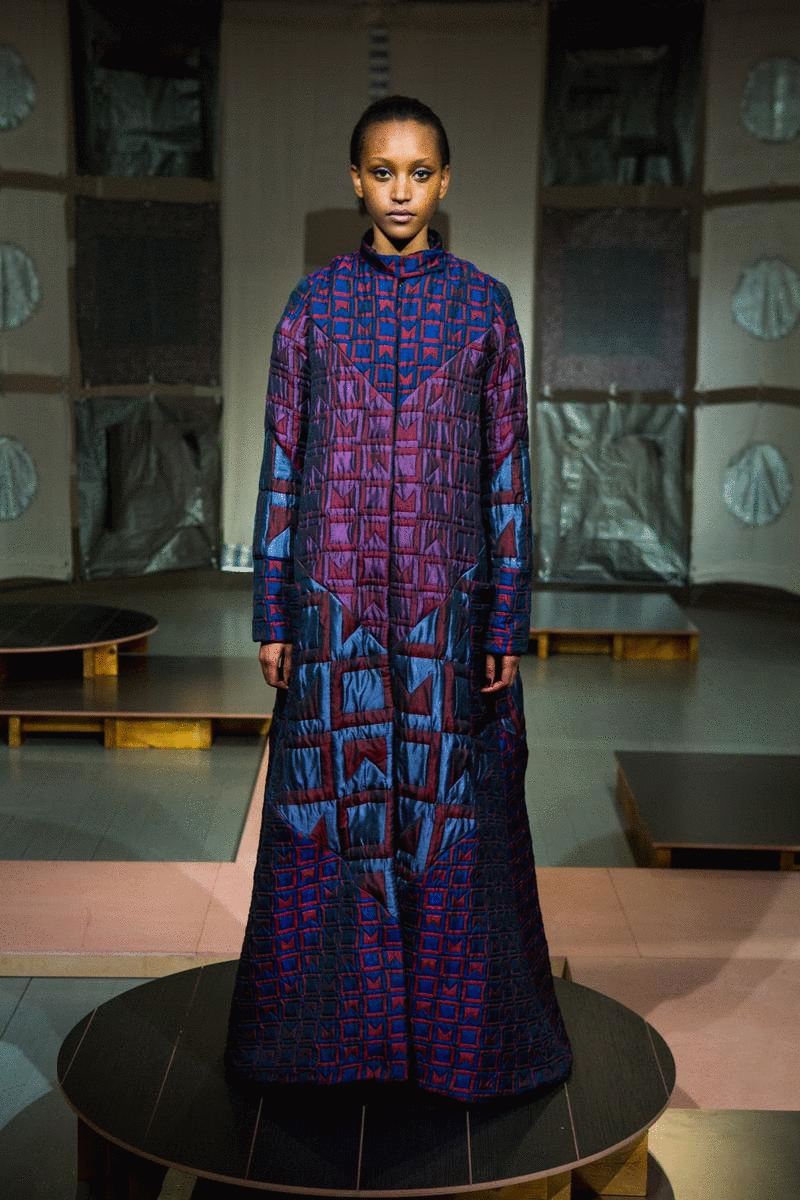 Sadie Williams
Playing up the bright colours and bold patterns, Sadie Williams' fall presentation used oversized and boxy silhouettes, along with colour blocking and an out-of-the-face pulled-back hairstyle, to create a striking collection.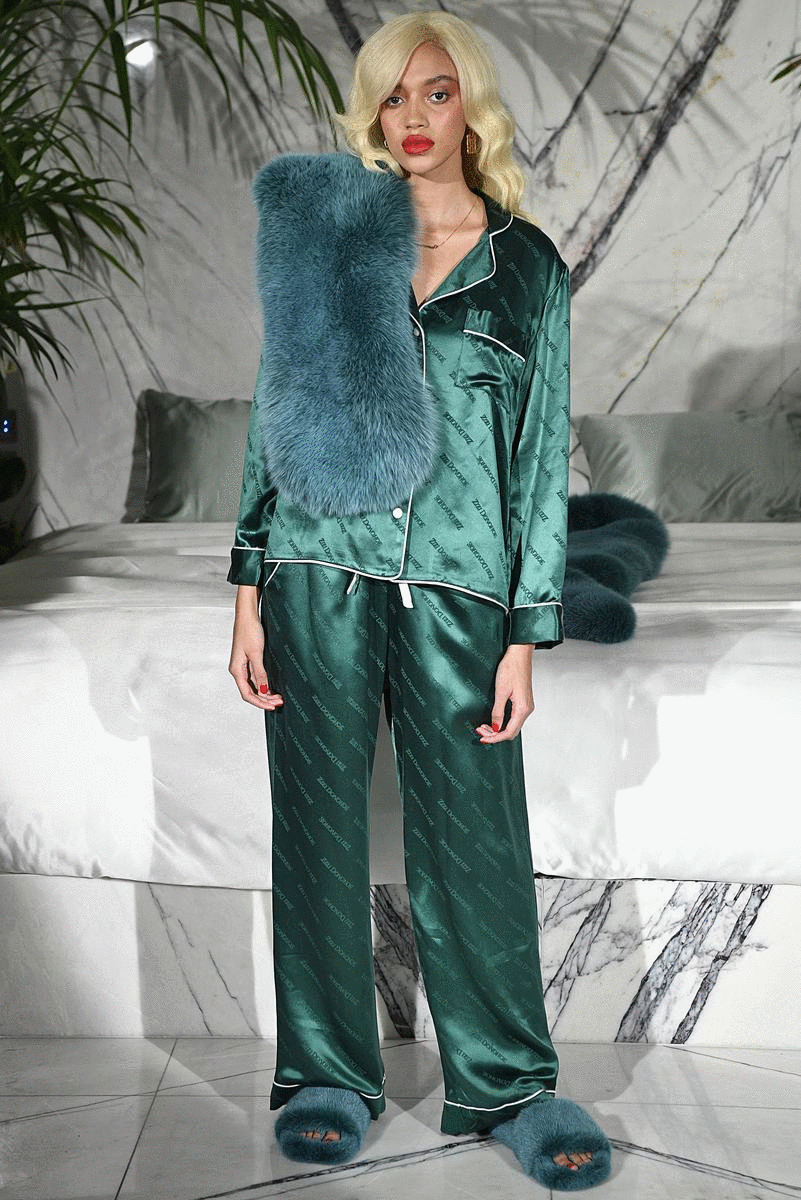 Zizi Donohoe
A collection and presentation that celebrated Old Hollywood glamour and the sustainable production of ethically-sourced material of modern society. Donohoe brought out monogrammed silk jacquard pyjamas and sweeping robes in hints of light pinks and deep emeralds that had very wearable silhouettes for every woman's comfortability, but with added fabulousness, in this luxurious collection.
Using Bauhaus as its starting point, the collection walked out in printed dresses, on which the heavy usage of typography elements were hard to miss. Katrantzou stayed true to the Bauhaus movement's characteristics, such as the poster aesthetic, the primary colour of red and bold lettering, while going further by combining light brown into the designs for a splash of colour. Progressively, then came with floral prints on structured dresses, which gave an almost rococo or art-deco impression, if we take into consideration the structural elements of the designs.
Credits: Slide 1,2,3,4 – Emilia Wich
The stripes and checkered patterns had an almost summery vibe, and gave the impression of easy fabrics as the models walked down the catwalk in shades of white, red and blue with hints of gold. These were accessorised with headpieces and scarves that were tied and looked like big bows – a nod to the retro era. This was not reserved only for the accessories, but also the silhouettes. At a closer look, it seemed that the outfits could be worn by women of the 50's, either going to a picnic or to the disco, depending on the levels of casual and glamour they go for. Versatile indeed.
For A/W '18, Roland Mouret brought out a collection featuring baroque prints in jacquard, lurex georgette and velvet corduroy, collectively articulating a strong and mature femininity. Mostly centred around dark colours with tones of navy or khaki, the collection also included, in contrast, a few looks which embraced a vibrant blushy pink or a pillar-box red. It was impossible to miss the lingerie-style geometric lace displayed throughout the collection with stockings or skin-exposed dresses that added a touch of sensuality to the very chic runway.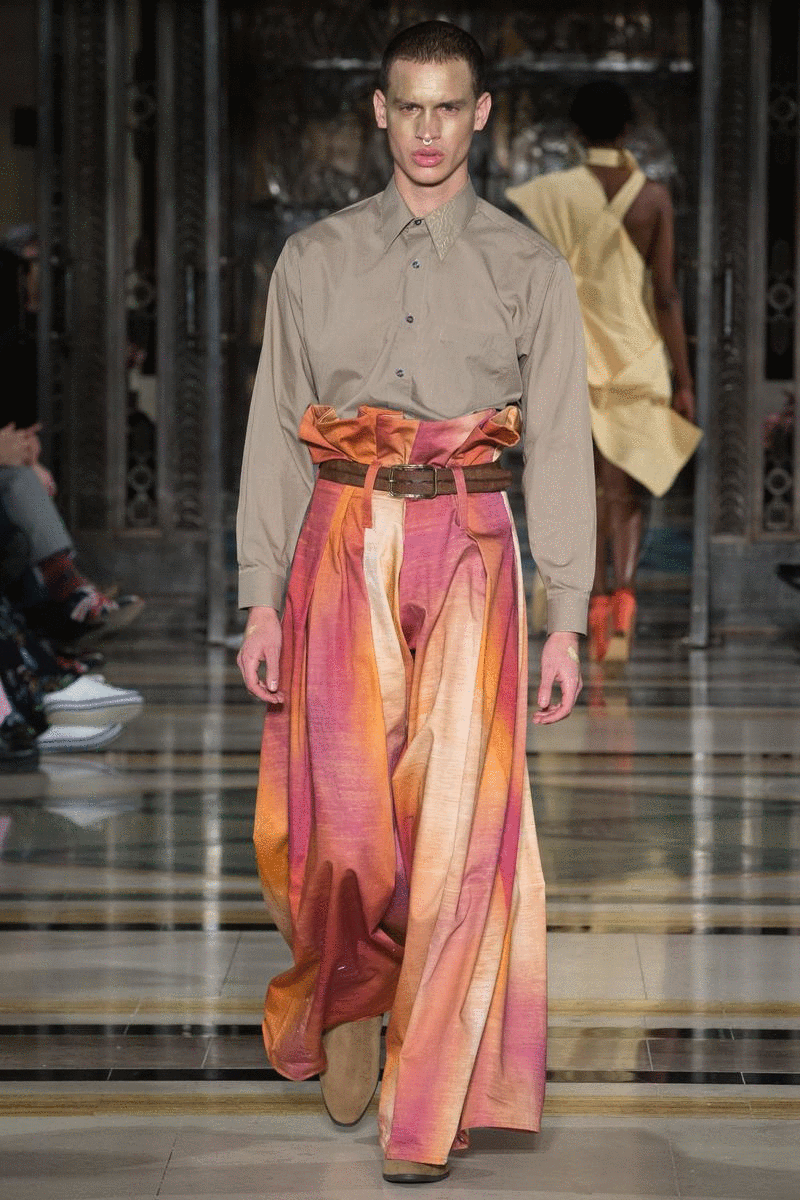 Fashion For Conservation
This show was inspired by the Amazonian rainforests. Even the soundtrack was one of a rainforest, which imitated the calmness and serenity of the environment. In hues of magenta and yellow, it replicated the sky as the sun is setting, adding to the calm-factor. The forms of the flowy gowns and the neutral tones all played a big role in setting the mood.
Mixing East-Asian silhouettes with streetwear, Underage created a new breed of look with their metallic prints, typography, and splashes of colour.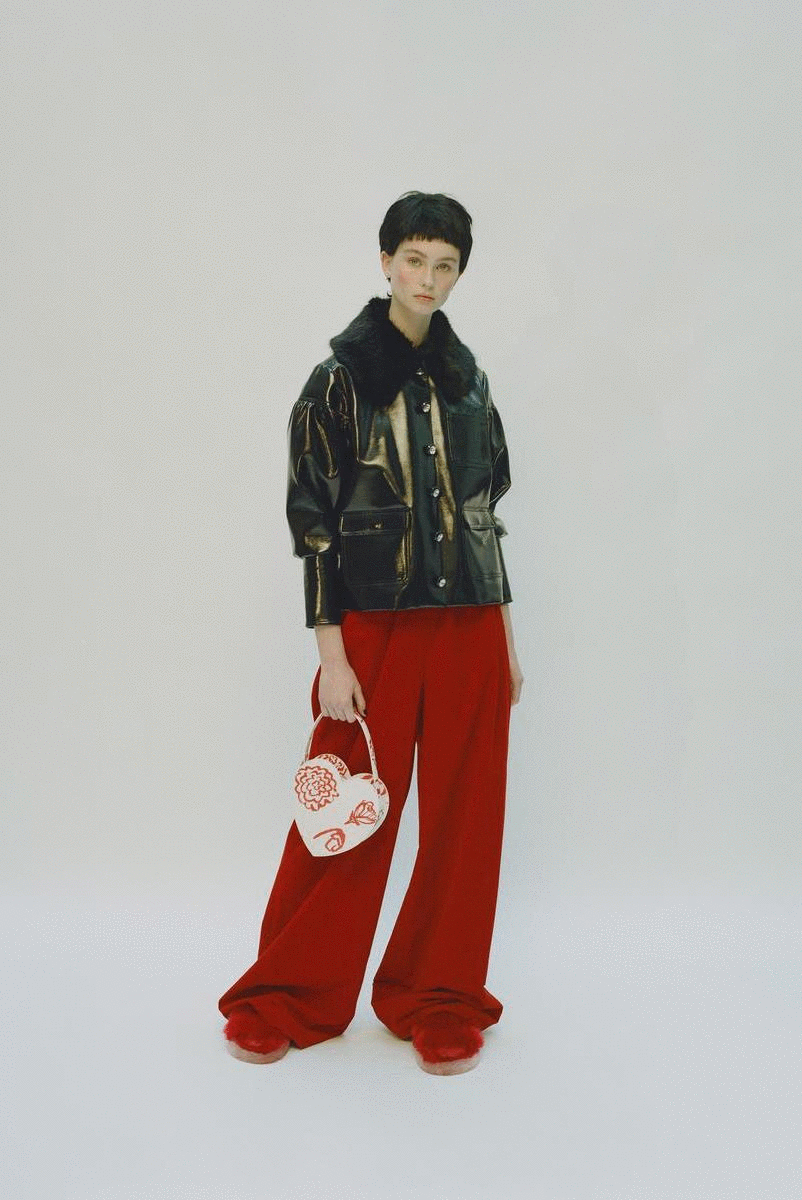 Shrimps
Known for the girlish overtones of her brand, this collection was no different. Inspired by Mary Queen of Scots and Louise Bourgeois, the displayed clothes had an almost regal feel to them with the straight coats and white gloves. A faux fur white coat could be spotted alongside a tartan dress that most definitely screamed Scottish. In whites, beiges, reds and soft pinks, the collection brought classic back with an innovative twist.
Almeida brought back the dip-dye with this collection, it being present on multiple dresses and fabrics such as silk. Shiny materials were a definite must here, such as soft orange velvets, black silks or patterned fabrics. In oranges, whites and blacks, the collection formed a unity with its colours in combination with its patterns. The oversized sweatshirt made a comeback and was combined with knee-length skirts and boots. It might sound risky, but here it made a perfect combination which brought together streetstyle and elegance.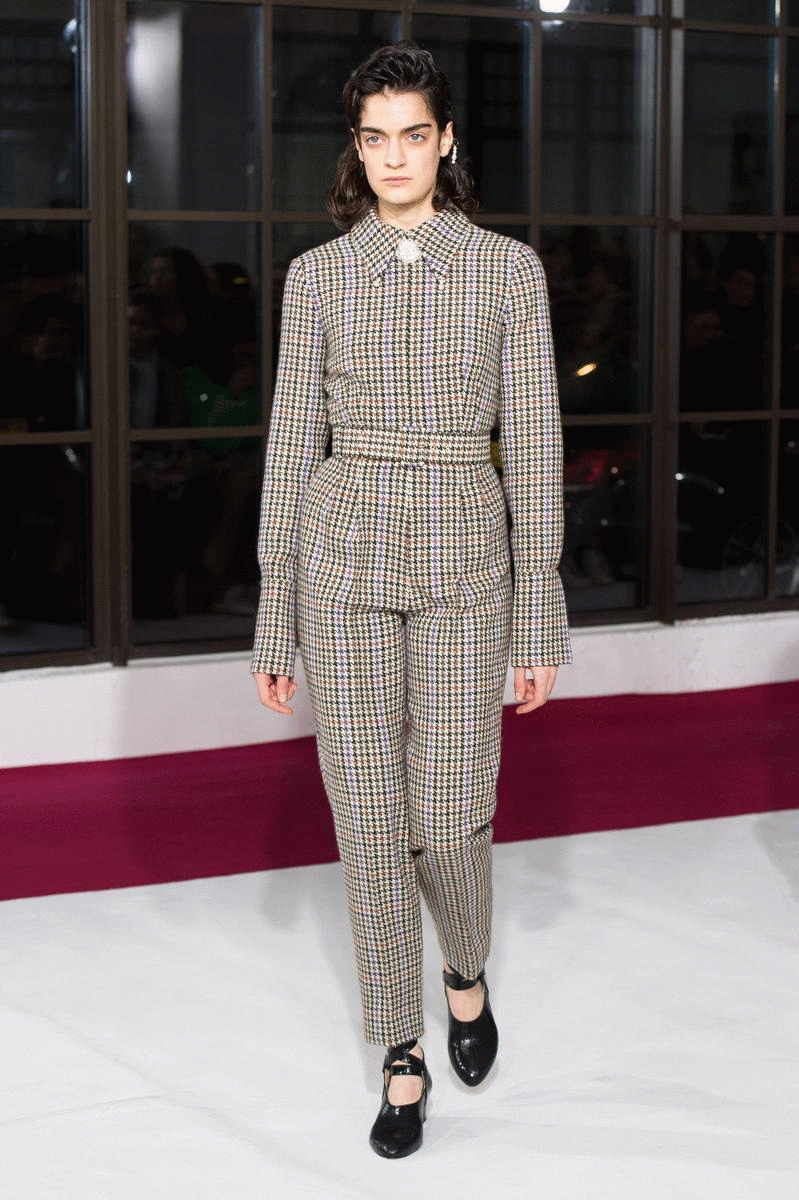 Emilia Wickstead
With an American preppy air around the collection, Emilia Wickstead took inspiration from the spirit of Ali MacGraw in the film Love and Story. Featuring tartan print and floral clustered patterns, cable knits and trench coats, the attitude was smart and powerful with elements of all-American innocence and femininity in the embroidered cross-stitched hearts on white puritanical collars. The laid-back nature of high-waisted jeans and roll neck knits was paired with a brilliant turquoise boiled wool coat draped over the top. These looks were the epitome of the strong female protagonist in your favourite rom-com.
The camel colour took the main stage in this collection. Darker or lighter, it could be seen on light plaid or accompanied by a poppy red or light blue. Plaid was layered over pleated satin for a soft and feminine look. Whether they featured sharp shoulders and boxy cuts or long flowy fabric, all the looks had unity.
 
This collection definitely had a galactic look to it, as the greys, dark blue hues, pinks and glittery fabrics mixed together, not forgetting the patterned, flowy dresses that moved with the models as they walked and created the illusion of wind. Frilled, oversized and very feminine, these looks had a life of their own.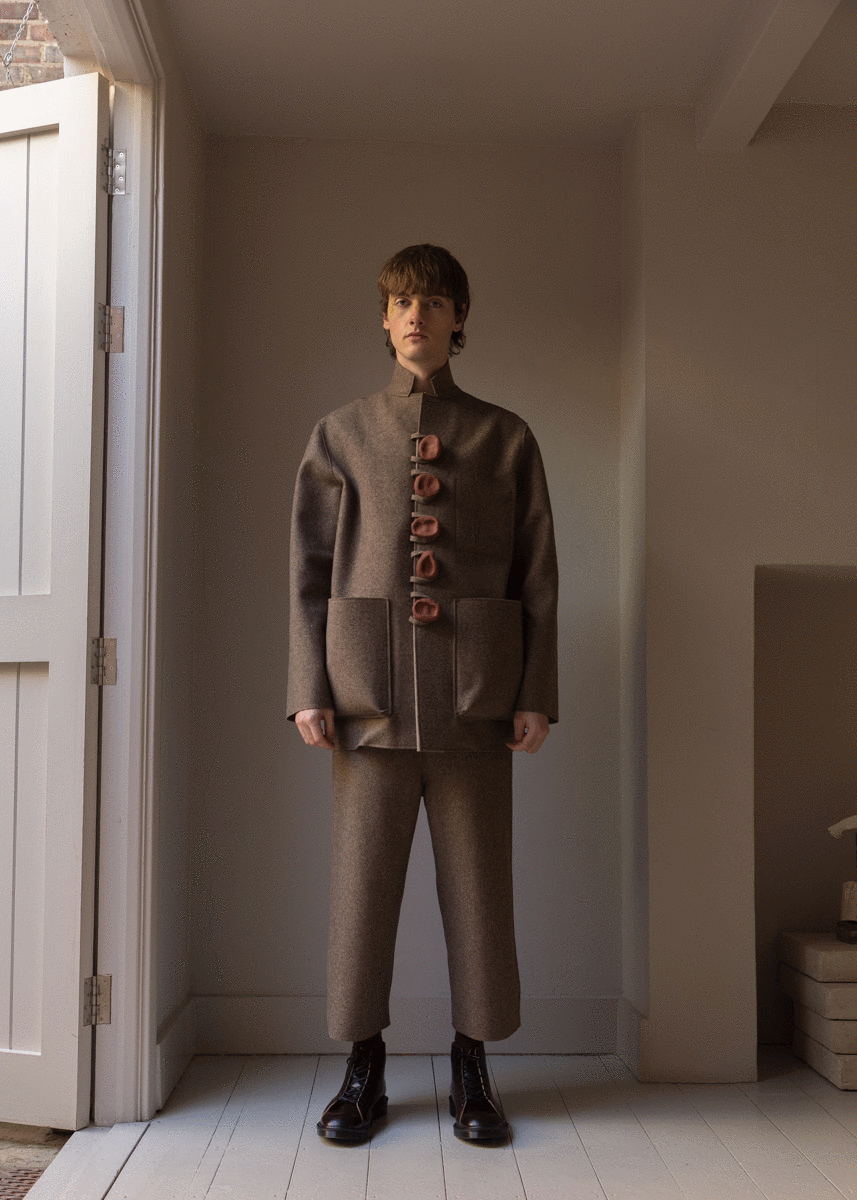 Truly nomadic in its essence, toogood's collection exuded calmness through its use of neutral, earthy tones. Tailored from felt-like fabrics and cotton, its showcase offered a lineup of cosy alternative for the colder seasons.
Image sliders 1,2,3,4 Emilia Wickstead, slides 5,6 Roland Mouret, slides 7,8 Shrimps, slides 9,10,11 Marques Almeida