Predominantly dark, the whole collection had an elegant look with its satiny and flowy fabrics, accentuated by floral prints. The veils worn gave an atmosphere of mourning when combined with the oversized, chunky coats, while remaining mysterious at the same time.
A bohemian take on the Haenyo divers of South Korea, the lineup abounded in asymmetrical silhouettes in off-white or various primary and marine-toned blues, reds, blacks and yellows crafted into dippy-hemmed dresses and adorned with gold and pearl-like sequins, combined with scuba fabric in long floral fringed dresses, Asian-inspired brocade coats and asymmetrically lined pencil skirts. The models were accessorised with lace and fishnet tights, and wore bags in the shape of buoys and large fishnets, as well as scuba-like adjustable hoody headwear and seaweed-like, adorned shoes. Their makeup was left almost bare except for the slight gloss and golden pearl glitter on the forehead or hair.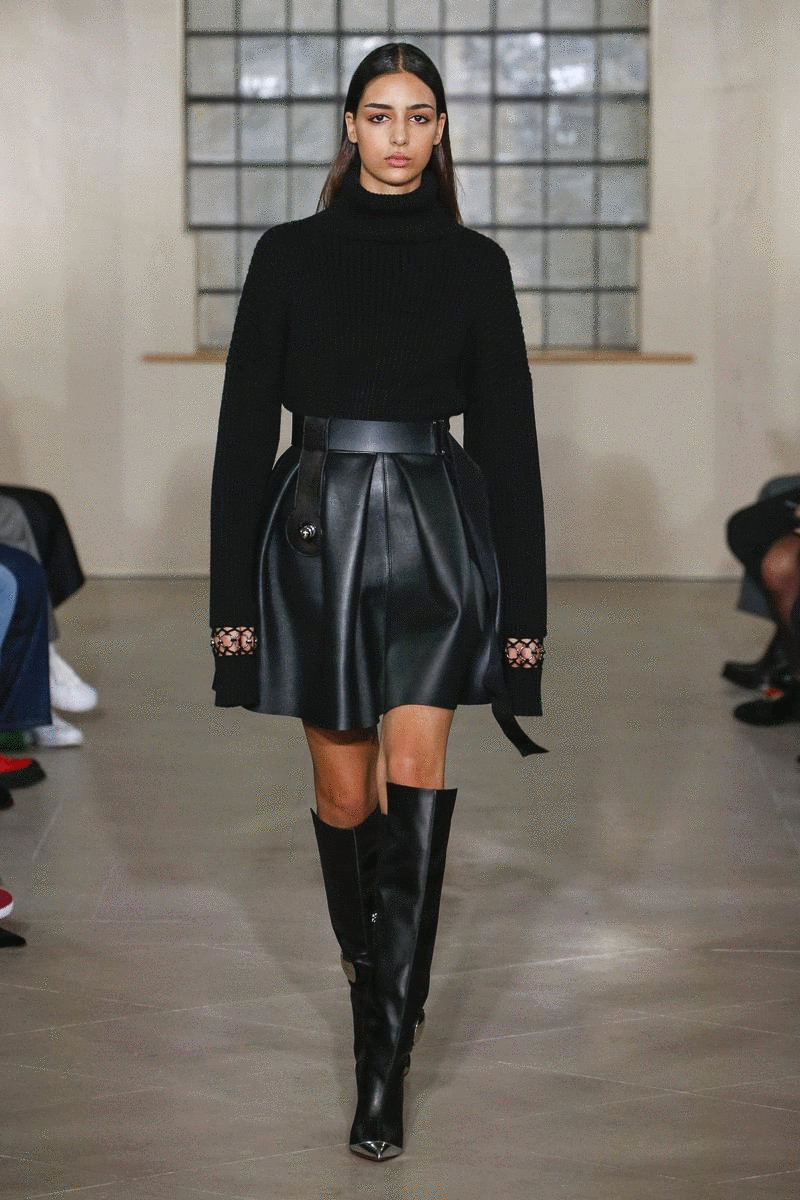 David Koma
Leather was seen everywhere and on every piece that walked on the runway. In the retro silhouettes of the 60's, the large waist-belt was the main accessory for many of the looks. Black provided the central colour-palette, punctuated by some splashes of red and a shiny purple strapless dress with a slit up one leg which ended the show. It was as if classy leather and all-black sophistication was mixed with disco-vintage.
Featuring floral prints and heavily-blushed makeup, Alice Archer's A/W '18 presentation gave off a very ethereal vibe, with mesh emphasizing the crew-neck neck-lines and highlighting the blue and white colour-accents. Very girly and elegant, the lineup had an almost Japanese feel to it thanks to the floral kimonos which were matched with lacy dresses. By draping one over the other, Archer added a great dimension to each look. The outfits could have fitted perfectly into paintings, as they carried a certain grace in each frill and fold.
This funky presentation from Holly Fulton employed flared pants and pointed heels, accentuated by leg-warmers and complemented by the patterns and fur which adorned the boxy silhouettes of this collection.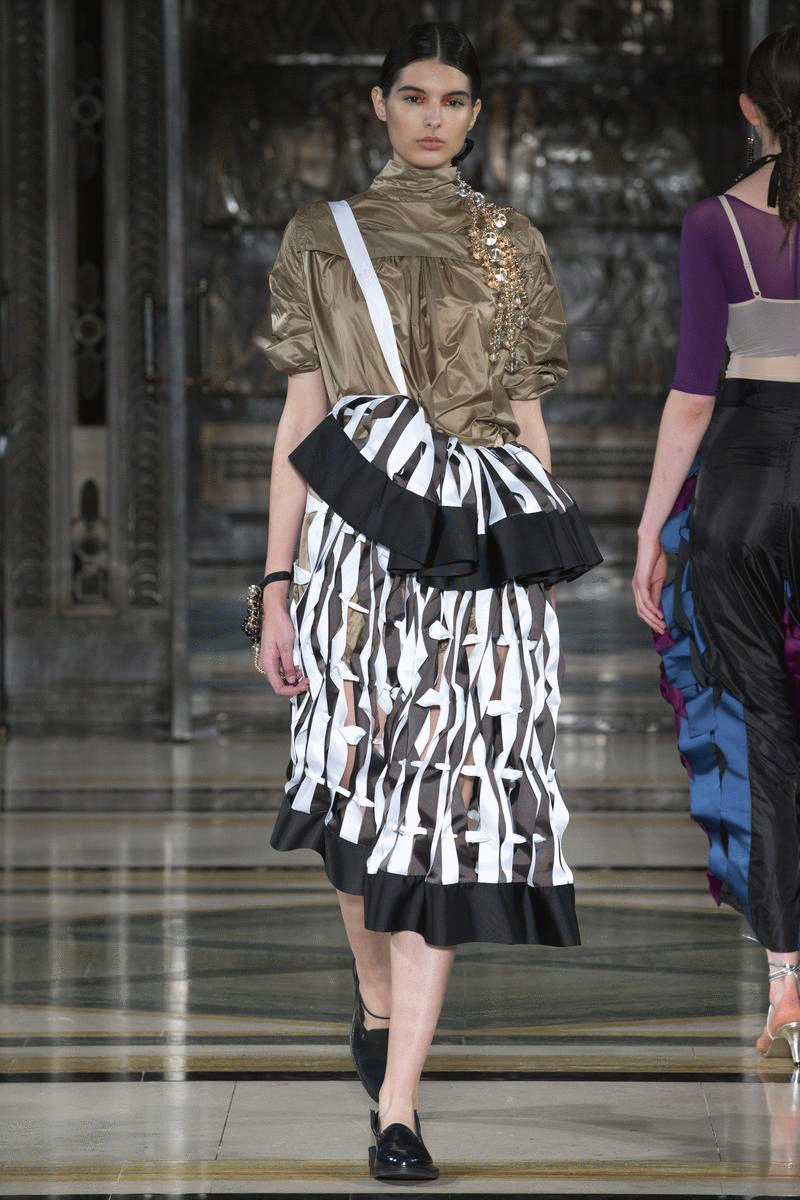 Ones to Watch
Showcasing the individuality of each designer, the Ones to Watch show combined the collections of their four winners: Maddie Williams, Susan Fang, I-am-chen, and Kristel Kuslapuu. Williams' designs placed special focus on the idea of eco-fashion to create an exciting and avant-garde collection which combined silhouettes and textures to break the stereotypes of minimalism in environmental fashion. Fang's collection fixated on the idea of clothing as a fluid entity, and as something that can be viewed via different dimensions and through fresh silhouettes. Based in Hong Kong, I-am-chen's A/W '18 line sought to recreate a childlike playfulness by using new techniques alongside unique yarns and patterns. Kuslapuu, with her individual and distinct style, allowed her knitwear to play out its quirky and fun style in oversized silhouettes and bright colors.
Whether it was the unisex blazer or work pants, all the items of the Margaret Howell A/W '18 collection were versatile enough to be wearable not only this autumn but for a lifetime. The entire collection displayed relaxed yet perfectly fitted garments in neutral and classic sober colours such as black, navy and grey, though also including brown, beige or khaki elements.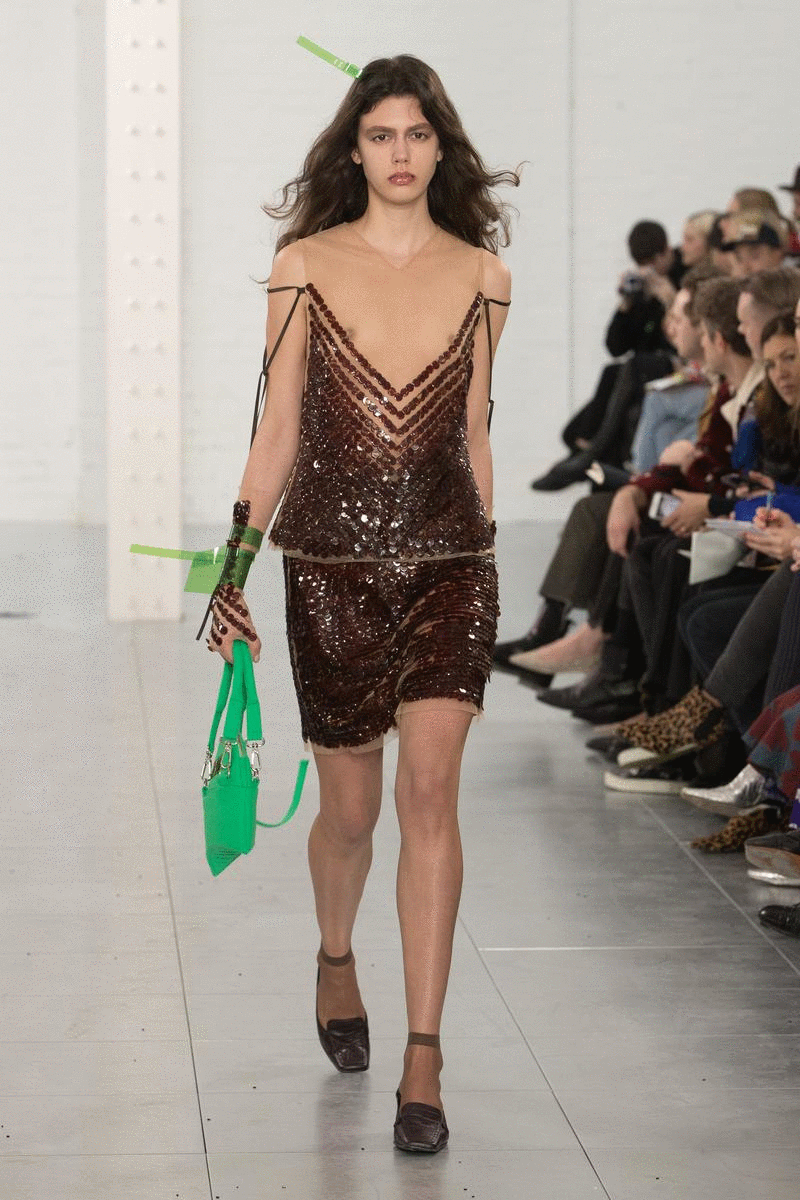 Charlotte Knowles
The last designer to showcase for Fashion East alongside Asai Ta and Supriya Lele this fall was none other than Charlotte Knowles. She played with earthy tones, different fabrics and prints to explore female sensuality in a minimalistic way. With the predominantly earthy shades, the pieces were in perfect harmony with all skin colours. The collection gave the impression of being at one with nature but with a fun twist, and at the same time exuded sensuality and femininity.
The first to showcase during Fashion East's A/W '18 collection, Asai Ta took his inspiration from his Vietnamese and Chinese heritage and the English upper-class to experiment with woven and tufted textiles in various colours and fabrics along with compelling, oversized silhouettes.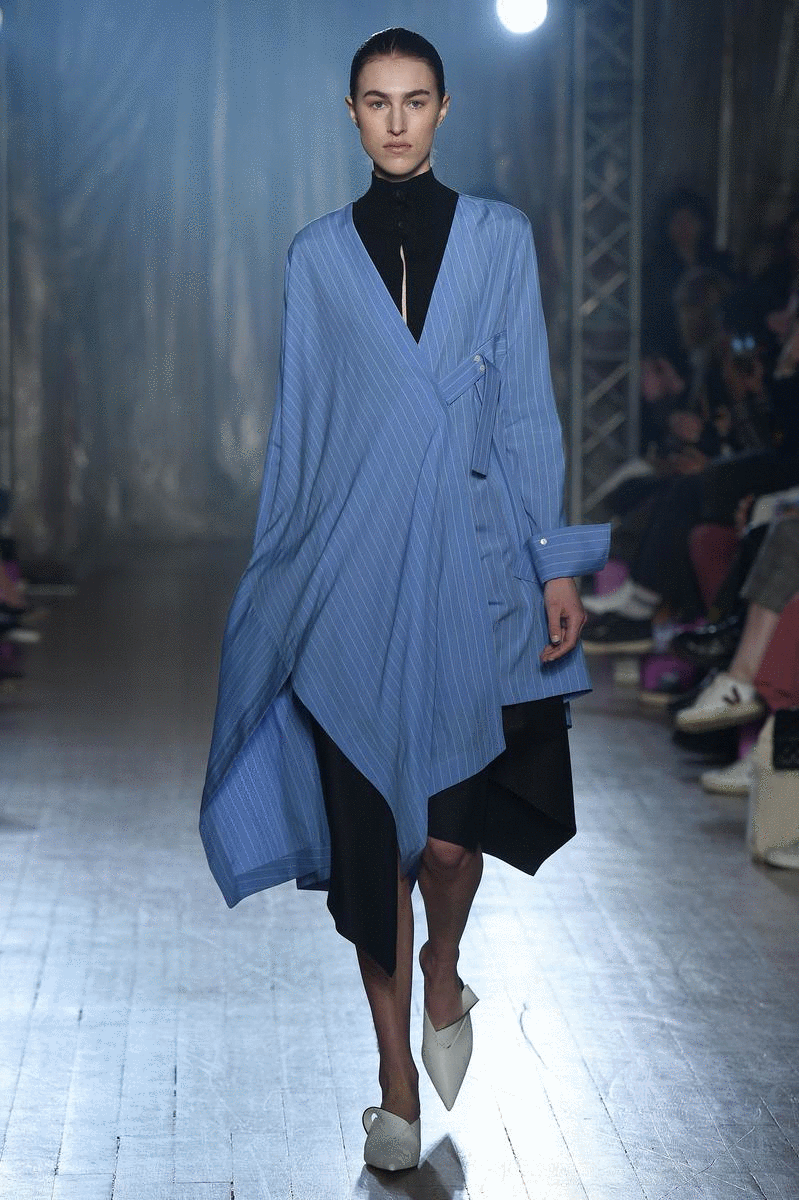 Palmer Harding

This season, Levi Palmer and Matthew Harding focused on both comfort and style. While trying to better understand their customer profile, it was concluded that their consumer was a woman who wanted to wear something with the durability to last the entire day and to adapt to their busy lifestyles. Heavily inspiring movement, their lineup featured high-waisted wide-leg trousers and high-collared shirts. Best known for their shirts, in this line they presented elongated wrap shirts with handkerchief hems and asymmetrical necklines which could also be manipulated into trench coats. The key fabrics featured were combinations of silk and jersey.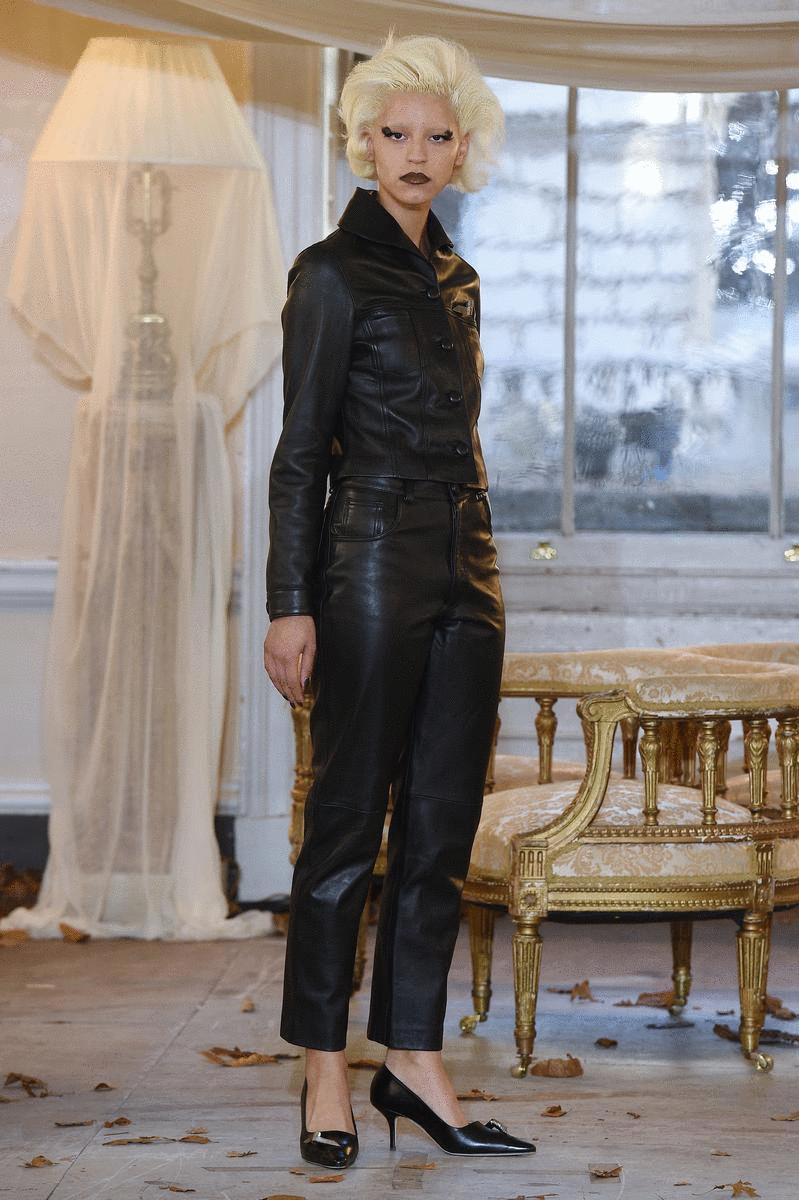 Dorateymur
Featuring elegant dresses and suit combinations designed to highlight the feminine silhouette, Dorateymur's A/W '18 collection channelled the power and control of female domination through its leather pieces and the use of dark, smudged eyeliner.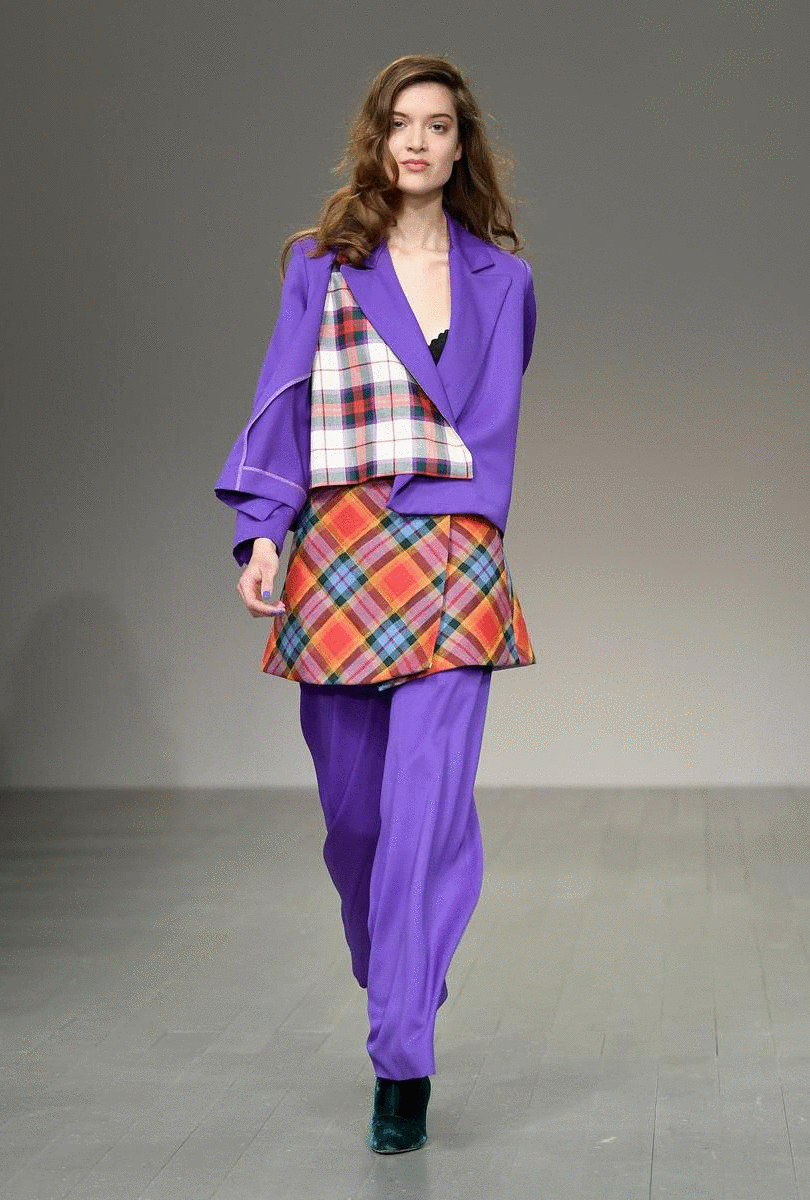 Marta Jakubowski
Bringing her audience back to the early 90′s, Marta Jakubowski played with structure, tailoring and layering. Mixing variously coloured plaids and bright colours such as red, purple and petroleum, and even different fabrics such as satin, silk and fur, Jakubowski's lineup recalled the colour-palette and style of the 1990s. Her suit and tailleur looks were characterised by widened shoulder measurements and tightened pants, and accented by hints of lingerie peeking out from underneath, while her dressier looks were given extravagant sleeves and embellishments. Recalling the supermodel trends of the 90's, Jakubowski put emphasis on the individual and confident character and look of her models. As such, the styling accentuated each model's radiance and unique features, while keeping the look as natural as possible, and at times even adding the accent of a jewelled ear cuff.
Image sliders 2,7,8,10 Erdem, slides 1,3,5,11 Preen by Thornton Bregazzi, slides 4,6 David Koma