Frayed tweed skirts, oversized overcoats and extravagant balloon headpieces were just some of the highlights of Matty Bovan's Autumn and Winter 2018 ready-to-wear collection. Inspired by his grandmother and by traditional British style, Bovan took his looks to a whole new level by mixing prints and experimenting with asymmetric silhouettes. He styled his models with atypical hair and makeup, such as geometric makeup in the form of variously coloured and sized rectangles around the nose and eyes, with head-wraps covering the tops of the models' heads. From day to evening wear, Bovan had it all, and he provided a very successful and well-rounded collection at London Fashion Week.



The show welcomed darkness, mixed in with a sophisticated aura which arose as soon as the first model walked out. Leather coupled with sheer mesh, the image of the powerful woman dressed in all-black was the central theme. From leather jackets to leather frills, Zhang gave an elegant look (a very difficult thing to achieve) to the whole collection. Even with its gothic undertones, the lineup retained a youthful look with classic silhouettes.
 
Huang's collection definitely had a 90's flair as the models strutted out in wide-leg jeans, denim, belts and fabric patches sewn asymmetrically all over the outfits. Light blue, green and mustard-coloured knitwear created an almost thrown together, care-free look, especially with the waist-bags tied around the middles of the models' figures. The taboo combination of sandals and socks was suddenly made cool in this collection, and was actually a nice addition.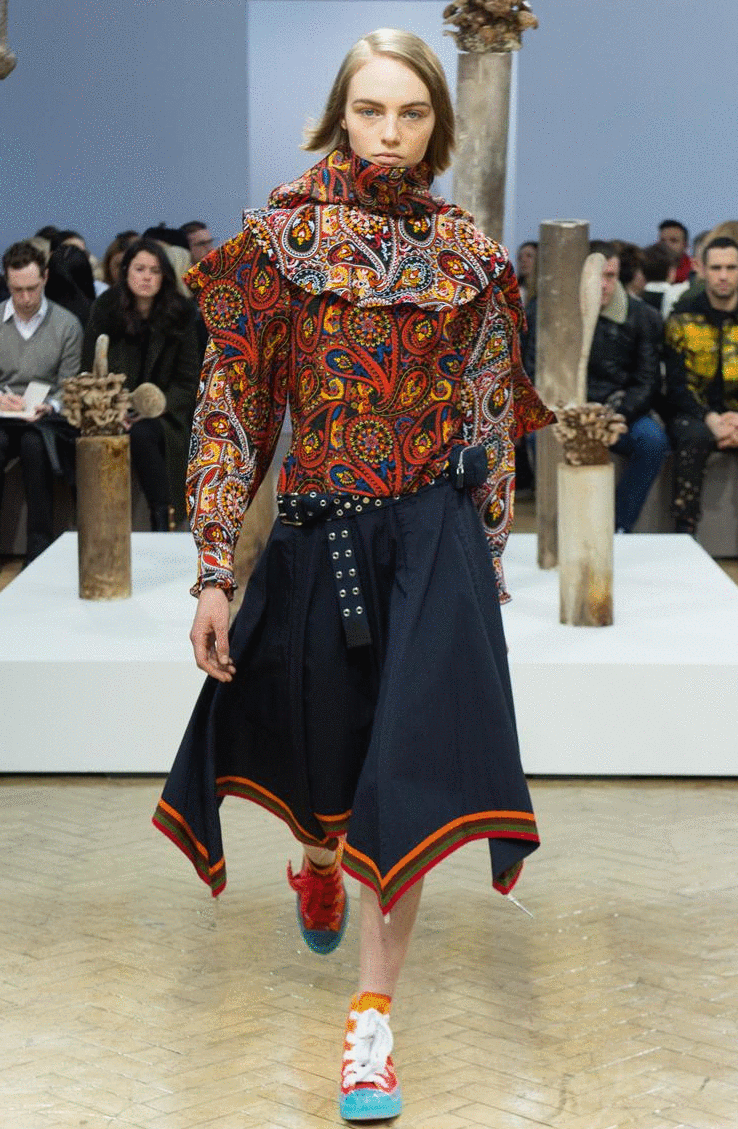 JW Anderson
With his A/W '18 ready-to-wear collection, JW Anderson presented both men and women together in one show to combat gender-specific fashion. His styles focused more on everyday wear, and he mixed traditionally gender-specific fashions, including low waists for women and the universal use of utility wear as fashion. Full of khaki, wool, and taffeta, characterised by asymmetry, his women's styles consisted of more fitted tops but paired with voluminous skirts and pants, which gave the effect of an elongated silhouette throughout the collection.
Practicality and vintage British style met in Ashley Williams' A/W '18 ready-to-wear collection, creating a newly dynamic and yet still down-to-earth set of looks. Full of loose corduroy and denim, Williams' collection put a new spin on vintage fashion by mixing prints, such as tie-dyes and animal prints, and various bright colours like barbie pink and lime green. Her models sported slicked-back hair, dark lipstick, and pink shades on eyes and cheeks to match both her evening wear, full of peplum and layers, and her more oversized casual wear.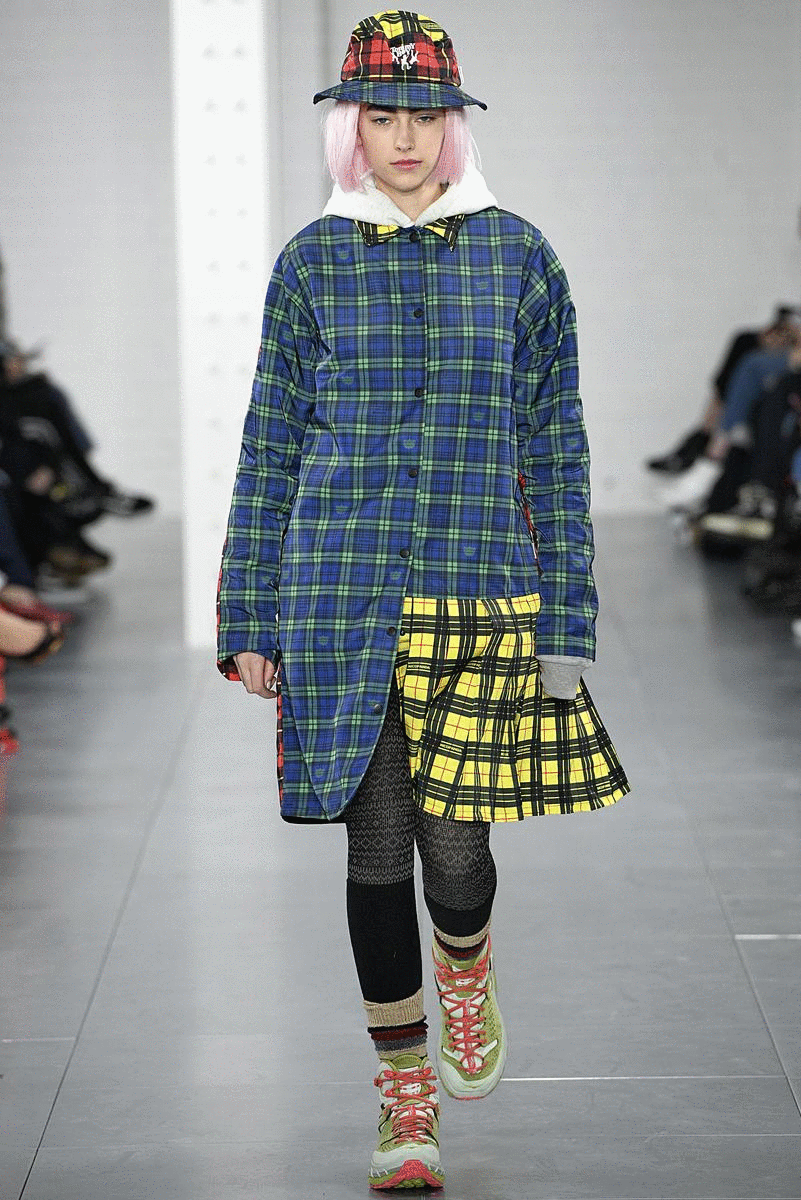 This collection was the epitome of punk, grunge and vintage, adding in a wide range of references and motifs from 90's music. Tartan was the staple pattern, next to the gold chains that decorated the looks. Staying true to the street culture and retro appeal Nicopanda wanted to portray, the looks mixed different patterns, such as leopard, with pink faux furs, bright blues, reds and pinks, as well as big chunky trainers layered with thick socks and leggings. These looks are definitely for the bold ones who are confident enough to rock anything.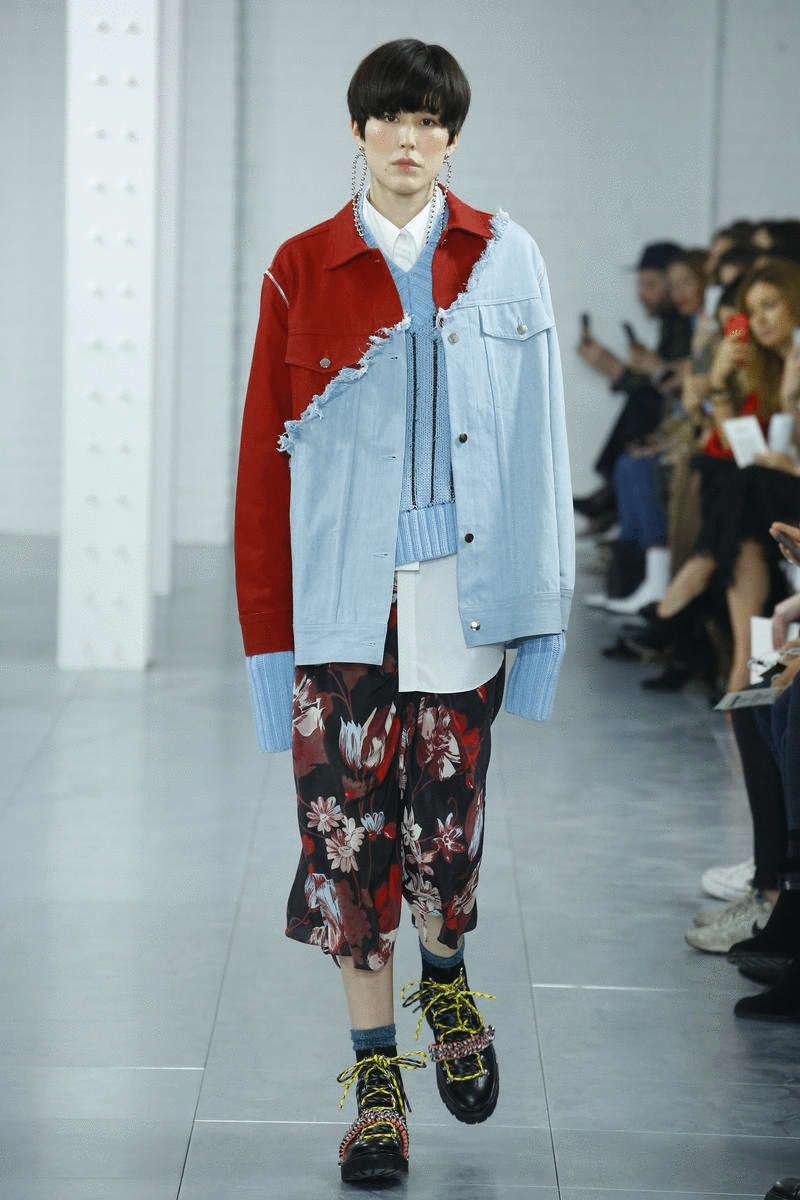 This collection strutted down the runway in a selection of prints that are rarely put next to one another: tartan camo with floral and pops of bold colour with denim accents. There were suits and puffer jackets with top notes of the punk era, most evident in the different layered fabrics, sewn onto one another to create new and innovative shapes.
 
Rocha's A/W '18 collection featured puffed sleeves, bare shoulders and open necklines. Lace and net dresses were adorned with flowing ribbons, cascading down voluminous sleeves. With multi-layered looks, grid-patterned netting and fantastic slick laminated coats, Rocha is quoted to have taken inspiration from the 1809 John Constable portrait of Mary Freer. From the shoes made of the same fabric as the clothes to complimentary earrings and hair pieces, Rocha's line offers a beautifully crafted look that can appeal to a multitude of women.
Apu Jan is renowned for integrating knitwear techniques with fictional designs. In the A/W '18 collection, the traditional East Asian base was combined with bold a contemporary minimalism appealing to both Western and Asian audiences. Despite the East Asian elements that could be observed in the traditional Taiwanese printed cheongsam dress, the natural, draped silhouettes created a collection that came across as timeless. The use of jacquard, cashmere, merino, lamb wool, silk yarn knit and embroidered pure silk added a futuristic and almost psychedelic vibe to the collection of knitted A-line and traditional dresses, tailored coats, long A-line skirts, knitted scarves and trouser ensembles.
With the use of vivid colours and textures, Ashish Gupta's A/W '18 floral motif was reminiscent of his first venture into clothing. An incredibly nostalgic collection, the line was meant to evoke the ambience of a marketplace. Tinsel-strafed sweaters, pants and denim in technicolour and lurex wands are what Gupta presented as Indian street style trends. Featuring maxi dresses with velvet, sequins and a take on sequins used in Mexican blankets, many pieces also gestured to the nature of consumerism. The casting equally reflected the colourful variety of the line, promoting a diverse nature in both the clothes and the show.
Staying true and not shying away from his interests, Kane based his collection on bondage, nudity, decay and the darkness of human nature. Models were dressed in skin-tight body suits and dresses in nude and black with fur strips. Lace was another motive for his portrayal of sensuality. Dresses were printed in scarlet lettering which read 'More Joy'. Sweaters with a low necks were decorated with sparkly appliques for an accentuated glamour.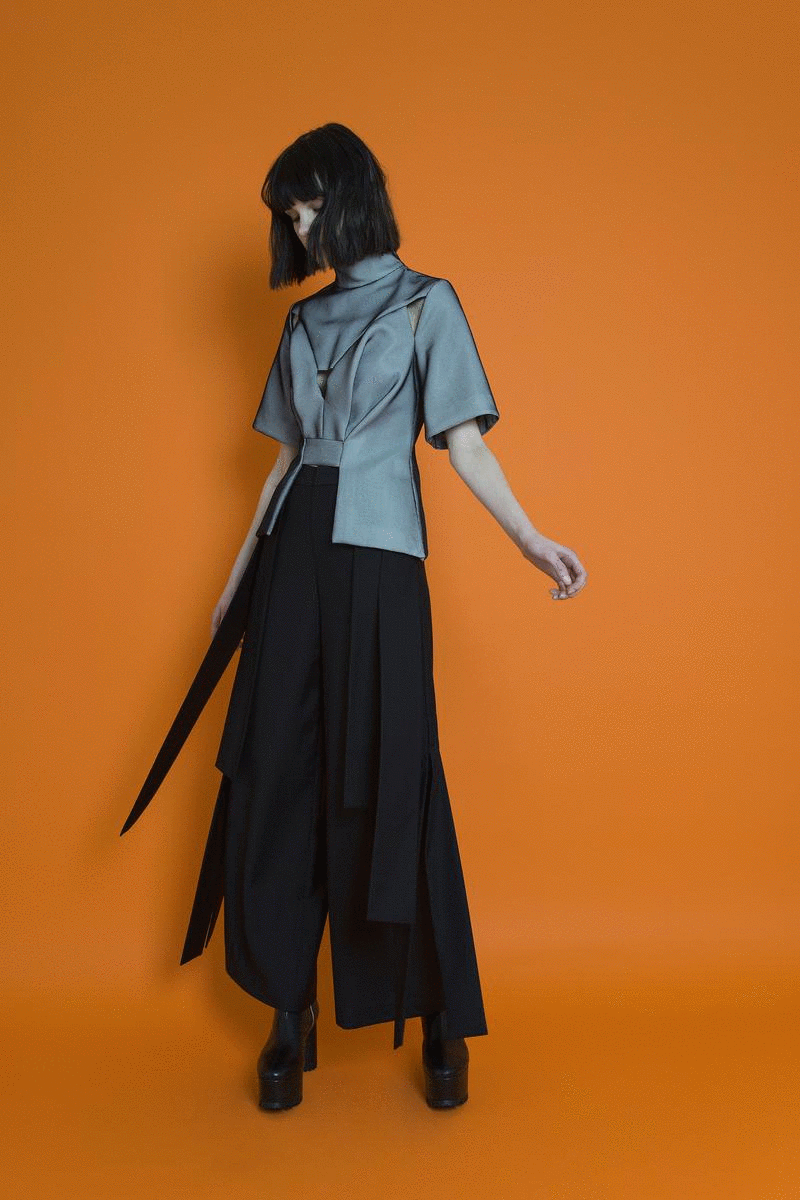 Aphid's Ritual Collection drew inspiration from the attire of Asian dress-codes, colours and styles. The focus was on layering, monochrome palettes and accentuated waists to create stunning hybrids of ruffled and pinstriped outfits.
Image sliders 1 Simone Rocha by Alison Catchpole; alisoncatchpole.com; Instagram: @alcatch, slides 2,3 JW Andersen, slide 4 Ashish, slide 5 Matty Bovan