Liam Hodges' signature loose, oversized and wide silhouettes were even more distinctly showcased in this year's Fall collection. Reminiscent of the 90′s baggy fit, Hodges' collection payed homage to raves and graffiti of that era while simultaneously drawing significant influences from modern male subcultures, where post-punk meets English paganism and street wear. The highlight however, was clearly the youthful influence showcased in the almost distorted child-like designs, which could even be said to resemble modern-day emojis, decorated onto washed-out shades of fabrics and patch-working. Hodges' freestyling of patterns, paired with neon hair-dos, painted a totally psychedelic picture.
Epitomizing the very idea of a New England winter, skating over frozen ponds and embracing the force of the season, Band of Outsiders presented a collection full of reworked bomber jackets, tailored coats and elasticated casual-wear. Despite the alpine motifs worked throughout the jackets, and the lush colours of forest-green and navy, a standout of the collection remained the bright white teddy bear coat. Band of Outsiders presented much more than a new collection; it offered a new and wintery-fresh fashion week experience.
 
Drawing its inspiration from items found on web sales sites, Stefan Cooke's A/W '18 collection featured skinny jeans, a slim-fit leather jacket and a mohair jumper alongside a striking snake-print and cut-out knit. While exploring the limitations of clothing items, the designers redesigned and reproduced second-hand garments to create a very avant-gardist collection.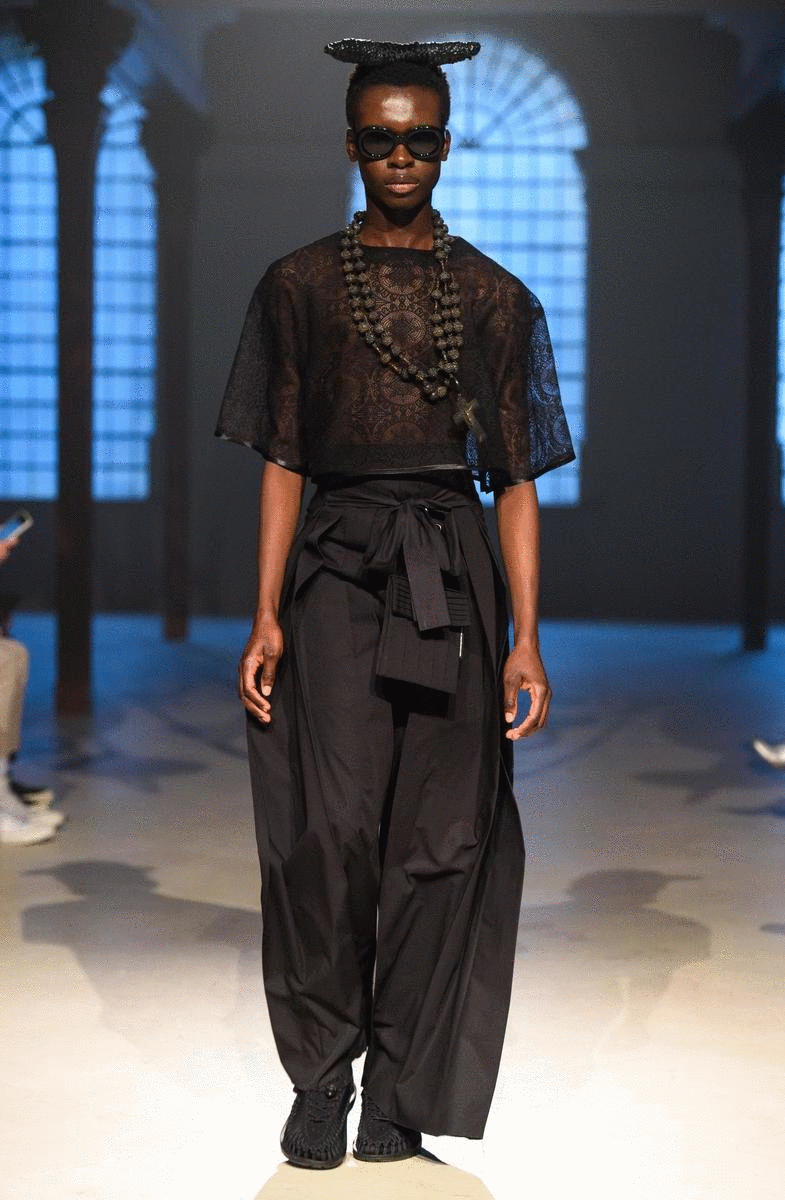 Tourne de Transmission
Tourne de Transmission's A/W '18 collection was inspired by humanity's interest in exploration. Predominantly black-toned, the refined collection balanced between eastern and western fashion by virtue of its use of materials and fabrics and its approach to shape and silhouette. Meanwhile, the tailoring was cut with an unorthodox fit to give a flat, two-dimensional shape when worn.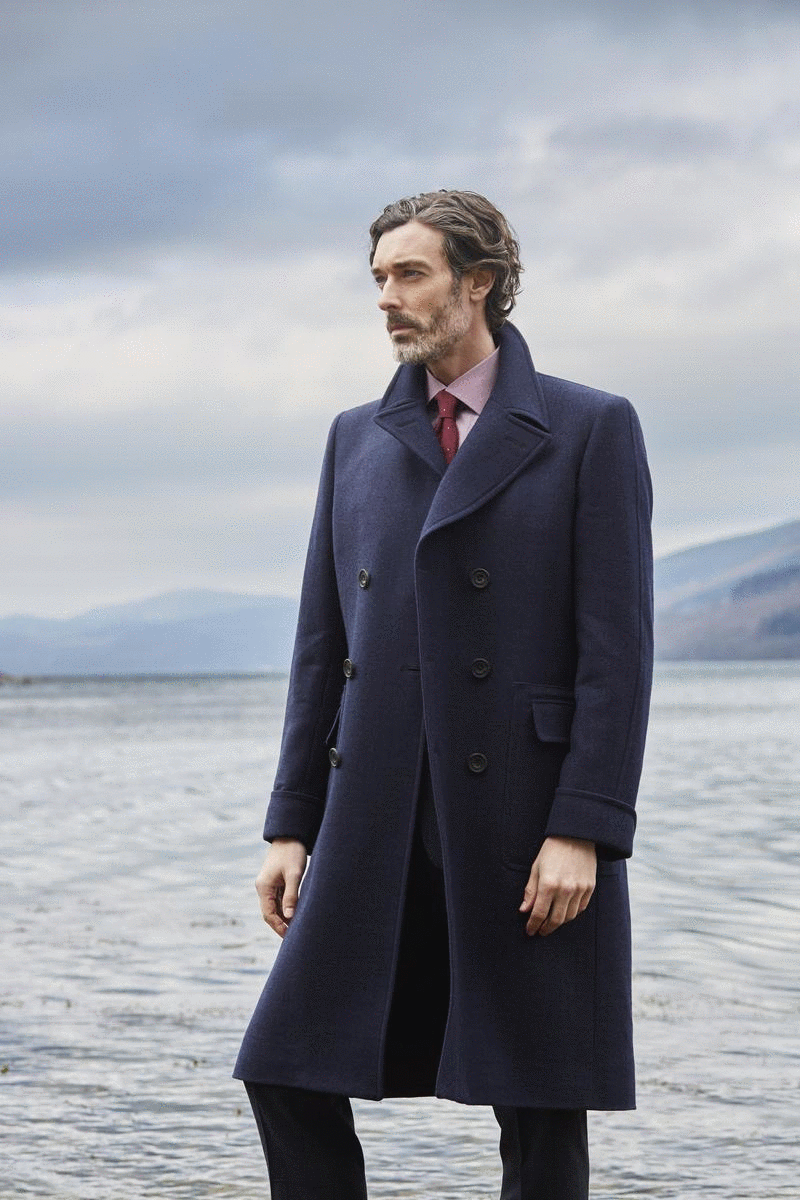 Chester Barrie
Although they didn't have a show this year, Chester Barrie introduced their winter collection with a presentation. Modelling perfectly-tailored suits in a darker colour-palette and checkered prints, the collection epitomised the contemporary gentleman, always suited up for any occasion.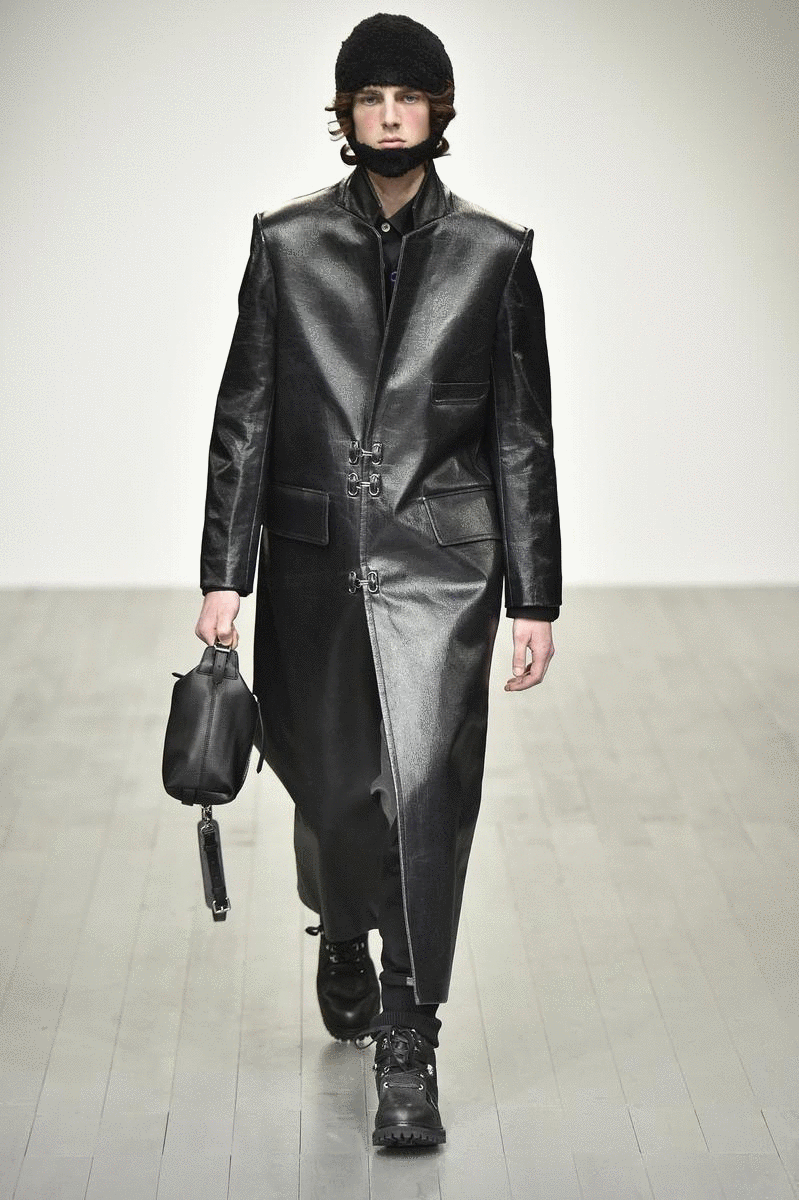 PRONOUNCE presented by GQ China
The monochrome palette went beyond black and white with the collection's transitional hues which ranged from the palest blue to the deepest black, inspired by the current trends of the season. The collection's tailored look transcended the typical formal look by using mixed materials such as knit and plastic in a plethora of loungewear and outerwear for the modern man, and was saturated in pastel tones from head to toe. The styling of grey sports trousers, a double-breasted single-lapel puffer coat, an oversized black hoodie and two-toned combat boots epitomised Pronounce x GQ China's Fall collection, a collection appropriate for any situation and presenting the perfect way to 'throw shade'.
This was a collection in collaboration with Henry Holland that payed homage to the Northern Soul culture with a more sporty technical aesthetic than what is usual for the brand. Geometric prints, bold patterns and the brand's logo adorned the sides of the tracksuit bottoms; there were whimsical prints on knitted polos, and an obvious twist of Northern Soul nights with predominantly earthy tones of brown, beige, yellow, green and navy in the button-down shirts, t-shirts, coats and trousers, all in various textures of denim and knitwear.
The transition from childhood to adulthood was the main inspiration for Wood Wood A/W '18 collection entitled 'Before and After'. This showcase blended the brand's contemporary streetwear look with elements of traditional American youth culture such as patchwork, collegiate style or raw denim in varsity silhouettes alongside a colour-palette centred around muted tones with pops of bright red and blue. The key materials included corduroy, raw denim, army twill, heavy wool, delicate silk and melange knit alongside more technical garments incorporating Primaloft insulation Classic.
For the A/W '18 collection, Michiko Koshino took on workwear as she merged streetwear and courier attire with a rich colour-palette ranging from bright colours to neon shades, finished with the clever layering of washed silks, knitwear, heavy cotton and nylon. Alongside these, the use of utility fabrics and translucent textures with 'customer service' quotes embroidered onto the pieces made for a perfectly balanced workwear collection in a fashion-forward aesthetic.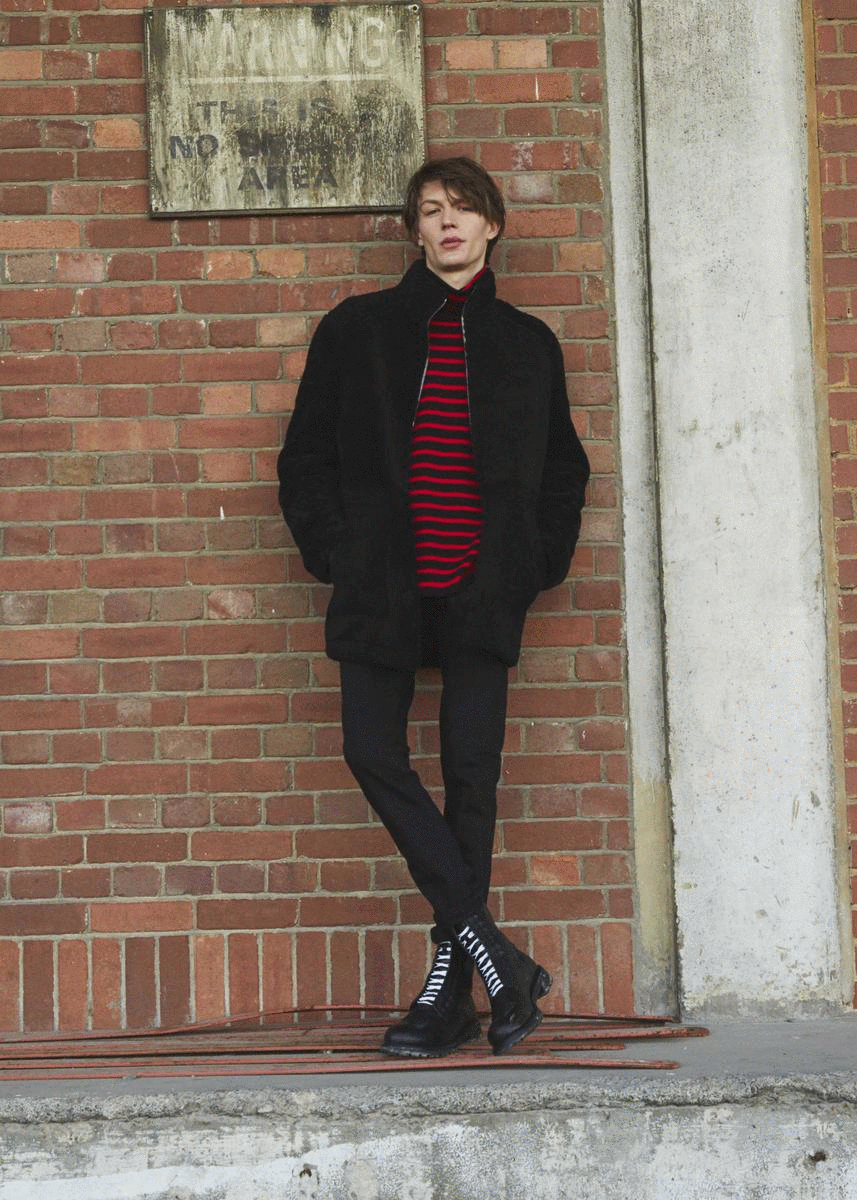 In light of the 70th anniversary of their iconic four-pocket Trialmaster jacket which was promoted for protection against the harsh Scottish weather in 1948, red checks, fur linings, badges, Belstaff's military labels as well as some reflective tape details all worked towards the construction of a modern Trialmaster in conjunction with its rich heritage. The contemporary fitted silhouette was still prominent as ever in this collection, but modern progressions could truly be seen in the Trialmaster Evo, in its laser cut pockets, seal-taped seams and back-vented breathability. The A/W '18 showcase is a new milestone for Belstaff in utilising modern heat-engineered technology with its motorcycling legacy.
Daley's A/W '18 'Red Clay' collection drew on ethically-sourced fabrics of knitted cotton, herringbone wool and corduroy. Based on native European clothing, the collection ranged from overcoats, hunting jackets and loose trousers to kilts and headwear. It appeared to have its origins in the outdoor woodland range with its muted, earthy tones of greens, browns and dark blues. Meanwhile, the revised work-like uniform jackets of the industrial era with elbow-patches, lapels and matching trousers were a nod to the British past.
 
Full of soft silhouettes and rich, earthy tones with pops of orange and a range of yellows, the Qasimi collection presented a play on proportion, colour and layers. With flowy shirts under checked bomber jackets and short-sleeved shirts over sweaters, not to mention extra wide trousers and over-sized, blanket-like coats, the line was full of comfortable looks. With its shades of burnt orange, tobacco and rose, the whole collection expressed warmth and cosiness.
For their A/W '18 collection, WWW experimented with technical fabrics, including cargo, nylon, coated cotton and soft knits, while using traditional uniform colours, such as black, navy, khaki and brown with tailoring to elevate each look from simple to stylish. Whether it was a slim-fit tracksuit tailored to streamline the silhouette or a nylon suit in imitation of sportswear, the collection offered a perfect balance between classic uniformity and modern workwear.
With its comfortably oversized sweaters and pants in combination with neutral colours, this showcase presented the perfect collection of attire for a relaxing day in or a casual walk in the park, while remaining stylish. The soft fabrics of the pieces were tailored to nurture and hug the body snugly.
Body-diversity, gender-fluidity and non-conformity. The Art School catwalk pivoted around these key concepts. Fabrics were diverse, and innovative tailoring was a common sight. The recurring colours were red, green and blue, mixed with dark splashes of black.
Image sliders 1 Belstaff, slides 2,3 Lou Dalton, slide 4 Art School, slide 5 Kiko Kostadinov