Coming from the two-time voted Menswear Designer of the Year, Craig Green's collection was nothing short of innovative. Featuring intricate knitwear and the purposeful alignment of shirt, belt and fly-fastening, the concept of uniform was transformed. Emphasising this idea, the evolution of the vertical lines in the garments inspired by military uniform, with fins on trousers and additional outlining on jersey sweat-suits, worked to create Green's new line. In addition to the elaborate sculptural forms in the essence of kites, not only was the collection itself inspired, but so was the atmosphere of the show. From the lighting to the music, the vibe of the show was very emotive and totally immersive.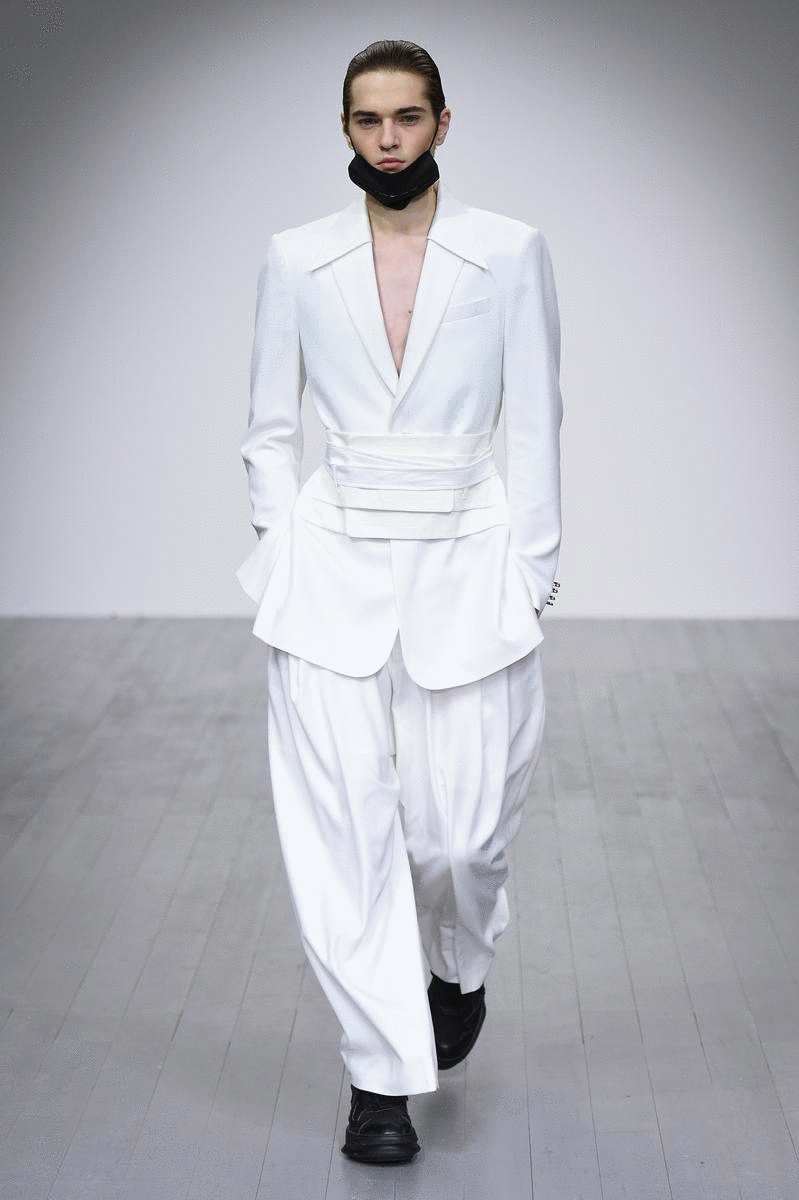 D.GNAK
Embroidered varsity jackets with skull motifs, leather jackets, shoulder-padded suit jackets paired with high-waisted flowy slacks, long coats and knitted belts. All these were part of Kang Dong Jun's avant-garde inspired tailoring. This particular collection, enhanced only by the minimalist colour-palette and styling with chunky midsoles and high-top trainers, reflected a play of sorts towards the contrast of the dark and light, the opposing forces of nature in D'Gnak's Fall 2018 Collection.
A Cold Wall returned with another streetwear collection; the silhouettes evoked the construction uniform and of scaffolding with hyper-lux materials and the use of thermo-reactive nylons and hand-threaded wools. The futuristic and high-tech tracksuit-like trousers, nylon vest-like satchels and long-lined rigid windbreakers in predominantly grey, black, green and cream tones with the odd brown, blue and white pieces came together to present a provocative yet finessed menswear collection.
The 70's were back in full power on this runway. In rich tones of browns, mustards, greys and navys, the looks were modelled by both men and women, the latter having an attractive masculine appeal. Velvet trousers, coats and tailored blazers could all be seen slouching down the catwalk. Contrary to the more sombre colour-scheme, the general feel given off by the clothes was nothing but relaxed and care-free, almost too comfortable.
Breaking away from his well-known image of 'Britain's fun fashion club kid entertainer', Charles Jeffrey's new collection came from darker and more truthful origins. The strategically-torn tailored suits, swollen argyle sweaters and tartan skirt suits with flared hemlines were all reminiscent of Jeffrey's Scottish background. Partnered with a pre-show performance, the overwhelming emotions of Jeffrey's personal experiences were all intensely palpable throughout the entire showcase. With pops of rich colour and the harsh styling of the models, the explosion of feelings and anger that accompanies growing up (in Jeffrey's case, being bullied for being different and being gay) were all left raw and displayed unapologetically on the runway.
With the theme of quick wins and 'loadsamoney', the collection looked at excess and what it means to live this kind of fast-paced, corrupt lifestyle. In fancy, metallic patterns, snakeskin and fake fur, and with oversized pieces, it screamed rebellion and the new-come, new-money quick riches. Aside from the classic suits, which were rethought with patterns and prints, the show also displayed ski attire in a golden, metallic fabric.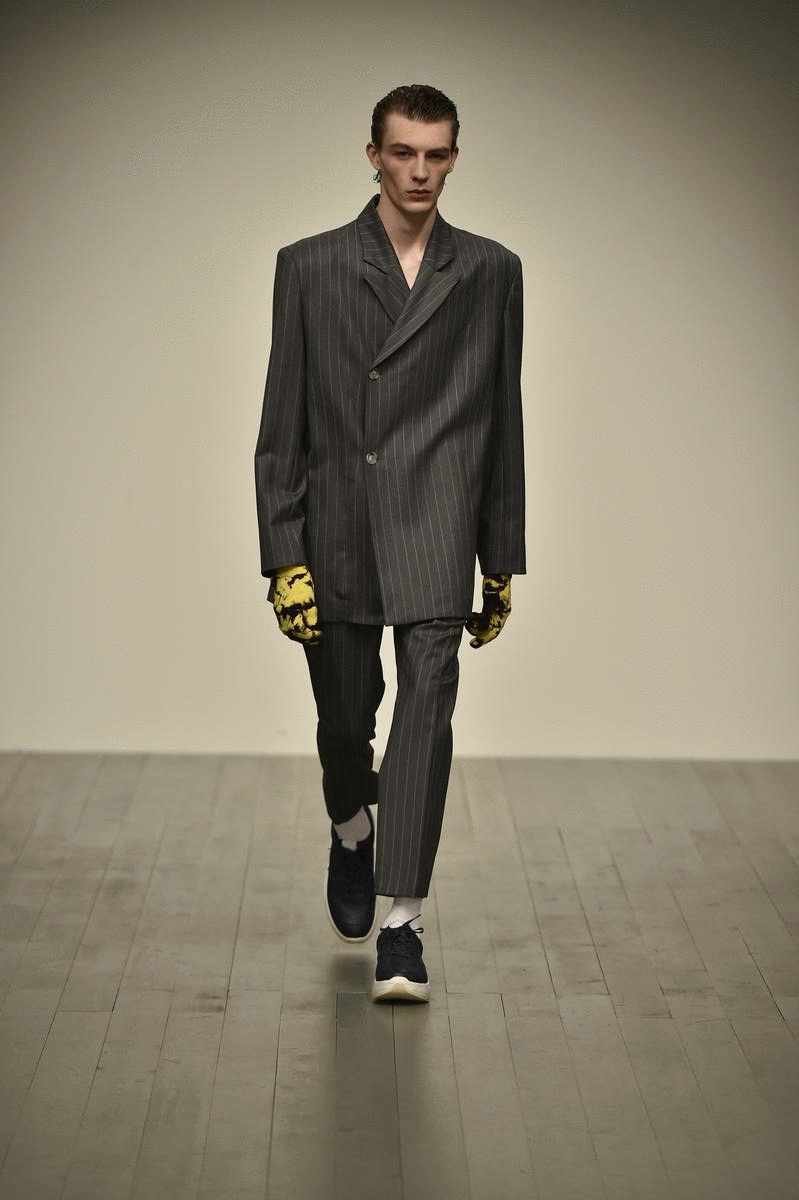 Alex Mullins

Modelled in chiefly neutral colours of grey and tan for the first half of the show, the collection featured oversized jackets, coats and suits. As the show progressed, tie-dye and prints were introduced, followed by cut-outs on the clothing which resembled broken glass. Afterwards, there came prints with cut-outs with faces on them. The show offered an interesting transition from simple to complex, akin to a brain which starts by thinking linearly and then ends up tangled, overthinking and cluttering itself up with its own thoughts.
A mixture of Asian-inspired western tailoring and urban workwear created a utilitarian silhouette. This was a rebellious menswear collection of Tangzhuang jackets, cargo trousers, knotted fastenings, ancient Youzia warrior insignias, mixed with the fundaments of western tailoring in suits and ties. The collection invoked a kind of ancient mysticism with its short cloaks and crossbody fastenings that formed a yin and yang on contrast coloured jackets. Chinese silk was used, as was leather, checked wool and heat-sensitive fabric, with additional graphics printed on leather, as well as Gongbi brushwork and Confucius quotes. Models were accessorised with frameless glasses, large folding fans and pendants, as well as conical hats which perfectly finished off Zhou's Asian-inspired A/W 18 collection.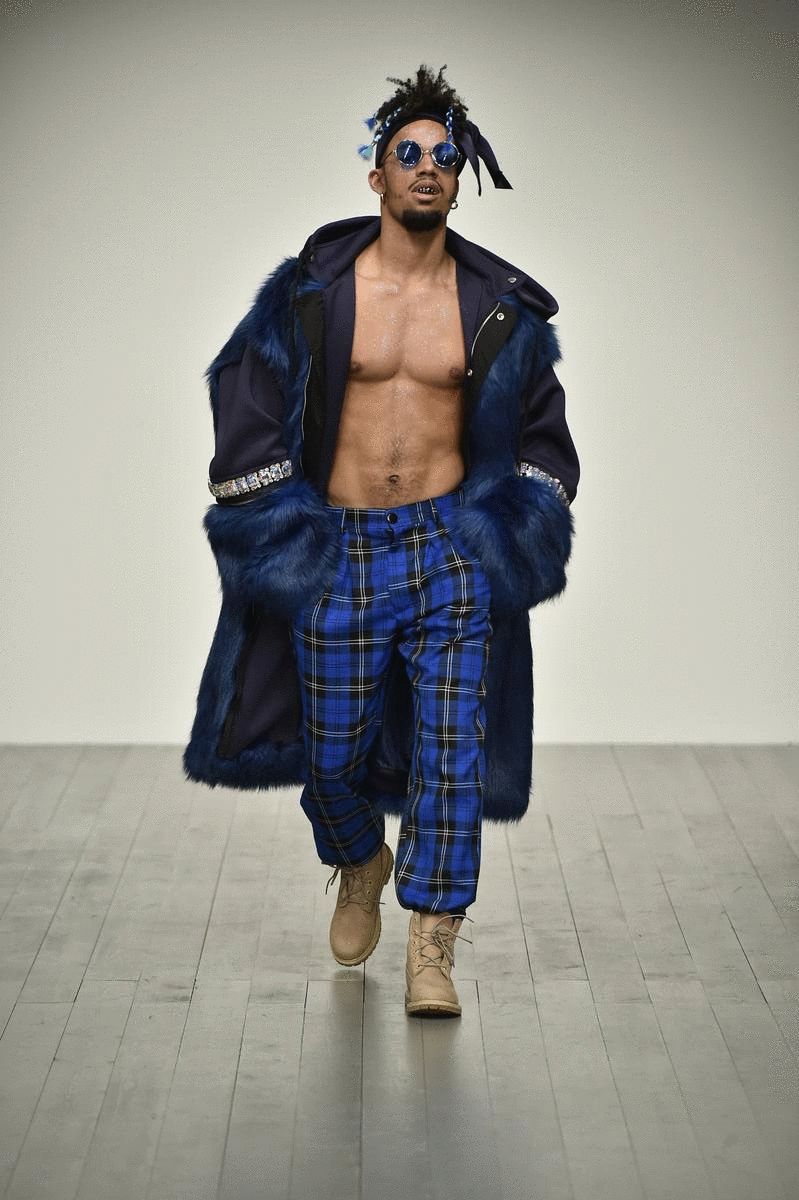 Bobby Abley


With familiar faces adorning the catwalk, 'Bobbyland: Where Everyone is Welcome' was a line full of playful and nostalgic designs. Often seen turning towards pop culture for inspiration, Abley teamed with Warner Bros and incorporated the beloved cartoon characters into bright yellow marabou, fluffy grey dungarees and intarsia knits. Using contrasting elements of crystal and lace on tracksuits and outerwear, a level of gender-neutrality was achieved in the collection. Beyond the pieces featuring famous characters, Abley integrated tartan into trousers and padded jackets, and styled shorts with sparkling socks and broderie anglaise undershorts to complete his vision of a light and playful look for this season.
Aiming to explore visual communication this season, Edward Crutchley merged contemporary aesthetic and traditional influences from Chinese literature and Celtic Mysticism. A blend of compelling silhouettes and colours ranging from strong orange hues to silky black tints, paired with contrasting textiles, graphics or complementary bold prints, took each look to another level.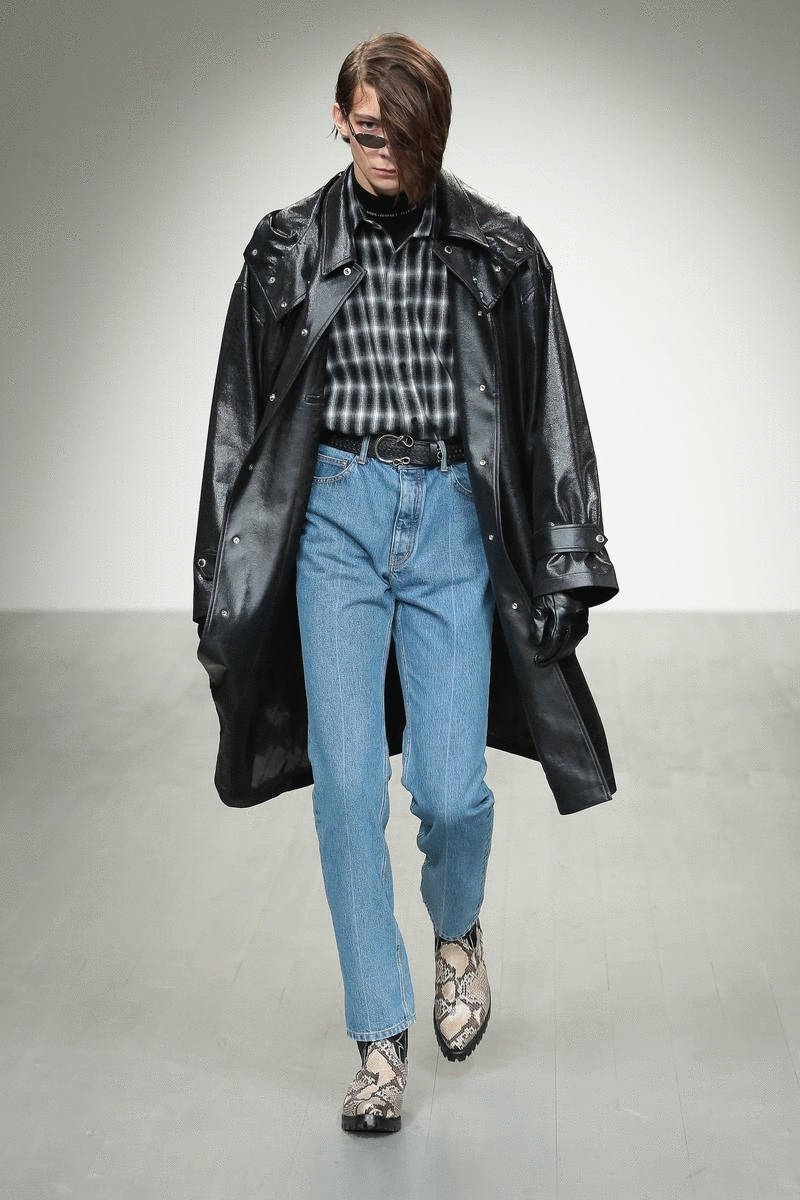 John Lawrence Sullivan


John Lawrence Sullivan's A/W '18 collection explored the concepts of 'psychopath' and 'psycho killer'. Ranging from rock 'n' roll and cowboy aesthetics to classic tailoring, the main theme of the collection was portrayed through accessories such as belts, cowboy boots and wired gloves or glasses alongside wool, velvet, corduroy, leather and patent materials. All these pieces focused on a range of dark colours: from black and olive green to rich mulberry.
Simple cuts, yet elegant and effortless. Colours of the blue sky and reds of the darkened sunset were mixed with the pureness of white. This was the colour-palette of the collection, every hue matched harmoniously with another. It had an almost mystical, forest-fairy-like atmosphere, thanks to the headpieces. The hairstyles recalled innocent deers in forest clearings.
Image sliders 1,5 Xander Zhou, slides 2,3,4 Kiko Kostadinov