Believe it or not, the idea of handbags goes as far back as the Egyptian period. Ancient hieroglyphics depict men sporting pouches (a sort of purse), precursors to the handbags we know today. Initially unisex and yet typically associated with women, the handbag has now come full-circle, with the man-bag now a fully integrated part of most men's wardrobes.
Early modern Europeans wore purses for one sole purpose: to carry coins. Pockets had not yet become a traditional aspect of men's and women's clothing and so, purses, made of soft fabric or leather, were tied around the waist, the Scottish sporran being a survivor of this custom.
Next came the pocket, made to stop the pickpocket. Invented at the end of the 16th century, and derived from the old French word 'poque', meaning bag, the pocket was essentially a purse that was tucked and hidden beneath both men's and women's clothing in order to prevent 'cutpurses'. The discovery of Pompeii in the 18th century had an extraordinary impact on both men's and women's fashion; clothes became more streamlined and waistlines were raised. Classicism,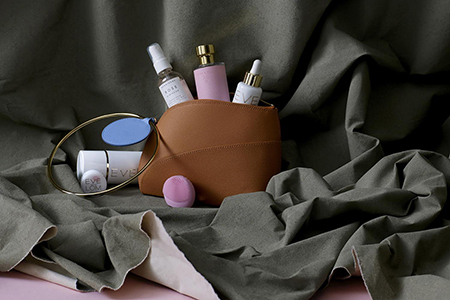 Shot 1:
Eartha Bag in Natural Tan with Gold Hoop and Blue Spot by Roksanda (Left to Right)  Gel Balm Cleanser Eve Lom, Kiss Mix Eve Lom, Rose Hibiscus Hydrating Hydrating Face Mist Herbivore, La Femme Eau de Toilette Prada, Intense Hydration Serum Eve Lom, Luna go in Pink Foreo
Shot 4:
Black Saddle Bag by Dior, (Left to Right) Heeled Mule with Clear Stripes by Sergio Rossi, (Left to Right) Cleanse Off Oil MAC, Cleanse Off Oil Tranquil MAC, London Travel Collection for Him Floris, Jasmine Glowing Hydration Body Oil Herbivore, Dada Scented Candle Cire Trudon, Matte Revolution Lipstick in Bond Girl by Charlotte Tilbury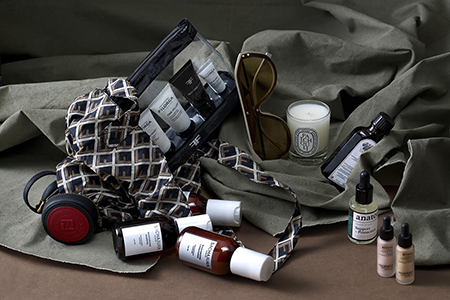 Shot 7:
Fendi Bag and charm, (Left to Right) Travel Kit Filorga, Moisturising Shampoo Sacha Juan, Moisturising Conditioner Sacha Juan, Hair Repair Sacha Juan, Sunglasses by Fendi, Patchouli Scented Candle in Mini by Diptyque, Peach Kernel Essential Oil by Naissance, Support and Protection Elixir Oil by Anatome, Reveal Drop and Glow Luminizing Duo Algenist
 inspired by the silhouettes of Ancient Greece and Rome, meant that the bulky nature of thigh pockets quickly lost their appeal. And it was due to this change that the modern 'hand bag' emerged, carried on a cord or chain in a fashion with which we are familiar today.
The move towards a slender shape saw men's and women's accessories deviate in direction. Women wanted purses that would not be bulky or untidy in appearance, so reticules were designed. Reticules were made of fine fabrics like silk and velvet, carried with wrist straps. First becoming popular in France, they crossed over to Britain, where they became known as 'indispensables'. Men, however, did not adopt the trend, opting for smaller pockets, which became popular in men's trousers and, later, jackets.
The modern purse, clutch, pouch or handbag came about in England during the Industrial Revolution, in part due to the increase in travel by railway. In 1841, the Doncaster industrialist and confectionery entrepreneur Samuel Parkinson (of butterscotch fame) ordered a set of travelling cases and trunks, of various sizes and for various occasions and purposes, for his wife's particulars. He had noticed that her purse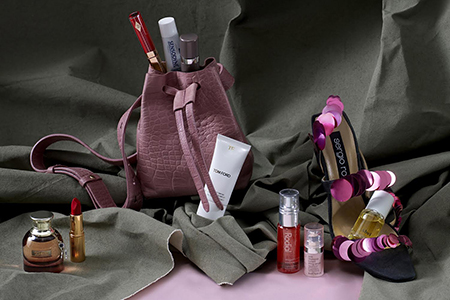 Shot 2: 
Woodrose Pink Leather Calf Belt Bag by Nanushka (Inside Bag) Lip Lustre Lipstick in Red Vixen by Charlotte Tilbury, Rapid Relief Toothpaste Sensodyne, Skinesis Skin Insurance SPF 30 Sarah Chapman, (Left to Right) Scandal Eau de Parfum by Jean Paul Gaultier, Hot Lips Lipstick in Carina's Love by Charlotte Tilbury, Face Protect SPF 50 Tom Ford, Dragon's Blood Esssence Mist Rodial, Pink Diamond Instant Lifting Serum Rodial, Pink Sequin Sandal by Sergio Rossi, White Vertiver Natural Perfume Abel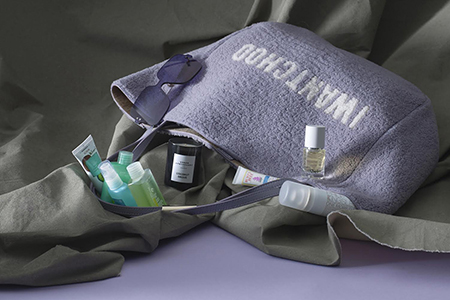 Shot 5:
Stevie Tote, I Want Choo Logo Intarsia Shearling  Bag by Jimmy Choo, (Left to Right) Kiwi Scrub Korres, Beach Blonde Smooth Seas Detangling Conditioner John Frieda, Cool Dip Purifying Shampoo John Frieda, Beach Blonde Sea Waves Sea Salt Spray John Frieda, Sunglasses by Jimmy Choo, Coconut Grove Scented Candle by Urban Apothecary, Eye Cream Burts Bees, Grey Labdanum Natural Perfume by Abel
Shot 8:
Suede Beige Bag with Gold Rope and Tassel by Jimmy Choo, (Left to Right) The Little Box of Relaxation Set by Tisserand, Sunglasses by Jimmy Choo, Winter Hydration Travel Set by Diptyque, Satin Peel Slipper Jimmy Choo, Luna go in Blue Foreo, SkinSense, Spray Ren  Suncream, Elemis, REN, Elasticizer Philip Kingsley all part of the Tibi (Try It Buy It) box set.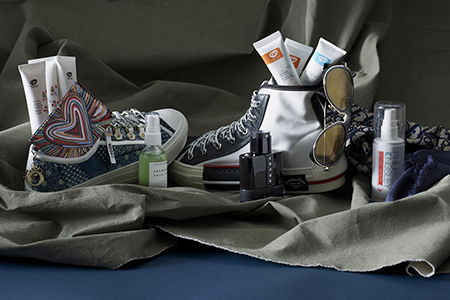 was too small and was made from material that would not withstand the journey.
He stipulated that they be made from the same leather that was being used for his own cases and trunks so as to distinguish them from the then-familiar carpet bags and cloth bags used by members of the popular classes. The result was the first modern set of luxury handbags produced by the eminent H. J. Cave & Sons, including a clutch and a tote (named as a 'ladies travelling case').
The rapid succession of art and fashion movements in the 20th century saw a concurrent handbag evolution, with the emergence of exclusive handbag designers Hermès, Louis Vuitton, Gucci and Prada. Women's emancipation meant that fashion had to accommodate the practical needs of a new workforce. Leather document cases were made for office use, plastic daytime bags for travel, while sparkly bags and metal clutches became the new 'it' item of the evening.
Whether it be a barrel, bowling or bucket shape, we simply can't leave home these days without one!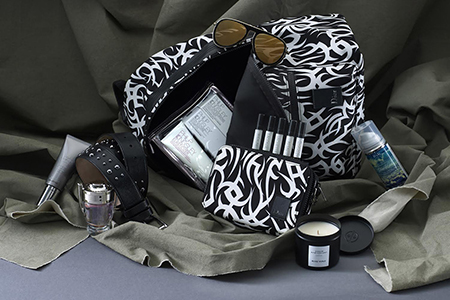 Shot 3:
Tribal Rucksack by Dior Mens, (Inside Bag) Body & Shine Jet Set Philip Kingsley, Tribal Zipped Compact by Dior Mens (Inside Bag) Eau De Parfum Travel Set 3 Tom Daxon, (Left to Right) Skinesis Skin Insurance SPF 30 Sarah Chapman, Invictus Eau de Toilette for Men by Paco Rabane, Studded Black Belt by Jimmy Choo, Sunglasses by Jimmy Choo, Rose Voile Travel Candle Urban Apothecary, Hair Beach Club Volumising Texture Spray IGK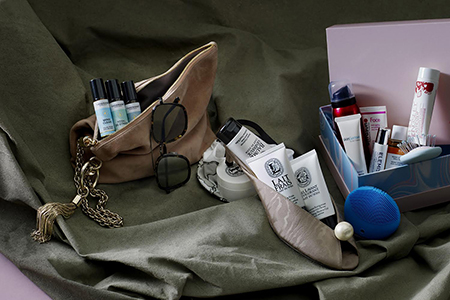 Shot 6:
Walk'n'Dior Trainer by Dior Women, Sneaker Mens Dior (Left to Right) Superfood Starter pack Green People, Credit Card Holder by Dior, Jasmine Green Tea Balancing Toner Herbivore, Luna Rossa Eau de Parfum by Prada, Holiday Sun Starter pack Green People, Sunglasses by Dior, Scarf by Dior, Instant Beach Texturising Spray Philip Kingsley Tili  beauty box (which stands for for Try It, Love It), comes from shopping channel QVC.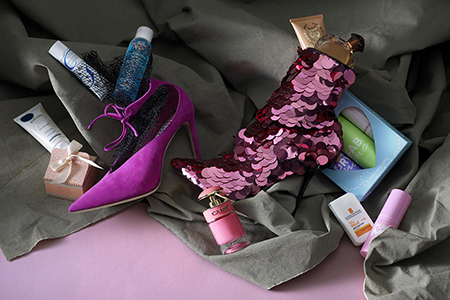 Shot 9:
Fuchsia Netting Shoe by Jimmy Choo, Sequin Boot by Sergio Rossi, (Left to Right) Bella Donna Body Butter by MOR, La Culture Hand Cream Galinée, Lait Crème Concentré Embryolisse , Cleanance Cleansing Gel Avène,  Candy Gloss Eau de Toilette Prada, Emporium Hand Cream in Belladonna MOR, Olympea Intense Eau de Parfum by Paco Rabanne, Travel The World Kit Design.ME, Anthelios Pocket SPF 50 La Roche Posay, Puff Me Volumizing Powder Mist Design.ME
Team
Images Jason Yates.com
Creative Director Jo Phillips