I often refer to Punchdrunk as the 'LOST' of the theatre world; a safe environment but it can be unnerving at times, as you never know what to expect next….. I very much enjoyed seeing Faust and The Drowned Man a Hollywood Fable. – SB
Have you ever wanted to make eye contact with Lady Macbeth and live to tell the tale? Or wanted to walk around the woods amongst Oberon's fairies? Immersive theatre is a non-traditional form that surrounds the spectators' senses and invites them to engage with the performers so that they're face to face with the characters. One particular theatre company which specialises in this unusual format is Punchdrunk. Established in 2000 by Felix Barrett, and is famed for its interpretation of promenade, immersive and site-specific theatre.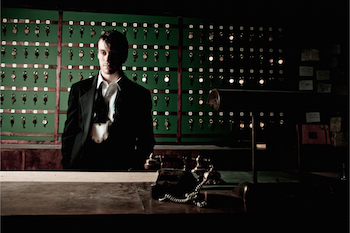 Sleep no More Photo Thom Kaine
So what do these terms actually mean? Firstly, site-specific theatre rejects performances in traditional theatres, preferring to entertain audiences in unusual settings. Some productions may take place outside, such as in a forest for A Midsummer Night's Dream, or in buildings previously used for other purposes, like warehouses. By watching plays in untraditional settings, spectators are taken out of their comfort zone and forced to take in narratives differently to how they would, have had if they been sat down in an auditorium. Punchdrunk is especially known for its work in promenade theatre. A pioneer for this type of theatre, which encourages the audience to walk around different sets and scenes, some of which may be happening at the same time, instead of sitting down.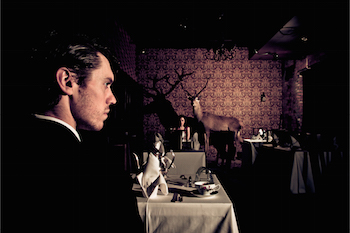 Sleep no More Photo Thom Kaine
Promenade theatre also challenges audience members to walk around and view scenes from different angles or in different chronological order too, making the whole experience  3D. 
During Punchdrunk productions, the audience wears masks to distinguish themselves from the actors and staff.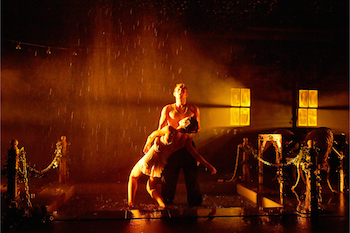 The Drowned man a Hollywood Fable photo Brinkhoff & Mogenburg
Immersive, or interactive theatre, is famed for removing the fourth wall which separates the audience from the performers. Rather than acting as passive observers, the spectators will sometimes carry out minor instructions given to them by actors or even have conversations with them during the scene. Because interaction is a vital part of such performances, audiences are encouraged to attend productions ready to immerse themselves rather than simply stand back and watch.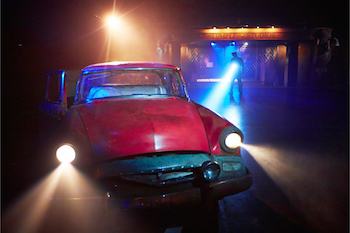 The drowned Man a Hollywood Fable photo Brinkhoff & Mogenburg
In terms of telling a story, Punchdrunk's productions feature different ways to convey the narrative of their play. For example, in The Masque of Red Death, traditional acting was used as well as interpretive dance. The same went for their 2011 adaptation of Macbeth, called Sleep No More, which propelled the theatre company into further fame. Taking place entirely in a warehouse, the play is set in a 1930s hotel, where audience members were invited to wander around five floors and witness different scenarios that took place on a 
loop. The production achieved such a success, that it played in Shanghai under the lead of Punchdrunk International. 
First production was an adaptation of Georg Buchner's Woyzeck – seen as a prototype for Punchdrunk's future work. Punchdrunk's productions feature different ways to convey the narrative of their play.
The Drowned Man, an ambitious multi-narrative play that takes place in a fictional Hollywood studio set in the fictional Temple Pictures, the equivalent of a Hollywood production company. The stage settings within the building range from a desert, a trailer park to a chapel. Characteristic of Punchdrunk productions, the audience is able to roam around the set while the play takes place.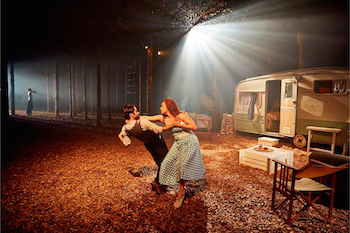 The Drowned Man a Hollywood Fable photo Brinkhoff & Mogenburg
Punchdrunk have chosen to move and re-create their productions elsewhere. Felix Barrett and Maxine Doyle combine their talents with multiple Chinese artists, to re-stage Shakespeare's dark tragedy 'Macbeth', at the McKinnon Hotel in Shanghai. Drawing on the play's new physical location, the staging interiors are based on Shanghai in the 1930s. Punchdrunk has managed to transform the classic Macbeth into a theatrical experience that completely breaks the fourth wall. The audience do not have fixed seats and rather than being merely spectators to the performance, they are encouraged to move around the room and interact with the story itself. Macbeth's brutally tragic and supernatural themes provide the framework for a darkly atmospheric contemporary experience.