David Hockney seemed the perfect artist to feature in this Rainbow issue.
He is quite different from my usual tastes in art, I usually am drawn to quite torturous and dark artists like Francs Bacon and Robert Mapplethorpe or contemporary artists like Prem Sahib.
Hockney is a national treasure, isn't he? Inoffensive, bright, colourful, attractive and unchallenging artworks. I joked once he has become almost like Beryl Cook…an artist my mum would love. You can imagine Theresa May drinking her Brexit Brew out of a David Hockney mug. But his work is quite extraordinary and he deserves his reputation as one of our best living painters.
My favourite pieces of his work are all from the Los Angeles era – his gayest and probably most famous period. An era filled with the bluest of blue swimming pools, warm showers and the peachiest pinks of mens' bottoms.
They perfectly encapsulate a time and a lifestyle.
A gay and more intimate equivalent of Sim Aaron's photos of the French Riviera. They are sunny and we want to live there; to be sat by the pool, in chinos and a neck scarf reading Truman Capote, watching the naked boys swim their lengths in the pool. I am equally obsessed with Peter Schlesinger's sumptuous photographs of that period and time in Hockney's life, hanging out with Isherwood in LA, in London with a young and beautiful Wayne Sleep, Manolo Blahnik, in the most fabulous colours and outfits, having a boozy lunch, or a sleepy morning after the night before…
But my favourite images of Hockney are a series of etchings of his lovers and friends, and of an act of oral sex on an erect etched penis that are almost the total opposite of his colourful depictions of the Yorkshire landscape – his most recent large scale works on display at the current Tate exhibition. Thin simple black lines scratched onto the paper forming scratchy depictions of gay domestic bedroom life that seem so dreamy, so idyllic and so…so….so perfect to me in capturing a moment or feeling we have all had. Of post-coital bliss. Of post-argument despair. Of a morning snuggle. These to me are his true masterpieces. WB
David Hockney is one of the most popular and widely recognised artists of our time, even to those who don't follow art passionately. After first coming to public attention in 1961, while still a student at the Royal College of Art, he went on to produce some of the best-known paintings of the 1960s.
The Tate Britain is holding the world's most extensive retrospective of his work from the 9th of February to the 29th of May 2017. The exhibition – a survey of almost sixty years of Hockney's art – offers the first opportunity to see those classic early paintings alongside subsequent works in a variety of media. It spans from paintings made as a student in London through 1960s Los Angeles, the reorientation of his practice in painting and photography in the 1980s, a decade of Yorkshire landscapes, and on to the newest works made since his return to California in 2013.
From beginning to end, running through all the different types and periods of work is Hockney's principal obsession with the challenge of representation: how do we see the world? And how can that world of time and space be captured in two dimensions? The exhibition is largely arranged chronologically but the first room presents works from different periods, which exemplify the ways in which Hockney has played with the conventions of picture making.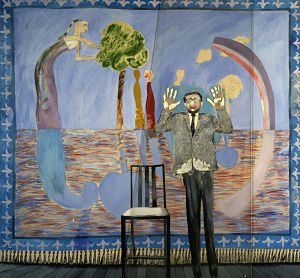 1) Play Within a Play
1963
Oil on canvas and plexiglass
72 x 78″
Private collection c/o Connery & Associates
© David Hockney
The painting above is based on a photograph of the artist's friend, John Kasmin, pressing himself against the glass door of his gallery. This work plays with ideas of reality and illusion. The figure stands in front of a curtain in an impossibly shallow space. While he and the backdrop are painted directly on the canvas, the points where his body touches the glass are made with paint on a 'glass' panel mounted on the painting: what appears real is an illusion; what appears to be an illusion is actually there.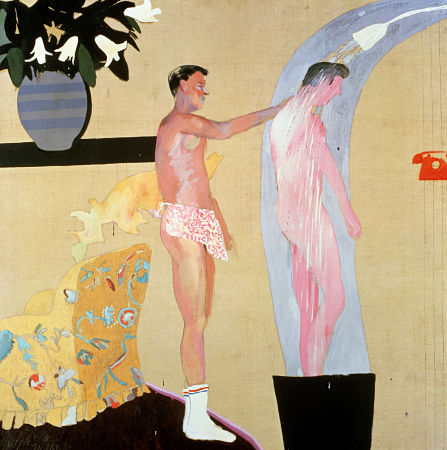 2) Domestic Scene, Los Angeles
1963
Oil paint on canvas
1530 x 1530 mm
Private collection
© David Hockney
During the period 1960–62, while studying at the Royal College
 of Art, Hockney came into contact with a range of influences. The works in this room capture his early interest in human relationships, landscapes and places or situations real and imagined.
His first exhibition, 'Paintings with People In', at
the Kasmin Gallery 
in London in 1963 signalled the shift in Hockney's art and focused on a series of paintings, titled 'Domestic Scenes'. While the paintings of 1961 had celebrated gay desire, these portraits of relationships between couples, by their very domesticity, normalise that desire into images of companionship.
In February 1964 Hockney first visited Los Angeles, which – through Hollywood – was a place of pictures and dreams made real. It was, as he described it at the time, his 'promised land'.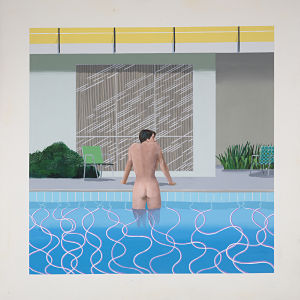 3) Peter Getting Out of Nick's Pool
1966
Acrylic paint on canvas
1520 x 1520 mm
National Museums Liverpool, Walker Art Gallery. Presented by Sir John Moores 1968
© David Hockney
Photo Credit: Richard Schmidt
Hockney won the prize for 'Peter Getting Out of Nick's Pool', painted in Los Angeles in 1966.
The painting embodies Hockney's move in 1964 to California. The pool was in Hollywood and belonged to LA gallery owner Nicholas Wilder. The naked man is Hockney's new lover and muse, Peter Schlesinger. The painting's shape echoes the format of a photograph. Hockney wanted to emphasise the process of picture-making and expose the trickery involved.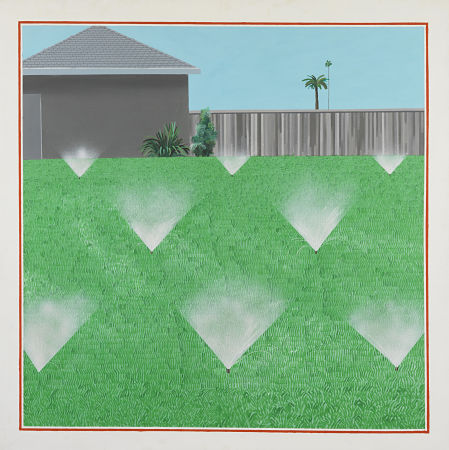 4) A Lawn Being Sprinkled
1967
Acrylic paint on canvas
1530 x 1530 mm
Lear Family Collection
© David Hockney
Photo Credit: Richard Schmidt
From 1964 Hockney lived in the Santa Monica area of Los Angeles and set out to paint that city. He loved its open spaces, where
 he found a clarity and geometry in the modernist lines of office blocks, the mid-century designs of the houses, and the pattern of sprinklers on people's lawns.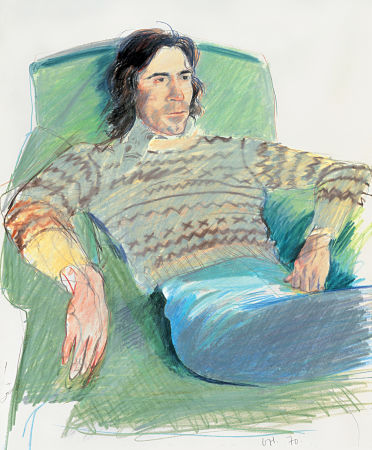 5) Ossie Wearing a Fairisle Sweater
1970
Coloured pencil and crayon on paper
430 x 355 mm
Private collection, London
© David Hockney
Towards the end of the 1960s, naturalistic representations 
of the human figure became a key element in Hockney's work. Drawn to the psychological and emotional implications of two figures within enclosed settings, Hockney worked directly from a circle of friends and acquaintances in a series of double portraits that capture their intimate and often complex relationships.
 Nearly life-size, these carefully staged compositions combine informal poses and settings with the grandeur and formality
 of traditional portraiture. Almost all these works are painted in acrylic, which dries quickly and cannot be scraped off the canvas, thus demanding a greater degree of planning and meticulous application. While this process, with its greater capacity for scrutiny and observation, meant that Hockney could work from photographic studies to sketch out overall compositions, he chose to paint his figures from life.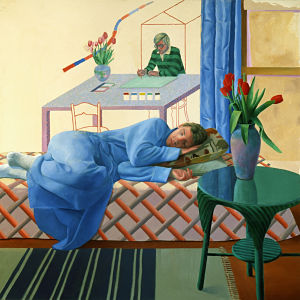 6) Model with Unfinished Self Portrait
1977
Oil paint on canvas
1524 x 1524 mm
Private collection c/o Eykyn Maclean
© David Hockney
Hockney has made numerous works which take the process of picture making as their subject. Here Hockney's boyfriend is shown asleep in the studio. The figure in the background is not Hockney but a canvas depicting the artist; yet, the curtain which is part of that unfinished painting seems almost to extend across the edge of another work with its back toward the viewer.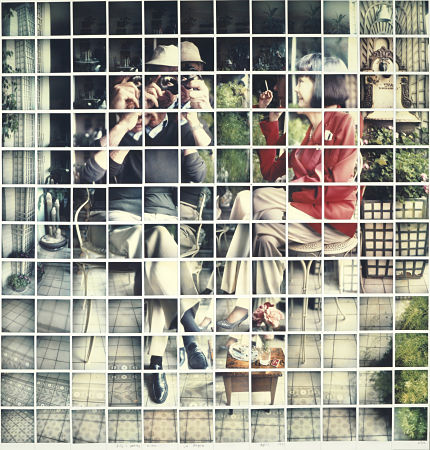 7) Billy + Audrey Wilder Los Angeles April 1982
1982
Composite Polaroid
1117 x 1168 mm
David Hockney Inc. (Los Angeles, USA)
© David Hockney
Photo Credit: Richard Schmidt
For Hockney, the single-point perspective of photography could not communicate the experience of looking and living in the world. He described conventional photography as akin to 'looking at the world from the point of view of a paralyzed Cyclops – for a split second.' In contrast, he sought to create a photography that could accommodate different viewpoints as well as time and movement.
Hockney's solution to this 'flaw in photography' was bound up 
with his renewed interest in Cubism and the work of Picasso (he made many visits to the 1980 retrospective of Picasso at the Museum of Modern Art, New York). At first he used Polaroid film
 to create gridded, multifaceted images that encourage the eye to experience each subject as it builds from its fragments of different viewpoints. In a matter of months he made 140 Polaroid works, but was ultimately dissatisfied with the effect of the borders on each Polaroid, so turned to 35mm film. Collages assembled from these borderless photographs allowed him to better approximate the complicated, multiple viewpoints for which he had been striving.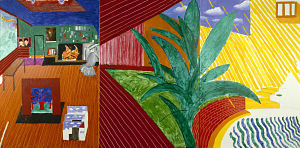 8) Hollywood Hills House
1980
Oil paint, charcoal and paper on canvas
1524 x 3048 mm
Collection Walker Art Center, Minneapolis. Gift of Penny and Mike Winton, 1983
© David Hockney
The post-Cubist space that he created during this period was applied to landscapes and interior scenes of his new home in 
the Hollywood Hills. Landscape became the subject for paintings that were about moving through the terrain, the winding roads 
of Nichols Canyon and Outpost Drive being routes from his hilltop home to his studio. In these works flatness collides with illusion
 of spatial depth. Above all, these are paintings through which the eye dances, drawn by a sensuousness of line and colour where edges of viewpoints fold into and across each other.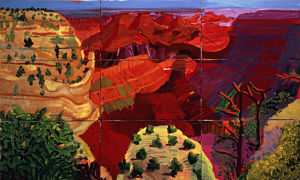 9) 9 Canvas Study of the Grand Canyon
1998
Oil paint on nine canvases
1003 x 1689 mm
Richard and Carolyn Dewey
© David Hockney
Photo Credit: Richard Schmidt
In the late 1990s Hockney produced paintings of the landscapes of East Yorkshire and the Grand Canyon, and of his house and garden in the Hollywood Hills.
Hockney was also determined to paint the vast spaces of the American landscape. When he saw the Grand Canyon described as 'the despair of the painter' he could not resist the challenge, capturing the view with multiple perspectives.
All of the above pictures were given to us courtesy of Tate Britain.
Another special thank you to Tate Britain for providing all the information, which can be read in more detail in their David Hockney leaflet that accompanies their ongoing exhibition.
This is only a small selection from their exhibition. To see all their works follow the link here to get your tickets. Special thanks to Rachael