Chaos & Craving: Herbaceous Scents to Heal Thyself?
Perfume has long been known as a powerful path towards the brain and the memory yet lesser  know as a path towards healing, here Suzy Nightingale guides us through the history of herbs and spices in Fragrance.
Political turbulence seems to be making us crave the simpler life, because there's a definite striving for perfumes that put us in mind of cottage gardens and country meadows. Not so much in the style of TVs whimsical sitcom 'The Good Life', but more in the manner of Marie Antoinette thumbing her nose at the Revolution's dawning and choosing, instead, to frolic (while dressed as a shepherdess) in the bucolic surroundings of a pretend farmstead – all within the safe confines of the royal estate. Just as the economic downfall of the 1970s led to an Edwardian idealism in the chintzy prints of Laura Ashley's be-ruffled clothing range, so today we find liberalism biting its fingernails as the world seemingly goes to hell in a handcart – with a similar yearning for older traditions throughout beauty and fashion, and onwards to wider cultural trends. The Vegan Society recently reported the number of vegans in the UK has risen 350% in the past ten years, with 42% of those aged 15-34. 'All-natural' and 'organic' have gone from buzzwords sought primarily by the knit-your-own-tampon brigade, to badges of expectation from funky millenials seeking new products in which to invest their trust – and money.
All trends must coalesce, as rivulets eventually trickle to the ocean, and fragrance brands are leading the flow by focusing on herbal-driven scents. Long used in perfumery, but often taking a back seat to more exotic blooms and exciting ingredients, herbs are now presented in huge glistening bunches and spices pounded by the fistful. Don't expect them always to be following the wellness and aromatherapy path, though, because when perfumer Daniela Andier was searching for the smell of sex for Etat Libre d'Orange's scent collaboration with designer Roland Mouret – Une Amourette – she reached for pink peppercorns, cardamom and vanilla pods to grind between the gears of blushingly innocent neroli and drifts of church incense. It's cinnamon that takes centre stage in Diptyque's L'Eau, a scent that speaks of ivy-twisted trees and meandering walks while cloaked in sumptuous velvet spice, as you stumble deeper into the heart of the woods. For Frederic Malle's Noir Epice, perfumer Michel Roudnitska didn't mess about, with layers of darkness represented in swathes of nutmeg, cinnamon, pepper and cloves overlapping orange, geranium and rose in a fragrance that slaps and then soothes you better with honeyed whispers. Valentino Donna Noir Absolu showcases pepper for perves, the touchy-feely lacquered black and softly rounded spikes of the bottle a harbinger for the plum liquor and Leather of the juice inside. Once again, a hefty grinding of black pepper – once reserved for masculine fragrances – throbs throughout. Spices in feminine fragrances aren't new, of course, and though Guerlain's Mitsouko is (rightly!) held aloft as the supreme example of a classical Chypre, it's the finely balanced nuance of misty oak moss imbued with a gourmand peach but pierced throughout with an oft-forgotten ingredient: cinnamon. The distinct tingle this brings adds a touch of melancholy to the powdered coziness, a much-needed break from otherwise relentlessly furry embraces.
With the dominant notes of recent perfume launches resembling a medicinal remedy page torn from our great, great grandmothers' handwritten cookery book – the wise women and ancient apothecaries of yore seem to be rising from the mists, only this time blending ingredients that might have been gathered in a walled garden, with a huge slug of sophistication. Herbal fragrances are out of the déclassé world of somewhat dodgy health food shops, and slap bang on the shelves of niche boutiques and mainstream department stores. What's more, as the 'unisex' slogan that's been bandied about in fragrance for the last few years now melds to the more inclusive and socially aware 'genderless,' flowers may still be strewn but they're bolstered by altogether gutsier blasts of herbal tinctures. For centuries, herbalists, shaman and wise women were looked to by the common people to cure their ailments by the picking of specific plants and roots which would be ground, steeped, macerated and applied in what we'd now term 'folk medicine.' The belief was a connection between mankind and all of creation, that signposts to healing were scattered throughout the natural world, the herbs and ingredients often echoing the ailment in the shape of the afflicted body part. This belief became known as the 'doctrine of signatures' after the book by German mystic Jakob Boehme called The Signature of All Things was published in 1621. English botanist William Cole (1626-62) agreed, stating that 'the mercy of God… maketh… Herbes for the use of men, and hath… given them particular Signatures, whereby a man may read… the use of them.'
Further proving that herbaceous fragrances shouldn't be written off as yawn-stiflingly worthy, Xerjoff Fiero leaps from the bottle with a veritable snarl of lemony blood-orange citrus, the tarragon, thyme and mint heart ramping up the intense greenery until you feel like you've been pulled inside the bottle to wrestle with Audrey II, the blood-thirsty plant from The Little Shop of Horrors.It's all done incredibly stylishly, but certainly not for the weak of spirit. Smelling like the aftermath of a tropical monsoon, Creed's Erolfa blossoms gradually, a Cologne that grows salty balls and becomes a liberally drenched, herbaceous Chypre that works wonderfully on a man's skin but can equally be half-inched by women anxious to embrace its charms. Nothing is new in the world, and vintage scents cannot be overlooked for their influence on what's happening all over again.
Vetiver by Floris first appeared in the heritage-rich house's catalogue in 1873, reintroduced due to popular demand in 2000 and now a firm favourite – probably because they weave in clumps of coriander, that most divisive of herbs in culinary terms, with some claiming it tastes soapy. In perfumery it becomes almost unrecognisable, a darker, sexily sweatier note by far, and that sense of being freshly scrubbed earlier in the day, but now having worked up a lascivious lather.
Meanwhile, the smell of herbs has long been entwined with literary allusions to emotional states, with Shakespeare infamously having Ophelia intone, 'There's rosemary, that's for remembrance…' in Hamlet, and the entirety of A Midsummer's Nights Dream infused with the narcotic properties of wild flowers and herbs inducing trippy dreamlike states:
'I know a bank whereon the wild thyme blows,
Where oxlips and the nodding violet grows
Quite over-canopied with luscious woodbine,
With sweet musk-roses, and with eglantine:
There sleeps Titania some time of the night,
Lull'd in these flowers with dances and delight…' – William Shakespeare, A Midsummer's Night Dream: Act II, Scene I.
Lulling ourselves into a state of bliss is what many perfumistas seem to be searching for, with a proliferation of religiously themed fragrances having been launched over the last couple of years and many more in the pipeline. To spray Heeley's Cardinal is a frankincense infused walk across cold flagstones to the confessional door, a juxtaposition of emotions tumbling and then immediately being repressed, the kind of perfume you feel in the centre of your soul rather than merely wear. Dear Rose's Mentha Religiosa combines the more usual amalgamation of incense, woods and vanilla with a massive dose of mint – a note that, badly handled, can turn some scents into mouthwash; but here becomes something of a drug-like effect, an icy plunge into a perfectly mirror-still lake as the moonlight shivers.
Bliss can take many forms, of course. Got wood? You will have for the new era of woody fragrances – these ones move away from the standard cedar and sandalwood to the more unusual varieties mixed in intriguing ways. Olfactive Studio Woody Mood transcends expectations with clary sage and saffron frotaged against the bark of sequoia and finished off with a leathery, chocolate-y rub down. Delicious. Quintessentially quirky but perfectly composed, 4160 Tuesdays Bhodi Language is a mystery buried in freshly plained shavings of with a creamy sandalwood and cedar trail with a hint of boozy coconut that will have you wanting to do more than hug the tree it came from… Transposing ordinary compositions in which single notes can be picked out and examined, Neela Vermeire's Trayee ('The Triad') represents something of a masterpiece for a perfumer that continually outdoes himself. Here, Bertrand Duchafour's composition hums with electricity and is blended so seamlessly it feels like something you have known all your life but only just realised. Green yet floral, spicy yet smoky, leather yet gourmand and underpinned by the balsamic slipperiness of basil, its herb-y, Jim, but not as we know it.
It's not only in personal fragrances that we cleave towards the headiness of nature's bounty, filling our houses with scented candles in layer on layer of protection from reality's chill. Flickering flames cast shadows on the walls we painted white because it was once so chic to be stark, now we populate those spaces with pools of scented bliss we can escape to, artfully creating what we want to believe is the natural smell of 'home.' But homes that make use of spicy and herbal infusions are not always cosy. As the Brothers Grimm remind us in their retelling of the Rapunzel fairytale, those women who cultivate and manipulate herbs for their curative properties wield great authority and should be feared. '…A splendid garden could be seen, which was full of the most beautiful flowers and herbs. It was, however, surrounded by a high wall, and no one dared to go into it because it belonged to an enchantress, who had great power and was dreaded by all the world.'
By turns lusciously fresh, bone dry or weirdly addictive and camphoraceous, all these scents represent an instant throwback to childhood garden explorations by bruising leaves with chubby fingers and inhaling their deliciousness, of furtive trips to steamy greenhouses where a rub of tomato leaf or stroke of some basil can still form a bubble of delight. When we reach for something herb-y to spritz ourselves with, perhaps we can imagine it's a connection to the now cultivated wilderness we surround ourselves with, a way of reaching back to those wise women and shaking hands, hoping for a turn in the weather and better times ahead. During the First World War, poet Wilfrid Wilson Gibson conveyed the horrors not by describing the blood and guts of the trenches, but by openly longing for simplicity and the comfort of English country lanes overgrown with overlooked flora, an abundance of verdant remembrance we are craving once again against the chaos we feel we cannot control…
Retreat
BROKEN, bewildered by the long retreat
Across the stifling leagues of southern plain,
Across the scorching leagues of trampled grain,
Half-stunned, half-blinded, by the trudge of feet
And dusty smother of the August heat,
He dreamt of flowers in an English lane,
Of hedgerow flowers glistening after rain
All-heal and willow-herb and meadow-sweet.
All-heal and willow-herb and meadow-sweet
The innocent names kept up a cool refrain
All-heal and willow-herb and meadow-sweet,
Chiming and tinkling in his aching brain,
Until he babbled like a child again
"All-heal and willow-herb and meadow-sweet."
Wilfrid Wilson Gibson (1878-1962)
Biography: Suzy Nightingale is a Jasmine Award-winning freelance fragrance writer, Senior Writer for The Perfume Society, trend forecaster for Stylus, copywriter for Olfiction and fragrance expert contributor for national newspapers and magazines. In between obsessing about smell, she obsesses over books, vintage clothes, sarcastic comedians, food, gin and Victorian slang terms for women of dubious virtue.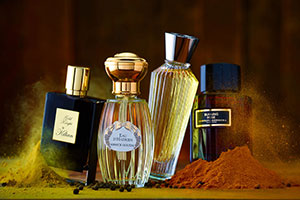 Gold Knight by By Kilian, Eau D'Hadrien by Annick Goutal Pichola, Eau de Parfum by Neela Vermeire Créations, Burning Rose by Carolina Herrera.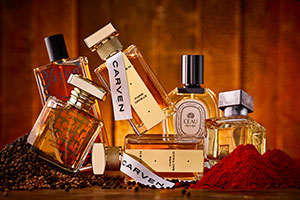 4. Montabaco Intensivo by Ormonde Jayne, Paris Manille, Eau de Parfum and Paris Sao Paulo, Eau de Parfum by Carven, Lumiére Noire pour Homme by Maison Francis Kurkdjian.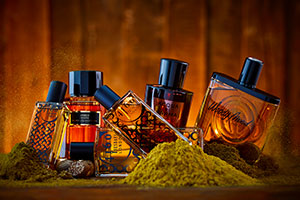 Front. Another Kiss By The Fireside, Eau de parfum by 4160 Tuesdays London, Sunshine and Pancakes, Eau de Parfum by 4160 Tuesdays London, Evil Max, Eau de Parfum by 4160 Tuesdays London. Back. Amber Desire by Carolina Herrera, Colonia Mirra, Eau de Cologne by Acqua di Parma, Woody Mood by Olfactive Studio.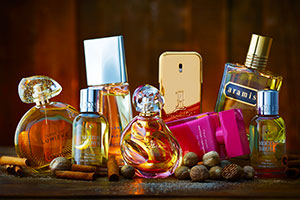 Back. Terre de Lumière, Eau de Parfum, The Gold Edition by L'Occitane en Provence, L'eau Bleue D'Issey, Eau Fraiche, Vaporisateur by Issey Miyake, 1 Million, Eau de Toilette, Natural Spray by Paco Rabanne, Eau de Toilette, Vaporisateur by Aramis.
Front. Re-charge Black Pepper, Eau de Toilette by Molton Brown, Izia, Eau de Parfum by Sisley, Fleur Musc for Her, Eau de Parfum by Narciso Rodriguez, Fiery Pink Pepper, Eau de Toilette by Molton Brown.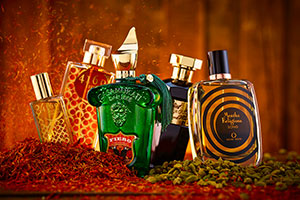 Creamy Vanilla Crumble, Eau de Parfum by 4160 Tuesdays London, Eau de parfum, Creamy Vanilla Crumble, Maxed Out, Eau de Parfum by 4160 Tuesdays London, Casamorati Fiero, Eau de parfum by Xerjoff, Agarwood Noir, Eau de Parfum by Amouroud Parfums, Mentha Religiosa Song by Dear Rose.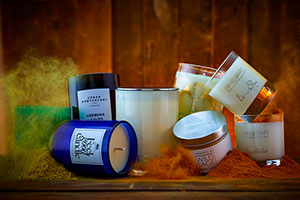 Verbena Leaves Candle by Urban Apothecary London, Enchanted Forest Candle by The Very Nature, Tbilisi, Ethical Luxury Candle by M&J London, Feel good Candle in Neroli and Lemongrass by Origins, Spiced Ginger & Musk Madison Jar Candle by Ecoya, Aromatic & Invigorating Wild Sage Scented Candle by The White Company, Lime & Bay Signature Candle and Seychelles Signature Candle by The White Company.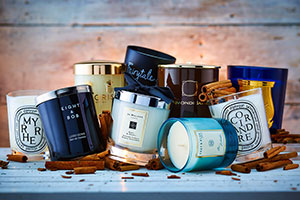 Back. Cinnamon & Tangerine Scented Candle by Floris, Fairytale of New York with Mimosa, Tobacco Flower & Myrrh by Bella Freud, 4. Montabaco Scented Candle by Ormonde Jayne, Tadine, Les Belles Matières Scented Candle by Cire Trudon.

Front. Myrrhe Scented Candle, L'art de la fire by Diptyque, Mer de Tasman Scent Candle, Lord Howe by Eight & Bob, Basil & Neroli Scented Candle by Jo Malone, Pine d'Antibes Scented Candle by Shay & Blue, Coriander Scented Candle, L'art de la cire by Diptyque.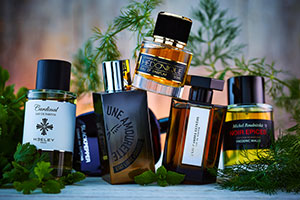 Cardinal, Eau de Parfum by Heeley, Blackpepper by Comme des Garçons, Une Amourette by Etat Libre d'Orange, L'eau d'Ambre Extreme, Eau de Parfum by La Maison Hédonique, Noir Epices, Editions de Parfums Frédéric Malle by Michel Roudnitska.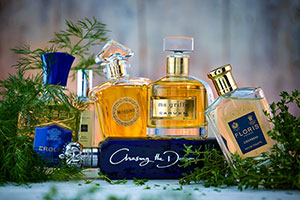 Erolfa, de père en fils depuis 1760 by Creed, Basil & Neroli Cologne by Jo Malone, Mitsouoko, Eau de parfum by Guerlain, Ma Griffe, Eau de Parfum by Carven, Chasing the Dragon by Clive Christian, Chypress, Eau de Toilette by Floris.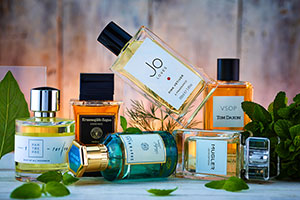 Root of All Goodness nº101/145 by Parterre, Essenze Indian Spice Eau de Toilette by Ermenegildo Zegna, Sicilian Limes by Shay & Blue, Pink Vetiver, A fragrance by Jo Loves,Les Exceptions, Eau de Parfum by Mugler, VSOP, Eau de Parfum by Tom Daxon.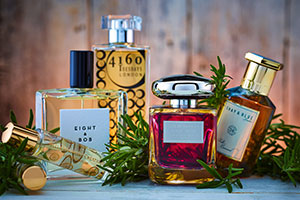 Eau de parfum by Neela Vermeire Créations, Eau de Parfum by Eight & Bob, What I did on my holidays, The Original Eau de Parfum by 4160 Tuesdays London, Délectation Splendide, Eau de Parfum by Terry de Gunzburg, Salt Caramel by Shay & Blue.
 
Photography Myles New
assisted by Hannah Taylor-Edington
Creative Director Jo Phillips
assisted by Jo Repetto