Comfort. It is a simple thing to seek. We all
get a little aggravated if we have to endure a night
sleeping on an uncomfortable futon or have to use an everyday object not fit for our hands.  Us
Brits well we do love a cup of tea (we world
famous for that) but it has taken a young Australian designer to make the perfectly fitting teapot!
The field of Ergonomics is the practice of designing products whilst carefully considering the interaction between the products themselves and the people who use them. 
The objective of ergonomic design is to strike a balance between performance, design, and our well-being. As we all know; one size does not fit all and ergonomically designed products is the science of making work fit the worker. It certainly sounds simple enough, but ergonomics is deeply intertwined with various environmental factors, our own physical and psychological capacities, and scientific disciplines.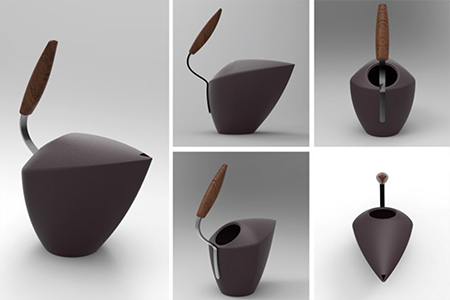 Intial Concept Render
Image Courtesy of Oliver Bamford
Although not a new field of study, the production industry during the early 1900′s was largely dependent on human power and ergonomic concepts were quickly starting to develop to improve worker productivity. World War II prompted a greater interest in ergonomics as the interaction between efficient design in sophisticated military equipment could be severely compromised if not realised correctly.
The domestic market is not exactly saturated with ergonomically designed products. But as we become more aware of how furniture, tools and utensils can impact our long-term health, well-being, and comfort, the field of Ergonomics will fast-becoming a key consideration for manufacturers and product designers.
Oliver Bamford is an Australian product designer and in 2015 designed TERGO, the ergonomic teapot. TERGO's design revolves around the pouring
.
.
.
.
.
.
.
relation between the spout and the handle, keeping these two aspects parallel, improving the ergonomics of use. Oliver discusses his design here:.
The TERGO came about during my studies as I was getting close to graduating Industrial Design. The
brief for the project was simple, design a product to be made from cast metal and timber production processes. After a conversation about the possibility of improvements being made to designs that have been around for a long time, like axes or hammers etc.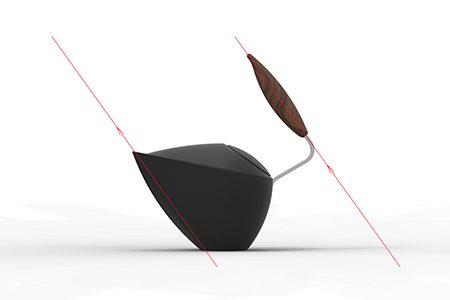 Parallel Relationship Between Handle and Spout
Image Courtesy of Oliver Bamford
I was inspired to design a modern teapot that filled the brief to do with production materials but allowed me to explore the ergonomics of pouring.
Most teapots have an over the top handle which means that the centre of gravity is oriented such that you are always fighting the teapots full weight when pouring.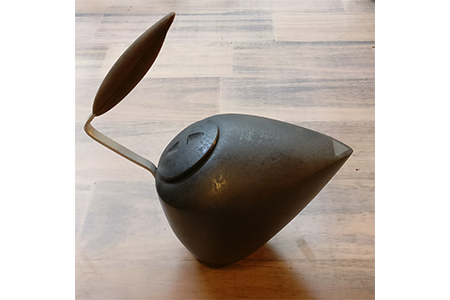 Image Courtesy of Oliver Bamford
.
.
.
.
.
.
.
With this in mind I designed a new product that positioned the body and handle in such a way that put the centre of gravity towards the front of the object. The teapot literally wants to pour itself.  The shape and size of the handle promotes a power grip while its angle is parallel to that of the spout which means you can almost pour out the entire contents while holding your hand in a comfortable horizontal position with the centre of gravity positioned directly below the grip.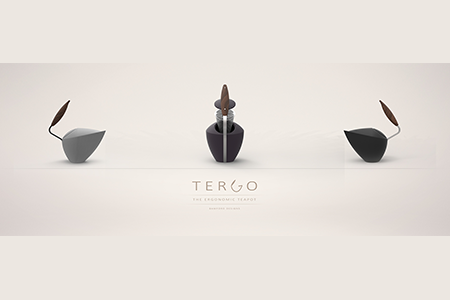 Final Concept Render
Image Courtesy of Oliver Bamford
Designed to be more comfortable and easier to use compared to most modern day teapots, TERGO is incredibly sleek in it's design and although not available in the domestic market, would do very well in tea crazed Britain!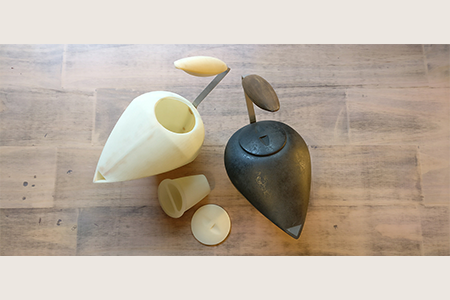 Image Courtesy of Oliver Bamford
Suffice to say, the study of ergonomics is crucial, not only for our professional lives but also for our personal life. We all experience some degree of physical limitation at some point in our life and ergonomic product design recognises such needs and strives to produce products that will individually make our lives a little easier and certainly more comfortable.
Words by Oliver Bamford 
Behance