Unfortunately, I never managed to see Sun Ra himself perform but I have seen the Arkestra a few times now; the most memorable time for me is when I bumped into the Arkestra on a flight, started chatting with El Ra and managed to get myself on the guest list for their performance, as I was playing a five minute taxi ride away. SB
Sun Ra was not born on earth but he comes from outer space, more specifically Saturn, so he tells all. Tracks named, 'Love in Outer Space', 'Plutonian Nights' and 'Dance of the Cosmo Aliens', are all in tune with his other worldly persona. The Sun Ra Arkestra, first established in 1956 Chicago, established by Herman Boole Blount (Sun Ra), is a vibrant musical anomaly, still performing today, inspiring listeners and contemporary performers all over the world. The group creates music outside of conventional styles and clearly takes influences not from history but the futuristic unknown. Sun Ra himself is not just deemed the founder of Avant-Garde Jazz, but a poet and philosopher. His influences drew from science fiction, cosmology and futuristic concepts, (due to his not being born on earth of course). Arkestra is now directed by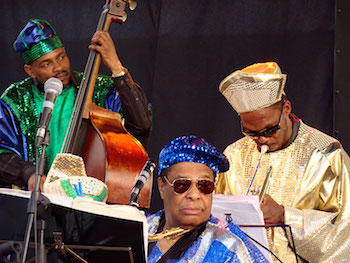 Marshall Allen from 2007, and continues Sun Ra's vision of embracing and fusing multiple influences, such as Egyptology and space age fashion, to create an eclectic and mystical contemporary performance. The formless unruly structures of jazz performed by musicians adorned in sparkling, gemstone coloured coats and headdresses, combine to make the experience a theatrical and musical delight. However, don't be fooled by the groups wild and free aesthetics, the Sun Ra Arkestra works in a technically intricate way. Stefany Anne Goldberg states in her essay, that can be found on the Sun Ra Arkestra website, that 'Sun Ra's compositions were famously difficult, even for the most talented instrumentalists.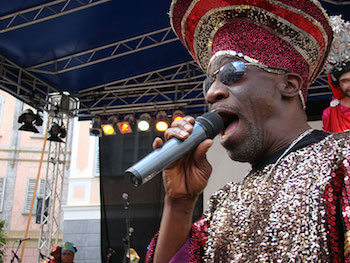 Arkestra musicians tell stories of being baffled sometimes for months before they could hear music in the written notes.' Because of this, the Arkestra are continually moving forward, creating sound that is uninhibited and undoubtedly informed by the solar system. The mixture of instruments, such as the Electronic Valve, the keyboard, the saxophone, the drums and the flute alongside several vocalists, is what constitutes the Arkestra.
Today, there is a music school in Philadelphia, named the Sun Ra House, established in his name. Prolific musicians such as Sonic Youth draw inspiration from Sun Ra and genres of dub are continually informed by his legacy. The Arkestra have performed live sets for the prolific Boiler Room and toured internationally. Books such as 'A Pure Solar World: Sun Ra and the Birth of Afro-futurism' written by Paul Youngquist celebrate and investigate Sun Ra's original approach to his music and writing. If you haven't listened to the Sun Ra Arkestra, they are definitely worth enjoying and investigating for yourself. They are more than just a musical performance, but deal with music as concept and push the listeners own perception of genre. The band is rooted in musical history yet also continues to push boundaries and create wonderful music that could truly have come from outer space.