Isabelle Cerboneschi was born in France and after passing high school, dreamt of studying arts and literature in Paris. However, her mother had higher expectations, insisting she study law. Although it was not what she initially wanted, the skills she learnt were valuable when she did eventually become a journalist. Isabelle's journey began as an independent art critic, though she ended up at Le Temps, a quality Swiss paper. In 2001 she was asked to edit a magazine dedicated to fashion, watch-making, jewellery, beauty, art, design and architecture. There she found her passion – her addiction to fashion didn't come from only the beautiful shows, even though her first was Chanel Haute couture!  The real pull towards fashion was the creators and their vision of the world, their ability to translate the issues of our times through clothes. Read her story below, which gives a unique insight into the glorious world of fashion.
I was meant to follow a totally different career: I wanted to become an auctioneer. Thus I studied law and history of Art. Nevertheless, our ways sometimes take us in other directions from those we plan. After a few years of working in an international organization, I began to write art critiques in various Swiss magazines.
I attained my journalistic diploma and was hired by a newspaper called Le Nouveau Quotidien. When this newspaper merged with Le Journal de Genève in 1998, it gave birth to Le Temps, a Swiss quality paper, and I was integrated in the Lifestyle section. I used to write about a variety of different subjects which fascinated me, because it was a question of know-how, creation, and beauty. I dealt with arts and craft, watchmaking, perfumes, accessories, and little by little, fashion. In 2001 Le Temps entrusted me as the Chief Editor of the Special Issues that were dedicated to fashion, jewellery, architecture, and so much more. That's how I began to attend fashion shows and slowly became a fashion editor too.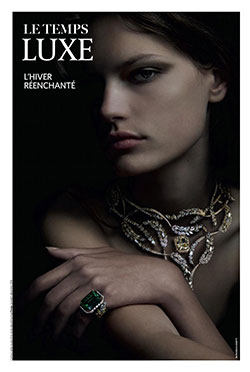 Over the years I have seen changes. For example, I saw some great collections designed by great couturiers and creators that are no longer in the fashion business. (Examples I can think of are Cristian Lacroix, for instance, but also Torrente, Jean-Louis Scherrer, etc.) The fashion "mercato" didn't exist yet? yet. A designer used to stay much longer in their position of Artistic Director of a fashion house.
Today, except for Karl Lagerfeld, we estimate a designer will stay 4 years creating for a house. Bloggers didn't exist. Fashion critics belonged to a closed enough caste. I was lucky enough to have the opportunity to attend amazing shows conceived like a piece of theatre or opera. It was also a time when historical brands had not been dug up from the past and rebranded: I'm talking about brands like Schiaparelli, Vionnet, and more…
The role of a designer? A designer, for me, is a person who knows how to create a collection to accompany a woman every morning in the role which she has to assume.
A person who helps her to express her personality through her clothes, or even to create a disguise to hide behind.
The role of a designer should be attuned to the present time. They have the perception of what takes place today, whether it is sociologically, artistically, economically, or politically inclined.
Their creations are the expression of time. A designer makes clothes, not works of art. But some artists do create clothes that are more than clothes and can be considered as pieces of art: I think of Viktor & Rolf, Iris Van Herpen, Jun Takashi (Undercover), Hussein Chalayan, or Rei Kawakubo, the founder of Comme des Garçons, and to whom the Met will dedicate an exhibition – « Art of In Between » from May 4th till September 4th in New York.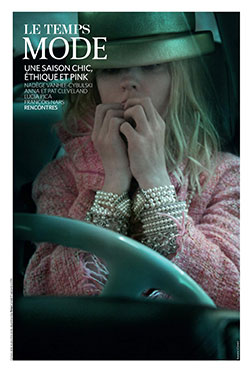 The fashion shows are the most joyous part of my job, because you can feel what's going on. You can perceive the directions taken by fashion, but what I prefer above all things is meeting the creators and fashion designers. Sometimes magical moments happen when an interview becomes more like a conversation. Respect is the key word. Sometimes I meet someone who is happy to reveal him or herself in a way that helps me to understand their work. I also adore visiting the workshops where embroiderers, feather workers, embellishers and milliners work. Their golden hands allow fashion houses to present outstanding collections.
It would be really hard to pick favourites over the last 15 years – there has been a lot, but if I had to pick five it would be the following :-
My first interview with Karl Lagerfeld in 2003 would be the first one. It had begun badly because he had only 5 minutes to dedicate to me and I had 3 full pages to fill. Those five minutes turned into 40,
maybe because we began to talk about art, and not about fashion. We discussed the work of the painter Alexei Jawlensky that we both admire. It was a timeless and generous interview.
I adored every minute I had the chance to share with Azzedine Alaïa. An interview with him is kind of ceremonial. It begins in the kitchen, around a huge table where everyone in his team is invited to sit. It is like a loving dance: everything begins with a little bit of chit-chatting, and then you have to feel the moment the proper interview comes, after the coffee. But if you let him escape from the table, you'll never see him again!
I shall not forget my first interview with Christian Lacroix, in his baroque Maison de Couture. We spoke about everything including art and spirituality. Then suddenly he started asking me questions! It is not the usual rule: interviewers are not being interviewed by the subject of their interview.
There was this interview of Véronique Leroy when she told me, with an absolute frankness, the emotions clothes would provide her when she was a child. A season later, I recognised everything we had been talking about in the fashion show. She admitted it later: this interview had activated her desire to return to the roots of her style.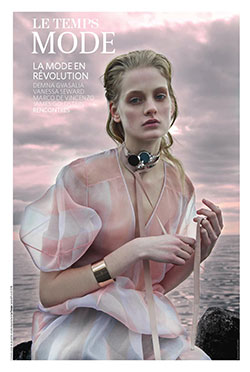 Finally, I remember this interview of Nicolas Ghesquière which lasted double the planned time. I had been told he could be curt, sometimes. But I never felt such a thing: he was of an infinite sweetness. In part of the interview I asked about Mister Alaïa and how much Nicolas Ghesquière admires his work. I like it when a creator pays humble tribute to those who preceded them. This is what elegance is made of.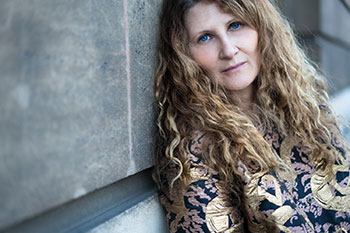 I have been chief Editor of the Special Issues of Le Temps for 15 years.
I'm now working on a fascinating editorial project that will be launched in Autumn. Image Stephanie Page.
A selection of Issues I have produced are      here,  here  here