When the word art gets banded about, what often first comes to mind is a giant oil painting enclosed within a gilt frame. Something dark and luscious, something Italian perhaps, something religious, regal, something the Medici would have sponsored.  And something steeped in status. Obviously, we are talking pre 20th Century art here.
The changing landscape of art in the last 100 years has allowed for a true personal expression of what art is and how it can be viewed as well as opening itself up to new cultures; shining a light on new aesthetics and new perspectives.
Art no longer just relates to a singular visual of noble men and women, royalty, religious paintings or stone carved status. The art world is a place where cultural interaction occurs, a place for understanding, sharing and for different aesthetics to be explored, where a multitude of perspectives are enjoyed and engaged with, and where there are echoes of the artist's own heritage.
For this issue our guest editor suggested a couple of names to explore.
Althea McNish, an 85-year-old artist and textile designer, born in Trinidad, came to Britain in the early 1950's. She was regarded widely for being a founder in the Caribbean Artists movement of the 1960's. Graduating from the Royal College of Art in 1957, she was the first black designer to have prints in Liberty's;  commissioned only one day after graduating.
The shop is now synonymous with quality fabrics as well as rugs, furnishings, in-house apparel, jewellery and accessories. It is no surprise that the success of Liberty's fabrics goes all the way back to its' founder Arthur Lasenby Liberty, the son of a draper.  The store found its humble beginnings in 1875 as the half shopfront in Regent Street in London, comprising of only three staff members.  Taking out a loan of  2000£, Arthur Lasenby Liberty wanted to create an Eastern-inspired bazaar of luxury goods. Slowly Liberty's built long-lasting relationships with British designers developing their now eponymous and eclectic style.
Inspired by Eastern prints, Liberty began by importing undyed fabrics and printed them in 'Oriental' styles in England, marketing their fabrics as 'Made in England'. From the 1920′s onwards, the paisley print was used more and more, eventually becoming synonymous with the brand.  With a focus on handcrafted work, they supported and commissioned new artists and designers for their in-house apparel, textiles and fabrics, Althea McNish being one of them.
Althea McNish's designs were described by Arthur Stuart Liberty himself as exciting in their colour contrasts. Her designs are influenced by nature, and a freedom of reticence. Her most recognised print,
'Golden Harvest' is, in fact, a landscape of Essex; using a wide variety of pigments to emulate tropical colours. Tapping into the market at Liberty's created a platform, allowing the work to speak for itself. The enigmatic colours are vibrant and transferable into a wide variety of medias.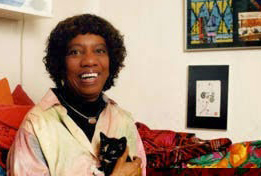 In 1963 McNish was given a scholarship to Europe, with the aim to investigate the potential export of British printed cotton goods. After travelling widely across Europe to present new print designs to clients; McNish was given a commission for textile hangings in the British Railways Board offices. Being able to experiment with new materials such as fine cotton velvet, McNish began to build even brighter and larger scale works, which were shown in the Peoples Gallery in 1982. McNish changed the print and textile worlds by pushing boundaries in colour and using her heritage landscapes to inspire the works.
Barbara Walker is a 54-year-old artist, born in Birmingham, with African Caribbean heritage. Graduating from the University of Central England Birmingham in 1996 with a BA in Art and Design; Walker then completed in 2004 an MA in Education from Wolverhampton University.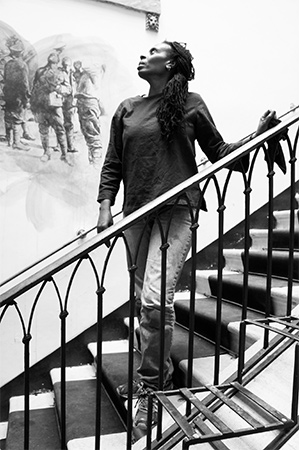 Walker is widely recognised for her large scale, figurative paintings drawn directly onto the gallery walls. Whatever scale she is working on, her work always pushes the boundaries in exploring social and political issues.
Currently, Walker is exhibiting at the Jerwood Gallery until January 6th 2019. The driving force of the works is to shed light upon usually overlooked figures in historical paintings.
Taking two paintings from the National Gallery to show alongside her works, Walker digitally reverses the paintings to remove figures, using the reliefs as a base to restore the black figures in graphite. The powerful messages that cut through the work are impossible to ignore. In an email interview for AN, Walker addressed that "My position is to revisit and reveal these artworks from Art History canon to the viewer. When creating work, I want the audience to engage, learn and to think". Constantly pushing these ideas through the breaking down and reconstructing of traditional paintings, Walkers work often looks at the world around her, particularly what she sees reflected in the communities in which she lives and works. Riding the current wave and always bringing a hard-hitting message to her work.
Overall, these artists draw on their identity, heritage and personal experience in order to question the more 'traditional' art canon. Throughout history, modern European rich art dominated the market; however, with the shift in landscape, the art world is slowly becoming a more culturally diverse platform through which to engage, share, learn and question.
Barbara Walker vanishing point  until 6/1/19  Jerwood gallery Hastings
Vanishing Point 7 (Titian), Barbara Walker, 2018 © the artist
The Banquet of Cleopatra, Giovanni Battista Tiepolo, 1740′s © The National Gallery, London
Vanishing Point 6 (Breenburgh), Barbara Walker, 2018 © the artist
A Homage to Velázquez, Luca Giordano, about 1692-1700 © The National Gallery, London
@jerwoodgallery on Twitter
 Liberty Fabrics,   Tepeaca created in 1960
Liberty Fabrics,  Bousada created in 1958
Althea McNish
Barbara Walker
jerwoodgallery.org
Libertylondon.com