Shoes, if you can believe it, have a most unexpected legacy, the earliest versions having a four-thousand-year history. Initially, all shoes shared the same basic characteristics, colouring and materials, the earliest prototypes being soft and made from wraparound leather, resembling either sandals or moccasins.
It only took a few thousand years to see the beginnings of modern footwear. In Europe's early Baroque period, women and men wore almost the same style of shoe; there was no definition between the sexes, although fashions and materials differed among the social classes. For aristocrats, the form was crafted in wood, and for others, heavy black leather heels were the norm. Both men and women wore the same shape.
It was not until the early 1800s that women's and men's shoes finally began to differ from one another in style, colour, heel, and toe-shape. Cloth-topped shoes made an appearance during this era, and boots grew exceedingly popular. After much fluctuation, the standard for a man's heel finally settled at one inch. Also, up until 1850, strangely, shoes were made straight, meaning that there was no differentiation between left and right shoes. As the 20th century approached, shoemakers improved comfort by making foot-specific shoes.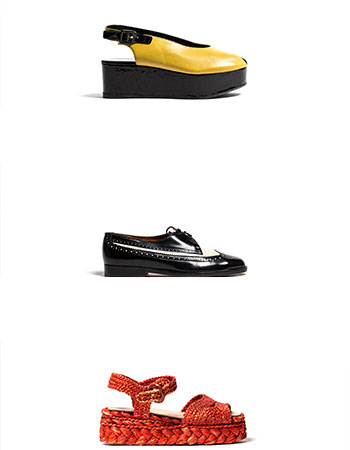 In the 21st century the shoe has reached prime status; shoes are often seen very much as a way to heighten one's sexuality for both men and women (come on! When was the last time you didn't check out what shoes a man was wearing when you were contemplating whether he was sexy or not – if that's your thing of course) and to denote wealth; shoes are as much of a status symbol as was a healthy cow hundreds of years ago. In celebration of our footwear love-affair, we offer an insight into a couple of names with their own great heritage within the world of shoes. After all, women and men can own hundreds of pairs of shoes and never feel as though they are being unfaithful!
Robert Clergerie is a French shoe designer, founder of his eponymous label, making shoes for women. He started his career in 1970, working for one of the most respected shoe designers in the world, Charles Jourdan. In 1978, he bought the Joseph Fenestrier shoe factory in the town of Romans-sur-Isère, before launching (1981) his label there, initially making shoes for women. In launching this factory, he retained the legacy of men's shoe manufacturing that the place was known for while reinterpreting typically masculine design elements, making them utterly feminine. Known among the good and great, and loved by the press, his signature designs included lace-up oxfords and parallelogram heels that gave women a sense of freedom and comfort. In 2011, Roland Mouret took over as creative director (the pair had worked together long before when Mouret was the artistic director for the brand in the 80′s).
The creative director now is David Tourniaire-Beauciel, who has, for A/W '18, launched a new menswear collection. The men's line is conceived as a natural expansion of Clergerie's successful women's line and builds on past Clergerie ateliers, once dedicated to men's shoes. This was the inspiration for David Tourniaire-Beauciel, to reinterpret the extensive archives for his first men's collection for Clergerie.
Christian Louboutin is another internationally renowned and loved shoe designer whose path to his own brand differs very much from Robert Clergerie. Yet there is a small connection, as both spent time at Charles Jourdan. Here is a little of Christian's journey:
Christian Louboutin, famous for those super sexy red-soled shoes, started part of his creative world by sneaking into the Folies Bergère in Paris aged twelve, which coincided with him starting to design shoes. He says:
"I used to draw them, but frankly I never thought making up new shoes could be a profession. I remember that at the time, there was an advertisement that showed a dunce being scolded by a schoolmarm: "Mr. Degrenne! There you go,
drawing silverware again! You'll never amount to anything!" And you saw Guy Degrenne as a child, drawing gorgeous tableware and exquisite cutlery. Well, I had the Guy Degrenne syndrome: I didn't know it could turn into a career; I just loved drawing shoes".
At sixteen, he was given a gold-covered book all about Roger Vivier, which led him to understand that you could actually make a career out of designing shoes. At sixteen, he offered his shoe designs to the Folies Bergère, but being custom-made, they couldn't do anything with him as the designs would be far too expensive to produce; but it did lead to an apprenticeship with them.
For a few months he worked alongside seamstresses, dancers, generally doing what he could, yet understanding that it would not take him any closer to his dream.
In the end, he just got on the phone and rang couture houses. At Christian Dior, he ended up speaking to the fashion director Hélène de Mortemart and asked her if he could show her his shoes.
After making an appointment and seeing his sketches, she felt that they were good and offered him an internship at Charles Jourdan (who were making Dior's shoes at that time). Although he realised he was extremely lucky to get an internship at Jourdan, it was not a particularly happy time for him. However, he does consider it to be somewhere where he learnt a lot of the techniques in the trade.
"I learned all about technique. I really learned the trade."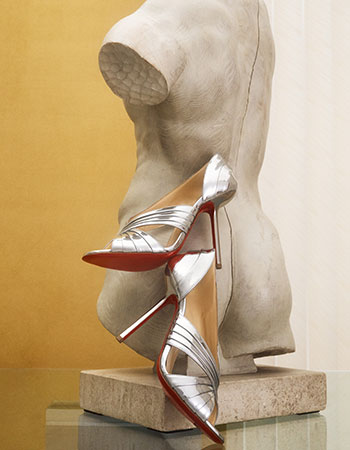 "I became a model and even designed models for them" (they were sadly never used). After his designs were destroyed, he felt enough was enough.
Come 1988, he was helping Roger Vivier with an exhibition at the Musée des Arts Décoratifs as his assistant and secretary but sadly was not involved in any designing. He talks of adoring Monsieur Vivier and being thrilled to just be around him. They had similar loves and both adored films from the 50′s.
Christian has spoken of him and said
"He was funny, endearing, lovable, gentle, and refined. And at the same time, rock solid, precise (…) he was determined and stubborn. He knew exactly what he wanted".
A slight career change followed, as Christian had always adored gardens and next he became a landscape designer; again, more of a self-taught discipline, but something he still loves to this day and which he describes as influencing his journey with colours and textures in footwear.
At this time, he had decided to give up making shoes and to carry on with gardening design, not wanting to work for other people.
Antique dealer Eric Philippe said: "Well, why don't you just open your own shop? Look, at the end of Passage Véro-Dodat there's an empty storefront. Why don't you grab it? Go take a look!"
So was born the House of Christian Louboutin. An American magazine correspondent happened to have been sent to unearth new Paris hotspots and came across two customers swooning over the shoes. The resultant article triggered an immediate reaction in the United States, and buyers came flocking.
His style is seated in his past experiences, like the theatre, the Folies Bergère and the creative people that had crossed his unique path.
So, on a different foot (excuse the pun), let's talk men: What do Michael Fassbender, Dominic West, Daniel Craig, Orlando Bloom and Tom Hardy all have in common when it comes to their feet? Trickers British Footwear brand, alongside brands like Margaret Howell, Paul Smith and Comme des Garçons who all collaborated with Tricker's to produce their own co-branded footwear.
Trickers is a footwear institution; any and all well-dressed, suited and booted gentlemen own a pair, whether it be the Bourton brogue or the Stow boot which remain the cornerstone pieces within the range. The Stow is instantly recognisable heavy country footwear, most often seen in Acorn or 'marron', a heavily brogued 7-eyelet Derby ankle boot, deep, rich, sturdy and extremely full-leathered and well-crafted.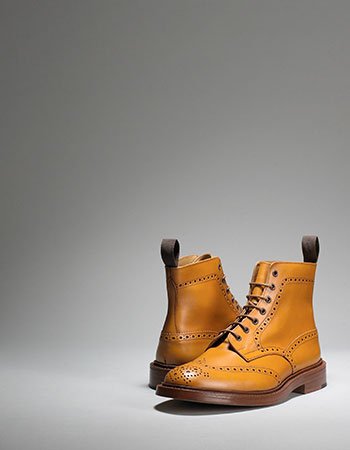 The Bourton is the shoe version; a heavy brogue Derby shoe with half bellows tongues and storm welts. Again, it has leather uppers, leather linings and a Dainite rubber sole (rubber-studded sole) for extra comfort.
As for the history of the brand, which of course in men's shoes differs greatly from women's shoes, it was founded in 1829, passed down through five generations, and it is still a family business. All the footwear is made entirely from start to finish at the Northampton shoe factory, awarded a Royal Warrant in 1989.
The Stow boot, created by founder Joseph Tricker in 1840, quickly became the brand's signature and has remained a key part of the collection whilst Joseph Tricker's son-in-law, Walter James Barltrop, designed and created the world's first country boot in 1840 which heralded a brand new age for country footwear. The tradition stands today with still two-hundred-and-sixty individual processes in the making of a pair of Tricker's country boots.
Built to last a lifetime, all of the two-hundred-and-sixty individual processes are carried out by master shoemakers who have learned their trade over many years.
So, it's no wonder how well-loved this cult brand is. After all, quality speaks volumes.