Perfume is all about memory; a smell will always take us immediately to a time or a place. Here is our perfume ode to four countries- the four lands that are fashion capitals. USA, UK, Italy, and France. They don't just look good they smell good too.
Shot 1
LONDON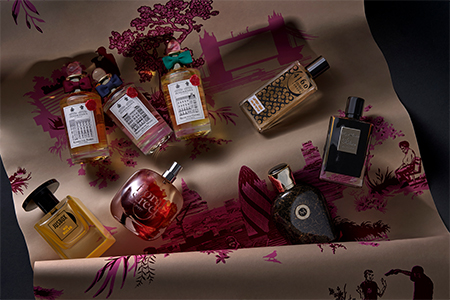 Jusbox – No Rules
Jusbox has created a unique and unusual scent which represents some of London best characteristics. It's aptly named 'No Rules' describes Londons essence of defiance in a city which makes it's own. Much like its leathery accord, and Birch Bark Musk it's the perfect balance of a concrete jungle dotted with the occasional natural touch.
Penhaligon's – Kensington Amber
Penhaligon's Kensington Amber scent takes you in its sweet aromatic hands and leads you down a classic London high street with nostalgia for company. It gives you an air of elegance exuding the notes of Amber, Cinnamon and Vanilla.
Penhaligon's – Marylebone Wood
Penhaligon's Marylebone Wood is true to its name, the main cent is the distinct smell of Sandalwood with a smoky undertone which best describes it's namesake borough in London. Most famous for its historical connection with Sherlock homes.
Penhaligon's – Belgravia Chypre
Penhaligon's Belgravia Chypre boasts elegance and sophistication. Inspired by its iconic perch on the skirts of Buckingham Palace its scent features royal notes of Bergamot, Oak Moss and Patchouli with an inflexion of Raspberry, Pink Pepper and Rose.
Floral Street – London Poppy
Floral Streets London Poppy is a simple fruity aroma named after a staple flower in British history. Its light fragrance includes Jasmine Sambac, Apricot Blossom, Sunflower, Sicilian Lemon and Orange.
4160 Tuesdays London – 1969 London
4160 Tuesdays have also created a scent that's core smell is a woody aromatic one. Tuesdays' goal with this perfume is to remind you of happy times. It does this successfully by submerging you in a myriad of scents such as Lemon, Lemongrass, Moroccan Cedar, Incense, Violet, Musk and Labdanum.
Moresque Parfum – Midnight London
Midnight London recreates a London night filled with different trends styles and cultures. It's the end product of extensive research and creativity which encapsulates the perfect balance or tradition and innovation which the city is renowned for. This idea comes through woody and spicy scents with touches of Ginger and Rhubarb to give it a fresh slap.
Killian – Royal Leather, Mayfair
This scent is a homage to British heritage, more specifically to the iconic uniform of the British Guard. Leather is once again the main theme, this time fraternising with Laos and Oud and Indonesia with Patchouli. It's a cultural twist on a familiar aroma.
Wallpaper Timorous Beasties – London Toile
NYC
Shot Four Left to Right: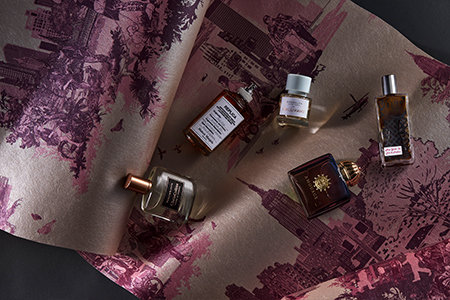 Chris Collins – Harlem Nights
This fragrance is an exploration of the seductive streets of Harlem in all its glory. Rum, Saffron, Orris, and Patchouli mix with Sandalwood, Vanilla and warm Grey Amber, lull you into memories of relaxing evenings in good company. Romantic, with a touch of mystery this scent blankets you in the warmth of unforgettable conversation. The notes of Lemon and Grapefruit play with the Sandalwood to awaken the senses.
Maison Margiela – Replica, Jazz Club
Maison Margiela has created a fragrance of classic Leather. It's an ode to the Jazz community that has been so successful in Brooklyn, it's Coppery tones take the senses into a haze of mood lighting, soft piano and sink into a leather armchair. Its notes include Tobacco Leaf, Vanilla Bean, Lemon, and Rum.
Gallivant – Brooklyn
Gallivant's Brooklyn is a fresh take on its namesake borough in New York City. The undeniable fizz goes hand in hand with a spicy scent true to its urban roots. Lemon and Orange come together along with Incense, Cardamom and floral tones to give you an abundance of flavour and spice.
Amouge – Imitation
At first spray, wisps of aromatic Jasmine, Ylang-Ylang, sweet Rose and delicate Orange Blossom surround you. Followed by the heart of the blend, consisting of potent Liquorice, fruity Black Currant and nutty Aldehydes. Sandalwood, Incense and Patchouli finish off the scent with an earthy undertone. This fragrance was specifically made with mature, confident women in mind, very New York, New York, New York.
4160 Tuesdays London – New York '55
This fragrance was created for vintage fans alike that wish they right back in New York, 1955. Immerse yourself in the fantasy, don't just dress '55, smell '55 too. Its musky scent is accentuated with Rose, Raspberry and Violet. Citrus juices topped off with creamed Candy Floss give this fragrance a sweet air to its elegance.
ITALY
Shot 2 Left to Right (top to bottom):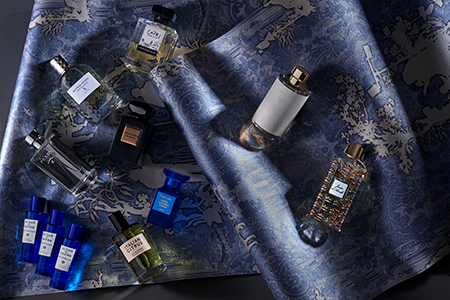 Acqua Di Parma La Collezione:
This collection is a refreshing and tantalising journey through the charming Mediterranean fragrances stemming from different regions of Italy.
Acqua Di Parma, Blue Mediterraneo – Mirto Di Panarea
Mirto Di Panarea notes Myrtle, Basil, Italian Lemon, Italian Bergamot, Marine breeze.
Acqua Di Parma, Blue Mediterraneo – Fico Di Amalfi
Fico Di Amalfi notes Italian Lemon, Italian Bergamot, Grapefruit, Fig Nectar, Cedar Wood and Benzoin.
Acqua Di Parma, Blue Mediterraneo – Arancia Di Capri
Arancia Di Capri notes Italian Sweet Orange, Italian Mandarin, Italian Lemon, Cardamon and Caramel.
Prada, Milano – L'homme Prada Classic
Prada has graced the perfume world with a pair of fragrances with L'homme Prada and La Femme Prada. The idea behind this release is that of "pair of equals". They are identical visions. L'homme is an absolute man with interchangeable identities. Prada's infamous scent of Amber and Iris are combined with Neroli, Geranium and Patchouli.
Bottega Veneta, Parco Palladiano – X Olivo
Parco Palladiano X Olivo is inspired by the Olive tree and its strong, charismatic and timeless presence in the Palladian Garden. Known as the tree of life its fitting that this scent is composed of woody, Green and Olive accord.
Carthusia – Capri Forget Me Not
This fragrance's mixture of citrus groves from the Blue Island, wild Fig tree and vanilla blend to make an unforgettable unique smell. Italian paradise in a bottle. It's base notes are undeniably fruity accompanied by Citrus and Musk.
Prada, Milano – La Femme Prada
The idea behind this release is that of "pair of equals". They are identical visions. L'homme is an absolute man with interchangeable identities. Notes: Frangipani, Honey, Tuberose, Ylang ylang, Vetiver and Vanilla.
Creed 1760 – J'ardin D'Amalfi
Jardin d'Amalfi is part of an exclusive line with three limited edition fragrances celebrating the 250th anniversary of the house. Specifically, it's the focus is to bring alive the lush summer gardens of Italy's Amalfi coast. This is done through notes of Mandarin, Bergamot, Lemon Cedar, Rose, White Musk and Cinnamon.
Armani/Prive – Bois D'Encens
This is the scent Giorgio Armani claims to use himself. It's a cool, sharp and spiritual scent that uses Incense, Vetiver and precious Woods. The Bois d'Encens perfume showcases Somalian Incense, an olfactory reflection of the times Giorgio Armani spent with his grandmother in Italian churches. With its personal backstory, it's no wonder it's a personal favourite of Armani's.
Tom Ford – Costa Azzurra Acqua
This is a fresher expression of an earlier collection, Costa Azzurra. Tom Ford says 'It brings cool air and refreshing waters together.'. The woody-aromatic melody of fresh Citrus and Fouler facets create a complex scent which captures the essence of Italy.
DS & Durga – Italian Citrus
Italian Citrus is the fresh and invigorating new scent of coastal Italian Citrus rinds, Blood Orange, Lemon and Green Mandarin, Ambrette Seed and clean Musk.
Wallpaper Timorous Beasties – Urban Decay
PARIS
Shot Five Left to Right (top to bottom):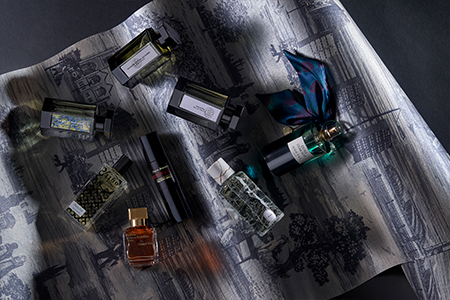 L'artisan Parfumeur – Un Air De Bretagne
Imitating the wild Brittany coast this fragrance has been carefully concocted to recreated the gentle sea spray of this French coastal region. L'artisan combines three main notes, Seaweed, Cypress and Sea Spray. This mixture is reminiscent of lounging on the beach, allowing the sea breeze rock you into an addictive state of zen that can only be accomplished by nature itself.
L'artisan Parfumeur – Premier Figuier Extrême
Inspiration for this fragrance is focused on the scent of figs. It's bursting with the flavour of a ripe Fig tree in full bloom. There are subtle tones of Sandalwood to balance out the sweetness. Its composition creates the image of the tree standing strong underneath the Mediterranean sun.
L'artisan Parfumeur – Caligna
An aromatic and fresh scent inspired by what is considered the spiritual home of perfume, Grasse, in the South of France, flirts with the senses. It's named 'Caligna' which means 'to flirt' in Provencal dialect expresses accurately this fragrances playful, gentle and elusive demeanour. Jasmine, Marmalade and woody notes combined with silver freshness, greenery and earth represent a unique and soulful Odour.
Goutal Paris – Étoile d'une Nuit
This fragrance is the epitome of a Parisian woman. All eyes on her. It's soft and comfortable notes of face powders generate an air of innocence, whilst it's sensual and seductive notes of lipstick speak of a bold and assured confidence. Iris, Rose and Raspberry notes embrace to make this a fragrance that slices into a cool Paris night.
4160 Tuesdays London – 1948 Paris
Paris 1948 is a traditional Chypre fragrance. It's made with a deep Moss and Balsam base, scattered with Bergamot, Wood and Floral heart. Peach Citrus and fruits finish off this scent, giving this classy fragrance a fresh taste. Much like Paris itself, it's an acquired taste not for the faint-hearted.
Frederic Malle, Pierre Bourdon – French Lover
Frederic Malle is serving us one thing with this fragrance, raw masculinity. This scent relies on power chemistry and naked attraction. A stripped back fragrance it's fundamentally an enhancement of a masculine natural scent. Spicy Pimiento, Angelica and Juniper flowers melt into Cedar, Patchouli and Frankincense presenting us a fresh and classy undertone.
Diptyque Paris – Ôponé Eau De Parfum
Named after an ancient port in Somalia, Ôponé, famous for it stops on the spice route. It's woody Chypre aroma goes back to the classic roots of perfume. Notes of Spice and Turkish Rose, give it a twist fit for any occasion.
Maison Francis Kurkdjian Paris – Grand Soir
Grand Soir translates into 'great night' and this fragrance is reaching to achieve just that. It's Vanilla warmth of Benzoin, Tonka Bean and Cistus Labdanum promise a magnificent night in Paris. One of daring radiance and wonder in which you feel unstoppable. An exotic scent for a classic evening.
Dunhill, London – British Leather
A classically masculine scent with the notion of liquid Leather. A combination of old-world artisanship and contemporary innovation is the core of this fragrance. It's notes include Bergamot, Violet Leaf and Leather accord.
Maison Margiela – Replica, Promenade In The Gardens
Promenade in the Gardens is the epitome of elegance and romanticism. It's easy to imagine the vibrant flower beds and green glades that touch upon the floral and fresh notes of Freesia, Jasmine, Turkish Rose and Vetiver. Sandalwood also features and gives the fragrance a marvellous intensity inviting you to lose yourself in its mid-century manor gardens.
Thameen, London – Sceptre
True to its name the Sovereign's Sceptre is a distinctive creation of gold-set jewels the perfect symbol of royal authority and chivalry. Myrrh and Amber blend to make an exquisite aroma which embodies the grandeur of the sceptre. Other notes also include Peach, Madagascan Cloves, Coriander, Ambergris and Patchouli.
Thameen, London – Imperial Crown
A prestigious scent, Thameen has created a fragrance of royal grace. The use of Frankincense blankets the wearer in distinguished decor. Its notes include Elemi, Black Pepper, Shinus Molle, Frankincense, Leather and Patchouli.
Wallpaper Timorous Beasties – London Toile
Photography Jason Yates.com
Creative director Jo Phillips