We  first discovered Phyllis Galembo through her West African Masquerade photographs, whilst researching African knitting. Her work is an amazing visual catalogue of ritual, tribal ceremonial costume and extreme dressing up from around the world. PE
Phyllis Galembo was born in Mineola New York State  in 1952. She gained The Guggenheim Scholarship of Creative Arts, and she achieved a Master of Fine Arts in photography and printmaking from The University of Wisconsin at Madison in 1977.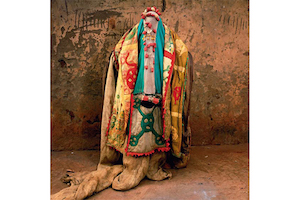 Legba Egungun Masquerade Bohicon Benin 2006
In Phyllis' childhood, dressing up was very much something she enjoyed, especially as she was a Jewish child growing up in The Big Apple. The idea of dressing up was very much engrained in her culture from birth. From the Jewish holiday of Purim (where it is traditional to dress up) to the American event of Halloween, fancy dress was a large part of her life that she was encapsulated in.
The idea of her life-work came almost by a mistake, part of a conversation and a trip which happened via a discussion she had with friends within the NYC art scene in which she was ensconced.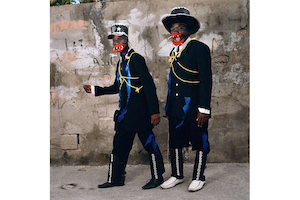 Chaloskas, Jacmel , Haiti 2009
After studying photography and printmaking at the University of Wisconsin, she began photographing subjects wearing festival costumes. Through a
friend she travelled to Nigeria. It was here she first saw the rituals commonplace with costumes and it sparked a flame in her. In 1985 when she travelled to Nigeria  she photographed priests and priestesses with their traditional costumes and ceremonial objects. She spectated and photographed villages in their usual habitat, often outside or posed against a wall.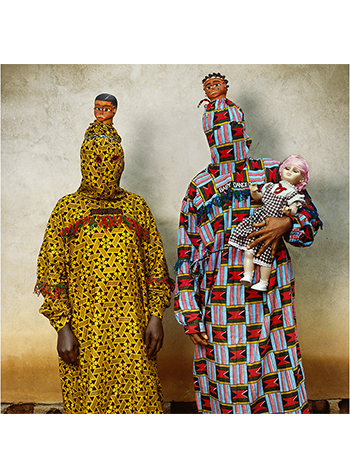 The Baby Doll Dance Nigeria 2004

From here on out, the projects have grown and grown, including such places as Brazil, Burkina Faso, Sierra Leone and more recently Mexico.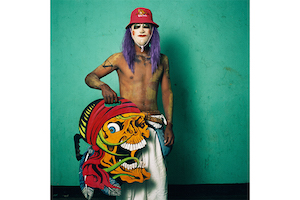 Man with skull plaque, Mexico 2013
She photographs those dressed in ceremonial costumes through to those who dress up for carnivals and to masquerade dancers. Faith outfits through to ceremonial costumes through to daring ensembles. Not about functional clothing but layers of art mixed with regional traditions coming together with spiritual meaning, a sacred art form if you like.
She talks with great respect about her subject and always works with locals in order to set up and shoot, which allows for the things to be put in place before arriving and allows for customs to be adhered to in order to respect local needs and traditions, she has been know to go back to the same area of several years.
She believes that wearing a mask doesn't just conceal the face of the wearers, but it also transforms their entire beings and ushers them into a liminal realm between the natural and spiritual worlds, where fixed identity is at the mercy of creativity and mythology. Its fair to say she is at the crossroads where art and anthropology come together.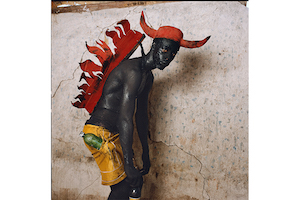 Sea Creature with Fire Wings, Jacmel Haiti , 2009
The images capture not just the visual spectacular, but capture almost the inner soul and transformational aspects of masks and costumes.  The images celebrate the art form of dress through the transformational aspects, using a camera focus that is straight forward yet not objective or intrusive.
Phyllis now works as a Professor for the Fine Arts Department in the University at Albany, State University of New York.
All images © Phyllis Galembo galembo.com
Find her books here 
Instagram: phyllisgalembo