I admit I was never a candle person until me and my partner bought a house together; he likes to light them to relax and to take the room somewhere else; I'd always seen them as purely decorative. I have Bella Freud and Tom Dixon ones sitting unlit because I like the way they look, but that act of lighting something, and watching it melt and fall apart is quite beautiful as well. AM
October brings with it golden leaves and chill winds. With autumn fast approaching, make hibernating at home a more cosy and invigorating experience with this beautifully scented and elaborately packaged collection of candles. Ranging from teak to vanilla bean, these autumnal candles are sure to create an enveloping vibe in your home.
Shot one left to right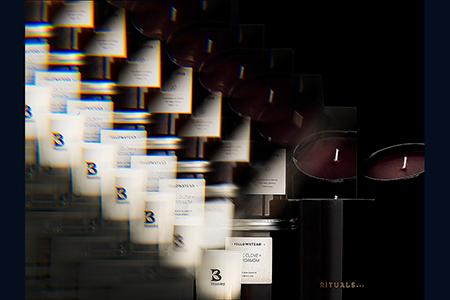 Bramley – x4  Travel candles
This unique and travel-friendly combination of spearmint, peppermint, rose absolute and essential oils is bound to freshen up any weekend getaway. 
Fellowstead – Clove, teak, cardamom
This intricate blend of herbs and spices will fill your home with comforting notes reminiscent of autumn.
Fellowstead – SOYWAX candle
This candle is eco-friendly and hand-crafted from pure soy-wax.
Rituals – THE RITUAL HAMMAMM
This fragrant mix of rosemary and eucalyptus will invigorate your home with autumnal scents.
Shot two left to right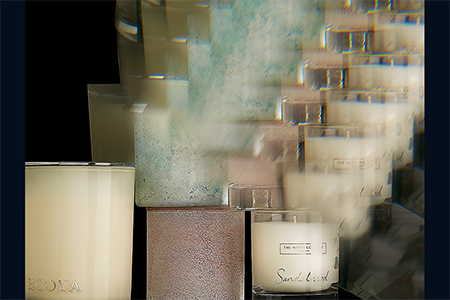 Ecoya – Vanilla bean
Indulge your senses with a sweet and soothing combination of vanilla and butterscotch.
Jigsaw – Linen
Comfortingly subtle; this simplistic yet rejuvenating scent will refresh your senses.
The White Company – Sandalwood
Let your senses develop with this rich, spicy infusion of patchouli, cumin and vertivert.
The White Company – Wild Rhubarb
This candle embodies a dewy autumn morning. The sweet yet subtle rhubarb notes will excite your senses for the upcoming season.
Shot three left to right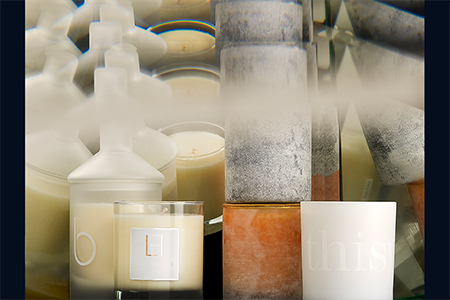 Bamford – Incense rock rose
A unique and sophisticated mix of coriander, amber and rockrose with warm, leathery undertones to revitalise your senses.
Lisa Franklin Candle
This candle is available in two scents; 186 Sloane, a combination of amber, cloves and peppers to add an intense aroma to your home and Rose Rouge, a delicate scent which will transform your living space into a revitalising sanctuary.
Jigsaw – Grey Leather
A warm, musky scent that will conjure an autumnal atmosphere in your home.
Jigsaw – Orange Cashmere
A velvety rich blend that is bound to soften the atmosphere of your living space.
This Works – Deep Sleep
Relax and unwind with this soothing combination of lavender, essential oils and chamomile.
.
.
.
.
.
.
.
.
.
Shot four left to right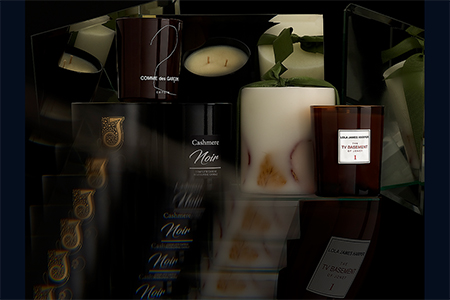 Jo Wood  – Amka Natural Wax Candle
Fill your living space with warm, exotic notes of rosemary and pine needle.
COMME des GARCONS – Candle no.2
An aromatic blend of magnolia and nutmeg, with a splash of smoky tea to add a sharp yet subtle kick.
Cashmere – Noir
Wrap your senses in soft cashmere with this indulgent double-wicked candle.
The White Company – Autumn Botanical Pillar Candle
Fruity and floral; notes of pear, quince and apricot combined with amber conjure up the perfect autumnal afternoon.
Lola James Harper – TV Basement of Jonet 1
Inspired by personal favourites of the founder, Rami Mekdachi, this light and fragrant candle contains notes of iris, rose, vanilla and carrot, creating a warm, musky scent that is subtly sweet and perfect for Autumn.
Shot five left to right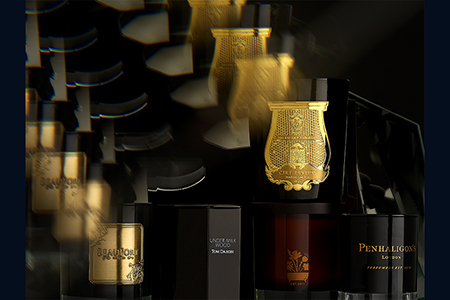 Beaufort London – Artisan Candle
Tom Daxon – Under Milk Wood
Invigorate the senses during chilly weather with this comforting sandalwood and amber blend with undertones of warm musk and suede.
Cire Trudon – Regique Laborant
Noble Isle – Fireside
This combination of ginger, cinnamon and cypress oil with a dash of vanilla will give the impression that you are sat by a warm and cozy fire.
Penhaligon's – Elixir
Soft but intense; this classic candle incorporates Turkish rose and Jasmine with intense woods and hot spices, creating the perfect blend to liven up cold weather.
Shot six left to right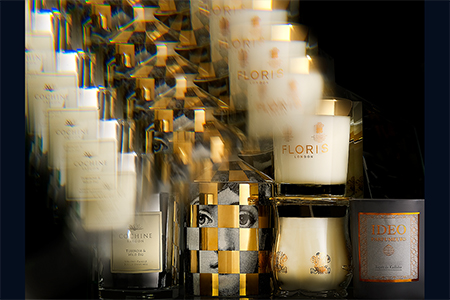 Cochine –Tuberose and Wild Fig
This candle is full of rich crisp notes of wild fig, tuberose and jasmine, making it light, refreshing and autumnal.
Fornasetti Profumi – Candela Profumata
This rich, floral scent is perfect for lifting moods during cold weather.
Creed – Green Irish Tweed
A fresh, blend of hand poured beeswax, perfect for adding some woody notes to your living space.
Floris –  Pioni and Rose
A feminine scent, comprised of rose violet leaves, green tea, cinnamon and ivy.
Ideo – Espirit de Kadisha 
Oriental woods and smokey cedarwood merge perfectly to create a warm, relaxing  fragrance.
.
.
.
.
.
.
.
.

Shot seven left to right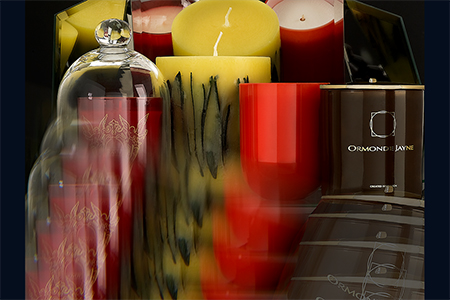 Jovoy – Datcha
Cloves, galbanum and spruce combine to create a soft, exotic odour.
Aqua Di Parma – Tea Leaves
Natural and light; this green tea infused candle is perfect for Autumn
Ormonde Jayne – Montabaco Candle
Transport yourself to Latin America this Autumn with this multi-layered candle infused with notes of magnolia, wood, tobacco, jasmine and rose.
Shot eight left to right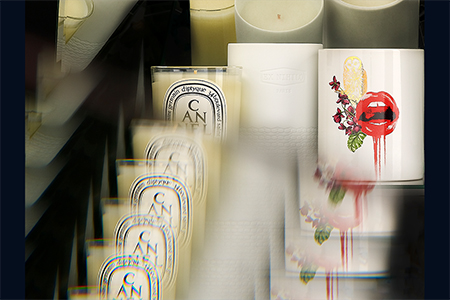 Diptyque – Cannelle
Natural wax and raw, high quality ingredients are combined to create a herbal, atmospheric aroma, perfect for lifting moods during cold weather.
Ex Nihilo Paris – Ultra Rose
Latin for 'out of nothing', this light, pure blend of lemon and lychee with peachy undertones is the perfect scent to compliment a minimalistic home.
The Chapel - Noctula
This scent embraces the crimson fruit and flower caught in the evening air,  distilled to evoke the hour between sunset and darkness on those chilly autumn nights. 

Shot nine left to right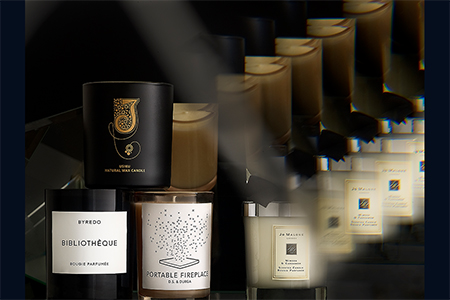 Byredo – Bibliotheque
Patchouli, plum and peach combine along with notes of leather, creating a sweet odour with a hint of smokiness, perfect for any time of day.
Jo Wood – Usiku
Decadent and relaxing; this romantic fragrance is compiled from notes of Egyptian jasmine, and Iranian Rose, making it sweet and spicy; the perfect component to complement any living space.
D.S. & Durga – Portable Fireplace
This hearty dwarf pine wood and atlas cedar blend makes the perfect log fire alternative.
Jo Malone - Mimosa & Cardamom
Spicy and fresh; this cardamom infused candle with notes of mimosa will warm up the senses during an autumnal evening.
'We often light a candle for others but I'd like to encourage us all to light a candle for ourselves to create a pause in a busy day – to celebrate who we are and all the good things from the day, the week, the month, the year, our lifetimes!  We always burn candles in the salons and even the simple act of lighting a candle, enjoying its glow and enjoying the aroma that fills the room encourages a small pause which I think is really important when many of us are living life at 100 miles at hour most of the time.  Having a home that smells really lovely is uplifting in itself too and the fragrance that they give should serve as an inspiring reminder of this ritual of celebration'.  Words by  Amanda Dicker
Twitter Instagram Facebook Pintrest
Photography: Marc Beaussart
Photography Assistant: Sarah Goble
Creative Direction: Jo Phillips
Beauty Assistants:  Ella Peddy, Edina Klimenti